Cornell Cost of Attendance
Cornell University, nestled in the scenic city of Ithaca, New York, is renowned for its prestigious Ivy League education, exceptional faculty, and diverse rigorous academic programs. With an outstanding reputation, Cornell's allure is indisputable, but what about the Cornell cost of attendance?
Planning for college expenses can be challenging, especially when considering elite universities. This comprehensive guide aims to break down and demystify the costs involved, from tuition fees to living expenses and the financial aid Cornell offers.
How Much Does It Cost to Attend Cornell University?
Starting your journey toward higher education is no small feat, especially when it involves sorting through the complexities of costs and financial aid options.
The annual cost of studying at Cornell is based on several elements: tuition, fees, housing and dining, textbooks, supplies, and personal expenditures. These costs are calculated for a full-time student studying through the fall and spring semesters.
The total amount you are likely to pay depends on multiple variables, including the undergraduate college you choose, your residency status as a New Yorker, and your chosen place of residence.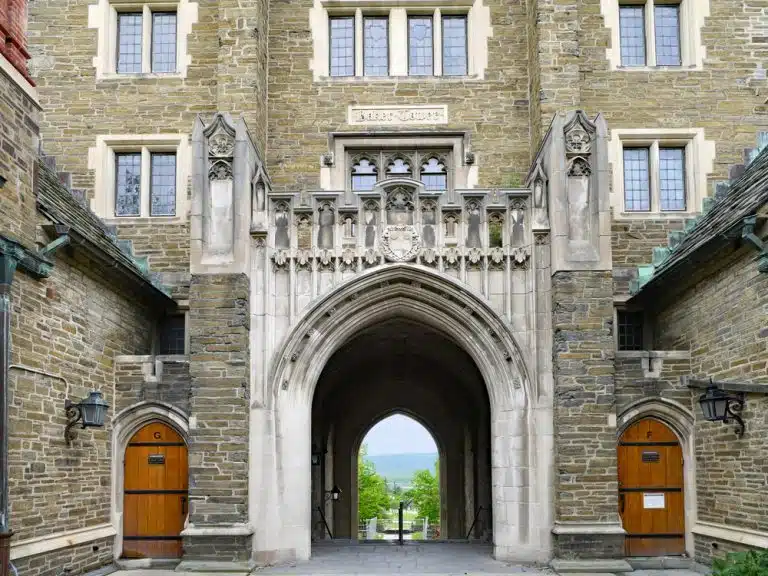 The Cornell cost of attendance gives a pre-financial aid estimate of the expenses you may encounter.
So, how much does it cost to attend Cornell University? Here is a detailed breakdown:
For both the Endowed Colleges and State Contract Colleges: Non-NY State Residents, the costs are as follows:
Tuition – $65,204
Student Activity Fee – $310
Health Fee – $500
Housing – $11,562
Food – $6,992
Books and Supplies – $1,364
Personal Expenses – $2,218
The total cost of attendance for Endowed Colleges and State Contract Colleges (non-NY residents) is $88,150. For State Contract Colleges (for NY state residents), the costs are lower, amounting to $66,834. This is due to reduced tuition fees, which costs $43,888 per academic year.
However, students enrolled in the College of Architecture, Art, and Planning or studying Landscape Architecture, Design & Environmental Analysis, and Fiber Science & Apparel Design may have slightly higher costs for supplies.
Cornell's Endowed Colleges, fueled by private funding, comprise the College of Architecture, Art, and Planning, the College of Arts and Sciences, the College of Engineering, Jeb E. Brooks School of Public Policy and the SC Johnson College of Business include the Peter and Stephanie Nolan School of Hotel Administration and the Charles H. Dyson School of Applied Economics and Management.
Residents of New York State who are enrolled in the Charles H. Dyson School of Applied Economics and Management, or pursuing a Bachelor of Science degree in the Jeb E. Brooks School of Public Policy, qualify for the NY State resident tuition rate applicable to contract colleges.
On the other hand, Cornell's State Contract Colleges and Schools are publicly supported institutions established through an agreement with New York State. This group includes the College of Agriculture and Life Sciences, the College of Human Ecology, and the School of Industrial and Labor Relations.
These contract colleges are committed to contributing to New York State's social and economic well-being; hence they receive direct funding from the state.
Additional expenses can also arise, such as travel costs which depend on your location relative to the campus, and health insurance costs. Students without a health insurance policy that fits Cornell's criteria, and international students, must acquire the Cornell Student Health Plan.
In summary, while the sticker price of Cornell University may seem daunting, it is essential to remember that there are various financial aid options available. The net cost you will likely pay after considering these could be significantly lower.
What Kind of Financial Aid Does Cornell Offer?
Taking the first steps towards earning a degree from an esteemed institution like Cornell University is undeniably exciting, but it is crucial to comprehend the financial implications of such a commitment.
Thankfully, the Cornell cost of attendance is less daunting than it may initially appear, with more students able to graduate with minimal or no debt. Almost half of all undergraduates benefit from significant financial aid in the form of Cornell grants, which do not require repayment.
When you factor in the financial assistance provided through grants and work-study programs, the actual Cornell cost of attendance might be more affordable than anticipated. Families are often eligible for reduced or even zero loans, further alleviating the financial strain.
Students often ask, "What kind of financial aid does Cornell offer?" Let's explore the financial aid options available to students at Cornell.
Cornell University Grants
Grants cater to students who need financial assistance. The funds originate from various sources, such as university endowments, alumni donations, and a general fund. There's no set minimum or maximum amount for the grant awarded, nor is there a specific income bracket for eligibility.
The awarding of these grants is a case-by-case process, only provided after non-university funds, work-study, and loans. When you apply for financial aid at Cornell, you are automatically considered for these grants – there's no separate application process.
Endowed Scholarships
Eligible students who receive Cornell University grants might also qualify for named endowed scholarships. These scholarships, established by donors who hold Cornell close to their hearts, include alumni who have personally benefitted from student aid. They serve as a unique opportunity for students to connect with the donor, who typically welcomes interaction with the beneficiary.
The endowed scholarship does not change the total amount of financial aid awarded. The funds replace any Cornell grant or self-help component on a dollar-for-dollar basis, as per fund restrictions.
Work Opportunities
Aside from aid, Cornell offers a plethora of part-time job opportunities, providing students with resources to make their education more affordable. Students are responsible for their own job search to identify roles that align with their interests, skills, and schedules.
The student employment job database lists opportunities on-campus and in the local Ithaca/Tompkins County area.
If you are a U.S. citizen or eligible non-citizen with financial need, you might also qualify for Federal Work-Study (FWS). Summer jobs and internships outside of Cornell/Tompkins County are also available and can be found through Career Services.
Loans
Loans offer another avenue to fund your education. Cornell promotes responsible loan use and aims to reduce the student debt burden.
There are various loan options, both need-based and non-need-based, that students can consider. These include Federal Direct Subsidized and Unsubsidized Loans for U.S. citizens or permanent residents, as well as Cornell University (Gardner/Shoemaker/Foreign) Loans for students with financial need.
Moreover, the Cornell Installment Plan allows for monthly installments to cover each semester's expenses, and private loans can also help students and parents cover educational costs.
Outside Scholarships
Cornell's Office of Financial Aid and Student Employment serves as a clearinghouse for scholarships and tuition benefits from external institutions, corporations, or organizations. These outside scholarships can offset the starting loan and work component of a student's financial aid package, and can also replace Cornell's standard student contribution.
If all loan and work components are canceled and the student contribution has been replaced, any remaining funds will reduce the Cornell Grant aid dollar for dollar.
While the total Cornell cost of attendance may seem initially overwhelming, remember that numerous financial aid options are available to lessen the burden.
The university's commitment to reducing student debt, paired with the extensive range of grants, scholarships, work opportunities, and loan options, makes a Cornell education a feasible dream for many.
Tips for Managing the Cornell Cost of Attendance
Financing a college education can be challenging, but with the right strategies and knowledge, managing the cost of attending this prestigious university can be made more straightforward.
Now, let's discuss several tips for managing the Cornell cost of attendance to help you navigate this important financial journey.
Understand the Full Cost
The first step in managing your college expenses is understanding the full cost of attendance. Cornell University provides a detailed breakdown of its tuition and fees, along with estimates for room and board, books and supplies, and personal expenses.
Use this information as a starting point to create a realistic budget that accounts for your college-related expenses.
Apply for Financial Aid Early
Cornell University offers several financial aid options, including grants, work-study programs, and loans. To maximize your potential aid, apply as early as possible. Financial aid is not exclusively for families with low income; the competition for these resources is quite high due to the wide range of families that qualify.
Consider Work-Study Programs
Work-study programs allow you to earn money while gaining valuable work experience. This can help offset your expenses and give you a head start in your career, providing practical knowledge and potentially opening doors to future employment opportunities.
Explore Scholarships
Beyond university-provided financial aid, there are numerous private scholarships available. Spend time researching and applying for these – every dollar you earn in scholarships is a dollar less you will need to pay out of pocket or borrow.
Utilize Student Discounts and Resources
There are numerous resources available to help students manage their expenses. The Cornell Store, for example, provides a wealth of student resources, including discounted software, technology products, textbooks, and more.
In addition, Cornell students are eligible for discounts at many local businesses, as well as national chains and online retailers. Take advantage of these savings opportunities to help stretch your budget.
Live Economically
While living on a college budget does not mean you have to skimp on everything, adopting some cost-saving measures can go a long way in managing your expenses. Consider options such as sharing a room to save on housing costs, cooking your own meals instead of dining out, and using public transportation or biking instead of maintaining a car.
Be Smart about Loans
If you need to take out loans to finance your education, be smart about it. Understand the terms of your loans, and borrow only what you need. Remember, loans must be repaid with interest, so minimizing your borrowing can save you money in the long run.
Plan Ahead for Unexpected Expenses
Unexpected expenses can arise and cause financial stress. To mitigate this risk, try to set aside a small emergency fund. Even a few hundred dollars can help cover unexpected costs and give you peace of mind.
While the cost of a Cornell education can seem overwhelming, there are many resources and strategies available to help you manage your expenses. With careful planning and smart financial decisions, you can successfully navigate the financial aspects of your college experience.
Is Cornell Worth It?
With the considerable Cornell cost of attendance, you might wonder, "Is Cornell worth it?"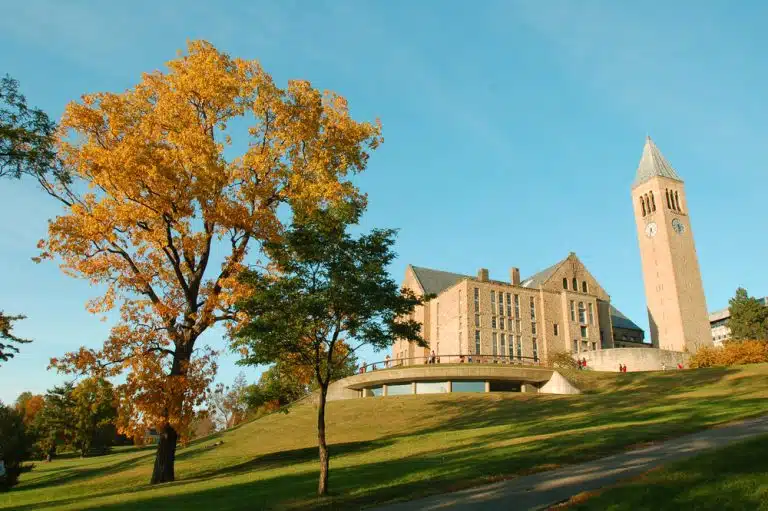 To answer this question, it's essential to evaluate not only the monetary aspects but also the intangible benefits and lifelong advantages that a Cornell education can offer.
Prestigious Education and Renowned Faculty
Cornell University is a member of the Ivy League, a group known for its member schools' academic excellence and highly selective admissions. With its rigorous academic programs, world-class faculty, and commitment to research, a degree from Cornell is highly respected and recognized globally. The prestige associated with a Cornell education could open doors and opportunities that might not be available otherwise.
Career Prospects and Alumni Network
The investment in a Cornell education often translates into substantial career opportunities. The university's robust Career Services Center provides students with career counseling, internships, and job placement services. They also host career fairs where students can network with potential employers from various industries.
In addition, Cornell's impressive alumni network, spanning different industries and countries, can be an invaluable resource for job and internship opportunities, as well as mentorship. Many Cornell graduates have landed positions in leading companies, reinforcing the university's reputation for fostering career readiness.
Financial Aid Availability
Despite the headline figures, Cornell is committed to making its education accessible to students from all economic backgrounds. The university's robust financial aid program, which includes grants, scholarships, work-study programs, and loans, can significantly reduce the cost for families who demonstrate financial need.
This commitment ensures that students can afford a Cornell education without being burdened by excessive debt upon graduation.
Personal Development and Diverse Community
Beyond academics and career prospects, attending Cornell University offers many personal growth and development opportunities. Students can partake in a myriad of clubs, organizations, and extracurricular activities, all of which contribute to a holistic and enriching university experience.
Cornell's diverse and inclusive community is another substantial benefit, offering students the chance to interact with peers from various backgrounds and cultures, which broadens perspectives and enhances personal growth.
Lifelong Learning and Enrichment
The investment in a Cornell education goes beyond the years you spend on campus. The critical thinking skills, leadership experiences, and specialized knowledge you gain at Cornell will serve you throughout your life, whether in your career or personal endeavors.
The university's commitment to lifelong learning means that alumni can continue to engage with the university through continued education opportunities, seminars, and access to university resources.
While the cost of attending Cornell University is significant, when considering the multitude of benefits — from the quality of education and strong career prospects to personal development opportunities and lifelong learning — many students and alumni agree that the investment is worth it.
Each individual must consider their personal circumstances, academic goals, and career aspirations to determine if Cornell is the right investment for them. However, the comprehensive benefits provided by a Cornell education can indeed offer a significant return on your investment over a lifetime.
In conclusion, managing the Cornell cost of attendance can be achievable with the proper knowledge, resources, and planning. It's essential to understand the full cost, seek out financial aid opportunities, utilize work-study programs, and use student discounts and resources.
The goal is not merely to afford college but to graduate with minimal financial stress. Remember that the cost is an investment in your future that can yield significant returns regarding knowledge, skills, experiences, and career opportunities.
Ultimately, with the right approach and mindset, you can navigate your Cornell journey without the cost overshadowing the invaluable experience of a top-tier education.
College admissions experts like AdmissionSight play a critical role in helping students navigate the complexities of Cornell's admissions process and understanding the cost of attendance.
Our team of professionals is well-versed in the nuances of application procedures, admission requirements, and financial aid options. They provide valuable insights and guidance to students, breaking down the multifaceted elements of the process into manageable steps.
From strategizing on how best to showcase a student's strengths in their application to demystifying the Cornell cost of attendance and helping explore various financial aid opportunities, AdmissionSight experts are instrumental in easing the path towards a successful admission into Cornell University.
Book an appointment for an initial consultation today!