Cornell University Library Services
Cornell University Library Services offers a wide range of resources and support for students, faculty, and researchers. Whether you're looking for a physical book, access to online databases, or assistance with specialized research, the library has you covered. In this article, we will delve into the various services provided by Cornell University Library Services, from its history and layout to its digital resources and specialized collections.
Understanding the Basics of Cornell University Library Services
Before we dive into the intricacies of the library, let's take a moment to understand its foundations. The Cornell University Library has a rich history that dates back to its establishment in 1868. Over the years, it has evolved into one of the largest academic research libraries in North America, housing millions of books, journals, and other resources. With a mission to support teaching, learning, and research, the library offers a wide range of services to help the Cornell community thrive.
History and Evolution of Cornell University Library Services
The Cornell University Library has come a long way since its humble beginnings. It initially started with just a few thousand volumes, but thanks to generous donations and strategic acquisitions, its collection has grown tremendously over the years. Today, it spans over 8 million physical items, making it a treasure trove for researchers across various disciplines.
One of the notable aspects of the library's history is its commitment to preserving and showcasing unique and rare materials. The library houses several special collections, including the Division of Rare and Manuscript Collections, which contains valuable manuscripts, letters, photographs, and other primary sources. These collections provide researchers with a glimpse into the past and allow them to explore historical events and ideas in depth.
In addition to its physical collections, the library has also embraced the digital age. It has digitized a significant portion of its resources, making them accessible to users around the world. This digitization effort not only enhances the availability of materials but also ensures their long-term preservation.
Overview of Cornell University Library Services
The library provides a multitude of services to meet the diverse needs of its users. From offering research consultations and workshops to supporting digital scholarship and providing access to specialized collections, the library is a hub of knowledge and support. Its dedicated staff members are always ready to assist users with their queries and guide them towards the information they seek.
Research consultations are a valuable resource for students and faculty alike. These one-on-one sessions allow users to discuss their research topics with subject specialists who can provide guidance on finding relevant sources, developing research strategies, and navigating complex databases. The library's experts are well-versed in various disciplines and can offer valuable insights to help users make the most of their research endeavors.
Workshops and training sessions are another key component of the library's services. These sessions cover a wide range of topics, from information literacy and citation management to data analysis and digital scholarship. By attending these workshops, users can enhance their research skills, learn about new tools and technologies, and stay updated with the latest trends in academia.
For those engaged in digital scholarship, the library offers extensive support. It provides access to specialized software and tools, such as data visualization platforms and text mining applications. Additionally, the library's experts can assist users with data management, data curation, and other aspects of digital research. These services enable researchers to harness the power of technology and explore new avenues of inquiry.
Specialized collections are another highlight of the library's services. It houses collections dedicated to various subjects, including art, music, agriculture, and more. These collections often feature rare or unique materials that are not easily found elsewhere. Users can explore these collections to deepen their understanding of specific topics or to find inspiration for their own research projects.
Overall, the Cornell University Library is a dynamic and comprehensive resource for the Cornell community. Its rich history, extensive collections, and diverse range of services make it an invaluable asset for teaching, learning, and research.
Navigating the Physical Library
Stepping into the physical Cornell University Library can be an awe-inspiring experience. The library is spread across multiple buildings, each housing different subject areas and collections. To help visitors navigate this vast space, the library has clear signage and maps available at strategic locations.
As you enter the library, you are greeted by the grandeur of its architecture. The soaring ceilings and intricate details of the building create a sense of reverence for knowledge and learning. The library's design seamlessly blends modern elements with traditional aesthetics, creating a unique and inviting atmosphere.
Walking through the library, you can't help but be amazed by the sheer volume of books and resources available. The shelves stretch as far as the eye can see, housing a vast collection of knowledge from various disciplines. Whether you're interested in history, science, literature, or any other subject, you're bound to find a wealth of information waiting to be discovered.
Library Layout and Key Locations
The library's layout follows a logical organization, with different floors dedicated to specific disciplines. For example, the humanities collections may be housed on one floor, while the science and engineering materials are on another. Each floor has designated study areas, including quiet zones for focused work and collaborative spaces for group projects.
As you explore the library, you'll come across various key locations that enhance the overall experience. The reference section, for instance, is a treasure trove of encyclopedias, dictionaries, and other resources that can provide quick answers to your questions. The periodicals section houses a wide range of magazines, journals, and newspapers, allowing you to stay up-to-date with the latest research and trends in your field of interest.
Additionally, the library also provides access to technology resources, such as computer labs and printers, to facilitate research and learning. These state-of-the-art facilities enable students and researchers to access online databases, work on assignments, and print out materials conveniently within the library premises.
Accessibility and Facilities
Cornell University Library is committed to providing an inclusive and accessible environment for all its users. The library ensures that its facilities comply with accessibility standards, including ramps and elevators for individuals with mobility challenges. This commitment to accessibility extends to the library's seating areas, where you'll find a variety of comfortable seating options, including ergonomic chairs and adjustable tables.
Furthermore, it offers assistive technology and adaptive equipment, such as screen readers and large-print materials, to cater to users with visual impairments or other disabilities. The library staff is trained to assist individuals with special needs, ensuring that everyone can fully utilize the library's resources and services.
Overall, the physical Cornell University Library is not just a place to find books and study; it's a haven for intellectual exploration and growth. Its layout, key locations, and commitment to accessibility make it a welcoming space for students, researchers, and the community at large. So, the next time you step into the library, take a moment to appreciate the wealth of knowledge that surrounds you and embark on a journey of discovery.
Delving into the Digital Resources
In today's digital age, the Cornell University Library recognizes the importance of online resources. It has a robust collection of digital materials that can be accessed remotely, making it convenient for users to explore its vast repository of knowledge.
When it comes to online resources, the Cornell University Library leaves no stone unturned. With its commitment to providing comprehensive access to information, the library offers a wide range of digital resources that cater to the diverse needs of its users.
Online Catalogue and Database Access
The library's online catalog serves as a gateway to its vast collection of physical and digital resources. Users can search for books, articles, journals, and more, all from the comfort of their own devices. The catalog is designed to be user-friendly, providing a seamless search experience that allows users to quickly find the materials they need.
But the online catalog is just the tip of the iceberg. The Cornell University Library also provides access to a wide range of databases covering various disciplines. From science and technology to humanities and social sciences, these databases offer a wealth of scholarly literature and research materials. Users can dive deep into their fields of interest, exploring the latest advancements and uncovering hidden gems of knowledge.
E-books and Digital Archives
The library's e-book collection has expanded significantly in recent years, offering users the convenience of accessing materials digitally. Whether you're looking for textbooks, research monographs, or fictional works, chances are, you'll find them in the library's e-book collection. With a diverse array of titles from renowned publishers, the e-book collection caters to the academic and recreational reading needs of the Cornell community.
But the digital resources don't stop at e-books. The Cornell University Library also houses various digital archives and special collections, preserving valuable historical documents and making them accessible to researchers around the globe. These digital archives provide a window into the past, allowing users to explore primary sources and gain a deeper understanding of historical events and cultural phenomena.
From digitized manuscripts and photographs to audio recordings and maps, the digital archives at Cornell University Library offer a treasure trove of information waiting to be discovered. Researchers can delve into the lives of historical figures, examine the evolution of art and literature, or trace the development of scientific breakthroughs.
With its commitment to digital resources, the Cornell University Library ensures that knowledge is not confined within the walls of its physical buildings. By embracing the digital age, the library opens up new possibilities for exploration and discovery, empowering users to engage with information in ways that were once unimaginable.
Specialized Services and Collections
Cornell University Library goes beyond the basics to provide specialized services catering to the specific research needs and interests of the Cornell community.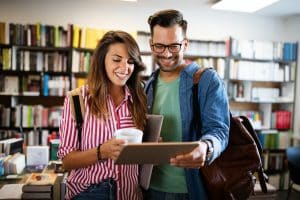 At Cornell University Library, we understand that research is not a one-size-fits-all endeavor. That's why we offer a range of specialized services designed to support researchers in their quest for knowledge. Whether you're a graduate student embarking on a thesis project or a faculty member conducting groundbreaking research, our dedicated team of librarians and research specialists are here to assist you every step of the way.
Research Support Services
For researchers looking to dive deep into a topic, the library offers specialized research support services. These services go beyond the traditional library resources and may include assistance with literature reviews, citation management, data management, and more. Our experienced library staff members, who possess subject expertise across various disciplines, are available to guide researchers through the complex maze of information and help them uncover valuable resources.
Imagine having a personal research assistant at your fingertips, ready to help you navigate the vast sea of scholarly articles, databases, and archives. That's exactly what our research support services aim to provide. Whether you need help refining your research question, locating hard-to-find sources, or organizing your citations, our team is here to ensure that your research process is as smooth and efficient as possible.
Special Collections and Rare Books
At Cornell University Library, we take great pride in our extensive collection of special items, including rare books, manuscripts, photographs, and artifacts. These collections are not only valuable resources for academic research but also windows into the past, offering unique insights into various historical periods, cultural movements, and scholarly traditions.
Our special collections are carefully curated to showcase the breadth and depth of human knowledge. From ancient manuscripts that have withstood the test of time to rare first editions of literary classics, our collections span a wide range of disciplines and interests. Whether you're a history buff, an art enthusiast, or a literature lover, you're sure to find something that piques your curiosity.
But our commitment to accessibility doesn't stop at the physical collections. We believe that knowledge should be shared and enjoyed by all, which is why we strive to make our special collections available to a wider audience. Through curated exhibitions, both on-campus and online, we bring these treasures to life, offering a glimpse into the rich tapestry of human history and culture.
So whether you're a student conducting research for a class project or a visiting scholar in search of rare primary sources, we invite you to explore the wonders of our special collections. Step into a world where the past comes alive, where ideas and stories are preserved for generations to come.
Borrowing and Returning Materials
As a member of the Cornell community, you have the privilege of borrowing materials from the library's vast collection to support your academic pursuits.
Borrowing Policies and Procedures
The library has clear borrowing policies in place to ensure fair access and timely return of materials. Users can typically borrow items for a designated period, with options for renewals if needed. The library's online system allows users to keep track of their borrowed materials, making it convenient to manage their loans. Should you have any questions about borrowing policies or need assistance, the library staff is always ready to help.
Return and Renewal Guidelines
Returning borrowed materials promptly ensures that others can access them as well. The library provides multiple return options, including drop-off boxes and circulation desks conveniently located throughout the library. In case you need to extend your loan, the library allows for renewals, provided there are no pending requests from other users. Keeping track of due dates and adhering to renewal guidelines will help you make the most of the library's resources.
With its rich history, extensive resources, and dedicated staff, Cornell University Library is an invaluable asset to the academic community. Whether you're embarking on a research project, seeking expert guidance, or simply exploring a new subject, the library's services are here to support you. By taking advantage of both its physical and digital resources, you can immerse yourself in a world of knowledge and embark on a fulfilling academic journey.