Cornell vs Swarthmore: Which College is Right for You?
As high school seniors approach graduation, one critical decision is looming: choosing the right college. Two schools that often pique the interest of students are Cornell and Swarthmore. Both have prestigious reputations and unique offerings. In this article, we'll provide an in-depth analysis of Cornell vs Swarthmore, giving you all the information you need to decide which school is right for you.
Introduction: The Importance of Choosing the Right College
Choosing the right college is crucial. It can shape the trajectory of your future, determine your career path, and impact your personal growth and development. This is why it's essential to research and make an informed decision.
In this article, we'll compare and contrast Cornell University and Swarthmore College, two highly respected institutions, to help you decide which one is the best fit for you.
When choosing a college, it's important to consider not only the academic programs and reputation of the institution but also the campus culture and community. The social environment of a college can greatly impact your overall college experience and shape your personal values and beliefs.
Cornell and Swarthmore have distinct campus cultures, with Cornell being a larger, research-focused university and Swarthmore being a smaller, liberal arts college.
By understanding the differences in campus culture, you can make a more informed decision about which college best fits you.
Location and Campus: Cornell vs Swarthmore
Location and campus selection are key factors you should consider when choosing a college. Cornell is located in Ithaca, New York, and covers a vast 745-acre campus.
On the other hand, Swarthmore is situated in a more suburban setting just outside Philadelphia, Pennsylvania, on a more compact campus.
Cornell's campus is renowned for its natural beauty, with rolling hills, gorges, and beautiful views of Cayuga Lake. In contrast, Swarthmore's location provides easy access to Philadelphia, a bustling city with numerous cultural opportunities.
Ultimately, the choice between the two will come down to personal preference and whether a rural or suburban environment is more appealing.
Another factor to consider when comparing the campuses of Cornell and Swarthmore is the availability of outdoor activities. Cornell's location in upstate New York provides ample opportunities for hiking, skiing, and other outdoor sports. The campus also has its own botanical gardens and arboretum, which are open to the public.
On the other hand, Swarthmore is located near several state parks and nature reserves, making it an excellent choice for students who enjoy spending time in nature.
Finally, it's worth noting that both Cornell and Swarthmore have a strong sense of community on their respective campuses. Cornell has a large student body, with over 20,000 undergraduate and graduate students, while Swarthmore is much smaller, with just over 1,500 students.
However, both schools offer a variety of clubs, organizations, and events that allow students to connect and build lasting friendships. Whether you prefer a larger or smaller community, both Cornell and Swarthmore have something to offer.
Academic Programs Offered: Cornell vs Swarthmore
The academic programs offered by a college are essential in deciding if it's the right match for you. Cornell is widely recognized for its strength in engineering, agriculture and life sciences, and business.
In contrast, Swarthmore is renowned for its liberal arts curriculum. Both institutions offer an extensive range of undergraduate and graduate programs, but Swarthmore provides a more specialized focus on the liberal arts.
Additionally, Cornell offers a unique program called the Cornell Tech campus, located in New York City. This campus focuses on technology, entrepreneurship, and computer science, providing students with a hands-on, innovative learning experience.
On the other hand, Swarthmore offers various interdisciplinary programs, such as the Environmental Studies program, which combines biology, economics, and political science courses to address environmental issues from multiple perspectives.
Admissions Criteria: Cornell vs Swarthmore
Admission to either of these elite schools is competitive. However, each college has different admission requirements. Cornell's admissions process places a more significant emphasis on standardized testing scores, while Swarthmore's admissions criteria emphasize a well-rounded student.
In other words, Swarthmore values extracurricular activities, leadership, and community service involvement. For that reason, Swarthmore tends to have slightly lower SAT and ACT score averages, but this is not to say the admissions process is any less competitive.
It's important to note that both Cornell and Swarthmore have holistic admissions processes, meaning they consider a variety of factors beyond just test scores and extracurricular activities.
Both schools also strongly emphasize essays, letters of recommendation, and academic achievements. Additionally, Cornell and Swarthmore have different acceptance rates, with Cornell being slightly more selective.
However, regardless of which school you apply to, it's important to showcase your unique strengths and passions in your application to stand out in the competitive admissions process.
Student Life and Culture: Cornell vs Swarthmore
Student life is another critical factor in determining which college fits better. Cornell offers diverse extracurricular activities, including athletics, music, and clubs centered around various interests.
Swarthmore, being a liberal arts-focused college, has a more laid-back and relaxed campus culture. Smaller class sizes are at the center of student life at Swarthmore, and the student body is known to be highly intellectual.
However, Cornell's larger student body allows for a more vibrant social scene, with numerous parties and events happening on and off campus. The university also has a strong Greek life presence, with various fraternities and sororities to choose from.
On the other hand, Swarthmore's campus is known for its strong sense of community and social justice activism. The college has a long history of student-led protests and activism, with students often participating in local and national movements.
Additionally, Swarthmore's location in a suburban area allows for easy access to Philadelphia, a city known for its arts and culture scene.
Faculty and Teaching Quality: Cornell vs Swarthmore
A school's faculty and teaching quality can go a long way in shaping a student's academic experience. Both Cornell and Swarthmore boast excellent faculties, but the nature of each school's curriculum is vastly different.
Cornell focuses more on technical skills, while Swarthmore is renowned for its academic rigor and more focused attention on developing critical thinking and analytical skills.
At Cornell, students can learn from world-renowned professors who are experts in their respective fields. The faculty is highly specialized and often conducts cutting-edge research, which they bring into the classroom. This allows students to gain practical knowledge and highly valued skills in the job market.
On the other hand, Swarthmore's faculty is known for its dedication to teaching and mentorship. Professors at Swarthmore are committed to helping students develop their critical thinking and analytical skills, essential for success in any field.
The small class sizes at Swarthmore also allow for more personalized attention and interaction between students and faculty.
Research Opportunities: Cornell vs Swarthmore
Cornell provides excellent research opportunities, whether through its extensive laboratory resources or various research centers.
Swarthmore's smaller size brings about more limited opportunities, but its close proximity to Philadelphia opens doors to various internship and research opportunities there.
It is worth noting that Cornell's research opportunities are not limited to just the sciences. The university also has strong programs in the humanities and social sciences, with research opportunities available in fields such as history, sociology, and psychology.
On the other hand, Swarthmore strongly emphasizes undergraduate research, with many faculty members actively involving students in their research projects. This provides students with valuable hands-on experience and the opportunity to make meaningful contributions to their field of study.
Ultimately, research opportunities are abundant at both institutions depending on the focus of your academic program.
Financial Aid and Tuition Costs: Cornell vs Swarthmore
Cost is a significant factor when considering attending either of these two schools. Both institutions provide financial aid to students, but Swarthmore has some of the lowest tuition costs of any top-tier college.
In contrast, Cornell, situated on a larger campus, generally has higher living expenses when compared to Swarthmore.
It's worth noting that while Cornell may have higher living expenses, it also offers a wider range of financial aid options, including need-based aid, merit scholarships, and work-study programs.
Swarthmore, on the other hand, primarily offers need-based aid. It's important to consider the initial cost of attendance and the potential for financial assistance throughout your time at the institution.
Ultimately, both institutions are pricey, and if cost is a concern, it's essential to review financial aid and scholarship opportunities thoroughly.
Athletics and Extracurricular Activities: Cornell vs Swarthmore
Cornell has a thriving athletics program with numerous Division I teams. Swarthmore's athletics program is more relaxed, with Division III athletics.
However, both institutions offer an abundance of extracurricular activities, from clubs to volunteer programs to student-run organizations. Cornell has a more extensive selection of activities and athletics programs, while Swarthmore provides a more intimate club experience.
Additionally, Cornell offers a wide range of intramural sports for students who want to participate in athletics but may be outside the Division I level.
Meanwhile, Swarthmore strongly emphasizes community service and offers many opportunities for students to get involved in volunteer work both on and off campus.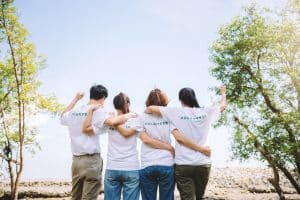 Both schools prioritize student involvement and offer a variety of ways for students to pursue their interests outside of the classroom.
Alumni Network and Career Prospects: Cornell vs Swarthmore
A college's alumni network can go a long way in helping its graduates achieve career success. Cornell and Swarthmore boast highly successful alumni networks, with graduates achieving many professional opportunities.
Cornell's alumni are generally more focused on the technical realms, while Swarthmore's alumni tend to be more focused on the liberal arts. Ultimately, both institutions set graduates up well for their future careers.
However, there are some differences in the types of career prospects that graduates from Cornell and Swarthmore tend to pursue.
Cornell graduates often go on to work in fields such as engineering, computer science, and finance. In contrast, Swarthmore graduates tend to pursue careers in education, non-profit organizations, and the arts.
Another factor to consider is the geographic location of each institution. Cornell is located in upstate New York, providing graduates access to various industries in the Northeastern United States.
Swarthmore, on the other hand, is located near Philadelphia, which offers graduates opportunities in a variety of fields, including healthcare, finance, and technology.
Campus Visits and Open Houses: What to Expect from Cornell and Swarthmore
Visiting a college is the best way to gain insight into its culture, academic programs, and overall atmosphere.
Cornell offers extensive on-campus tours, providing visitors with a wealth of information on its facilities and academic programs. Swarthmore's approach to campus visits is more personalized, with individual visits and tailored tours.
In addition to on-campus tours, Cornell also offers virtual tours for those unable to visit in person. These virtual tours provide a comprehensive look at the campus and its facilities and information on academic programs and student life. This is a great option for international students or those who live far away from the campus.
Swarthmore also offers a variety of events and programs for prospective students, including open houses and information sessions. These events provide an opportunity to meet with current students and faculty members, attend classes, and learn more about the admissions process.
Swarthmore's commitment to personalized attention extends beyond campus visits, as the school offers a low student-to-faculty ratio and encourages close relationships between students and professors.
Ultimately, both schools provide opportunities for visitors to understand the uniqueness of the campus culture and the opportunities it provides.
Conclusion: Making the Right Choice for Your Future
Choosing a college is a significant decision, and it's vital to assess all the factors outlined in this article to determine the best fit for your personal and academic needs.
It's important to note that while both Cornell and Swarthmore have excellent academic programs, they also have unique campus cultures. Cornell is a large, research-focused university with a diverse student body and a wide range of extracurricular activities.
On the other hand, Swarthmore is a small liberal arts college with a tight-knit community and a focus on interdisciplinary learning. Consider which type of campus environment would be the best fit for you.
Another factor to consider is location. Cornell is located in Ithaca, New York, a small college town surrounded by natural beauty. Swarthmore is located just outside Philadelphia, offering easy access to a major city and all it has.
Think about which location would provide the best opportunities for internships, networking, and overall quality of life during your college years.
Cornell and Swarthmore are both renowned institutions, and both can provide an exceptional education and experience to their students.
Ultimately, the choice between Cornell vs Swarthmore comes down to personal preferences. So, do your due diligence and select the school that will provide the best foundation for your future career and personal growth.
AdmissionSight provides valuable guidance to students facing the decision between Cornell and Swarthmore. By considering factors such as academic programs, industry connections, and campus culture, they assist students in making an informed choice.
Furthermore, AdmissionSight offers personalized strategies, essay review, and interview preparation to enhance students' chances of gaining admission to either university, maximizing their potential for success.