Dartmouth Short Answer Questions
What Is the Primary Purpose of Short Answer Questions?
Dartmouth College, one of the country's oldest universities, is a small but mighty institution with an admittance rate of 6.2 percent. The college is one of the most sought-after Ivy League universities thanks to its highly regarded academic programs and selection of more than 50 majors. The Dartmouth application is very accessible and is available on the Common App, despite its reputation. You must submit some outstanding writings as part of your Dartmouth supplement if you want to be one of the students accepted each year. Now, this might be a pressing query for Dartmouth aspirants, "What is the primary purpose of short answer questions?"
The writing supplement comprises Dartmouth short answer questions that, according to the school's website, "help the Admissions Committee gain a better sense of how you and Dartmouth might be a good 'fit' for each other."
This basically implies that the Dartmouth Admissions Committee is interested in learning about you and how you'll fit in on campus. The admissions committee has the opportunity to learn more about you outside of your test results and other credentials thanks to your Dartmouth additional essays. The essays will give Dartmouth a greater understanding of your thoughts and behavior, enabling them to decide whether you would be a valuable addition to the student body.
Similar to this, the essays provide the admissions committee a chance to gauge how passionate you are about attending Dartmouth. The more your enthusiasm for Dartmouth is evident, the better.
How Many Supplementals Do You Need for Dartmouth?
Dartmouth College's writing supplements are distinctive from those of other schools since they call for creative responses. There are many subjects you can write about, from Harry Potter to Einstein to the Olympics! Interesting, right? Now, let's cover how many supplementals do you need for Dartmouth.
The required Dartmouth short answer questions include two prompts. All students must complete the first essay which is brief (100 words or less). The second 250 to 300-word essay allows you to select one of the six prompts.
The college uses these supplemental essays to learn more about your personality as well as your "sense of humor, passion, intellectual curiosity, your self-awareness, or social awareness, or some mix of these." Though, the prompts should be carefully developed to present your tale even though they are quite entertaining.
How To Answer Dartmouth Short Answer Questions?
Dartmouth Supplemental Essay Prompt No. 1: While arguing a Dartmouth-related case before the US Supreme Court in 1818, Daniel Webster, Class of 1801, delivered this memorable line: "It is, sir,… a small college, and yet there are those who love it!" As you seek admission to the Class of 2026, what aspects of the College's program, community, or campus environment attract your interest? (100 words)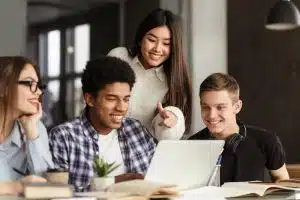 Essentially, this is the traditional "Why This College" essay. The purpose of this is not to list every program or aspect of Dartmouth that appeals to you or to lavishly promote those programs because there are just a scant 100 words available. Instead, you must explain why Dartmouth's core values appeal to you. To get you started, consider the following dos and don'ts:
Things to Do:
Select a Dartmouth program, value, extracurricular, club, or course that you strongly identify with.
For instance, if environmental science is your academic passion, you might consider focusing your essay on how Dartmouth prioritizes sustainability by emphasizing initiatives like beekeeping, moral fish farming, and the correct extraction of maple syrup from sugar maple trees. Be sure to relate these prospects to yourself and your area of interest or passion, though, while discussing them.
Having said that, keep in mind that you must finally give the institution a complete candidate profile. To do that, you should highlight as many facets of your personality as you can. For example, if you concentrate on a subject of academic interest in this topic, be sure to emphasize on your favorite features of college life and extracurricular activities in the following prompt.
Keep your essay's main theme to one.
For instance, if you decide to write on Dartmouth's distinctively outdoor-focused student life, center your entire essay on this subject. You don't have enough room in 100 words to adequately discuss several themes. To spice up your essay, use any tangential details that are connected to your main theme and draw you to Dartmouth.
Things to Avoid:
Do not, however, launch into a thorough analysis of why the software you have chosen to write about is so important in the modern world. 
There is a good probability that someone else wants to attend Dartmouth for the same reasons that you do. The admissions committee is not interested in reading the hundredth essay on why Dartmouth started those programs and why it was the appropriate decision to do so. The admissions officers are likely familiar with the institution. Instead, admissions officers want to know why these considerations led you to select Dartmouth.
For instance, it's possible that you grew up in a region that saw a severe natural disaster. Since then, you've been acutely aware of how people and their environments interact, and you're motivated to use your energy to make it less likely that someone else will experience a natural disaster.
Don't make a list of all the things you appreciate about Dartmouth. 
Don't try to talk about how much you love the college's active Greek community while also talking about how much you love sustainability and how much you appreciate the school's flexible curriculum. By doing this, you would only be able to briefly explain each component without making a personal connection.
Dartmouth has options that will let you take on your preferred problem.
Dartmouth Supplemental Essay Prompt No. 2:
You have a lot of creative freedom in the second section of Dartmouth College's writing supplement. In addition to having a greater word count (between 250 and 300 words), you also get to select from one of six intriguing and varied prompts.
Here are the six Dartmouth short answer questions along with ideas for topics you might write on for each one. You should respond to each one as follows:
Option A: The Hawaiian word mo'olelo is often translated as "story" but it can also refer to history, legend, genealogy, and tradition. Use one of these translations to introduce yourself.
This prompt is actually a combination of several others. Consider the various translations as lenses through which you could evaluate your identity as you reflect on this Dartmouth essay. What is the narrative of your life as told by the customs that you or your family uphold? through family tree research? Using the tales of your great-great ancestors or the icons of your religion or culture?
For these Dartmouth essay questions, you only have 250–300 words, so be succinct. You can decide to begin your Dartmouth essay with a narrative from your heritage, customs, or culture. Then, start outlining how the trait you select represents who you are.
Keep in mind that the purpose of the Dartmouth application essays is to introduce you to the admissions committee. Don't get caught up in the specific semantics of a tradition or myth. Use your topic to reveal more about yourself to the Dartmouth admissions committee. The Dartmouth application essays that emphasize the applicant's individual identity will be the most effective in this situation.
Option B: What excites you?
Your passions are the focus of this Dartmouth essay question. Is there a particular story that best describes your passion? Alternatively, can you pinpoint the beginning or source of your passion? Do you have a particular topic of study that you are enthusiastic about personally?
You may utilize this prompt to give Dartmouth a genuine look into who you are and how you see the world because it is so open-ended. Be sincere above all else! When addressing the Dartmouth essay prompts, authenticity is essential.
Give a succinct description of what makes you happy, then go into detail about why. In your Dartmouth essay, for instance, don't only talk about rocks if you're interested in geology; instead, briefly describe your interest before discussing how it links to your whole identity. This Dartmouth essay ought to provide admissions committee members a better idea of who you are.
Option C: In The Boy Who Harnessed the Wind, William Kamkwamba, Class of 2014, reflects on constructing a windmill from recycled materials to power the electrical appliances in his family's Malawian house: "If you want to make it, all you have to do is try." What drives you to create and what do you hope to make or have you already made?
The subject of this Dartmouth essay prompt is creativity. What do you make with great passion? Why do you care so much about it? Where did your passion originate? What impact do you want your work to have on other people? on your own? on the planet?
Start by making a list of all the different things you have either already created or intend to develop as you approach this Dartmouth essay. Remember that there are many different definitions of "creation"! Perhaps you created a tool in your engineering club, or perhaps you implemented new community rules to encourage fairness and kindness at your school. This Dartmouth essay can be anything you want it to be!
You can choose to discuss something you've already built or something you intend to make while responding to this Dartmouth essay challenge. In either case, you should emphasize how creativity and your own life are related in your response. Once more, be sure that your response discusses YOU and your worldview!
This Dartmouth essay topic might also be a fantastic opportunity to add to your applicant profile by highlighting specific instances in which you've shown your interests. The Dartmouth supplemental essays provide you the opportunity to go into greater detail about the things you've made, for instance, if you won a state-wide robotics competition but didn't include robotics in your other essays.
Option D: Curiosity is a guiding element of Toni Morrison's talent as a writer. "I feel totally curious and alive and in control. And almost…magnificent, when I write," she says. Celebrate your curiosity.
This prompt, like the others for the Dartmouth supplemental essays, is rather open-ended. It actually doesn't ask you anything at all; instead, it exhorts you to "enjoy your curiosity."
You should consider what curiosity means to you as you respond to this Dartmouth essay assignment. What do you want to know? Is there a particular tale or anecdote that perfectly captures your curiosity? How would you describe your curiosity? Is it a study? Reflection? How do you prefer to discover new things and pique your interest?
Consider your own life as you react to this essay assignment for the Dartmouth supplemental essays. Maybe you took a road trip to the desert to research ecological phenomena, or maybe you learned ASL on your own to communicate with a student who is Deaf. You have the opportunity to celebrate who you are and persuade admissions officers that you would be a wonderful addition to their community by responding to this Dartmouth essay prompt.
Option E. "Everything changes, everything moves, everything revolves, everything flies and goes away," observed Frida Kahlo. Apply Kahlo's perspective to your own life.
Think about how change appears in your own life as you answer this Dartmouth essay challenge. Regardless of whether you concur with Kahlo's viewpoint or not, there are numerous approaches you might respond to this inquiry. What changes have you noticed in your life? What new insights have you gained about change and impermanence? When did you feel compelled to alter?
This Dartmouth essay prompt will help you demonstrate your intellectual maturity to the admissions committee if you answer it properly. Change is inevitable in life, and few adjustments are as significant as the switch to college! The theme of change will be used in this case to create a tale about how a student has developed and will continue to develop at Dartmouth in successful Dartmouth supplemental essays.
Consider your topic carefully as you respond to this Dartmouth essay question. Change can be wonderful, but it can also be difficult. In your Dartmouth supplemental essays, you can write about challenging issues, but you should be cautious not to stray into areas that might have a negative effect on your application. Admissions officers typically find it difficult to read essays that discuss high school drama, mental illness, or serious trauma (though there are exceptions to every rule).
Option F. In the aftermath of World War II, Dartmouth President John Sloane Dickey, Class of 1929, proclaimed, "The world's troubles are your troubles…and there is nothing wrong with the world that better human beings cannot fix." Which of the world's "troubles" inspires you to act? How might your course of study at Dartmouth prepare you to address it?
The final aspect of this prompt is a desire for change. What do you think needs to change in our world? What do you use to effect change? Activism? Technology? Invention? What particular Dartmouth course(s) will cultivate and nurture this passion? Is the kind of work you want to be doing being done by current faculty members or alumni?
The "Why Dartmouth" question is also hinted at in this Dartmouth essay challenge. In light of this, the best Dartmouth supplemental essays will use Dartmouth to illustrate how a student wants to alter the world.
Your response to this Dartmouth essay prompt should, above all, be sincere. You should probably select a "problem" that is associated with your entire applicant profile as well. For instance, you might not want to write about eradicating world hunger if electrical engineering is your area of interest. Be sincere, humble, and clear about what is important to you.
There are many different types of Dartmouth supplemental essays, as you can see. Since we have reviewed how to answer Dartmouth short answer questions and choosing prompts to answer, if you're having difficulties deciding which one to use, try setting a timer for five minutes.
After that, create a list of all the prompts that catch your attention in bullet points. The likelihood that you will have plenty to write about increases with the length of the list or the level of depth in the bullets. If none of the Dartmouth supplemental essays stand out to you right once, use one of our writing prompts to get your mind working. Then, consider how you might relate it to a Dartmouth essay prompt.
What Does Dartmouth Look for in Essays?
Everyone is required to respond to the first essay prompt, but you get to choose which prompt your second response will address. If you're worried about what does Dartmouth look for in essays, give yourself time to consider Dartmouth's all-encompassing character.
Consider the school's location in Hanover, New Hampshire; if you can, visit the campus in person or virtually and picture yourself studying there as a student. Look into the various ways the curricula and educational philosophies at Dartmouth are a good fit for you. Consider the particular events, initiatives, or groups that draw you to Dartmouth. Simply put, consider this: Why is Dartmouth the ideal place for me to accomplish my objectives?
Moreover, Dartmouth is dedicated to creating a supportive environment where students perceive themselves as giving members of a larger community in addition to being great individuals. Dartmouth urges you to do so by including a letter of recommendation from a friend, classmate, family member, or another someone you consider to be on par with you. Even though the peer endorsement is only a "suggestion," it is still a chance worth taking. This recommendation offers insight into how people see you. Additionally, it suggests how well you could fit in with the Dartmouth community.
Dartmouth takes pride in its open-minded approach to education. The school's overall academic program and approach are designed to provide you with flexibility. The annual quarter method gives you the freedom to create your own calendar. You don't require institutional approval to enter any major (this includes Engineering).
How might this kind of organization help you succeed academically? Dartmouth's advice to its students is straightforward yet powerful: "Challenge yourself. Be yourself." Don't worry about picking a niche subject. Instead, concentrate on presenting your perspective on the subject you choose. Your Dartmouth short answer questions responses should, above all, represent your personality and tell your unique tale.
Writing college essays might be burdensome and nerve-wracking for some applicants. However, AdmissionSight suggests that everyone should still do their best in writing these supplements since they matter most likely to all institutions you could apply to. If you would like assistance in creating impressive essays, do not hesitate to set up an appointment with AdmissionSight for an initial discussion.