Discovering Good Colleges for Epidemiology Online
Becoming an Epidemiologist
Epidemiology is very important for the health and safety of the public. As such, some people would like to know how to become epidemiologists. People who study to become epidemiologists are taught how to look at the causes and spread of diseases in groups. Those who study in good colleges for epidemiology learn how to find the source of a disease, figure out how far it has spread, and try to stop any outbreaks that could turn into an epidemic or pandemic.
To become an epidemiologist, you need to do a few important things. You'll need to do these things in general, but there are many different ways to become an epidemiologist. Choose the degree, certification, and work experience to help you get where you want to go. Among these steps are:
Step 1: Get your bachelor's.
At the undergraduate level, biostatistics, health science, and nursing are all good fields to study. Students can also get degrees in biology, chemistry, or public health. Even though there isn't a required field of study, students usually take statistics, social sciences, biology, and chemistry classes. Math and the physical sciences are also good subjects to study.
Some students specialize in public health while getting their bachelor's degree, but this isn't necessary to get a master's degree. Remember that most schools do not offer epidemiology-only programs for first-year students.
The Bureau of Labor Statistics says that most entry-level epidemiologist jobs require at least a master's degree. A bachelor's degree can be a good starting point for further education (BLS). Many students get a master's degree and then specialize in epidemiology.
Step 2: Get experience on the job.
Epidemiologists-to-be can use their academic skills in the real world by getting work experience. Experience in biology or a similar field can help people who want to become epidemiologists prepare for a research and observation career. With just an undergraduate degree, some students can get a job as an epidemiology assistant.
Medical schools and popular master's programs may ask applicants to have worked before. Also, many programs offer internships and other ways for students to get real-world experience. After you finish your master's degree, you may have to do a residency, especially if you want to get a second medical degree.
When applying to schools, it's important to have work experience, and many epidemiologist jobs require it. The CDC is one of the top employers that require at least one year of work experience. This experience can be a job in another area of public health or an internship in a lab with trained epidemiologists.
Step 3: Get a master's degree.
As was already said, most entry-level jobs in epidemiology require a master's degree. Most graduate students who study at good colleges for epidemiology will get a Master of Science or Master of Public Health with a focus on epidemiology. Some students may go on to get a doctorate in epidemiology or a dual degree in medicine.
Most MPH programs will have classes in community health, environmental health, research methodology, and biostatistics. These classes help students prepare for the tests, and data analysis is something epidemiologists must do. Students in many programs are also required to do a research project to put their skills and knowledge to use.
Step 4: Get certified.
To become an epidemiologist, you don't have to take any tests. But professionals can get a certification from the Certification Board of Infection Control and Epidemiology. This certification shows that you are still dedicated to your job and preventing infections.
Find out what your goals and ideal job in public health are to decide if you need a certification. Other certifications in public health may help you learn more and get hired as an epidemiologist.
Step 5: Become an epidemiologist
You can apply for most entry-level jobs in epidemiology if you have a Master of Public Health or a similar master's degree. Many epidemiologists go on to work for the government. Others work for local clinics, nonprofits, private research facilities, university labs, or government agencies.
Epidemiologists often work closely with a team of field workers and researchers to learn more about diseases, find new vaccines and medicines and talk about public health policies. As you move up in your career, you can expect to be in charge of a group of scientists and researchers trying to find new information about public health and infectious diseases.
Epidemiology Specializations
Epidemiologists who study at good colleges for epidemiology end up having incredible careers. As such, those who decide to become epidemiologists can specialize in one or more of the following areas of public health:
Infection, Disease, and Control Epidemiology: This is a branch of epidemiology that examines how diseases affect a group of people. It also looks at how vaccines affect people and how well they work.
Hospital epidemiology: This is the study of how diseases affect people, how they spread, how they can be prevented, and how they can be treated in healthcare settings.
Pharmaceutical epidemiology: Pharmaceutical epidemiology is the study of how different drugs affect a population over time, such as how safe they are, how well they work, and what side effects they cause.
Veterinary Epidemiology: Epizootiology and epizoology are other names for this study. Veterinary Epidemiology focuses on the disease patterns in different animal species.
Forensic Epidemiology: Forensic epidemiology is a branch of science that uses the ideas of epidemiology and forensic medicine to help find criminals.
Genetic and Molecular Epidemiology: Genetic and Molecular Epidemiology looks at how genes and molecules contribute to the cause of a disease and how to stop it or treat it.
Environmental Health Epidemiology: Environmental health epidemiology studies how the environment and other outside factors affect public health and diseases.
Maternal and Child Health Epidemiology: Maternal and Child Health Epidemiology is a branch of epidemiology that helps research how to improve services for mother and child health.
Field and Emergency Response Epidemiology: In this area, epidemiologists work on the ground and help people during a serious, urgent public health crisis or disaster.
The best online colleges for epidemiology
The University of North Carolina in Chapel Hill
Online MPH Epidemiology
This online MPH in epidemiology can be completed either full-time or part-time. As one of the good epidemiology colleges, this program focuses on learning by doing, finding solutions based on evidence, and using knowledge from different fields. Students in this online MPH in epidemiology learn how to use epidemiological methods to describe patterns of disease. The online MPH in applied epidemiology from UNC focuses on how it can be used in real life.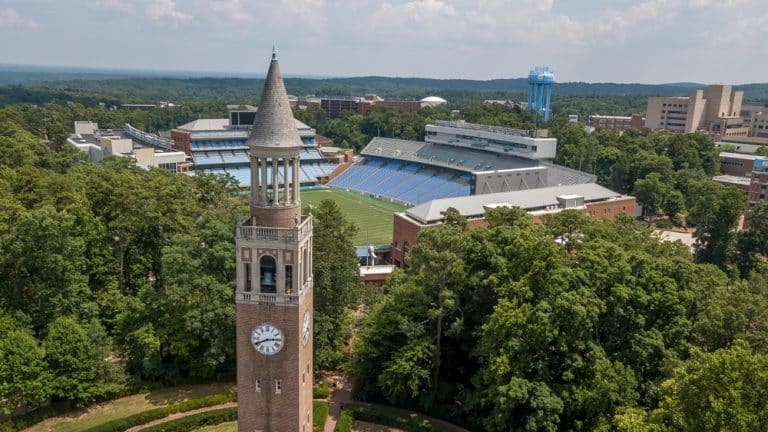 This program, offered by the Gillings School of Global Public Health, needs 42 credits to be completed. Students must take 15 credits of courses that are only about epidemiology. Students must also complete a 200-hour practicum and a culminating experience. As the world's leader in epidemiological studies, this online master's in epidemiology is taught by faculty with a lot of experience.
As one of the best places to study epidemiology online, they use current epidemiological methods to teach both in the classroom and in the real world. This way of teaching helps students put what they know into practice. Students will learn about many different aspects of public health. Some of these topics could be COVID-19, heart disease, HIV, environmental exposure, opioid abuse, suicide, and treatments for cancer.
University of Alabama at Birmingham
Online MPH in Epidemiology
The University of Alabama at Birmingham has an online program for a master's in public health with a focus on epidemiology. This Master of Public Health in Epidemiology can be finished online in just 20 months of full-time study.
Part-time students should be able to finish in five or six semesters. What makes UA one of the good colleges for epidemiology for online students is that their program helps students understand what epidemiology is and how it fits into the field of public health as a whole. As part of this top program, you have to do an internship.
This internship allows the students to use what they've learned and meet new people. Even though research isn't required, UAB does offer chances to do it. Students can also look at the 12 programs that lead to two degrees. UAB has information about scholarships for students who want to find cheap ways to pay for their education.
University of South Florida
MPH with Epidemiology Focus Online
The University of South Florida's Master of Public Health (MPH) in epidemiology is available both online and on campus. Their online Master of Public Health in Epidemiology program teaches students about public health, emphasizing epidemiology's basic ideas and methods. This online master's program in epidemiology gives students the skills they need to become good epidemiologists who work in the public health field.
Multimedia, streaming media, and web-based tutorials are all part of the online program. It also has email, discussion forums, and other features that make it the best way to learn online. This MPH in epidemiology can help people get jobs in fields like academic research or clinical trials.
There are also chances to teach in universities, health departments, and other places. With a degree in public health and a strong focus on epidemiology, graduates of this top program can make a difference in the field of public health.
Harvard University
Hybrid MPH in Epidemiology
The top-ranked T.H. Chan School of Public Health at Harvard University offers this Master of Public Health in Epidemiology. The program promises to prepare students for new levels of leadership in public health while working with their busy schedules. This MPH in epidemiology is for people who want to focus on advanced quantitative methods in epidemiology.
As one of the good colleges for epidemiology, this school is also a good fit for people who want to work in clinical and population health research, policy, and programs. The faculty in this MPH-EPI program is one of the best and most experienced in epidemiology. This MPH program in epidemiology is a mix of learning online, in person, and in the field. A two-year hybrid program is used to finish the program. Students are taught more advanced skills in research and epidemiology.
You need these skills for senior jobs in academia, hospitals, public health agencies, non-governmental organizations, and the private sector. Students at the Harvard Chan School of Public Health learn not only from their professors and classmates but also from the world-famous faculty who work there. When a student graduates and joins the Harvard Alumni Association, they also get something out of it.
Texas A&M Health Science Center
MPH in Epidemiology Online
The best master of public health program at Texas A&M is meant to give students hands-on training in all areas of public health. The coursework for the MPH in epidemiology is a mix of epidemiology and the other main areas of public health. Health promotion and community health sciences, health policy and management, and environmental and occupational health are some of these areas.
In this online master's in epidemiology concentration, students learn how to measure and evaluate how the environment and society affect each other. They also learn how to evaluate and understand psychosocial factors. They do this by figuring out the risks and benefits of drugs and other treatmentsGood Colleges for Epidemiology. This is a very thorough program that can be done entirely online. There are no on-campus requirements. Including the summers, it takes two years of full-time study.
This epidemiology master's in public health is perfect for people who can't leave home to go to school. Applicants must be in the US. They should also be very interested in public health, preventing disease, and figuring out what causes disease in groups of people.
Emory University
MPH in Epidemiology Online
Students in the online MPH in epidemiology program at Emory University must come to campus twice each semester. On campus, time is set aside for intensive classes and other things. Emory University's Master of Public Health (MPH) in Epidemiology is a research-based program in applied epidemiology. Students will learn how to model diseases and look for signs of disease in populations.
This MPH in epidemiology needs 42 credits and a thesis. The top Rollins School of Public Health at Emory also requires a 200- to 400-hour Applied Practice Experience (APE). By doing this, the students get real-world work experience that helps them understand and use what they've learned and found in their research.
To get into one of the good colleges for epidemiology online, applicants must show that they are good at math and analysis. You can get these through work experience, good grades, or a valid score on a standardized test.
In this MPH in epidemiology program, students learn to use epidemiological research methods in many different places. Students can expect to leave school with skills that are useful and relevant. Some skills include biostatistics and epidemiological modeling, disease surveillance, writing, interpreting, and analyzing research.
University of Texas Health Science Center Houston
MPH in Epidemiology Online
This online MPH in epidemiology has challenging classes and a great practicum experience. These will help students learn more, improve, and meet new people. This is one of the best MPH programs in epidemiology, and it can be finished in 18 to 24 months. This program has 45-course credits and includes a paid internship and an integrated learning experience.
Students can learn about heart disease, genetics, infectious diseases, and occupational epidemiology. Students can learn about many other things that interest them through their elective classes. When they finish this thorough master's in public health in the epidemiology program, students can expect to be ready to put their knowledge and skills to use in public health.
Graduates are ready to start working in public health, where they can help make people healthier through prevention and better health outcomes. They are also ready for positions in public health as supervisors and managers.
Now that you have a rough idea of how to become an epidemiologist, your next step is choosing the right school. At AdmissionSight, you can get the guidance of experts with 10 years of experience through any college you wish. Getting help from AdmissionSight will save you the trouble and effort of obtaining admission to good colleges for epidemiology. Set up an appointment today and see how we can help you