Duke Law Application: What You Need to Know
Duke Law School, situated in Durham, North Carolina, is renowned for its prestige and consistently high rankings among the top law schools in the United States. As a leading institution, Duke Law provides its students with many academic programs and opportunities, including the Juris Doctor (JD) degree, joint degree programs, and various LLM and SJD programs. With that in mind, more people consider putting in a Duke Law application.
The school's comprehensive range of clinics, centers, and institutes that focus on cutting-edge legal issues and research further enrich these offerings. Duke Law's esteemed faculty members are accomplished scholars and practitioners who foster an intellectually vibrant and supportive student environment.
The student community at Duke Law is diverse and driven, engaging in a multitude of extracurricular activities, such as moot court competitions, law journals, and pro bono initiatives, that enhance their educational experience and contribute to the school's strong sense of camaraderie.
Given the competitive nature of the application process, prospective students must submit a strong application that effectively conveys their academic aptitude, personal strengths, and passion for the law. This will increase their chances of gaining admission and set the stage for a successful legal education and career.
Duke Law School application components
1. Application form
The application form for Duke Law School is designed to gather essential information about the applicant, including personal details, academic history, and employment and extracurricular activities. By providing accurate personal information, applicants establish their identities and ensure proper communication with the admissions office.
The academic history section allows applicants to showcase their educational backgrounds, achievements, and potential to excel in law school. Finally, the employment and extracurricular activities section highlights the applicant's professional experiences, community involvement, and leadership skills, painting a well-rounded picture of the candidate for the admissions committee to consider.
2. Personal statement
A personal statement is a critical component of the Duke Law School application, as it offers applicants the opportunity to share their unique stories, motivations, and goals in pursuing a legal education. The content and focus should be tailored to the individual, highlighting the applicant's strengths, experiences, and aspirations in a way that sets them apart from other candidates.
To write an effective personal statement, applicants should be authentic, engaging, and concise while demonstrating strong writing skills and a genuine interest in Duke Law. It is essential to proofread the statement thoroughly, revise as needed, and solicit feedback from trusted individuals to ensure that the final product effectively showcases the applicant's potential and passion for the law.
3. Resume
A well-crafted resume is essential to the Duke Law application, as it provides a snapshot of the applicant's accomplishments, experiences, and skills. In terms of formatting and content, the resume should be clear, concise, and easy to read, with appropriate headings, bullet points, and a chronological layout.
It is crucial to emphasize relevant experiences, such as internships, research projects, or leadership roles in legal or policy-related organizations, as these showcase the applicant's commitment to and preparedness for the field of law. The applicant can demonstrate their potential for success in law school and beyond by highlighting transferable skills and meaningful contributions.
4. Letters of recommendation
Letters of recommendation play a significant role in the Duke Law School application process, as they provide insights into the applicant's abilities, character, and potential from the perspective of those who know them well.
When choosing recommenders, applicants should select individuals who can speak to their academic prowess, work ethic, and interpersonal skills—ideally, professors, employers, or mentors with a strong understanding of the applicant's capabilities and aspirations.
To ensure a strong letter, applicants should provide recommenders with ample time, ideally at least a month before the deadline, and supply them with relevant materials such as transcripts, resumes, and personal statements. By maintaining open communication and offering context about their goals and the qualities Duke Law values, applicants can help their recommenders craft compelling and impactful letters of recommendation.
5. Transcript(s)
Transcripts are a crucial component of the Duke Law School application, providing a detailed record of the applicant's academic history and performance. Applicants must obtain official transcripts from all post-secondary institutions they have attended, ensuring that these documents are sent directly from the issuing institutions to the law school or through the Credential Assembly Service (CAS).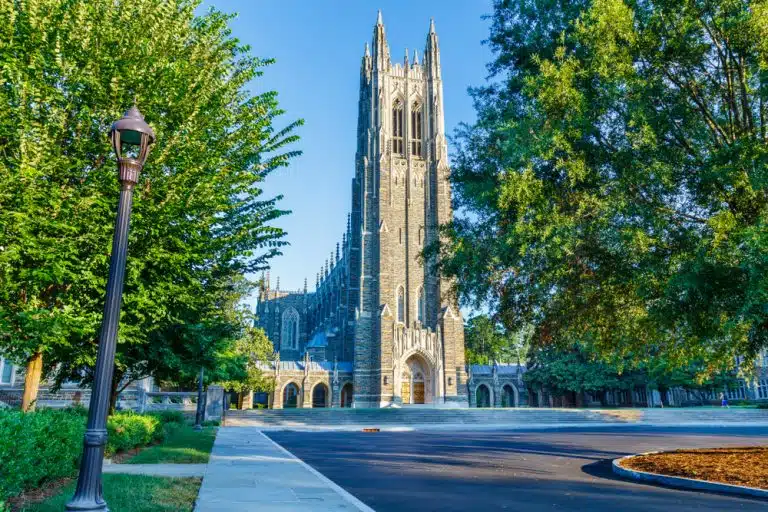 In cases of discrepancies or gaps in the applicant's academic record, it is essential to address these proactively, either in the personal statement, an addendum, or during an interview. The applicant can demonstrate their resilience, growth, and commitment to pursuing a legal education by offering a reasonable explanation for any inconsistencies.
6. LSAT or GRE scores
Duke Law School accepts LSAT and GRE scores as part of the Duke Law application process, with no strict minimum score requirements. However, given the competitive nature of admissions, a strong test score can significantly enhance applicants' chances of acceptance. To achieve a competitive score, applicants should develop a strategic study plan, focusing on understanding test formats, practicing with official prep materials, and identifying areas for improvement.
Additionally, taking timed practice tests and seeking guidance from test prep resources or experienced tutors can help applicants build confidence and hone their test-taking skills. It is essential to allow ample time for preparation and, if necessary, consider retaking the test to achieve the best possible score that reflects the applicant's true potential.
7. Optional components
Duke Law School offers applicants the opportunity to submit optional components that can further strengthen their applications and provide additional context. The Duke Law optional essay allows applicants to showcase their interest in the school and articulate how they would contribute to and benefit from its programs and community.
A diversity statement can highlight the applicant's unique background, perspectives, or experiences, emphasizing how these aspects would enrich the Duke Law environment. Addenda, on the other hand, can be used to provide explanations for specific circumstances, such as academic or employment gaps, demonstrating the applicant's resilience and commitment to pursuing a legal education despite potential challenges.
Duke Application timeline
1. Key dates and deadlines
Applicants must consider the Duke Application timeline and deadlines to ensure a smooth and successful application process. The early decision deadline typically falls in mid-November, offering applicants a chance to demonstrate their commitment to Duke Law and receive an expedited decision. The regular decision deadline usually occurs in mid-February, providing a wider application window.
Submitting all required materials by the appropriate deadline to be considered for admission is crucial. Additionally, financial aid applications, including the FAFSA and CSS Profile, should be submitted by the specified dates, often in early February, to maximize eligibility for need-based grants, scholarships, and other financial aid opportunities. Keeping track of these essential deadlines will help applicants stay organized and increase their chances of a successful Duke Law application experience.
2. Planning and preparation
Proper planning and preparation are vital for a successful Duke Law School application process. Applicants should schedule their standardized tests (LSAT or GRE) well in advance, allowing sufficient time to study, retake the test if necessary, and receive their scores before application deadlines. Requesting transcripts and letters of recommendation should also be done early, giving the issuing institutions and recommenders ample time to prepare and submit these documents.
Finally, applicants must dedicate time to drafting and revising their application materials, such as personal statements, resumes, and optional essays, ensuring that these components accurately represent their abilities, experiences, and aspirations. By starting the process early and staying organized, applicants can reduce stress and improve their chances of submitting a strong, well-rounded application to Duke Law School.
Duke Financial Aid and scholarships
1. Types of financial aid available
Duke financial aid options to help students fund their legal education. Merit-based scholarships are awarded to applicants who demonstrate exceptional academic achievements, leadership qualities, or other notable accomplishments and do not require repayment. On the other hand, need-based grants are determined by the student's financial circumstances and aim to make education more accessible for those with limited resources.
Additionally, loans and work-study opportunities are available to assist students in covering educational expenses. Loans must be repaid after graduation, while work-study programs provide part-time employment, allowing students to earn money to help finance their education. By exploring these financial aid options, students can find the most suitable resources to support their pursuit of legal education at Duke Law School.
2. The application process for financial aid
The application process for financial aid at Duke Law School involves several essential steps to ensure that students receive the appropriate assistance for their educational expenses. First, applicants must complete the Free Application for Federal Student Aid (FAFSA), determining eligibility for federal loans and work-study programs. Additionally, applicants should complete the CSS Profile, a financial aid application used by Duke Law to assess eligibility for need-based institutional grants.
Lastly, applicants may be required to submit a Duke Law financial aid application, including providing supplemental documentation such as tax returns and other financial information. By carefully following the application process and adhering to the specific deadlines, students can maximize their chances of receiving financial aid and support their pursuit of legal education at Duke Law School.
Final tips and advice for your Duke University Application
1. Researching Duke Law and tailoring your application
Researching Duke Law School is an essential step in the Duke Law application process, as it allows applicants to gain a comprehensive understanding of the institution's programs, faculty, culture, and values. By familiarizing themselves with Duke Law's offerings and unique attributes, applicants can tailor their application materials to reflect their genuine interest in the school and demonstrate how they would contribute to and benefit from its community.
This may include emphasizing specific courses, clinics, or research centers that align with the applicant's interests or showcasing experiences that resonate with Duke Law's commitment to public service and diversity. A well-researched and customized application can leave a lasting impression on the admissions committee, increasing the applicant's chances of gaining admission to Duke Law School.
2. Proofreading and refining your materials
Proofreading and refining your Duke University Application materials are crucial steps in the application process, as they ensure that your documents are polished, well-organized, and error-free. Thorough proofreading helps identify and correct grammar, punctuation, and spelling mistakes while refining your materials improves the overall structure, coherence, and flow.
This process demonstrates your attention to detail, strong writing skills, and commitment to submitting a high-quality application. It is beneficial to review your materials multiple times and seek feedback from trusted individuals, such as mentors, peers, or professional advisors, who can provide valuable insights and suggestions for improvement. By investing time and effort into proofreading and refining your application materials, you can present the best possible version of yourself to the admissions committee.
3. Preparing for interviews if offered
If offered, preparing for interviews is an essential aspect of the Duke Law School application process, as it allows applicants to further demonstrate their interest, aptitude, and fit for the program. To prepare effectively, applicants should thoroughly research Duke Law, review their application materials, and practice common interview questions related to their experiences, motivation, and goals in pursuing a legal education.
It is also crucial to be familiar with current legal issues and be able to articulate well-informed opinions. Additionally, practicing with mock interviews and seeking feedback from mentors or peers can help applicants build confidence and improve their communication skills. By arriving prepared, professional, and enthusiastic, applicants can leave a lasting positive impression on the interviewers and enhance their chances of admission to Duke Law School.
4. Staying organized and meeting deadlines
Staying organized and meeting deadlines are critical aspects of the Duke Law School application process, as they demonstrate an applicant's ability to manage time effectively and adhere to important requirements. By creating a comprehensive timeline that outlines key dates for submitting Duke Law application materials, scheduling standardized tests, and applying for financial aid, applicants can stay on track and avoid last-minute stress.
Utilizing calendars, reminders, and task lists can help keep the process structured and prevent important deadlines from being overlooked. By staying organized and meeting all deadlines, applicants can present a strong, well-prepared application that reflects their commitment to pursuing a legal education at Duke Law School.
Now that you know about Duke Law application, you should have an easier time deciding if you will enter law school. Wherever you might want to enter, you can get help with AdmissionSight with the help of our world-class guidance. With the help of experts, choosing the best university that suits you best shouldn't be hard with the help of AdmissionSight. You can talk to us today to get started.