Emory University Library Services
Welcome to a comprehensive exploration of the services provided by Emory University Library. In this guide, we will delve into the history, structure, and extensive resources offered by one of the leading academic libraries in the United States.
Understanding the Emory University Library System
In order to fully appreciate the extensive services offered by the Emory University Library, it is essential to understand its history and structure. The following sections will shed light on these aspects.
The History of Emory University Library
The Emory University Library has a rich history dating back to the establishment of Emory College in Oxford, Georgia, in 1836. Initially a small collection of books and manuscripts, the library has grown into a vast learning resource.
From its humble beginnings, the library has played a crucial role in supporting the academic pursuits of Emory students and faculty. Throughout the years, it has witnessed the evolution of education and the expansion of knowledge in various fields.
With each passing decade, the library has adapted to the changing needs of the Emory community. It has embraced new technologies, expanded its collections, and developed innovative services to meet the demands of a modern academic institution.
Through the years, the library system has undergone multiple expansions and restructurings, from its original location at Oxford to the comprehensive system we see today. History, as they say, is integral to understanding the present.
The Structure of the Library System
The Emory University Library System is composed of multiple branches, each focusing on specific areas of study. The Woodruff Library serves as the main library, hosting resources related to humanities, social sciences, business, and education.
Within the Woodruff Library, students and scholars have access to an extensive collection of books, journals, databases, and multimedia materials. The library's dedicated staff members are always available to assist users in navigating these resources and conducting research.
In addition to the Woodruff Library, Emory University boasts several branch libraries that cater to the unique needs of different academic disciplines. For example, the Health Sciences Center Library provides specialized resources for students and faculty in the health sciences field.
The Hugh F. MacMillan Law Library, on the other hand, focuses on legal research and supports the Emory University School of Law. Its comprehensive collection of legal materials and expert librarians make it an invaluable resource for aspiring lawyers and legal scholars.
Furthermore, the Oxford College Library serves the needs of students and faculty at Emory's Oxford campus. It provides a wide range of resources and services to support the liberal arts education offered at Oxford College.
Lastly, Emory University has established various subject-specific libraries that cater to specialized fields of study. These libraries house collections and resources that are tailored to the unique research needs of disciplines such as science, music, art, and more.
Such a structure allows Emory to cater to a broad range of academic disciplines efficiently and effectively. The library system's diverse branches ensure that students and faculty have access to the resources they need to excel in their respective fields of study.
Comprehensive Guide to Library Resources
Welcome to the comprehensive guide to library resources at Emory University Library. In this guide, we will explore the heart of the library and delve into the diverse collection of both print and digital resources that are available to you as a student or researcher.
Print Resources at Emory University Library
Despite the digital age, print resources still hold significant value at Emory University Library. Our library is home to a colossal collection of books, newspapers, magazines, and academic journals. Whether you are looking for the latest bestseller, a rare manuscript, or an in-depth scholarly article, our print collection has you covered.
But that's not all. Emory University Library takes pride in its Special Collections and Archives department, which houses a treasure trove of rare books, manuscripts, university archives, and an assortment of unique materials. Here, you can explore the rich history of our institution and discover hidden gems that offer a glimpse into the past.
In addition to these remarkable collections, we also maintain significant map and government document collections. These resources provide a rich source of research material and references, allowing you to dive deep into various subjects and explore different perspectives. From historical maps to government reports, our print resources offer a wealth of knowledge waiting to be discovered.
Digital Resources at Emory University Library
Emory University Library recognizes the importance of keeping up with technological advancements, and as such, we offer a wide array of digital resources to enhance your learning experience.
Our digital resources include access to online academic databases, where you can find scholarly articles, research papers, and other valuable sources of information. Whether you are conducting a literature review or exploring a specific topic, our digital databases provide a vast collection of resources at your fingertips.
In addition to academic databases, we also offer access to e-books and e-journals, allowing you to access a wealth of knowledge from the comfort of your own device. Whether you prefer reading on your tablet, laptop, or smartphone, our digital collection ensures that you have access to a wide range of books and journals anytime, anywhere.
But our digital resources don't stop there. Emory University Library also provides access to audio-visual materials, including streaming videos and recorded lectures. Whether you are studying a foreign language, conducting research on a specific topic, or simply looking for educational content, our audio-visual resources offer a dynamic and engaging learning experience.
Furthermore, Emory University Library has a robust Digital Scholarship section, which aids scholarly production and consumption in the digital age. Here, you can explore innovative research projects, collaborate with fellow scholars, and access tools and resources that support digital scholarship. Whether you are interested in data visualization, text mining, or digital humanities, our Digital Scholarship section provides the necessary resources to take your research to the next level.
So whether you're studying from home or abroad, Emory University Library's digital resources bring the library to you. With just a few clicks, you can access a vast collection of resources and embark on a journey of knowledge and discovery.
Special Services Offered by the Library
Beyond resources, what makes a library unique are the services it provides. Let's look at some of the special services offered by Emory University Library.
Research Assistance Services
At Emory, students and faculty have access to expert librarians and staff who provide research assistance. This service ranges from helping with finding resources to understanding how to use advanced research databases.
Guidance in developing research strategies and organizing material is also offered, making the research process less daunting and more effective for users of the library.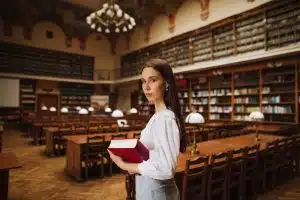 Emory University Library takes pride in its research assistance services, recognizing that conducting thorough and accurate research is crucial for academic success. The library's team of knowledgeable librarians is well-versed in various research methodologies and can provide valuable guidance on how to approach different types of research projects.
Whether it's a student working on a term paper or a faculty member conducting groundbreaking research, the library's research assistance services are designed to meet the diverse needs of the Emory community. Librarians are available for one-on-one consultations, where they can help users navigate through the vast array of resources available both within the library and online.
Interlibrary Loan Services
In addition to its own resources, Emory also participates in interlibrary loan services. This service facilitates the borrowing of resources from other domestic and international libraries, ensuring that users have access to an extensive range of information, even if it's not directly available at Emory.
Interlibrary loan services at Emory University Library open up a world of possibilities for researchers and scholars. Through partnerships with libraries around the globe, the library is able to obtain rare and specialized materials that may not be found elsewhere.
Imagine a history student working on a thesis about ancient civilizations. Thanks to interlibrary loan services, they can request books and articles from renowned institutions like the British Library or the Library of Congress, expanding their research beyond what is available on campus.
Emory's commitment to interlibrary loan services reflects its dedication to providing its users with comprehensive access to knowledge. By leveraging the vast network of libraries, the library ensures that users can explore diverse perspectives and delve into niche subjects, enriching their academic pursuits.
Study Spaces and Facilities in the Library
A library is not just about resources and services – it's also about the environment it provides. Emory University Library offers various study spaces and facilities to help facilitate a conducive learning experience.
When it comes to studying, having the right space can make all the difference. Emory University Library understands this and provides a variety of study spaces tailored to different needs. Whether you prefer a quiet study room where you can focus without distractions, a collaborative space where you can work with classmates on group projects, or an area equipped with advanced technology to enhance your research, you can find it all within the library's premises.
For those who thrive in solitude, the library offers private study rooms where you can immerse yourself in your studies without any interruptions. These rooms are designed to provide a peaceful and serene environment, allowing you to concentrate fully on your work.
On the other hand, if you prefer working in a group and enjoying the benefits of collective brainstorming, the library has collaborative spaces where you can gather with your peers and engage in discussions and collaborative projects. These spaces are equipped with comfortable seating arrangements and whiteboards to facilitate effective group work.
In addition to the traditional study areas, Emory University Library also boasts a wide range of technology and equipment to support your academic endeavors. Need to print out an important research paper? No problem. The library provides computers, printers, and scanners for your convenience. You can easily access these resources and ensure that your work is of the highest quality.
For those engaged in specialized learning, Emory University Library goes above and beyond by offering a variety of items for check-out. If you're working on a project that requires microfilm research, you can borrow a microfilm reader from the library. Similarly, if you need to capture visual content for your research, the library provides digital cameras for your use. Additionally, if you're working on a multimedia project, you can borrow audiovisual equipment to bring your ideas to life.
With these study spaces and facilities, Emory University Library strives to create an atmosphere of academic growth and success. Whether you prefer a quiet corner to delve into your studies or a collaborative space to engage with others, the library has everything you need to enhance your learning experience.
How to Access and Utilize Library Services
Now that we've explored what Emory University Library offers, let's look at how to access and utilize these services.
Library Membership and Borrowing Privileges
Students, faculty, and staff of Emory University have automatic membership to the library. This means that they have full access to all the resources and services that the library provides. From the vast collection of books, journals, and multimedia materials to state-of-the-art study spaces and research assistance, Emory University Library offers a wealth of resources to support the academic and intellectual pursuits of its community.
In addition to the Emory University community, alumni and neighborhood patrons can also access library resources. While the extent of their privileges may vary, they still have the opportunity to benefit from the wealth of knowledge and information available at the library. Whether it's conducting research for personal projects or simply enjoying the pleasure of reading, the library welcomes and serves a diverse range of individuals.
Borrowing resources at Emory adheres to certain policies and procedures designed to provide fair and efficient service to all patrons. The library has a well-organized system in place to ensure that materials are properly checked out and returned, allowing for a smooth circulation process. Additionally, the library offers interlibrary loan services, which enable patrons to request materials from other libraries if they are not available within the Emory University Library's collection.
Using the Library's Online Catalog
The extensive library catalog can be accessed online. It serves as the central hub to search and locate all of Emory's physical and online resources. With a user-friendly interface, the online catalog makes it easy for patrons to navigate through the vast collection of materials available. Whether you're looking for a specific book, a scholarly article, or a digital resource, the online catalog provides a powerful search engine that allows you to refine your search and find exactly what you need.
However, the online catalog is not just a search tool. It offers a range of practical features that enhance the user experience. By creating a personalized account, patrons can save their searches, create reading lists, and even receive notifications when new materials related to their interests become available. The online catalog also allows for online renewals, making it convenient for patrons to extend their borrowing period without having to physically visit the library.
In addition to these features, the online catalog provides request services. If a particular item is currently checked out or unavailable, patrons can place a hold or request it from another library through interlibrary loan. This ensures that patrons have access to the materials they need, even if they are not immediately available at Emory University Library.
Not just a building filled with books, the Emory University Library is a springboard for academic achievements and lifelong learning. With its rich resources and user-focused services, it truly is a cornerstone of education at Emory University. Whether you're a student, faculty member, alumni, or a member of the local community, the library is here to support your intellectual pursuits and provide you with the tools you need to succeed.