Benefits of Choosing Meteorology Schools
Why meteorology school? Well, observe the sky above. Is it cloudy or sunny? Are there large, marshmallow-like clouds or angry, dark clouds threatening snow? Regardless of how the sky appears, you are viewing the lower atmosphere of the Earth, a region studied by meteorology.
Meteorology is the science of atmospheric properties and phenomena, which includes the physics and chemistry of the atmosphere.
Meteorologists are commonly associated with weather forecasting. And indeed, some meteorologists do so! Predicting the weather is a complex process that requires both cutting-edge technology and traditional methods.
Meteorologists are investigators and observers. They take note of the physical conditions of the atmosphere above them and examine maps, satellite data, and radar data. They also compare various types of local, regional, and global weather data.
The Importance Of Meteorology
Why is meteorology important?  Meteorology is essential due to the effect that air conditions have on living things.
First, the role of weather forecasting in urban administration is crucial. To prevent disasters, cities prepare for extreme weather conditions such as tornadoes and snowstorms. Second, the importance of long-term weather forecasting for agriculture cannot be overstated. Hunger can be caused by a drought. Meteorology is essential for farmers because crops require water to grow.
Meteorology is also essential for both air and sea travel. Windy conditions affect aircraft and ships. Lightning can be hazardous for aircraft. Ships encounter difficulty due to ocean waves. In the event of extreme weather, airports cease operations, and ships remain in harbors.
Numerous individuals question why the study of the atmosphere is known as meteorology. The name is derived from the ancient Greeks.
In approximately 340 B.C.E., the Greek philosopher Aristotle penned the book Meteorologica, which contained all of the then-current knowledge regarding weather and climate. The title of Aristotle's book is derived from the Greek word "meteor," which referred to anything observed in the atmosphere and meant "something high up."
This term persisted through the ages, so specialists in the atmosphere became known as meteorologists. The study broadened, and now we have many meteorology schools.
High School Courses to Prepare for Meteorology Studies
The classes you to take in high school to enter meteorology school are important. To begin a career in meteorology, you must have earned good to excellent grades in high school, particularly in math, physics, chemistry, computer science, English, and even social studies.
Meteorology is a math-intensive field that requires a solid grasp of calculus and physics. If possible, you should graduate high school prepared to take calculus courses at the college level.
Learning computer programming and keyboard skills will be useful in the field of computer science, which is also very important. Teamwork, the capacity to work under pressure, and the ability to multitask will increase career opportunities.
Historically, women and minorities have been underrepresented in meteorology, but this is rapidly changing. If you have a strong interest in math and science and are a woman or a member of a minority, the weather industry may be a good fit for you.
What's the Average Length of Meteorology School?
The time it takes to become a meteorologist depends on the level of education one wants to achieve. A Bachelor of Science degree, which is the minimum requirement for this career, typically takes about four years to complete.
On the other hand, many people who work in the field of meteorology opt to get master's degrees or even doctorates. When added to the four years required to earn a bachelor's degree in most fields, the amount of time necessary to earn a master's degree might range from one to two more years.
After completing a master's degree, the time needed to earn a doctorate can range anywhere from five to seven additional years. If you are thinking about pursuing a career in meteorology, you should be aware that the amount of postsecondary education required can range anywhere from four to thirteen years, depending on the precise job within the profession that you wish to pursue.
Different Routes
Not all meteorologists have earned degrees in the field. Numerous people possess degrees in similarly related disciplines, such as chemistry, physics, mathematics, computer science, or other branches of earth science, such as hydrology or oceanography.
After completing undergraduate or graduate school, students may pursue occupations that involve the study of the atmosphere, thus becoming meteorologists. The time required to earn one of these degrees is comparable to that required to earn a degree in meteorology.
What School Is Best For Meteorology?
If you want to know what the best meteorology school is, the answer depends on the student applying. There are a vast number of universities offering the study of meteorology. However, we have compiled the well-reviewed five; the rest of this list can be seen in this blog.
Cornell University (Ithaca, NY)
It should be no surprise that Cornell University's College of Agriculture and Life Sciences is at the top of this list. In addition to being the only Ivy League institution on this list, it is also the only Ivy League institution with a program in atmospheric sciences.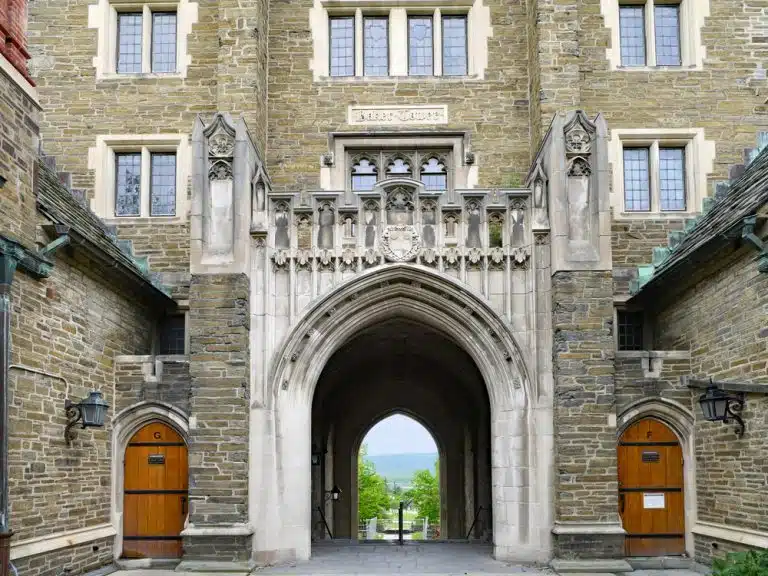 The university provides all the advantages one would expect from a school of its caliber, including access to a range of resources, including the Northeast Regional Climate Center.
The National Oceanic and Atmospheric Administration financially supports the center, and it collaborates with the National Climatic Data Center, the National Weather Service, and other organizations to collect data on and monitor changes in the northeast's atmosphere.
As with every other program at Cornell, the College's majors emphasize small class sizes, providing students with an extraordinary opportunity for close collaboration with instructors.
Students form close bonds with their teachers, which provides them with access to a variety of information and the opportunity to participate in research initiatives. Cornell University's Department of Atmospheric Sciences collaborates with the State University of New York system.
As a result, the tuition for the program is substantially less than that of an Ivy League college and much closer to that of a SUNY institution.
University of California, Los Angeles (Los Angeles, CA)
UCLA is highly regarded among the best meteorology schools in the United States due to the university's recognition of the urgency of the issue. It is in a privileged position to teach the next generation how to combat climate change.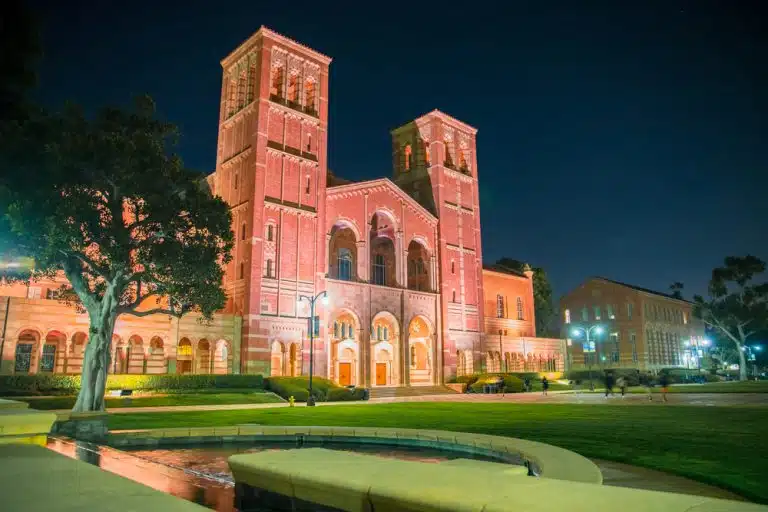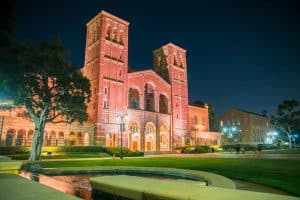 In order to attain this objective, the program takes into account the numerous climate and natural habitat changes that have occurred. Because human actions impact the environment, both the faculty and students at this institution take an active interest in the subject and attempt to stay current on the most recent developments. This makes UCLA a good meteorology school.
Participants in the program acquire experience working with some of the greatest specialists in their field, such as Professor Rong Fu. Professor Fu, who was awarded the American Meteorological Society's Award for Outstanding Achievement in Biometeorology, has spent years exploring tropical biosphere feedback mechanisms and teaching the next generation of professionals.
University of California, Berkeley (Berkeley, CA)
The Berkeley Atmospheric Sciences Center serves as the home base for research undertaken by both students and professors at the University of California, Berkeley.
One of the premier meteorology schools in the country, the Berkeley Atmospheric Science Center (BASC) provides cutting-edge technology and administrative support to the department in its role as the university's major center for research and education in atmospheric science.
The BASC is simply one of the numerous significant benefits of participating in the school's program. Meteorology majors obtain a foundational understanding of the scientific study of the atmosphere, climate, and circulation dynamics.
The course covers a broad range of topics, including, among others, the physics of climate variability, the consequences of smog, and the evolution of the stratospheric ozone layer.
All of this work prepares students for a culminating project in which they perform independent research and present their findings. Students can enhance their knowledge and interests by utilizing the vast resources available at UC Berkeley, such as the BASC while working closely with their departmental adviser and direct supervisor.
University of Michigan, Ann Arbor (Ann Arbor, MI)
This is how the University of Michigan at Ann Arbor's Climate and Space Sciences Engineering department markets itself to prospective students. This is a big assertion, but it is supported by their superb meteorology program.
Since its start in 1954, this program has placed an emphasis on research, training students in the principles of science while simultaneously encouraging creativity to match more contemporary discoveries. This illustrious legacy is still continued at their meteorology school.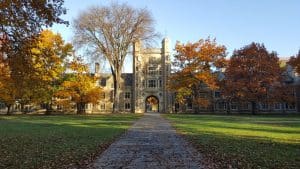 Major initiatives include theoretical and modeling studies that develop techniques to track ocean waves and currents, as well as the impact of natural and man-made aerosols on climate, among a number of other areas.
The faculty and students perform cooperative investigations into the chemistry of the lower atmosphere and the quality of the air as a whole. They work together to create novel techniques for sensing climate change, including devices and chemical chains. Therefore, the University of Michigan is one of the greatest meteorology programs in the United States.
University of California, San Diego (San Diego, CA)
The marine and atmospheric sciences major at the University of California, San Diego, gives students all they need to become experts in their profession, much like the other degrees on our list. Students examine the ocean and atmosphere, including the chemistry and physics that regulate these two habitats.
Students utilize sophisticated equipment and consult with experts from the Scripps Institution of Oceanography when doing their research. In purposefully small courses, students collaborate closely with instructors and graduate students to promote research topics.
However, the great internship opportunities it provides truly set UC San Diego apart from other colleges.
The Open Space Division of the Parks and Recreation Department of the City of San Diego contains a position from the past that serves as an illustration. Students also have the chance to serve as campus organizers, which can aid the university in its transition to clean energy and increase student engagement.
As indicated by these programs, the University of California, San Diego, places a substantial emphasis on the education and well-being of program participants.
Securing Admission to Your Desired Meteorology College
Admissions officers carefully assess your admission packet: your grades, the classes you took, essays, extracurricular activities, recommendations, and interviews.
Use these tips to increase your chances of getting into the college of your choice:
Entrance exams. California public colleges and universities no longer use the SAT or ACT test scores in admissions. The tests are not required, but you might want to take the ASVAB, SAT, or ACT exams anyway. Your scores can be used to fulfill minimum requirements and can help place you in the right classes. Take advantage of free online SAT or ACT materials, study guides, and practice tests.
Grades. Get the best possible grades you can during ALL four years of high school. Put great importance on classes that would be useful in meteorology school.
Classes. Take academically rigorous classes ALL four years. You should carry as many challenging courses as you can handle—college prep (also known as "A", Advanced Placement (AP), honors, and International Baccalaureate (IB).
College essays. Spend some time developing your college essays. Think and reflect before you write. Write, edit, rewrite. This is your opportunity to sell yourself. Convey who you are in your writing: energetic, exciting, passionate, and intellectually curious. How can you make the real "you" stand out from the rest of the crowd? Get your teachers and/or other school personnel feedback on the essays.
Extracurricular. Become involved in your school and/or community during ALL four years and summer vacations. You need to keep track of your involvement in extracurricular and co-curricular activities, sports, and/or volunteer activities in your community. Move up to leadership positions. Demonstrate growth. Develop a deep interest or talent in one or more areas.
Recommendations. Ask your school counselor and teachers who know you well for recommendations. At least a month in advance of college deadlines for recommendations jog their memories by providing them with a "personal data" or "brag sheet" highlighting your academic accomplishments, athletics, activities, and community service and leadership positions. Also, highlight anything special you did during the summer (for example, foreign travel to improve language skills, volunteer work, and projects).
Interviews. Prepare for on-campus interviews, if required by colleges. Re-read your essays and any information you have acquired on specific colleges. Be friendly and articulate. Dress professionally, not casually. After the interviews, send thank you notes or e-mails expressing your continued interest in their institution.
Find the right college. Decrease your stress by starting your search for colleges early—no later than the start of your junior year. This gives you adequate time for researching colleges, completing applications, writing essays, and taking necessary exams.
Get organized and stay focused. Success takes organization. Make a folder for each meteorology school that interests you.
Just ask. Get assistance from your school counselor and teachers. Don't be afraid to ask questions: There is no such thing as a dumb question.
Put relevant information inside the folder. Things like the information you have about the college, due dates and dates you submitted items, notes about what you've done and what's left to do, and a copy of your application and essay.
AdmissionSight can assist you if you are interested in pursuing a degree in meteorology and are considering applying to one of the best meteorology schools.
We have more than ten years of expertise assisting students in navigating the tough admissions process at the greatest colleges across the world. Consult with AdmissionSight and see what we can offer to make sure that you are well-prepared and knowledgeable enough to enter your choice of school.