Everything You Need To Know About Dartmouth Admissions
Dartmouth Admissions is known globally for its discerning process, rigorously selecting prospective students who represent the intellectual vitality, character, and diverse potential that epitomize the Dartmouth community.
With its picturesque campus, world-class academics, and thriving student life, Dartmouth is a top choice for many aspiring college students. In this article, we'll walk you through everything you need to know about Dartmouth admissions, from understanding the college to acing your application.
Understanding Dartmouth College
A Brief History of Dartmouth College
Founded in 1769, Dartmouth College is a private Ivy League research university located in Hanover, New Hampshire. It is the ninth-oldest institution of higher education in the United States. Dartmouth College is known for its strong commitment to undergraduate education, and its mission statement emphasizes the pursuit of academic excellence, intellectual breadth, and personal growth.
Throughout its history, Dartmouth College has been a leader in higher education. It was one of the first colleges in the United States to offer a curriculum focused on the liberal arts, and it was also one of the first colleges to admit women as full-time students. Today, Dartmouth College continues to be at the forefront of innovation in higher education, with a commitment to providing students with a well-rounded education that prepares them for success in a rapidly changing world.
Dartmouth's Campus and Location
Dartmouth's campus is situated on 269 acres of land overlooking the Connecticut River. The campus is divided into three main areas: the Green, the "central park" of the campus; the residential hill, which houses most of the dormitories; and the southern part of campus, which includes athletic facilities and administrative buildings. The campus is known for its beautiful architecture, with buildings ranging from historic Georgian-style structures to modern, state-of-the-art facilities.
One of the unique features of Dartmouth's location is its proximity to the outdoors. The college is located in the heart of the Upper Valley region of New Hampshire and Vermont, which is known for its natural beauty and outdoor recreation opportunities. Students at Dartmouth have easy access to hiking, skiing, and other outdoor activities, making it an ideal location for those who love to explore the great outdoors.
Academic Programs and Majors Offered
Dartmouth offers a wide range of undergraduate majors you can pursue once you get accepted by the Dartmouth admissions committee. Some of the most popular majors at Dartmouth include economics, computer science, biology, and psychology. The college also has a strong commitment to interdisciplinary study, offering unique programs such as the Native American Studies or the Digital Arts, Leadership, and Innovation program.
In addition to its undergraduate programs, Dartmouth also offers graduate programs in a variety of fields, including business, engineering, and medicine. The college is home to a number of research centers and institutes, including the Thayer School of Engineering and the Dartmouth Institute for Health Policy and Clinical Practice, which provide students with opportunities to engage in cutting-edge research and scholarship.
Overall, Dartmouth College is a vibrant and dynamic community of scholars and students who are committed to academic excellence, intellectual curiosity, and personal growth. Whether you are interested in pursuing a degree in the sciences, social sciences, humanities, or engineering, Dartmouth College has something to offer. With its beautiful campus, strong commitment to undergraduate education, and innovative academic programs, Dartmouth is a great choice for students who are looking for a top-notch education in a supportive and engaging environment.
The Dartmouth Admissions Process
Dartmouth College is a highly respected institution of higher learning that attracts students from all over the world. The admissions process is designed to identify those students who have the potential to thrive academically and personally at the college.
Application Deadlines and Requirements
The deadline for regular decision applications to Dartmouth is January 2. However, the college also offers Early Decision and QuestBridge options for students who have a strong interest in attending Dartmouth. Early Decision is a binding agreement, which means that if you are accepted, you are required to attend Dartmouth. QuestBridge is a program that matches high-achieving, low-income students with selective colleges and universities.
All applicants must submit the Common Application, along with an application fee or fee waiver request. The application fee is $80, but fee waivers are available for students who demonstrate financial need.
Standardized Test Scores and GPA
The admissions committee at Dartmouth considers a range of factors when evaluating applications. Test scores and GPA are important components of the application, but they are not the only criteria used to make admission decisions. The middle 50% of accepted students have SAT scores between 1460-1570 and ACT scores between 33-35.
It is important to note that Dartmouth practices a holistic admissions process, meaning that they take into account a student's entire application, not just their test scores or GPA. This means that even if your scores are not in the middle 50%, you may still be admitted if you have other strengths in your application.
Essays and Personal Statements
The essay is a critical component of the Dartmouth application, and it gives applicants the opportunity to speak directly to the admissions committee. Applicants must submit one main essay and two short responses that reflect their intellectual curiosity, personal experiences, and sense of humor. The essay prompts change yearly, but the focus is always on getting to know the applicant on a deeper level.
It is important to take the essay seriously and spend time crafting a thoughtful and well-written piece. This is your chance to showcase your personality and demonstrate why you would be a good fit for Dartmouth.
Letters of Recommendation
Applicants are required to submit two to four letters of recommendation to the Dartmouth admissions committee. These letters should come from teachers, coaches, or other adults who know the applicant well and can speak to their academic and personal qualities. Dartmouth recommends that at least one letter come from a teacher who has taught the student in a core academic subject.
When selecting your recommenders, it is important to choose individuals who can speak to your strengths and potential as a student. It is also a good idea to give your recommenders plenty of time to write their letters and provide them with any relevant information about your accomplishments and goals.
Extracurricular Activities and Awards
Applicants should also submit a list of their extracurricular activities, including hobbies, community service, and leadership positions. Dartmouth is looking for students who have engaged deeply with their passions and interests and can bring that enthusiasm and energy to campus. Awards and other forms of recognition can also be included in this section.
When listing your extracurricular activities, it is important to provide context and detail. For example, instead of simply listing "volunteered at a nursing home," you could say "volunteered at a nursing home for 2 years, where I organized weekly game nights and helped residents with daily activities."
Overall, the Dartmouth admissions process is designed to identify students who are not only academically strong, but also passionate, curious, and engaged. By taking the time to craft a strong application and showcase your unique strengths and experiences, you can increase your chances of being admitted to this prestigious college.
Financial Aid and Scholarships
At Dartmouth College, they believe that every student should have access to a high-quality education, regardless of their financial situation. That's why they are committed to meeting the demonstrated financial need of all admitted students. They offer a combination of grants, loans, and work-study opportunities to help students cover the cost of attendance.
Types of Financial Aid Available
Our financial aid program is designed to be comprehensive and flexible. They understand that every student's situation is unique, so they offer a range of financial aid options to meet different needs. Their financial aid program includes:
Grants: This is money that does not need to be repaid and is typically awarded based on financial need.
Loans: This is money that needs to be repaid with interest. They offer both federal and institutional loans.
Work-Study: This is an opportunity for students to work part-time on campus to help cover their college costs.
In addition, they have instituted a no-loan policy for families with annual incomes of less than $100,000. This means that these families will not be required to take out loans to cover the cost of attendance.
How to Apply for Financial Aid
If you are interested in applying for financial aid, the first step is to submit the CSS Profile and the FAFSA. These forms will be used to determine your Expected Family Contribution, or EFC, which is the amount your family is expected to contribute toward college costs. It is important to note that you must reapply for financial aid each year.
Our financial aid office is available to answer any questions you may have about the application process or their financial aid program.
Dartmouth-specific Scholarships
In addition to its comprehensive financial aid program, Dartmouth offers a range of scholarships to help offset the cost of attendance. These scholarships are awarded based on a variety of factors, including academic achievement, leadership potential, and financial need. It is important to look for scholarship opportunities as early as you submit an application to the Dartmouth admissions committee. Some of the most well-known scholarships at Dartmouth include: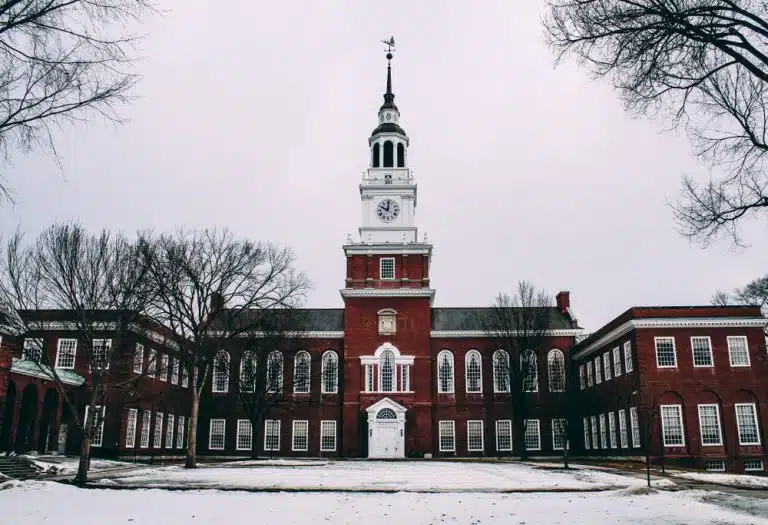 The Stamps Scholarship
The QuestBridge Scholarship
The Watson Fellowship
If you are interested in applying for one of these scholarships, please visit their financial aid website for more information.
External Scholarships and Grants
Students are also encouraged to seek out external scholarships and grants to help cover the cost of college. These scholarships can be awarded by organizations, corporations, or foundations and can be based on anything from academic achievement to community service to artistic talent.
Our financial aid office has compiled a list of external scholarships and grants that may be of interest to their students. Please visit their financial aid website for more information.
Tips for a Successful Dartmouth Application
Demonstrating Interest in Dartmouth
Dartmouth College is a prestigious institution that values students who are passionate about their academic programs and the community. The college offers a unique, residential-based learning experience that fosters close relationships between students and faculty. To demonstrate your interest in Dartmouth, consider visiting the campus to get a firsthand experience of the college's atmosphere. You can also attend an admissions information session to learn more about the application process and the college's academic programs. Additionally, reaching out to current students or alumni can provide valuable insights into student life at Dartmouth.
During your visit, be sure to take a tour of the campus and attend a class or two to get a feel for the academic environment. You can also explore the surrounding area, which offers a range of outdoor activities and cultural events.
Crafting a Compelling Personal Statement
The personal statement is an essential part of your application and provides an opportunity to showcase to Dartmouth admissions your personality, voice, and perspective. Take some time to brainstorm topics that are meaningful to you and that you can write about with passion and authenticity. You can also consider discussing your academic interests, extracurricular activities, or personal experiences that have shaped your worldview.
When crafting your personal statement, be sure to focus on your unique qualities and experiences. Avoid trying to fit a mold or writing what you think the admissions committee wants to hear. Instead, write from the heart and let your personality shine through. Revise your essay multiple times and have it reviewed by a teacher or counselor before submitting it.
Highlighting Your Unique Qualities and Experiences
Dartmouth is a community of individuals with diverse backgrounds and perspectives. The college values students who bring unique experiences and perspectives to the community. Use your application to showcase what makes you unique and how your experiences have shaped who you are today.
You can discuss anything from overcoming personal challenges to pursuing niche hobbies to advocating for social justice. Highlighting your involvement in extracurricular activities, community service, or leadership roles can also demonstrate your commitment to making a positive impact in the world.
Preparing for a Possible Interview
Dartmouth offers optional interviews to applicants who wish to have a conversation with an admissions representative. The interview is an opportunity to further showcase your interest in the college and to discuss your qualifications and experiences in more detail.
To prepare for your interview, research the college and come prepared with thoughtful questions and a positive attitude. You should also be ready to discuss your academic interests, extracurricular activities, and personal experiences. Dress professionally and arrive on time for your interview, whether it is in person or via phone or video chat.
Remember, the interview is not just about what you say, but also how you say it. Be confident, articulate, and enthusiastic about your interest in Dartmouth. A positive attitude and genuine interest in the college can go a long way in making a lasting impression on the Dartmouth admissions committee.
Life at Dartmouth College
Located in Hanover, New Hampshire, Dartmouth College is a private Ivy League research university known for its exceptional undergraduate education. With a student population of just over 6,500, Dartmouth offers a close-knit community where students can thrive academically and socially.
Residential Life and Housing Options
Dartmouth College has a unique residential life system that guarantees every student a place to live on campus for all four years. This system fosters a strong sense of community and encourages students to form lasting friendships with their peers. The college has a variety of housing options, from traditional dormitory-style housing to theme-based living communities. All residential halls are staffed by trained upperclassmen who act as mentors and advisors to incoming students.
Living on campus at Dartmouth provides students with many opportunities to get involved in extracurricular activities and events. From movie nights to game tournaments to guest speakers, there is always something happening on campus.
Clubs, Organizations, and Athletics
Dartmouth College has over 200 student-run organizations and clubs, ranging from academic groups to performance groups to cultural organizations. These clubs provide students with the opportunity to pursue their interests and passions outside of the classroom. The college also has a robust athletic department, with 35 varsity teams and numerous intramural and club sports options. The Big Green is a proud member of the Ivy League conference and has a strong tradition of athletic excellence.
Whether you are interested in joining a sports team, performing in a theater production, or volunteering for a community service project, there is a club or organization at Dartmouth that will fit your interests.
Study Abroad and Off-Campus Opportunities
Dartmouth's off-campus study program gives students the opportunity to study in locations around the globe. The college offers over 40 programs in 20 countries, each with its own unique focus and curriculum. Studying abroad allows students to gain a global perspective and develop valuable cross-cultural skills. It is important to consider these opportunities when submitting your application to Dartmouth admissions.
In addition, to study abroad opportunities, Dartmouth also has a strong commitment to experiential learning and encourages students to pursue internships, research opportunities, and service projects. These experiences provide students with real-world skills and prepare them for success after graduation.
Career Services and Post-Graduation Support
Dartmouth's Center for Professional Development offers a wide range of services to help students explore career interests, develop job search strategies, and connect with potential employers. The center provides career counseling, resume reviews, interview preparation, and networking opportunities.
The college has a strong alumni network around the world, and graduates of Dartmouth have gone on to have successful careers in a variety of fields. Whether you are interested in pursuing a career in finance, technology, healthcare, or any other industry, Dartmouth's career services team can help you achieve your goals.
Overall, life at Dartmouth College is an enriching and rewarding experience. With a strong community, diverse extracurricular opportunities, and a commitment to academic excellence, Dartmouth provides students with the tools they need to succeed in college and beyond.
Frequently Asked Questions about Dartmouth Admissions
Welcome to their guide on Dartmouth Admissions! They understand that applying to college can be a stressful process, so we've compiled some frequently asked questions to help you navigate the application process with ease. Read on to learn more about the admissions process at Dartmouth College.
What is the Acceptance Rate at Dartmouth?
The acceptance rate at Dartmouth varies from year to year but typically hovers around 7%. The college is highly selective and looks for students who have excelled academically, demonstrated leadership potential, and are committed to making a positive impact on the world. It's important to note that while the acceptance rate may seem low, Dartmouth values each applicant and takes a holistic approach to the admissions process.
It's also worth mentioning that Dartmouth is need-blind in its admissions process, which means that the college does not consider an applicant's ability to pay when making admissions decisions. This ensures that all students, regardless of financial background, have an equal opportunity to attend Dartmouth.
How Important Are Extracurriculars in the Admissions Process?
Extracurricular activities are one of many factors considered in the admissions process, and there is no set formula for determining their weight. Dartmouth is looking for students who have engaged deeply with their passions and interests, whether that be through sports, music, community service, research, or any other activity.
When evaluating extracurricular activities, Dartmouth admissions officers are looking for quality over quantity. They want to see that you have pursued your interests with dedication and purpose and that you have made a positive impact in your community or field of interest. This could mean starting a club, volunteering at a local organization, or conducting research with a professor.
Can I Apply Early Decision or Early Action?
Yes, Dartmouth offers both Early Decision and Early Action options for prospective students who have a strong interest in the college. Early Decision is binding, meaning that if you are accepted, you must attend Dartmouth. Early Action is non-binding, meaning that if you are accepted, you have until the regular decision deadline to make a final decision.
It's important to note that applying Early Decision or Early Action can increase your chances of being accepted, but it's not a guarantee. You should only apply early if you are confident that Dartmouth is your top choice and that you would attend if accepted.
What is the Transfer Admissions Process Like?
The transfer admissions process at Dartmouth is highly competitive, and the college typically admits only a small number of transfer students each year. Applicants must have completed a minimum of one year of college coursework and should have a strong academic record. Transfer applicants are required to submit letters of recommendation, transcripts, and essays.
If you are considering transferring to Dartmouth, it's important to note that the college does not offer need-based financial aid to transfer students. However, transfer applicants may be eligible for merit-based scholarships or other forms of financial assistance.
In conclusion, Dartmouth admissions can be an exciting but also daunting process. As you navigate the application process, remember to stay true to yourself and showcase what makes you unique. With a little bit of preparation and a lot of hard work, you can position yourself for success and join the thriving community of Big Green alumni.
How AdmissionSight Can Help You With College Admissions
Hello, we're AdmissionSight, a dedicated college admissions consulting service. We're committed to helping high school students navigate the complex journey toward admission to top-tier universities. Our team of experienced consultants guides you through every step, from strategic planning and course selection to crafting compelling personal statements and interview preparation.
We understand that each student is unique, and we help you communicate your individual story in a way that will resonate with admissions committees. Our data-driven approach, personalized strategies, and commitment to reducing stress throughout the process have led to a high success rate, with many of our students being admitted to Ivy League and other top institutions.
We're not just about getting you into college; we aim to set you up for success beyond, by helping you develop a strong academic and extracurricular profile. Contact us and let's turn your college dreams into reality!