Exploring the Admissions Statistics at Villanova University
Villanova University is a highly selective private research institution located in Pennsylvania. For many high school students, attending a prestigious university like Villanova is a dream come true. However, with a low acceptance rate, it can be a challenging process to get admitted. In this article, we will explore the admissions statistics at Villanova and provide insights on how to increase your chances of getting accepted.
Breaking Down the Acceptance Rate at Villanova University
According to the latest data from the admissions office, Villanova University had an acceptance rate of 28% for the class of 2024. This is a highly competitive number, and as such, Villanova is considered a highly selective school.
One thing to note is that the admission rate varies depending on whether you apply through early decision or regular decision. In 2020, the acceptance rate for early decision applicants was 39%, while regular decision saw an acceptance rate of 24%. This indicates that applicants who apply early decision have a better chance of getting into Villanova than those who apply through regular decision.
It's also worth noting that Villanova University has a holistic admissions process, which means that they consider a variety of factors beyond just test scores and GPA. They take into account extracurricular activities, essays, letters of recommendation, and other personal qualities that demonstrate a student's potential for success at Villanova. This means that even if your test scores or grades are not as high as other applicants, you still have a chance of being accepted if you can demonstrate your strengths in other areas.
What GPA and Test Scores Do You Need to Get into Villanova University?
When it comes to admissions requirements, Villanova places a heavy emphasis on academic performance. While the overall admissions decision is based on a variety of factors, such as extracurricular activities and personal essays, your grades and standardized test scores are incredibly important.
The median SAT score for Villanova's class of 2024 was 1475, while the median ACT score was 33. This means that in order to be a competitive applicant, it's recommended to score at least in the upper range of these numbers. In terms of GPA, the middle 50% of admitted students had a weighted GPA between 4.0 and 4.5.
However, it's important to note that Villanova also values a well-rounded applicant. They look for students who not only excel academically, but also demonstrate leadership skills, community involvement, and a passion for their interests. This means that while GPA and test scores are important, they are not the only factors that determine admission to Villanova University.
A Look at the Demographics of Villanova University's Admitted Students
Villanova's student body is incredibly diverse, with students from all 50 states and 54 countries. In terms of gender, the class of 2024 was 56% female and 44% male.
Furthermore, Villanova's commitment to diversity is reflected in the racial and ethnic makeup of its student body. The class of 2024 was 18% Hispanic/Latino, 7% African American, and 12% Asian American.
In addition to its diverse student body, Villanova University also offers a wide range of academic programs and extracurricular activities. The university has over 50 undergraduate majors and minors, as well as numerous graduate programs. Students can also participate in over 250 clubs and organizations, including academic, cultural, and athletic groups. Villanova's commitment to providing a well-rounded education is evident in its emphasis on both academic excellence and personal growth.
How to Increase Your Chances of Getting Accepted to Villanova University
While admissions decisions are not entirely predictable, there are steps you can take to increase your chances of getting accepted to Villanova. First, it's essential to focus on achieving strong grades and test scores, as these are critical factors in the admissions process.
Additionally, engaging in extracurricular activities and demonstrating leadership skills can help set you apart from other applicants. Volunteering, participating in clubs, and taking on leadership roles in your community showcases your passion and commitment.
Another way to increase your chances of getting accepted to Villanova is to showcase your unique talents and interests. Whether it's through a personal project, a creative endeavor, or a research paper, demonstrating your skills and passions can make you stand out from other applicants.
Finally, it's important to put effort into your application essays and personal statement. These pieces allow you to showcase your personality, values, and goals, and can help admissions officers get a better sense of who you are as a person. Be sure to proofread your essays carefully and ask for feedback from teachers or mentors to ensure they are polished and effective.
The Role of Extracurricular Activities in Admissions at Villanova University
Extracurricular activities are an essential part of the application process at Villanova. Admissions officers look beyond your academic achievements to see what you are passionate about and how you have contributed to your community.
However, it's important to note that quality over quantity is crucial when it comes to extracurricular activities. It's better to be deeply involved in a few activities than to be involved in many at a surface level. This shows your dedication and commitment to the activities you care about most.
One of the most popular extracurricular activities at Villanova is community service. The university has a strong commitment to service and encourages students to get involved in volunteer work. Admissions officers look for applicants who have made a positive impact in their community through service projects and other initiatives.
In addition to community service, Villanova also values leadership skills. Admissions officers are impressed by applicants who have taken on leadership roles in their extracurricular activities, such as serving as a team captain or club president. These experiences demonstrate your ability to take initiative and work collaboratively with others.
Understanding Early Decision and Regular Decision Admissions at Villanova University
Applying to Villanova through early decision or regular decision can affect your chances of getting admitted. Early decision is a binding agreement, and students applying through this option typically have a higher acceptance rate.
Regular decision, on the other hand, is non-binding, and students have until May 1st to make their decision. However, regular decision applicants typically face steeper competition as more students apply through this method.
It's important to note that applying through early decision is a big commitment. If you are accepted, you are required to attend Villanova and withdraw all other college applications. This option is best for students who are certain that Villanova is their top choice and are willing to make that commitment.
The Importance of Writing a Strong Personal Essay for Villanova University Admissions
The personal essay is your chance to showcase who you are as a person and why you would be a good fit for Villanova. The essay is a critical part of the admissions process and should not be taken lightly.
When writing your essay, avoid generic statements and instead, focus on specific experiences and how they have shaped you as an individual. Be authentic in your writing, and don't be afraid to show your personality. Remember, the goal of the essay is to help the admissions committee get to know you better, so be sure to make it personal.
One important aspect to keep in mind when writing your personal essay is to tailor it specifically to Villanova University. Research the university's values, mission, and culture, and incorporate them into your essay. This will show the admissions committee that you have a genuine interest in attending Villanova and have taken the time to understand what makes the university unique.
Another tip is to have someone else read your essay before submitting it. This can be a teacher, counselor, or even a friend or family member. Getting feedback from others can help you identify areas where you can improve and ensure that your essay effectively communicates who you are and why you would be a great addition to the Villanova community.
How COVID-19 Has Affected the Admissions Process at Villanova University
The COVID-19 pandemic has disrupted many aspects of daily life, including the college admissions process. Villanova has made several adjustments to its admissions process to accommodate for the pandemic.
For example, Villanova has implemented a test-optional policy for the class of 2025 due to the challenges that students have faced with limited testing opportunities. Additionally, virtual information sessions and tours are available for prospective students to participate in from the comfort of their own homes.
In addition to these changes, Villanova has also extended its application deadline for the class of 2025 to provide students with more time to complete their applications. The university has also waived its application fee for students who have been financially impacted by the pandemic.
Furthermore, Villanova has increased its focus on holistic admissions, taking into account a student's entire academic and personal profile, rather than just their test scores. This shift in focus aims to provide a fair and equitable admissions process for all students, regardless of their access to testing opportunities during the pandemic.
Comparing the Admissions Statistics of Villanova University to Other Top Universities in the United States
Villanova is consistently ranked among the top universities in the United States. However, it's essential to remember that admissions standards and acceptance rates can vary significantly from school to school.
For example, Villanova's acceptance rate of 28% is lower than that of some Ivy League schools, such as Cornell (23.8%) and Dartmouth (8.8%). However, it's important to note that admissions decisions are not solely based on acceptance rates and that Villanova offers a unique educational experience that is highly valued by students and graduates alike.
Additionally, Villanova University has a strong commitment to providing financial aid and scholarships to its students. In fact, over 90% of Villanova students receive some form of financial assistance, making it a more affordable option for many families. This dedication to accessibility and affordability is just one of the many reasons why Villanova continues to be a top choice for students seeking a high-quality education.
Tips for Touring Villanova University Before Applying
If you are considering applying to Villanova, visiting the campus is highly recommended. Attending an information session and taking a campus tour is a great way to get a feel for the university and to see if it's the right fit for you.
During your visit, be sure to engage with current students and faculty to get a sense of the community and academic atmosphere at Villanova. Additionally, exploring the surrounding area will give you a sense of what it's like to live in the suburbs of Philadelphia.
Another important aspect to consider when touring Villanova is the campus facilities. Take the time to visit the library, athletic facilities, and student center to see what resources are available to students. You can also ask about research opportunities, internships, and study abroad programs to get a better understanding of the university's academic offerings.
The Impact of Legacy Status on Admissions at Villanova University
Legacy status refers to when a student has a relative who has attended the university previously. While being a legacy can sometimes give you a slight advantage in the admissions process, it's not a guarantee of acceptance.
So while it doesn't hurt to mention your familial connections to Villanova in your application, it's important to remember that the admissions process is based on a multitude of other factors and that being a legacy alone is not enough to get you admitted.
However, studies have shown that legacy status can still have a significant impact on admissions at Villanova University. According to a report by The Wall Street Journal, legacy applicants at Villanova were admitted at a rate of 42%, compared to a 28% acceptance rate for non-legacies. This suggests that while being a legacy may not guarantee admission, it can still be a factor that admissions officers take into consideration.
Breaking Down Financial Aid and Scholarships Offered by Villanova University
Attending a prestigious university like Villanova can be expensive, but the university offers several financial aid and scholarship options to help make the cost more manageable.
In fact, Villanova guarantees to meet 100% of demonstrated financial need for admitted students, which means that students from all backgrounds have access to a high-quality education.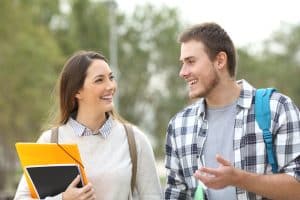 One of the financial aid options offered by Villanova is need-based aid, which is awarded to students based on their financial need. This aid can come in the form of grants, loans, or work-study programs. Additionally, Villanova offers merit-based scholarships to students who have demonstrated exceptional academic achievement or talent in a particular area.
It's important to note that financial aid and scholarships are not just for incoming freshmen. Current students can also apply for aid and scholarships to help cover the cost of tuition and other expenses. Villanova's financial aid office is available to assist students in navigating the application process and finding the best options for their individual needs.
What Happens After You Submit Your Application to Villanova University?
After submitting your application, you will receive a confirmation email indicating that your application has been received and is under review. Admissions officers will review your application in its entirety and make a decision based on several factors, including your grades, standardized test scores, extracurricular activities, personal essay, and more.
You will typically receive an admissions decision by mid-December if you applied through early decision, or by mid-March if you applied through regular decision. However, the exact timeline may vary depending on the year and other factors.
It is important to note that Villanova University practices holistic admissions, meaning that they consider the whole applicant and not just their academic achievements. This means that they take into account factors such as community involvement, leadership experience, and unique talents or skills. Additionally, Villanova offers a test-optional admissions process, allowing students to choose whether or not to submit standardized test scores with their application.
Interview with a Current Student: Insights about the Admissions Process at Villanova University
To gain additional insights into the admissions process at Villanova, we spoke with a current student who was recently accepted into the university.
The student noted that while academic performance is essential, demonstrating a passion for your interests and showcasing your personality in the essays and during interviews can make a significant impact on the admissions committee's decision.
Additionally, the student recommended taking advantage of resources like an admissions counselor or mentor to help guide you through the process and to ask any questions you may have.
Furthermore, the student emphasized the importance of being well-rounded and involved in extracurricular activities. Admissions committees look for students who not only excel academically but also demonstrate leadership skills, community involvement, and a commitment to their passions outside of the classroom.
Lastly, the student advised prospective students to start the application process early and to give themselves plenty of time to craft a strong application. This includes taking the time to write thoughtful essays, gathering strong letters of recommendation, and preparing for any required standardized tests.
Conclusion
Villanova University is a highly selective institution that offers a top-notch educational experience. While applying to Villanova can be intimidating, focusing on academic performance, engaging in extracurricular activities, and demonstrating leadership skills can help set you apart from other competitive applicants. By following the tips and strategies outlined in this article, you can increase your chances of getting admitted to Villanova University.
It is important to note that Villanova University also values community service and a commitment to social justice. Applicants who have demonstrated a dedication to serving others and making a positive impact in their communities will also be highly regarded in the admissions process. Additionally, Villanova offers a wide range of resources and support for students, including academic advising, career services, and opportunities for research and internships. Overall, Villanova University is a great choice for students who are looking for a challenging and rewarding academic experience, as well as a strong sense of community and social responsibility.
If you want to discuss the matter to a greater extent or inquire about college admissions, look no further! Our experts here at AdmissionSight can definitely help you! Here at AdmissionSight, we have over a decade's worth of experience guiding students through the competitive admissions process to get accepted to the top universities in the world. Feel free to set up an appointment today to book your initial consultation.