Exploring the Four Seasons: A Comprehensive Guide to UMichigan Weather
As the first leaves of autumn begin to fall, or as the first snowflakes of winter start to blanket the ground, one can't help but marvel at the ever-changing spectacle of UMichigan weather. The University of Michigan, affectionately known as UMichigan, is a place where the weather is as diverse as the student body itself. It's a place where each season unfolds with its own unique palette of colors, temperatures, and experiences.
This article, "Exploring the Four Seasons: A Comprehensive Guide to UMichigan Weather," aims to provide an in-depth look at the weather patterns that shape life on campus.
Brief Overview of UMichigan
Nestled in the heart of Ann Arbor, UMichigan is a prestigious institution that is home to over 40,000 students from all corners of the globe.
The campus, with its iconic buildings and sprawling green spaces, is a microcosm of the city itself – vibrant, diverse, and always buzzing with energy.
But what truly sets UMichigan apart is its weather. The UMichigan weather is a dynamic entity, constantly shifting and changing, bringing with it a new set of challenges and opportunities.
It's a defining feature of the university, shaping the rhythm of campus life and influencing everything from academic schedules to extracurricular activities.
Importance of Understanding Weather Patterns for Students
Understanding UMichigan weather is not just about knowing when to carry an umbrella or wear a winter coat.
It's about understanding how the weather can impact your daily life as a student. It's about knowing how the changing seasons can affect your mood, your health, and your academic performance.
It's about learning to adapt and thrive in a constantly changing environment. For instance, the cold, snowy winters can be challenging, but they also bring opportunities for winter sports and cozy study sessions in the library.
What Makes UMichigan Weather Unique?
What sets the weather at UMichigan apart from other places? UMichigan weather is a symphony of seasons, each playing its own unique tune.
It's a place where you can experience the full spectrum of weather, from the vibrant hues of fall to the pristine white of winter, from the fresh bloom of spring to the sunny warmth of summer.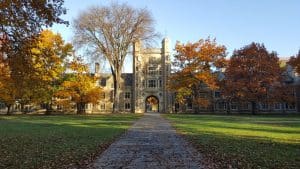 The weather at UMichigan is not just a backdrop to campus life, but an integral part of it. It shapes the rhythm of the academic year, influences the activities on campus, and even plays a role in the traditions and culture of the university.
It's a unique aspect of the UMichigan experience that leaves a lasting impression on everyone who steps foot on campus.
Geographic Location and Its Influence on Weather
Situated in the Great Lakes region, UMichigan's weather is greatly influenced by its geographic location.
The proximity to the lakes creates a unique microclimate that results in distinct seasonal variations.
The lakes act as a moderating influence, making the summers cooler and the winters milder than other regions at the same latitude.
However, the UMichigan weather is also known for its unpredictability. It's not uncommon to experience sudden weather changes within a single day, with sunny skies quickly giving way to rain or snow.
This unpredictability adds an element of surprise and excitement to the UMichigan weather, making it a topic of constant discussion among students and faculty.
Unique Weather Phenomena in Michigan
Michigan is known for some unique weather phenomena, and UMichigan is no exception. One such phenomenon is the "lake effect" snow, which occurs when cold air moves over the warmer waters of the Great Lakes, picking up moisture and depositing it as snow on the leeward shores.
This can result in heavy snowfall in the UMichigan area, creating a winter wonderland on campus.
Another unique aspect of UMichigan weather is the stunning fall foliage. The campus is home to a variety of trees that put on a spectacular display of colors in the fall, making it one of the most beautiful times to visit the university.
Comparison of UMichigan Weather to Other Universities
Compared to other universities, UMichigan weather stands out for its diversity and unpredictability.
Unlike universities located in regions with a more uniform climate, UMichigan offers students the opportunity to experience a wide range of weather conditions.
This can be both a challenge and an advantage. On one hand, it requires students to be adaptable and prepared for sudden weather changes.
On the other hand, it provides a rich variety of experiences and activities that are unique to each season.
Whether it's building a snowman in the winter, picnicking on the Diag in the summer, or simply enjoying the beautiful fall colors on a leisurely walk, the UMichigan weather adds a unique dimension to the university experience.
What Can the Students Expect from Each Season at UMichigan?
What kind of weather should students anticipate in each season at UMichigan? The UMichigan weather is a kaleidoscope of seasons, each with its own unique character and charm.
As a student, you can expect to experience a wide range of weather conditions throughout the academic year.
Detailed Breakdown of Each Season
Fall at UMichigan is a spectacle of colors, with the campus trees putting on a stunning display of reds, oranges, and yellows.
The weather is typically mild, with temperatures ranging from the mid-60s to low 70s in September, gradually cooling down to the 40s and 50s by November.
Winter is a season of contrasts, with the stark beauty of the snow-covered campus providing a striking backdrop to the vibrant student life.
Temperatures can drop below freezing, and snowfall is common, especially in January and February.
Spring brings a sense of rejuvenation, with temperatures gradually warming up and the campus coming alive with blooming flowers and budding trees.
Summer at UMichigan is warm and sunny, with temperatures typically in the 70s and 80s, making it a perfect time for outdoor activities.
Typical Weather Events in Each Season
Each season at UMichigan brings its own set of typical weather events. You can expect crisp, clear days and cooler nights in the fall.
Rain is not uncommon, especially in late fall. Winter is characterized by snowfall, with the possibility of occasional snowstorms.
The "lake effect" can result in heavy snowfall in the UMichigan area, creating a winter wonderland on campus. Spring is a time of change, with a mix of rain and sunshine.
You can expect occasional showers, especially in April. Summer is typically warm and sunny, with occasional thunderstorms.
How Does UMichigan Weather Affect Student Life?
In what ways does the weather at UMichigan influence student activities and lifestyle? The UMichigan weather is more than just a backdrop to student life; it's an active participant, shaping the rhythm of the academic year and influencing the ebb and flow of activities on campus.
Each season brings its own unique set of experiences, challenges, and opportunities, adding a dynamic element to the student experience.
Outdoor and Indoor Activities
The changing seasons and varied UMichigan weather offer a wide range of both outdoor and indoor activities.
In the fall, students can enjoy outdoor activities like football games, picnics, and hikes, taking advantage of the mild weather and beautiful fall foliage.
As winter sets in and the campus transforms into a winter wonderland, indoor activities like study groups, club meetings, and indoor sports take center stage.
However, the snow also brings opportunities for outdoor fun like snowball fights and sledding. Spring and summer bring a return to outdoor activities, with students enjoying everything from Frisbee on the Diag to exploring Ann Arbor's many parks and outdoor spaces.
Sports and Recreation
UMichigan weather also plays a significant role in sports and recreation at the university. The fall football season is a major highlight, with students bundling up to cheer on the Wolverines in the crisp fall weather.
Winter brings opportunities for ice skating, hockey, and even broomball on the frozen ponds around campus.
Spring sees the return of outdoor sports like baseball, softball, and track and field, while summer is perfect for swimming, cycling, and a host of other outdoor activities.
Health and Wellness
The changing UMichigan weather can also have an impact on student health and wellness. The colder months can bring challenges like flu season and the winter blues, making it important for students to take care of their physical and mental health.
This might include everything from getting a flu shot to using light therapy lamps to combat the seasonal affective disorder.
The warmer months, on the other hand, bring their own set of challenges, like staying hydrated and protecting against sunburn.
Throughout the year, the university offers resources and services to help students stay healthy and thrive, regardless of the weather.
Academic Calendar and Events
Finally, the UMichigan weather plays a role in shaping the academic calendar and events. The academic year kicks off in the fall, with Welcome Week and other start-of-the-year events taking advantage of the warm weather and vibrant campus atmosphere.
The winter semester starts in January, with events like Winterfest helping students get involved and stay engaged despite the cold weather.
Spring brings a flurry of end-of-the-year events and celebrations, while summer offers a more relaxed pace with fewer students on campus and a host of summer activities and events.
How Can Students Prepare for UMichigan Weather?
What steps can students take to get ready for the weather at UMichigan? Preparing for UMichigan weather is all about adaptability and planning.
Given the wide range of weather conditions you can encounter throughout the year, it's important to stay informed about the current weather and upcoming forecasts.
This will allow you to plan your activities and dress appropriately for the weather. It's also a good idea to familiarize yourself with the typical weather patterns for each season, so you know what to expect.
Remember, UMichigan weather can be unpredictable, so it's always a good idea to have a backup plan for outdoor activities.
Essential Clothing and Gear for Each Season
When it comes to clothing and gear, each season requires a different approach. For the fall, layers are your best friend.
The weather can be quite variable, so having the ability to add or remove layers as needed is key. A good rain jacket and sturdy shoes are also essential for those rainy fall days. For the winter, warm clothing is a must.
Think thermal layers, a heavy coat, waterproof boots, gloves, and a hat. Don't forget a good quality umbrella and snow boots for those snowy days.
For the spring, layers are again a good idea, as the weather can be quite changeable. A light jacket and rain boots are also good to have on hand.
For the summer, light clothing is the way to go. Don't forget your sunscreen, sunglasses, and a hat to protect against the sun.
Tips for Staying Healthy in Various Weather Conditions
Staying healthy in the various UMichigan weather conditions requires a mix of common sense and good habits.
In the colder months, it's important to stay warm and dry to avoid colds and flu. Eating a healthy diet and staying hydrated can also help boost your immune system.
In the warmer months, staying hydrated becomes even more important, especially when participating in outdoor activities.
It's also important to protect your skin from the sun with sunscreen and appropriate clothing. Throughout the year, regular exercise can help you stay fit and healthy, whether it's indoor workouts in the winter or outdoor activities in the summer.
Conclusion
In conclusion, the UMichigan weather is a defining feature of the university experience, shaping the rhythm of campus life and influencing everything from academic schedules to recreational activities.
Each season brings its own unique set of experiences, challenges, and opportunities, adding a dynamic element to the student journey.
From the vibrant energy of fall to the quiet beauty of a snow-covered campus in winter, from the rejuvenation of spring to the relaxed pace of summer, the UMichigan weather plays a significant role in defining the student experience.
Whether you're a prospective student trying to decide if UMichigan is the right fit for you, a new student preparing for your first year, or a current student looking to make the most of your time at the university, understanding the UMichigan weather is key.
So here's to the UMichigan weather – may it continue to surprise us, challenge us, and inspire us, adding a unique and unforgettable dimension to our university experience.
Segue to AdmissionSight
At AdmissionSight, we believe that every student deserves the opportunity to attend the college of their choice. That's why we specialize in providing expert guidance and support to help you gain acceptance to your top-choice schools.
Our team of college admissions specialists has over a decade of experience assisting students just like you in achieving their goals. We cannot stress this enough; we have the knowledge and expertise to help you succeed.
At AdmissionSight, we pride ourselves on being the most trusted name in college admissions advice. Our success is measured by the success of our students, many of whom have gone on to attend the most prestigious colleges in the country.
Don't leave your future to chance. Contact AdmissionSight today to schedule a free consultation and take the first step towards achieving your dreams. With our expert guidance and support, anything is possible.