Exploring the UChicago Community
The University of Chicago is a prestigious institution located in Hyde Park, a neighborhood on the south side of Chicago, Illinois. Founded in 1890, the university has a rich history and is renowned for its academic excellence, rigorous curriculum, and innovative research programs. In this article, we'll take a closer look at the UChicago community and all it has to offer, from the campus itself to the surrounding neighborhood and beyond.
A Brief History of the University of Chicago
Before we delve into the present day, let's take a moment to explore the origins of the University of Chicago. The university was founded by John D. Rockefeller, who donated $600,000 to establish the institution. In its early years, UChicago was known for its commitment to scholarship and education, as well as its emphasis on research and scientific discovery.
Over the decades, the university has grown and evolved, expanding its academic programs and facilities to become one of the most respected universities in the world.
The Founding of the University
The University of Chicago was established in 1890, with William Rainey Harper serving as its first president. Harper was a respected scholar and educator who had previously served as the president of the University of Chicago's Baptist-affiliated predecessor, the Baptist University of Chicago.
Harper was a visionary leader who believed that the university should be dedicated to the pursuit of knowledge and the advancement of human understanding. He worked tirelessly to establish UChicago as a world-class research institution, and his efforts paid off in the form of numerous groundbreaking discoveries and achievements.
One of the most notable aspects of UChicago's founding was its commitment to academic freedom and intellectual inquiry. From the outset, the university was designed to be a place where scholars could pursue their research and explore new ideas without fear of censorship or persecution. This commitment to academic freedom has been a cornerstone of UChicago's identity ever since, and it has helped to attract some of the brightest minds in the world to the university's campus.
Expansion and Growth
Over the years, the University of Chicago has undergone numerous changes and improvements. The campus has expanded considerably, with new buildings and facilities added to accommodate the university's growing student body and academic programs. Today, UChicago has a thriving research community, with cutting-edge research being conducted in fields ranging from the humanities to the physical sciences.
One of the most significant periods of growth in UChicago's history occurred in the aftermath of World War II. In the postwar years, the university saw a surge in enrollment as returning veterans sought to take advantage of the GI Bill's educational benefits. To accommodate this influx of students, UChicago embarked on a massive building program that saw the construction of new dormitories, classrooms, and research facilities.
This period of expansion helped to establish UChicago as one of the premier research universities in the world, and it set the stage for the university's continued growth and success in the decades to come.
Notable Alumni and Achievements
UChicago has produced a long list of notable alumni, including 91 Nobel Prize laureates, 50 MacArthur "Genius" grant recipients, and countless other distinguished scholars and leaders in various fields. The university has also played a key role in numerous groundbreaking scientific discoveries and technological advancements, ranging from the first controlled nuclear reaction to the development of the first synthetic gene.
One of the most famous alumni of UChicago is the renowned economist Milton Friedman, who received his PhD from the university in 1946. Friedman was a leading figure in the development of the Chicago School of Economics, a school of thought that emphasized the importance of free markets and limited government intervention in economic affairs.
Friedman's work has had a profound impact on economic theory and policy, and he is widely regarded as one of the most influential economists of the 20th century.
Another notable UChicago alum is the novelist Saul Bellow, who received his undergraduate degree from the university in 1937. Bellow went on to become one of the most celebrated writers of his generation, winning the Nobel Prize in Literature in 1976. Bellow's work is known for its insight into the human condition and its exploration of the complexities of modern life.
These are just a few examples of the many accomplished individuals who have passed through the halls of the University of Chicago. With its commitment to academic excellence and intellectual freedom, UChicago will undoubtedly continue to produce some of the world's most innovative and influential thinkers in the years to come.
Academic Life at UChicago
Of course, the heart of any university is its academic programs and curriculum. UChicago is known for its rigorous and challenging academic programs, which emphasize critical thinking, analytical skills, and creativity. In this section, we'll take a closer look at some of the key features of UChicago's academic experience.
Renowned Programs and Departments
One of the hallmarks of the UChicago academic experience is the quality of its individual academic programs. From the humanities to the physical sciences, UChicago has a reputation for excellence in a wide range of fields. Some of the university's most renowned programs include economics, law, and sociology, to name just a few.
In addition, the university's academic departments are staffed by some of the most accomplished and respected scholars in their respective fields.
For example, the economics program at UChicago is consistently ranked as one of the best in the world. The department's faculty includes Nobel laureates and other leading scholars in the field. The law school at UChicago is also highly regarded, with a curriculum that emphasizes interdisciplinary learning and practical skills. The sociology department is known for its innovative research and teaching, with a focus on social inequality and social change.
The Core Curriculum
Another defining feature of the UChicago academic experience is the Core Curriculum. This program is designed to provide students with a broad, liberal arts education that emphasizes critical thinking, writing, and analysis. The Core Curriculum includes courses in humanities, social sciences, and natural sciences and is considered to be one of the most challenging and rewarding aspects of the UChicago academic experience.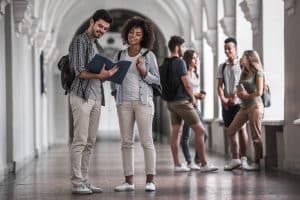 For example, the humanities component of the Core Curriculum includes courses in literature, philosophy, and art history. These courses are designed to help students develop their critical reading, writing, and analytical skills. The social sciences component includes courses in economics, political science, and sociology, among others.
These courses are designed to help students understand the complex social and political systems that shape our world. The natural sciences component includes courses in physics, chemistry, and biology, among others. These courses are designed to help students understand the fundamental principles that govern the natural world.
Research Opportunities
UChicago is also known for its emphasis on research and scholarship. Students at UChicago have numerous opportunities to engage in research, whether through independent projects or collaborations with faculty members. In addition, UChicago is home to numerous research centers and institutes, which provide students with access to cutting-edge research facilities and resources.
For example, the Institute for Molecular Engineering at UChicago is a world-renowned research center that focuses on the design and synthesis of new materials and devices. The Center for Data and Computing is another important research center at UChicago, which focuses on the development of new computational tools and techniques for analyzing complex data sets.
Study Abroad Programs
Finally, UChicago offers a wide range of study abroad programs, which allow students to explore new academic and cultural experiences in locations around the world. These programs are designed to provide students with meaningful and immersive learning experiences, and are an important part of the UChicago academic experience.
For example, UChicago's study abroad program in Paris is a popular option for students interested in French language and culture. The program includes courses in literature, art history, and political science, as well as opportunities for cultural immersion and exploration.
UChicago's study abroad program in Beijing is another popular option, with courses in Chinese language, history, and culture, as well as opportunities for internships and research projects.
Overall, the academic experience at UChicago is challenging, rewarding, and designed to prepare students for success in a rapidly changing world. Whether through renowned academic programs, a rigorous Core Curriculum, research opportunities, or study abroad programs, UChicago provides students with the tools and experiences they need to thrive in their chosen fields.
Campus Life and Activities
Of course, college life isn't just about academics. UChicago offers a vibrant and diverse campus community, with a wide range of activities, clubs, and organizations for students to enjoy. In this section, we'll explore some of the key features of UChicago campus life.
Residential Houses and Dining
One important aspect of UChicago campus life is the residential house system. Under this system, students live and socialize in small, close-knit communities known as houses. Each house has its own unique character and traditions, and serves as a home away from home for students.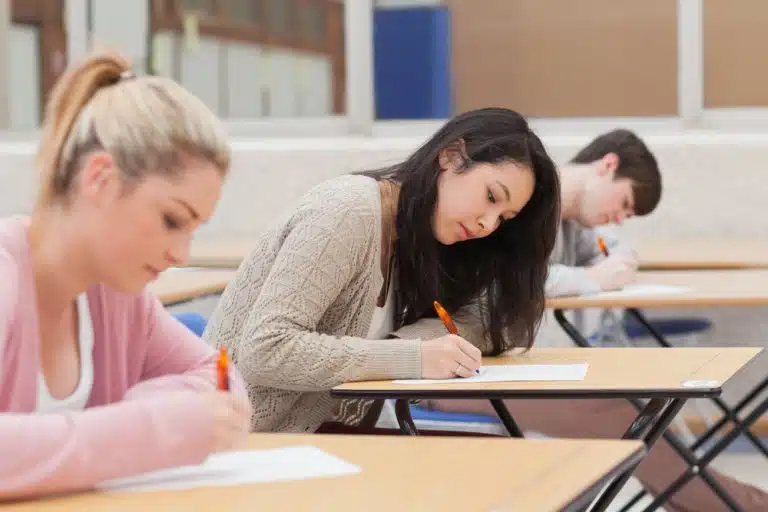 Living in a residential house is a great way to meet new people and form lasting friendships. Students often organize events and activities within their houses, such as game nights, movie screenings, and potluck dinners. Additionally, each house has its own dining hall, where students can enjoy delicious meals and catch up with their housemates.
UChicago offers a diverse range of dining options, from gourmet cuisine to fast food, to suit every taste. Whether you're in the mood for a hearty burger or a fresh salad, you'll find something to satisfy your cravings.
Student Organizations and Clubs
UChicago has a thriving and diverse student organization scene, with clubs and organizations catering to every interest and passion. Whether you're interested in music, politics, or community service, there's a group on campus for you.
Joining a student organization is a great way to get involved on campus and meet like-minded individuals. Many organizations host events and activities throughout the year, such as concerts, fundraisers, and volunteer opportunities. In addition, UChicago hosts a wide range of events and activities throughout the year, from speakers and concerts to festivals and cultural celebrations.
Athletics and Fitness
For sports enthusiasts, UChicago offers a range of athletic programs, from varsity sports to club teams. Whether you're a seasoned athlete or just looking to try something new, there's a team for you.
In addition, the university has a number of athletic facilities, including gymnasiums, pools, and outdoor fields, to help students stay fit and active. Students can take advantage of fitness classes, personal training sessions, and intramural sports leagues to stay healthy and active.
Arts and Culture
Finally, UChicago is a hub of arts and culture, with a thriving arts community and a wide range of cultural programs and events. The university is home to numerous art galleries and performance spaces, as well as a variety of exhibitions and performances throughout the year.
Students can attend concerts, plays, and art shows on campus, or explore the vibrant arts scene in the surrounding community. Whether your interests lie in music, theater, or the visual arts, UChicago has something to offer.
Support Services and Resources
At UChicago, the university is committed to providing students with the support and resources they need to succeed. In this section, we'll explore some of the key support services and resources available to UChicago students.
Academic Advising and Career Services
UChicago offers a wide range of academic advising and career services to help students plan their academic and professional futures. Whether you need help choosing a major, preparing for graduate school, or finding a job after graduation, UChicago has resources and support to help you succeed.
Health and Wellness
UChicago is also committed to promoting the health and wellness of its students. The university offers a range of health and wellness services, from mental health counseling to medical care, to ensure that students can take care of their physical and emotional well-being.
Diversity and Inclusion Initiatives
At UChicago, diversity and inclusion are core values. The university is committed to fostering a welcoming and inclusive community, and offers a wide range of programs and initiatives to support students from diverse backgrounds and perspectives.
Financial Aid and Scholarships
Finally, UChicago is dedicated to making college affordable and accessible to students from all backgrounds. The university offers a range of financial aid and scholarship programs, as well as work-study opportunities, to help students pay for their education.
Exploring the Surrounding Hyde Park Neighborhood
While UChicago is a world-class university in its own right, it is also situated in a vibrant and diverse urban neighborhood, offering students countless opportunities to explore and engage with the surrounding community. In this section, we'll take a closer look at some of the key features of the Hyde Park neighborhood.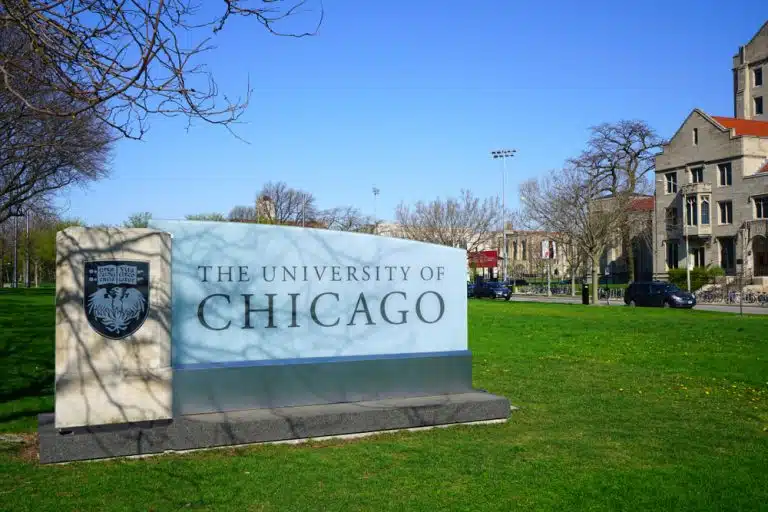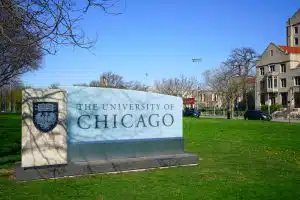 Local Attractions and Landmarks
Hyde Park is home to a wealth of historical and cultural landmarks and attractions, from the stunning architecture of the University of Chicago campus to the world-renowned Museum of Science and Industry. Other notable attractions include the historic Robie House, the DuSable Museum of African American History, and the Frank Lloyd Wright-designed Frederick C. Robie House.
Dining and Shopping
Hyde Park is also home to a vibrant and diverse dining and shopping scene, with everything from upscale restaurants to cozy cafes and local boutiques. Whether you're looking for a quick bite or a leisurely shopping excursion, you're sure to find something to suit your taste in Hyde Park.
Parks and Outdoor Spaces
Hyde Park is also home to numerous parks and open spaces, providing students with ample opportunity to enjoy the great outdoors. One such space is Jackson Park, which offers stunning views of Lake Michigan and a range of recreational activities, including biking, hiking, and swimming. Other notable parks include Washington Park and Harold Washington Park, both of which offer ample opportunities for relaxation and recreation.
Community Engagement and Volunteer Opportunities
Finally, Hyde Park is a community that is deeply committed to community engagement and volunteerism. From local advocacy groups to service organizations, there are countless opportunities for students to get involved and give back to the community.
Preparing for Life After UChicago
As you near the end of your time at UChicago, you'll want to start thinking about the next steps in your academic and professional journey. In this section, we'll explore some of the key resources and opportunities available to UChicago students as they prepare for life after college.
Internships and Job Opportunities
UChicago offers a range of internship and job opportunities, from on-campus research positions to off-campus internships and employment opportunities. These opportunities allow students to gain valuable hands-on experience and build their skills and networks in their chosen fields.
Graduate and Professional School Preparation
If you're considering pursuing a graduate or professional degree after college, UChicago has a range of resources and programs to help you prepare. Whether you need help writing your personal statement, preparing for the GRE, or researching different programs, UChicago has resources and support to help you achieve your goals.
Alumni Network and Support
Finally, UChicago is home to a large and active alumni network, with thousands of alumni around the world. This network provides students with access to a wealth of support, from mentorship and career guidance to networking and professional development opportunities.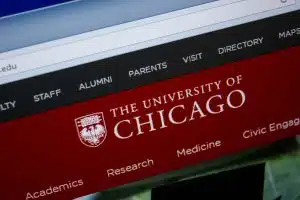 Continuing the UChicago Legacy
As you prepare to leave UChicago and embark on the next chapter of your life, remember that you are part of a legacy of scholarship, innovation, and excellence. UChicago has a long and storied history, and you are now part of that history. As you move forward and pursue your goals, remember the values that UChicago has instilled in you, and continue to push the boundaries of knowledge and discovery.
If you're set on getting into a world-class college but aren't sure how to make it happen, we can help! AdmissionSight is a leading college entrance expert with over a decade of experience helping students just like you get into the schools of their dreams.
At AdmissionSight, we focus on offering a wide range of services, all aimed at helping students perfect their applications to catch the attention of admissions officers. Contact us today to schedule a free consultation to learn more about what we offer.