Fashion Colleges in the US
Aspiring fashion designers and merchandisers in the United States, where there are over 350 possible fashion design schools, want to make sure they choose the best of the best. So, what are the top Fashion Colleges in the US?
At the very least, students will be able to participate in hands-on, immersive experiences at some of the top Fashion Colleges in the US. These experiences will give students an accurate representation of what it is like to live, breathe, and work in the fashion industry.
What does this look like? It implies providing access to tens of thousands of classic pieces of clothing that have been curated over the course of several centuries for certain individuals. Others see it as an assured opportunity to participate in a study-abroad or study-away program, during which they will have the chance to network and collaborate with other people.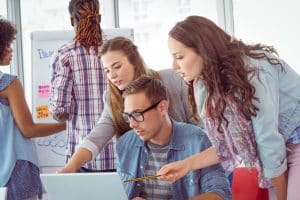 The majority of the top fashion colleges showcase internationally renowned names and businesses that provide opportunities for students to refine their abilities and make connections.
The worldwide fashion market is expected to develop at a compound annual growth rate of 5.3% from 2020 to 2025 and reach $211.9million by 2030, which indicates that careers in fashion offer significant promise in the decade ahead.
In an industry that is intended to progress, it is essential for fashion design schools to not only keep up with the latest trends and emerging technologies but also to serve as the driving forces behind the innovations that come from those trends and technologies.
What Is a Fashion School?
Students who are interested in pursuing a career in the fashion sector can take advantage of the specialized degree programs that are offered by fashion schools. They frequently provide a variety of majors and areas of concentration to choose from.
The most common profession for those with a degree is fashion design, however, there are a wide variety of other fields of work that are open to those with a background in this area of study, including the following:
Fashion merchandising and fashion buying
Fashion marketing and PR
Fashion production and management
Fashion journalism and publishing
Advertising
Fashion technology
Students and graduates of a good fashion school will have access to a wide variety of internship and employment options, not only during their time spent learning in the classroom but also during their time spent working in the industry.
What Colleges Offer Fashion Design?
What colleges offer fashion design? This list's purpose is to present an overview of the strengths possessed by the schools and to emphasize some of the distinctive qualities held by each of them.
You'll be able to find programs for fashion design right here; however, some of the colleges that are mentioned do not provide fashion design. Instead, they have risen to the top of the rankings as a result of the exceptional additional programs they offer to students who are interested in pursuing a career in the fashion industry.
Fashion Institute of Technology (FIT), New York, NY
Those who have their sights set on a career in the fashion industry often consider FIT to be the most prestigious educational institution in the field. Its programs are geared toward educating students to the level of expertise required for successful careers in design and business. Jewelry Design, Accessories Design, Fabric Styling, and Fashion Business Management are just some of the undergraduate degree programs that are available to students at the Fashion Institute of Technology (FIT).
The institution is routinely regarded as one of the best fashion colleges and has a total of 48-degree programs available, including those in the fashion industry as well as other creative and business vocations.
It appears that the school makes full use of its location in New York City by frequently taking students on field trips to various locations in the city, including corporate headquarters, design studios, galleries, and museums. In conclusion, a significant number of former students have achieved a great deal of success in the commercial sector of the fashion industry, serving as vice presidents, presidents, and chief executive officers.
Both a Bachelor of Fine Arts and a Bachelor of Science degree are available.
Parsons The New School, New York, NY
The New School takes a more specialized approach to fashion, as evidenced by the fact that the sole undergraduate degree available to students interested in fashion is a Bachelor of Fine Arts in Fashion Design. However, the school does provide a variety of other excellent options for students to choose from. Parsons School of Design at The New School is consistently regarded as one of the top fashion design institutions on an international scale. This is one of the many design disciplines that The New School excels, including Fine Arts and Interior Design.
The master's degree in fashion design is offered through Parson's School of Fashion, which also offers other reputable fashion master's degree programs. The completion of a senior thesis by students serves as the culmination of their education and is an excellent way to build a resume or portfolio.
Bachelor of Fine Arts degrees are available.
Pratt Institute, New York, NY
It should come as no surprise that New York City is home to the three most prestigious educational institutions on our list. Students studying fashion design at Pratt Institute have access to a variety of helpful tools, in part because of the location of the school. For example, guest lecturers from all sectors of the fashion business frequently offer speeches and seminars at the school. Students who study here frequently get employment in prestigious internships (at companies like Rag & Bone, for example).
In addition to graphic design, the university excels in other disciplines of design as well, such as industrial and interior design. The Center for Job and Professional Development at Pratt, which hosted more than 80 events in the previous academic year on subjects such as career preparation and innovation, appears to be of great assistance to all of the students in terms of their professional development.
Bachelor of Fine Arts degrees are available.
Savannah College of Art and Design (SCAD), Savannah, GA
SCAD is a well-regarded and highly-ranked design school that provides a multitude of other excellent design programs in addition to its Bachelor of Fine Arts and Master of Fine Arts degrees in fashion design.
The institution takes great interest in remaining current with the most recent design technologies, which may be one reason why it is so effective at inviting leading figures in the fashion industry to participate in student critiques, panel discussions, and guest lectures at the institution. Fashion design students have the possibility to study in Atlanta and Hong Kong.
Bachelor of Fine Arts degrees are available.
Kent State University, Kent, OH
Students who are interested in the commercial side of the fashion industry have a few more degree options to select from at Kent State. Students have the option of earning a Bachelor of Arts or Bachelor of Fine Arts degree in Fashion Design, or a Bachelor of Science degree in Fashion Merchandising. A Bachelor of Science and Master of Business Administration degree in Fashion Merchandising is a distinctive option.
Due to the fact that Kent, Ohio is not exactly known as a fashion capital, the university maintains its very own campus in the Big Apple. This is surely an advantageous feature. Approximately 45 students every year decide to further their education at the Palazzo campus, which is located in Florence, Italy. In addition, Kent State has a collaboration with The Paris Academy, which is located in Paris, France. When it comes to off-campus adventures, Kent State students appear to have a wide variety of choices.
Last but not least, the institution asserts that it has a placement rate in the fashion business for graduates of the Fashion School that is higher than 90 percent.
The following undergraduate and graduate degrees are available in fashion: BA, BFA, BS/MBA
Drexel University, Philadelphia, PA
Students who get a bachelor's degree in fashion design from Drexel are prepared for professions in design, styling, advertising, and computer-aided and technical design, among other related fields. Students are required to submit their designs to both national and international competitions in order to graduate from the program. This motivates students to gain practical experience working in the industry.
Students who are interested in fashion can choose from a couple of different interesting majors offered by Drexel. To begin, there is a one-of-a-kind "co-op" program that lasts for six months. This program is similar to an extended internship in that it allows students to develop their talents by working at a variety of organizations across the country. Second, the College of London offers a program that allows students to spend some time studying in another country.
There are various undergraduate degrees that are complementary to one another, including Design and Merchandising as well as Entertainment and Art.
Bachelor of Fine Arts degrees are available.
Thomas Jefferson University, Philadelphia, PA
Both Bachelor of Science degrees in Fashion Design and Fashion Merchandising & Management are available to students at Thomas Jefferson University, which recently amalgamated with Philadelphia University. Because the degree in Design is offered through the School of Design and Engineering and the degree in Merchandising and Management is offered through the School of Business, the two degrees will provide you with completely distinct opportunities and experiences. Both of these programs are extensive, but the design degree is quickly becoming a frontrunner in the rankings of the best colleges for fashion design.
Students in this program receive instruction from industry veterans as well as recent graduates, and the curriculum focuses heavily on collaborative work.
Degrees in fashion are as follows: Bachelor of Science
Otis College of Art and Design, Los Angeles, CA
Otis is an attractive option for fashion-minded students for a few reasons. First, fashion design students have the option to take a Costume Design focus track inside their major—a unique program of study that I haven't seen at any of these other schools.
Students get the ability to collaborate in teams during junior and senior years to produce distinctive designs, which is a terrific experience for when you transfer to working in the actual business. The school also has a strong commitment to environmentally responsible practices in the fashion industry; those students who are very interested in this topic have the opportunity to pursue a minor in sustainability.
Bachelor of Fine Arts degrees are available.
How to Choose the Right Fashion School for You?
How to choose the right fashion school for you? Even while there are fewer options for fashion programs available than, for example, there are for liberal arts program options, you still need to wade through a lot of information in order to select a school that is appropriate for you. Hopefully that this list of schools has provided you with a good starting point; nevertheless, there are more considerations to take into account before deciding on a certain institution.
Decide Between an Arts-Focused School and a More Traditional College
The majority of these Fashion Colleges either focus primarily on fashion as their area of study or offer programs that combine fashion with design and the arts.
If you are not interested in pursuing a liberal arts education or meeting the criteria for general education, this can be an excellent option for you. However, if you are looking for a college experience that is more "traditional," you may want to consider attending a liberal arts college. These colleges may not be entirely focused on fashion, which is why they aren't on this list of the best fashion schools, but they still provide excellent fashion programs for undergraduate students.
Choose a School That Offers a Degree You Want
Many of the fashion colleges on the above list focus on fashion design, while more schools are including merchandising and fashion business into their degree offerings. This kind of curriculum is a suitable fit for you if you are certain that the design aspect of the fashion industry is something that interests you.
However, there are a plethora of alternative choices available, particularly at influential institutions such as FIT. Before settling on a path, it is important to investigate a variety of academic programs and majors because there is much more to the fashion industry than just design.
Consider Whether You Want a Flexible or Focused Program
Some of the programs described above provide students with an abundance of opportunities to pursue their artistic and design talents, and they also provide hundreds of degree options and areas of concentration to choose from. Some are more specialized and specific and can be a suitable fit for students who are already aware of the areas of interest they wish to explore more. Spend some time exploring the websites of the programs to acquire a better sense of the possibilities that are available to you.
Find a Program With Portfolio Requirements That You'll Be Able to Meet
The institutions that are listed above will require you to demonstrate your artistic ability by submitting a portfolio as part of the application process. Some of these requirements for the portfolio can appear to be acceptable, while others might be challenging to fulfill. Investigate the requirements that each program has for your portfolio well in advance of any application deadlines.
Think About the School More Generally
It's true that many of the colleges on this list have a strong emphasis on design or the arts, but the quality of your college experience will be determined by more than just what you learn in your program. Your happiness at school will also be affected by a variety of other factors, including some that are more directly related to your academic life. What are your thoughts on the many housing alternatives for students? Which student organizations are active on campus? Where exactly it is located?
After giving each of these aspects some thought, you will be in a much better position to decide which fashion program will best serve your needs. If you go to school and choose a career that is a good fit for you, you will have a greater chance of being successful.
Is a Degree in Fashion Worth it?
Is a degree in fashion worth it? Research has shown that earning a degree in fashion may pave the way to a successful profession and is often more than worth the expense, even when the degree itself is fairly pricey. The study of fashion at the collegiate level can pave the way to a variety of different employment paths following graduation. Students who earn a degree in fashion have access to a wide variety of job options, spanning from the creative side of the industry to the more commercial aspects of the business.
Even if you have to take out loans of one hundred thousand dollars or more, it may end up being money well spent in the long term. The most important thing is to make sure you pick the proper path for your career in fashion.
Make it a priority to conduct additional independent research. It's possible that certain jobs in the fashion business aren't worth the effort they require. On the other hand, if you choose the appropriate line of work, you may transform that degree into hundreds of thousands of dollars over the course of your whole working life.
Want to learn more about getting into the top Fashion Colleges in the US? You've come to the right place. At AdmissionSight, we have over 10 years of experience guiding students through the competitive admissions process.
AdmissionSight can help you put your best foot forward when applying to college this fall. Contact us today for more information on our services.