Finding The Best Theatre Colleges
What is theater?
What exactly is theater? The theater is a form of performing art in which people work together to create a story. The theater has been an important part of human culture for more than 2,500 years, and in that time, it has changed in many ways. Some have to do with political or spiritual ideas, while others have nothing to do with anything but art. Because of their love of art, more people study at the best theater colleges to hone their skills in theater.
The theater is the only form of art that includes everything. It includes dance, music, writing, painting, and many other things. The theater is good for a person's creative, emotional, intellectual, and spiritual sides, so everyone should be encouraged to do it. Theater gives your child confidence and teaches them coordination and how to work as a team, which will come in handy in the future. Acting also helps people improve their speech, body language, and the way their senses work together.
What are jobs in theater arts?
1. Actor
One of the more well-known jobs in the theater arts is being an actor. An actor plays a character on stage, in a movie, or on TV. These people must learn their lines, practice with the rest of the cast, and work with the director, hairstylist, makeup artist, and costume designer to bring their characters to life. Check with the Screen Actors Guild (SAG-AFTRA) for industry standards on pay scales for roles that require acting experience or skills.
2. Choreographer
A choreographer plans a dance or fights sequence and helps the people doing it do it right. The sequences they make have to show the conflict in the scene and what the characters are thinking and feeling. They also have to be safe for all the actors, easy for the audience to follow, and interesting.
3. Dancer
A dancer learns steps from a choreographer and does them on stage. Many professional dancers know how to dance in more than one style. Depending on their roles, they may specialize in one or two styles. The reason why those who graduate from the best theater colleges end up becoming dancers is that dancers can be used as featured dancers or dancers in the background on stage.
4. Assistant director
An assistant director helps the director manage the actors, keep an eye on the rehearsals, and organize the stage crew. In this role, you might work directly with the stage manager, taking notes and ensuring the show goes smoothly.
5. Broadcaster
With a degree in theater, you can become a broadcaster and use your voice to show emotion and speak in front of large groups of people. In this job, you might present music, news, or sports, talk to guests, or even host weddings, parties, and other events that are shown on TV.
6. Writer
A writer usually comes up with the characters, dialogue, and actions in a play or script. They may work with the director and producer to bring the story to the stage or screen or write pieces independently without supervision or feedback.
7. Casting manager
A casting manager helps the director and producer find, choose, and train actors for a show. They set up and run auditions for roles, and they may also be in charge of choosing background actors.
8. Director
The director is in charge of the whole production. He or she tells the actors what to do, plans how they will move around the stage or set, and works with the set designer, prop maker, costume designer, and other creative professionals to give the characters their looks. They might also work with the producers to ensure the production stays on schedule and doesn't go over budget.
What are the best schools for theater?
The Juilliard School
The Juilliard School is a private school that has been around since 1905. The Juilliard School only teaches the arts and offers training for people who want to become music, dance, and theater professionals. Students often have to audition to get into Juilliard, even though the process varies by academic department. There are no requirements for GPAs or class ranks from high school. When a student gets to Juilliard, he or she will take courses in the liberal arts and their major courses.
What makes this school one of the best theater schools is how they keep producing world-class talent. Juilliard has a long list of famous graduates who have won more than 105 Grammy Awards, 62 Tony Awards, 47 Emmy Awards, 26 Bessie Awards, 24 Academy Awards, 16 Pulitzer Prizes, and 12 National Medals for the Arts.
The school is always near the top of the rankings for both dance and drama. Only 8–10 students are chosen for the BFA Acting Program, 8–10 students are chosen for the MFA Acting Program, and about 24 students are chosen for the BFA Dance Program.
The dance program puts on 15 public performances every year, and the drama program puts on many plays and senior showcases in New York and Los Angeles for casting directors, agents, and managers. Julliard is a great place to go if you want a program that will put you on the fast track to a great career.
NYU Tisch School of the Arts
New York University's School for performing, film, and media arts is called Tisch School of the Arts, or just "Tisch." Tisch, which opened on August 17, 1965, is a school for artists, art scholars, and filmmakers. The school is split into three Institutes: Film & Television, Performing Arts, and Emerging Media. As one of the best theater colleges, students can study many things at the undergraduate and graduate levels, such as acting, dance, drama, performance studies, design for stage and film, writing for musical theater, photography, record producing, game design and development, film and television studies, and design for stage and film.
The drama and dance programs at NYU Tisch are always near the top of the rankings. And for a good reason: the school has a long list of famous alumni, many of whom have performed on Broadway, at Radio City Music Hall, in movies, and on TV. The list of famous alumni is long, but Lady Gaga, Elizabeth Olsen, Miles Teller, Spike Lee, and Kristen Bell may be names you recognize.
Tisch gives degrees in many different kinds of art, such as drama, performance studies, film and television, dramatic writing, and cinema studies. The school is also expanding into performance media, such as making music and designing video games. The school also takes advantage of its location in New York City by pairing drama students with professional acting studios, where they can perform in a wide range of productions led by world-famous theatre artists and faculty.
Carnegie Mellon University
Carnegie Mellon University is a private school that started in the year 1900. Andrew Carnegie, an industrialist and philanthropist, started Carnegie Mellon University. Located in Pittsburgh, freshmen are the only ones who have to live on campus. However, the university guarantees housing for all four years, and most students choose to stay.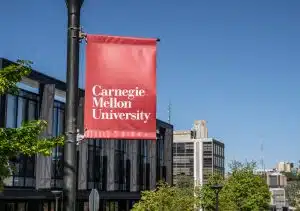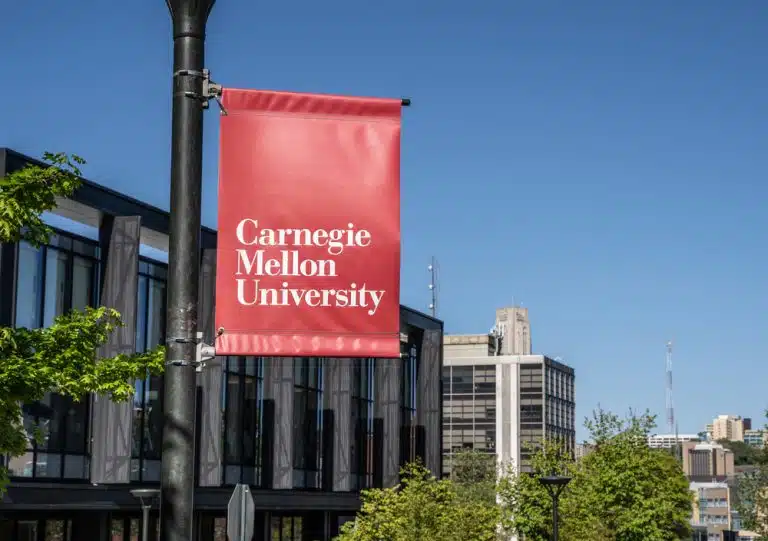 Carnegie Mellon has been giving high-quality drama education for a long time. It was the first school in the US to grant degrees in drama. More importantly, what makes them one of the best theater colleges, Carnegie Mellon is a drama powerhouse with a faculty of working theater professionals and famous alumni. Some include Holly Hunter, Billy Porter, Judith Light, Ted Danson, and Zachary Quinto.
The drama department gives students a unique, hands-on education and gives them a lot of chances to perform on stage. The department puts on 20 shows a year, giving people a lot of chances to perform. Also, the school cancels classes for a week every year so that students can put on any kind of show they want (such as original works or adaptations of movies). Seniors perform in front of people in the business in New York, Los Angeles, and Pittsburgh.
The Studio for Creative Inquiry and The Center for Arts in Society allow Carnegie Mellon students to study topics from different fields. Carnegie Mellon is a great place to go if you want to see how drama can change the world, both on stage and in other ways.
Boston Conservatory
The Boston Conservatory at Berklee, which used to be called The Boston Conservatory, is a private school for performing arts in Boston, Massachusetts. It offers dance, music, and theater degrees at the undergraduate and graduate levels. In 1867, the Boston Conservatory opened as a music conservatory. Later, it added top programs in dance, opera, and theater.
As one of the best theater colleges in the world, the Boston conservatory currently gives Bachelor of Fine Arts, Bachelor of Music, Master of Fine Arts, and Master of Music degrees, as well as Graduate Performance Diplomas, Artist Diplomas, and Professional Studies Certificates.
The Boston Conservatory has one of the best dance programs in the US. It has a faculty of world-class artists who have worked with famous choreographers like Antony Tudor, Robert Joffrey, José Limón, Martha Graham, Alvin Ailey, and Agnes de Mille. Not only that, this school also works with dance companies like Boston Ballet, Joffrey Ballet of New York, and Limón Dance Company. Alumni dance both on Broadway and with dance companies all over the world. But keep in mind that the Boston Conservatory focuses on modern dance.
Yale University
Yale University was started as a private school in 1701. Yale University is in New Haven, Connecticut. It is known for its great drama and music programs, which go beyond the classroom with student groups like the Yale Whiffenpoofs, a famous acappella group, and the Yale Dramatic Association.
The Yale School of Drama should be on every list of the best theater colleges. The MFA Acting program at this school is well-known around the world.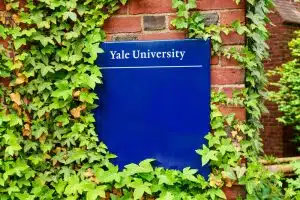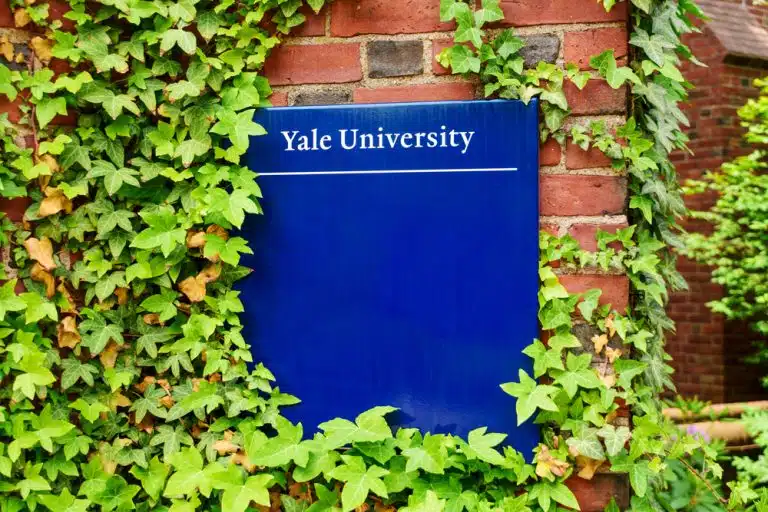 The MFA program has classes for all performance parts, from acting on stage to technical design and stage management. Meryl Streep, Angela Bassett, Sigourney Weaver, Paul Giamatti, and Lupita Nyong'o are some well-known people who went to the School of Drama. The school also puts a lot of effort into giving students networking opportunities. In their last year, students perform in front of industry professionals in New York and Los Angeles.
In the last ten years, all graduates got jobs as agents or managers within a month of finishing school. So, to work in the performing arts, you should look into Yale's MFA program.
Northwestern University
Northwestern University was started as a private school in 1851. Hundreds of clubs and groups exist on campus for students with different interests. All first-year students must live on campus for their first two years. The ten residential colleges at the school offer rooms with themes for social and academic activities. Northwestern's main campuses are Evanston and Chicago, both near Lake Michigan. Northwestern opened its third location in Doha, Qatar, in 2008.
Northwestern is one of the few drama schools where you can get in without auditioning. But it's hard to get into college because universities have high standards for drama students, and only about 7% of applicants get in. It doesn't come as a surprise that many of the program's graduates have successful careers, making them known as one of the best theater colleges. David Schwimmer, Stephen Colbert, Anna Gunn, Julia Louis-Dreyfus, and Zach Braff are some of the most famous people who attended this school.
Undergraduates at Northwestern have many chances to perform in shows put on by the school or by the students themselves. Up to 40 shows are put on yearly at the Wirtz Center for the Performing Arts. Also, seniors are invited to show off their work in New York and Chicago to people in the theater.
Now you have an idea of where you should go to study theater, and your college admissions should be where you pay attention next. To ensure that you get into the college you want, you can get help with AdmissionSight. With ten years of experience with college admission experts, Admissionsight can help you get into the college of your choice. You can talk to our experts today to get an initial consultation.