Free Online Courses at Princeton
Does Princeton University Offer Online Courses?
Does Princeton University offer online courses? Free online courses at Princeton cover numerous academic topics. The Princeton Online Courses platform was developed to give on-campus and international students excellent educational opportunities.
Princeton provides massive open online courses (MOOCs) via e-learning organizations like Coursera and edX, similar to many other Ivy League universities. Six courses on the well-known online learning platform, Coursera, marked the start of Princeton's online education in 2012.
Eventually, there are over 30 courses available on various online learning platforms like edX and Kadenze, covering a wide range of academic areas. More than three million students from various places throughout the world have access to these courses.
One thing to keep in mind is that Princeton does not offer an optional certificate of completion, in contrast to several other famous universities, such as Yale's Science of Well-Being course or Harvard's CS50 computer science series.
There is no paywall preventing full access to any free online courses at Princeton, but there is also no way to upgrade to acquire graded homework or certification to put on your resumé or LinkedIn. However, the abilities you acquire from these classes can make it easier for you to be successful in actual career prospects.
What Courses Can I Take Online For Free?
Princeton MOOCs are available on edX, Coursera, and Kadenze. If you are interested in "What courses can I take online for free?" some of the most popular free online courses at Princeton are listed here.
Algorithms, Part I
Duration: 54 hours
Programmers will find the fundamentals of algorithms and data structures covered in Algorithms, Part 1 with a focus on applications and a technical performance evaluation of Java implementations. Part II concentrates on graph- and string-processing methods, while Part I covered basic data structures, sorting, and searching techniques.
Buddhism and Modern Psychology
Duration: 16 hours
This course explores how Buddhist practices, in particular meditation and mindfulness, hold up to contemporary scholarly scrutiny and explores if these ideas may help us become happier, better people. For instance, one of the talks examines whether neuroscientists' findings minimize the spiritual benefits of meditation or whether they are beginning to comprehend how it "works."
Students pay close attention to concepts that seem illogical, such as the notion that the ego does not exist or that a large portion of what is experienced as reality is illusory.
Bitcoin and Cryptocurrency Technologies
Duration: 23 hours
This course covers the technical aspects of how Bitcoin functions, including what it is, how secure it is, how much a Bitcoin costs, and if it can be regulated.
By the end, students have a solid understanding of Bitcoin and other cryptocurrencies in addition to the theoretical groundwork required to design safe software that communicates with the Bitcoin network.
Computer Science: Programming with a Purpose
Duration: 88 hours
Computer science is one of the popular majors at Princeton. Students who want to study programming in a scientific setting should take this one among the free online courses at Princeton. Although mastery of Java is one of the objectives, the seminar focuses more generally on basic programming ideas.
The first module of the lecturers' book "Computer Science: An Interdisciplinary Approach" is the topic of this course. Basic programming concepts including variables, conditionals, loops, arrays, and I/O are introduced to the students. The discussion of functions then includes important ideas like recursion, modular programming, and code reuse. Finally, a "contemporary introduction" to object-oriented programming is given to the pupils.
The Coursera course, Computer Science: Algorithms, Theory, and Machines, covers the second part of the book.
Paradoxes of War
Duration: 13 hours
According to this social science course, "war is paradoxically an expression of our basest animal nature and the exemplar of our most vaunted and valued civilized virtues."
Before applying them to more generalized social themes and challenges associated with conflict, students must learn the fundamentals of military history and sociology. One topic, for instance, looks at how masculine expectations are affected by gender roles in battle or how nationalism might be fueled by "us-them" dichotomies.
Effective Altruism
Duration: 12 hours
This course explores the notion that leading a completely ethical life entails carrying out the greatest amount of good possible. It is taught by Peter Singer, author of "The Most Good You Can Do: How Effective Altruism is Changing Ideas About Living Ethically."
Students investigate the philosophical foundations of effective altruism, get insight from those whose lives have been transformed by it, and consider how they might put it into practice in their own lives.
The Art of Structural Engineering: Bridges
Duration: 8 weeks
Students in this course examine bridges from the angles of efficiency, economy, and elegance. Students get an understanding of how engineering can be an art form by focusing on notable post-Industrial Revolution bridges and talking about the economic and social background of bridge design.
This is the first "Art of Structural Engineering" course. Dr. Maria Garlock, a civil and environmental engineering professor at Princeton University, teaches two free online courses at Princeton.
The Art of Structural Engineering: Vaults*
Duration: 6 weeks
Students in this course learn how to evaluate vaults from the same three viewpoints used to analyze bridges in the Art of Structure course on bridges mentioned above: efficiency, economy, and elegance.
Although famous vaults like the Pantheon are included in the course, students largely focus on examples from the post-Industrial Revolution in a range of materials. You don't need to have a background in engineering or advanced math to participate fully in this course because it is designed for a general audience.
HOPE: Human Odyssey to Political Existentialism
Duration: 10 weeks
HOPE is an interdisciplinary course that explores key philosophical concepts including happiness, love, hope, religion, and freedom through the lens of existentialism. It is a collaboration between Princeton and Tel Aviv University. In addition to history, sociology, psychology, and economics, it principally draws on political science and philosophy.
Making Government Work in Hard Places
Duration: 8 weeks
This course is "about the 'hows'" of generating constructive institutional change in challenging contexts — how to move past the desire to forge a better future and develop new institutions, practices, and policies to influence society over the long term.
Students concentrate on a different kind of difficulty that has been taken from real-world experience each week. They read a case study, carefully analyze a problem, contribute to the creation of a "solutions" toolbox, and then apply the lessons learned to another instance.
Civil Liberties
Duration: 7 weeks
Students study civil rights in "Civil Liberties" against a backdrop of illustrious philosophers and Supreme Court rulings.
Under the direction of Professor Robert P. George, students learn about the philosophical underpinnings of civil rights and liberties, the arguments made in Supreme Court rulings, and how to evaluate contentious claims. Slavery, segregation, abortion, campaign funding, free speech, religion, affirmative action, and marriage are among the topics discussed.
The purpose of the course, according to the course description, is "not to persuade you to think as anyone else does; rather, it is to encourage and empower you to think about disputed questions of civil rights and liberties more deeply, more critically, and for yourself."
Bats, Ducks, and Pandemics: An Introduction to One Health Policy
Duration: 11 hours
One of the most interesting free online courses at Princeton is this multidisciplinary course stresses holistic approaches to health and disease and exposes students to the One Health concept, which holds that human, animal, and environmental/ecosystem health are interconnected. Through the lenses of epidemiology, public policy, food safety, and environmental health, among other areas, students learn more about outbreaks like influenza, Q fever, and Ebola.
Writing Case Studies: Science of Delivery*
Duration: 6 weeks
To effectively influence policy and reform, this course teaches students how to arrange research, carry out interviews, and structure their writing. It focuses on the key components of a solid "science of delivery" case study.
According to edX, those who should take this class are graduate students seeking an introduction to one sort of case study methodology, researchers interested in tracking how programs achieved results, and practitioners aiming to implement a program or establish a new institution.
Global History Lab*
Duration: 12 weeks
This global history course utilizes readings, lectures, and document analysis to cover world history from 1300 to the present.
Students apply their knowledge from the course to solve challenges and gain a deeper grasp of original historical documents as they complete weekly lab tasks in teams. Students pay close attention to topics like migration and statelessness, economic integration, conflict and war, the environment, and inventions.
Constitutional Interpretation*
Duration: 7 weeks
Despite the Constitution's continued effect on American democracy, there are still many disagreements over what it means.
Should the Constitution be read, for example, keeping in mind the intentions of those who drafted and approved it? What qualifies as their intent, if any? And how does one avoid interpreting the Constitution by their own moral principles or political ideologies?
Students in this course investigate various constitutional interpretation theories and methods through lectures, Supreme Court decisions, and related readings.
Global History of Capitalism*
Duration: 6 weeks
After the 2008 financial crisis, there has been a surge in interest in learning about capitalism, and this course explains its history using complexity and nuance rather than "neat narratives." Students investigate the effects of capitalism on local, national, regional, and international levels as well as closely related issues including labor relations, migration, finance, war, and the environment. They do this by viewing capitalism through a global lens.
*Please take note that although you can browse the course materials, they are no longer active. These free online courses at Princeton have been archived.
Are Online College Courses Worth It?
Programs in liberal arts, social sciences, fine arts, computer science, and engineering are offered in the free online courses at Princeton, and their curricula place a strong emphasis on learning, research, creativity, innovation, and collaboration.
This interesting platform might help you develop new talents and get ready for your career ambitions. You can enroll in classes on a variety of subjects, including Bitcoin and the psychological underpinnings of Buddhism.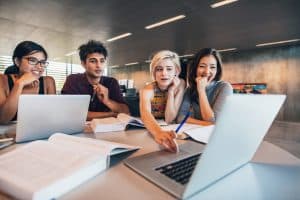 If you would ask "Are online college courses worth it?" it would depend on your purpose and the circumstances. People are increasingly choosing online classes even when they genuinely value the entire on-campus experience—meeting new people, visiting the library, having fun, and so forth. There are several reasons for this such as:
Pandemic
The COVID-19 pandemic is the first and most obvious one. Many universities and schools decide to transfer classes online as a result of security concerns as the situation worsens. This is the only method to guarantee minimal contact and safety. There are other good reasons to select Princeton online courses.
Cost
The cost is a further vital factor. Naturally, not many people have the means to pay tens of thousands of dollars annually. However, you'll discover that there are lots of free online courses at Princeton to pick from when it comes to online learning.
Accessibility and Convenience
The ability to learn at any time and from anywhere is last but no less significant than the other reasons for selecting online courses from Princeton University. You can learn if you have time after work, on the way home, or during the break.
Therefore, it wouldn't be wise to let this opportunity pass you by when there are so many Princeton University online courses available.
How Do I Choose A Course At Princeton?
Online learning can be advantageous to both traditional and nontraditional learners since it can increase knowledge, especially with the rapid expansion of online education in recent years. Choosing a course from among the free online courses at Princeton might be challenging.
Now, how do I choose a course at Princeton? To help you choose an online course and get the most out of your experience, we've developed a list of a few factors you should think about.
Your Area of Passion
Make careful to pick an online course that covers a subject you are interested in when choosing one. Learning something you'd be willing to teach more than you'd be ready to learn is a wonderful idea. This is important since you will spend a lot of time and effort on that one course.
Learning Results
Knowing what kind of content and learning goals to anticipate from the course you've chosen is useful. If you want to develop your skill set, think about how the courses you take will enable you to close the gap between your present abilities and the type of work you seek.
Course Participation
It's critical to take into account if a course was created specifically for online use while assessing the free online courses at Princeton. This will offer you a clear notion of the course's teaching style and how an online course might appear. Your online experience needs to be lively, simple to use, and interesting.
Course Adaptability
Adaptability is one of the main reasons students choose to enroll in an online course. Think about your existing obligations and other responsibilities, as well as how an online course might fit into your calendar. Take into account the course length, prerequisites, the total number of study hours needed, and the frequency of any discussion sessions.
Competition
It's necessary to weigh out all your possibilities. Remember that the greatest online programs provide instruction in areas outside of the core curriculum yet are still crucial to helping you get ready for the workforce. Your drive to study more should be instilled in you by the educational program's main objective.
Free online courses at Princeton are available on edX, Kadenze, and Coursera platforms. All you have to do is visit the e-learning portal to be taken to the platform where the course you wish to take is available.
Princeton University is a prestigious university that is one of the eight exclusive Ivy League colleges. It is the nation's top university, according to the 2022 edition of US News and World Report's list of school rankings.
It's no secret that Princeton only admits a small number of applicants, but that doesn't mean you won't have the chance to enroll in online courses offered by the university. Now, if you are aiming to enroll at Princeton University or benefit from the free online courses at Princeton, you may seek help from AdmissionSight.
At AdmissionSight, we have over 10 years of experience guiding students through the competitive admissions process to get accepted to the top universities in the world. On average, 75% of our students are admitted to an Ivy League university, Stanford, MIT, UChicago, and Caltech, one of the highest track records in the industry. Feel free to set up an appointment today to book your initial consultation.