Free Online Courses at USC
Does USC Offer Online Courses?
If you wonder "Does USC offer online courses?" Skill Up is the online platform for free online courses at USC for developing career-related skill sets.
As one of the top private research universities in the world, the University of Southern California has vast options for multidisciplinary study and collaboration with top academics in cutting-edge learning facilities. It is an anchor institution in Los Angeles, a global hub for the arts, technology, and international commerce.
As an educational innovator for more than 140 years, USC is aware that lifelong learning is one of the most important factors in creating a more just society. USC is dedicated to enhancing faculty access through cutting-edge technology and a modern, 21st-century approach to education as a worldwide recognized pioneer in online education.
According to USC, learning is an ongoing process and higher education enriches the mind and the soul of people, having a significant positive impact on both individuals and communities. In keeping with this, USC Online provides seminars, certificates, master's degrees, and doctorate programs.
Skill Up is an online platform for lifelong learning which provides short professional advancement and free online courses at USC to fill in job skill shortages and informal learning chances with a peer group. Skill Up offers the following:
Short, high-quality courses that are interesting and designed by USC professors who are subject-matter experts.
Informal learning dialogues tailored to the course
Personalized, self-paced instruction
Format
Key themes for each subject are covered in a module of a Skill Up course. The user can apply what they have learned using activity-based assignments and brief learning films found in each session. Each course also includes extra materials to strengthen the principles taught. Coursework for Skill Up courses totals 4-6 hours and is completed online at your own speed. Faculty members at USC and thought leaders design and instruct Skill Up courses.
Subscriptions
There are two subscription options offered by Skill Up: a limited-time free subscription and a premium "Accelerate Your Career" subscription. The "Accelerate Your Career subscription" is offered every year and offers access to all of the course materials as well as course-specific groups.
What benefits does a free, temporary subscription provide?
A limited-time free subscription provides:
Free online courses at USC
Individual courses can be purchased
What benefits does a subscription to "Accelerate Your Career" provide?
Offerings from the "Accelerate Your Career" subscription include:
Free online courses at USC
A library of quick skill-building courses to advance your profession
Informal discussions about specific courses
What Courses Can I Take Online For Free?
Project management, data visualization, mindful leadership, improving organizational equity, and other topics are covered in a range of courses offered by Skill Up. What courses can I take online for free? Let's take a look at some free online courses at USC below.
Identifying a Workplace Problem
Free online courses at USC's Skill Up program mainly discuss professional advancement. Let's start with the course "Identifying a Workplace Problem."
You can pinpoint issues and their underlying causes with the aid of this topic. You will discover how to create and use processes based on the future to solve issues. Notably, we use the phrase "future-based" since, in today's fast-paced economy, issues and their fixes are frequently dynamic and necessitate a continuous process. Most importantly, you and the others with whom you are working must work together to solve every issue.
People are at the heart of organizational success, regardless of where you are in the organization's hierarchy, whether you work for a corporation, a sole proprietorship, or any other sort of organization.
Media Literacy as a Skill
Professors Rebecca M. Haggerty and Gordon Stables from the USC Annenberg School for Communication and Journalism talk about media literacy as a talent. These enhanced literacies are essential for comprehending the changing world in a media-saturated society. In addition to prejudice and misinformation in the media, they will discuss where the regulation of tech businesses as media companies begins and ends.
Who Will Benefit From This Course:
Leaders who want to develop best practices for media engagement at the organizational level and good media consumption habits inside their organization.
Business people wishing to make good use of the media within their company
Understanding Change Management
There are numerous tactics and tools to aid you in navigating the world of change management, whether you are a new employee in a business that is going through a transition, a project manager, or a leader who wants to plan for future changes.
Looking at some of the project-level procedures and actions you can do to help a project is where this first topic starts. Additionally, you will learn more about the organizations, people, and stakeholders who may be impacted by changes.
Data Visualization: Finding the Right Tools
The topic of this course is data visualization. What is data visualization? Why should you do it? No matter where you are in your academic or professional career, learn how to start. There are numerous moving parts in the process of data visualization. Years are needed to bring them all together and develop the confidence necessary to produce meaningful visualizations that provide answers to queries.
The overwhelming sense that there is so much to learn, that data is being produced every second, and that tools and software are continually changing presents a problem for many people who are just starting in data visualization. All of this is true however, this course will teach you certain fundamental techniques and ideas in data visualization that are largely constant and easily adapt to this constantly evolving and growing area.
Interested in Becoming an Influencer?
One of the most interesting free online courses at USC is this one. Are you prepared to discover how to become an influencer? This will be your guide through the realm of content production and how to better position yourself as an influencer to interact with your audience. This course will provide you with a solid grasp of this flourishing new business, whether you are just considering testing the waters or perhaps you are already presenting yourself as an influencer and want to become more strategic about exploiting your material for future growth.
This course will cover the current state of the influencer industry, how to find your specialty, and what your potential added value is in this first topic. Various influencer classifications, such as nano or micro, mid-tier, and macro, as well as what you can anticipate to make as an influencer in the industry today, will also be covered.
UX Design and Research
An idea is turned into a tangible, deliverable product by UX designers. But many significant problems need to be solved and research to be done before one can even begin to consider building the actual product. This topic will examine some of the ways that a designer might develop a concept most successfully, including drawing, making prototypes, and doing research.
Workplace and Mindfulness Meditation
Your work as a group leader can frequently be mentally and emotionally draining. Awareness of the harmful effects of unpleasant emotions on one's mind, body, spirit, and health is fostered by mindfulness. You will learn about mindfulness in this course and how to apply it to both your personal and professional life. To reap the rewards of increased resilience, increased concentration, less reactivity, and many other benefits, this course will also urge you to begin a daily practice schedule.
Sustainability and the Role of the Modern Corporation
This course expands on the fundamental competencies in organizational action and sustainability science, preparing students and leaders from a variety of industries to address complex issues like developing a sustainability strategy, creating a regenerative brand, and altering employee incentives.
Are Online College Courses Worth It?
Online courses are so common because of how convenient and available they are. Your classroom and teacher are open for business for the foreseeable future. Due to the shortcomings of conventional teaching techniques, numerous platforms have emerged that provide hundreds of online certification courses. The enormous increase in the number of new occupations over the past ten years caused people to be more engaged than ever in pursuing their areas of interest and acquiring new skills.
Not only are traditional educational methods incredibly expensive, but they are also not generally available. Nowadays, many platforms that offer courses in practically all subjects are affordable and available to everyone in response to the demand for education and information. You must have at least once seen the names Coursera, edX, Udemy, and skillshare because they are among the greatest platforms utilized by students and job seekers. But are online college courses worth it? Here are some advantages of taking online courses:
Online learning exhibits drive and sincere passion
Active learning is encouraged by online education. Online education is the best option if you are uncomfortable asking questions or obtaining clarification in a group setting. It provides you the freedom to communicate with your teachers via email, group chat, or personal messaging. You can thus contact your teacher anytime you have questions or are having trouble with a particular subject.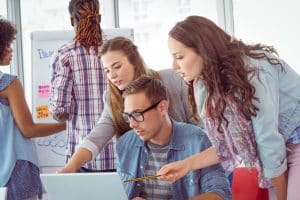 Networking
Online classes are enjoyable since you get to meet new people. By connecting with people who have similar interests to yours or who work in the same industry, you can enhance your educational experience. Even after learning, it's possible to make friends for life if you're lucky in the chat rooms that are available in many of these online courses.
Life-long Learning
You can continue studying if you forget anything or change your mind about a subject later on thanks to lifelong access to online courses. The majority of online certification programs offer lifetime access, which may be validated before enrollment.
Cost-effective Method
It's one of the best things about online classes! The value for money. Never before has learning anything new been so affordable. Online courses are significantly less expensive than traditional courses in comparison. Most of the courses on these popular platforms are about $10–$20 in price, or some are even free. Nothing prevents you from learning.
With the aid of certifications, students and young professionals can demonstrate to institutions and employers that they are taking advantage of the possibilities at hand to grow, learn, and reskill. Additionally, they give students the chance to learn for little expense and acquire new abilities, particularly in the rapidly evolving fields of technology, data sciences, and biosciences.
At USC, Skill Up could provide you with the following:
Wide range of options: Choose from a variety of online lectures, courses, and events.
Convenience: Programs that can be accommodated by your busy schedule
Rigor: Academic prowess and industry knowledge
Large-scale network: Outstanding alumni community.
Top-tier faculty: Classes instructed by authorities in their domains
Great online learning experience: Resources that are unmatched for the greatest online learning experience
How Do I Choose A Course At USC?
Online courses, virtual marathons, and learning academies. Options abound in the field of online education. Online education has been extremely popular lately, particularly in the wake of the epidemic.
Any field has courses available. Live workshops, pre-recorded sessions, one-on-one coaching, and other formats are all available. It's simple to get lost in the abundance of options. There are countless possibilities available for online learning. Making the best choice for you could be difficult. So, you might ask "how do I choose a course at USC?" Here are some things to think about before choosing:
Examine the syllabus thoroughly before choosing a choice.
Think about how the course's format will affect your schedule and way of life.
Get to know your instructor's qualifications more.
Examine student reviews and feedback on the course.
Although you can't always choose well, you can try to steer clear of errors. By using these four suggestions, you will be able to find the greatest online course for you and make a wiser decision.
The qualities that make USC a high-caliber institution, on par with the Ivies, are world-class faculty, accomplished alumni, and prolific and significant research activity. Taking free online courses at USC will be your ticket to experiencing how prestigious this university is.
Consider how each component of your application will enhance your personal narrative while planning how to get into USC. The application process for USC is very competitive. Last year, more than 70,000 applicants reduced USC's acceptance rate to 12%. More than 25% of those accepted into the USC Class of 2025 received all A's in high school. Although it is currently optional to submit test results, the typical USC SAT score varied from 1340 to 1530.
Keep your USC GPA high, pursue your interests through extracurricular activities, and compare your performance to that of admitted students by using data like the USC average GPA and SAT scores. Additionally, make sure to seek professional help from college admissions experts like AdmissionSight. We have assisted students to get into top universities in the US and one of the best records in the business is that, on average, 75% of our students are accepted into an Ivy League institution, including Stanford, MIT, UChicago, and Caltech. Book an initial consultation with AdmissionSight now.