Georgetown vs Colgate: A Look at the Differences Between These Two Universities
If you're trying to decide between Georgetown and Colgate universities, it's essential to have a thorough understanding of the similarities and differences between these two institutions. Is one better than the other? The answer, of course, depends on your individual needs and preferences. In this article, we'll dive deep into the history, location, academics, campus life, sports programs, tuition and financial aid, career services, and reputation and rankings of Georgetown vs Colgate. By the end, you'll have all the information you need to make an informed decision about which university is right for you.
Introduction: Georgetown vs Colgate
Choosing a university can be a challenging decision, particularly when you're considering two such widely respected and prestigious institutions as Georgetown and Colgate. The purpose of this article is to provide you with a thorough comparison of these two universities to help you make the right choice.
Whether you're just starting your college search or are already deep into the application process, understanding the differences between these two universities can help you determine which one aligns better with your personal and academic goals.
Georgetown University is located in Washington D.C. and is known for its strong programs in international relations, political science, and business. The university has a diverse student body and offers a wide range of extracurricular activities, including a highly competitive Division I athletics program. On the other hand, Colgate University is located in a small town in upstate New York and is known for its strong liberal arts curriculum. The university has a tight-knit community and offers a range of outdoor activities, including hiking and skiing.
When it comes to campus culture, Georgetown is known for its politically active student body and its proximity to the nation's capital. Students at Georgetown have the opportunity to intern at government agencies, think tanks, and non-profit organizations. Colgate, on the other hand, has a more laid-back campus culture and is known for its strong sense of community. Students at Colgate often participate in outdoor activities and take advantage of the university's beautiful natural surroundings.
History and Background of Georgetown University
Georgetown University is a private Catholic research university located in Washington, D.C., founded in 1789. Its Jesuit values of educating the whole person, seeking truth, and serving others continue to guide its mission today.
Georgetown has a long and storied history, having played a crucial role in the American Revolution, with several founding fathers having attended the university. Georgetown is known for its excellent academics, a profound commitment to social justice, and community engagement.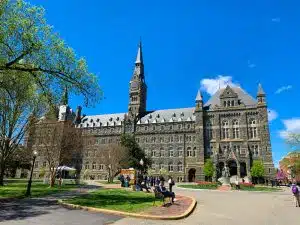 Georgetown University has also been at the forefront of many social justice movements throughout history. In the 19th century, the university was a leader in the abolitionist movement and provided a haven for enslaved people seeking freedom. In the 20th century,
Georgetown became a pioneer in the field of African American studies and established the first African American studies program in the country. Today, the university continues to prioritize diversity and inclusion, with initiatives such as the Georgetown Scholarship Program, which provides financial assistance to low-income and first-generation college students.
History and Background of Colgate University
Colgate University is a private liberal arts college located in Hamilton, New York, founded in 1819. Colgate is named for the Colgate family, who donated significant funds to establish the institution. Colgate's mission is "to provide a demanding, expansive educational experience to a select group of diverse, talented, and intellectually curious students." Colgate is renowned for its small class sizes, close-knit campus community, and rich history.
Colgate University has a long-standing commitment to sustainability and environmental stewardship. In recent years, the university has implemented several initiatives to reduce its carbon footprint, including the installation of solar panels and the use of geothermal energy. Colgate also has a student-run organic farm, which provides fresh produce to the campus community and serves as a hub for sustainable agriculture research.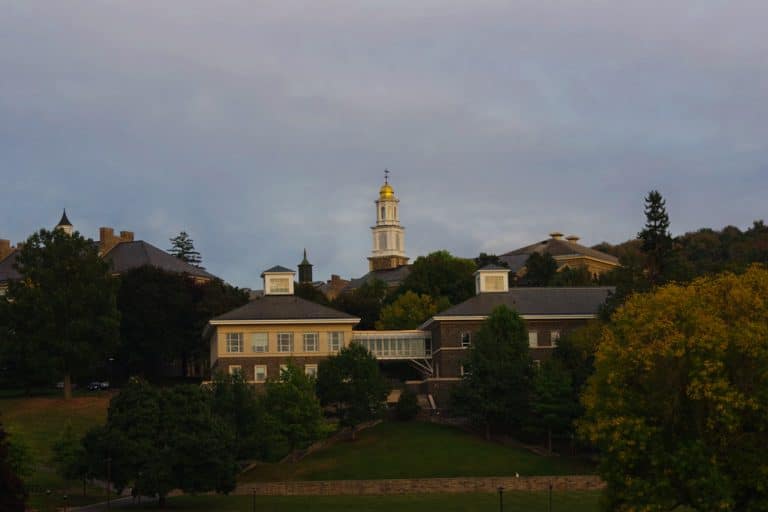 In addition to its academic programs, Colgate University offers a wide range of extracurricular activities and organizations for students to get involved in. These include over 200 student-run clubs and organizations, as well as a robust athletics program with 25 varsity sports teams. Colgate's location in the scenic Chenango Valley also provides ample opportunities for outdoor recreation, including hiking, skiing, and kayaking.
Location: Georgetown vs Colgate
The location of a university can significantly impact your college experience. Georgetown is located in a bustling urban center, Washington, D.C. It affords students several opportunities to explore its rich history and culture, from national monuments, museums, and historical landmarks to its vibrant nightlife.
Colgate, on the other hand, has a rural location in the picturesque village of Hamilton. Colgate students experience a beautiful campus nestled in the foothills of the Adirondacks and a close-knit community where everyone knows each other.
Another factor to consider when it comes to location is the weather. Georgetown experiences all four seasons, with hot summers and cold winters. Colgate, on the other hand, has a colder climate with heavy snowfall during the winter months. This can impact the types of activities and events that are available on campus and in the surrounding areas.
Additionally, the location of a university can also impact job and internship opportunities for students. Being located in a major city like Washington, D.C. can provide students with access to a wide range of internships and job opportunities in various industries. Colgate, while not located in a major city, has strong connections with local businesses and organizations, providing students with opportunities to gain hands-on experience in their field of study.
Enrollment: Georgetown vs Colgate
Georgetown enrolls around 7,500 undergraduate and graduate students, and Colgate enrolls approximately 3,000 undergraduate students. Georgetown is more diverse, with around half of the students coming from minority backgrounds.
Colgate has a more homogenous student body, with around 75% of students identifying as Caucasian. Georgetown also has a more extensive international student population, with students from over 130 countries studying there.
Another notable difference between the two universities is the gender distribution of their student populations. At Georgetown, there is a fairly even split between male and female students, with women making up slightly more of the student body. However, at Colgate, the majority of students are female, with women comprising around 60% of the undergraduate population.
Additionally, both universities have unique academic offerings that attract students with different interests. Georgetown is known for its strong programs in international relations, law, and business, while Colgate is renowned for its liberal arts curriculum and strong emphasis on undergraduate research. These distinct academic focuses contribute to the overall culture and atmosphere of each university.
Academics: Georgetown vs Colgate
Both Georgetown and Colgate offer world-class academics and a wide range of majors and programs. Georgetown is particularly well-known for its law, foreign service, and business programs, while Colgate is renowned for its liberal arts and sciences offerings, especially its English and environmental studies programs.
Georgetown follows a traditional undergraduate curriculum, while Colgate has a core curriculum consisting of three categories: quantitative reasoning, natural sciences, and social sciences. Georgetown offers more graduate programs, whereas Colgate focuses solely on undergraduate education.
Despite their differences, both Georgetown and Colgate prioritize experiential learning opportunities for their students. Georgetown offers a variety of study abroad programs, internships, and research opportunities, while Colgate emphasizes hands-on learning through its off-campus study programs and community-based learning initiatives.
Additionally, Georgetown has a strong emphasis on interdisciplinary studies, with many of its programs and majors incorporating multiple fields of study. Colgate, on the other hand, places a strong emphasis on critical thinking and writing skills, with its Writing and Rhetoric program being a cornerstone of the curriculum.
Faculty: Georgetown vs Colgate
The academic quality of a university largely depends on the quality of its faculty. Both Georgetown and Colgate universities have stellar teaching and research faculties. Georgetown faculty are known for their research and expertise in policy, international affairs, and law. Colgate faculty, on the other hand, are noted for their expertise in small-group instruction and excellent teaching quality.
Additionally, Georgetown faculty members have published numerous books and articles in prestigious academic journals, and many have received awards and recognition for their research contributions. Colgate faculty members, on the other hand, have a strong focus on undergraduate research and mentorship, providing students with opportunities to work closely with faculty members on research projects and gain valuable hands-on experience.
Campus Life: Differences in Extracurricular Activities, Clubs, and Organizations
Both Georgetown and Colgate offer a rich campus life with several extracurricular activities, clubs, and organizations to cater to students' interests. Georgetown students can participate in over 200 clubs and organizations, including several political clubs and groups focused on social justice and service. Colgate offers many extracurricular activities, including a renowned acapella program and an active Greek life community. Both universities have their student-run newspapers.
However, there are some differences in the types of clubs and organizations offered at each university. Georgetown has a strong emphasis on international relations and diplomacy, with clubs such as the International Relations Club and the Model United Nations team.
On the other hand, Colgate has a strong focus on outdoor activities and environmentalism, with clubs such as the Outing Club and the Environmental Club. Additionally, Colgate offers a unique program called the Thought Into Action Entrepreneurship Institute, which provides resources and support for students interested in starting their businesses.
Sports Programs: Georgetown vs Colgate
Georgetown is a Division I university, while Colgate competes at the Division I level. Georgetown is well-known for its outstanding basketball program, while Colgate has excellent football and ice hockey teams.
Both universities have excellent athletic facilities, with Georgetown having the benefit of being located in the nation's capital and having access to professional training facilities. Both institutions have a loyal fan base, with sporting events often being a highlight of campus life.
In addition to their strong athletic programs, Georgetown and Colgate also prioritize the academic success of their student-athletes. Both universities have high graduation rates for their athletes and offer academic support services to ensure their success in the classroom.
Georgetown and Colgate also have a strong tradition of sportsmanship and fair play. Both universities emphasize the importance of respect for opponents and officials, and their athletes are known for their integrity on and off the field.
Tuition and Financial Aid: Georgetown vs Colgate
Georgetown tuition costs around $56,000 per year, and Colgate tuition costs approximately $57,000 per year, making them some of the most expensive colleges in the United States. However, both universities offer substantial financial aid packages, with over 50% of Georgetown students and 46% of Colgate students receiving financial aid. Both universities also have extensive scholarship programs catering to students with different needs and circumstances.
It is important to note that while the tuition costs may seem high, the value of a degree from these prestigious universities can lead to higher earning potential and career opportunities. Additionally, both Georgetown and Colgate offer work-study programs, allowing students to earn money while gaining valuable work experience. These programs can help offset the cost of tuition and provide students with practical skills for their future careers.
Career Services: Comparing Job Opportunities, Internships, and Alumni Networks
Both Georgetown and Colgate are renowned for their strong career services resources, with a dedicated team of advisors providing guidance and support to students. Both universities offer a wide range of job opportunities and internships, with Georgetown's career center providing international internship opportunities. Georgetown has a more extensive alumni network, due to its bigger student base, although, Colgate is known for its strong sense of alumni engagement and willingness to assist current students.
Additionally, Georgetown's career center offers a variety of workshops and events to help students develop their professional skills, such as resume writing and networking. Colgate's career center also provides similar resources but with a focus on connecting students with alumni in their desired fields.
Furthermore, both universities have partnerships with various companies and organizations, providing students with exclusive job and internship opportunities. Georgetown has partnerships with companies such as Deloitte and Goldman Sachs, while Colgate has partnerships with organizations such as the Peace Corps and Teach for America.
Reputation and Rankings: Georgetown vs Colgate
Both Georgetown and Colgate have a sterling reputation, with both consistently ranked among the top universities in the United States. Georgetown is particularly well-regarded for its international affairs and law programs, while Colgate is recognized for its strong liberal arts programs. Both have top-tier faculty, strong research programs, and excellent academics.
However, reputation and rankings are not the only factors to consider when choosing a university. It is important to also evaluate the campus culture, student life, and extracurricular opportunities. Georgetown has a vibrant campus life, with numerous student organizations and events, while Colgate is known for its close-knit community and emphasis on outdoor activities.
Furthermore, it is important to consider the career prospects and job opportunities available to graduates. Georgetown has a strong alumni network, particularly in the fields of politics and international relations, while Colgate has a reputation for producing successful business leaders and entrepreneurs. Both universities offer career services and internships to help students prepare for their future careers.
Conclusion: Which University is Right for You?
Ultimately, choosing a university is a personal decision that depends on your needs, aspirations, and preferences. Georgetown and Colgate are both excellent universities, offering academic rigor, campus life, and extensive resources to help you achieve your professional goals. Choosing one comes down to individual tastes and circumstances.
For students who value a more urban setting, a wider range of programs, and opportunities with an increased opportunity for international networks, Georgetown might be an ideal choice. For students looking for a smaller, tight-knit community, surrounded by idyllic small-town life and excellent liberal arts programs, Colgate could be the perfect university.
In the end, it is the student's individual preferences that determine which school is the right fit for them. So carefully review your priorities and use this guide to come to a well-informed decision, whichever university you choose.
If you're set on getting into a world-class college but aren't sure how to make it happen, we can help! AdmissionSight is a leading college entrance expert with over a decade of experience helping students just like you get into the schools of their dreams.
At AdmissionSight, we focus on offering a wide range of services, all aimed at helping students perfect their applications to catch the attention of admissions officers. Contact us today to schedule a free consultation and learn more about what we offer.