Georgetown vs Middlebury: Which University is Right for You?
Choosing a university can be a daunting task, with so many options available and various factors to consider. Two well-respected institutions in the United States are Georgetown University and Middlebury College. Both universities have their unique advantages and challenges to consider. This article will examine the differences between Georgetown vs Middlebury in detail, highlighting aspects of each that may sway your decision one way or the other.
Location and Campus: Georgetown vs Middlebury
Georgetown University is situated in Washington D.C., the capital of the United States, and offers a picturesque campus located in the heart of the city. The location boasts architectural delights of the 18th Century and blends well with the contemporary world.
Meanwhile, Middlebury College is situated in a small town in Vermont and is nestled in the serene setting of the Champlain Valley. The campus is surrounded by beautiful rivers, mountains, and trails, offering a peaceful and calming atmosphere.
While Georgetown's city location offers an abundance of entertainment and job opportunities for students, Middlebury provides an isolated environment that allows students to focus better on their studies and socialize among peers. However, Georgetown's urban location also poses a higher cost of living, making Middlebury more affordable for those on a budget.
Another notable difference between Georgetown and Middlebury is the size of their campuses. Georgetown's campus is spread out over 104 acres, while Middlebury's campus covers 350 acres. This means that Middlebury has more space for outdoor activities and sports facilities, such as hiking trails, ski slopes, and a golf course. On the other hand, Georgetown's smaller campus size allows for a more intimate and tight-knit community, where students are more likely to run into each other and form close relationships.
Academic Programs: Georgetown vs Middlebury
One of the primary considerations when choosing a university is the academic programs offered. Both Georgetown and Middlebury are highly regarded universities with robust academic offerings. Georgetown offers a full range of undergraduate and graduate programs in various fields, including Business, Law, Medicine, and Public Policy, among others. Meanwhile, Middlebury is a liberal arts college with a stronger focus on undergraduate education, offering majors in Environmental Studies, Neuroscience, and Creative Writing, among others.
While Middlebury's focus on undergraduate education means more individualized attention from faculty, Georgetown's graduate programs offer more specialized study and professional development opportunities. Ultimately, the decision between the two may come down to whether a student is certain about their career path or is more interested in exploring various academic options.
It is worth noting that both Georgetown and Middlebury offer study abroad programs, allowing students to gain international experience and broaden their academic horizons. Georgetown has partnerships with universities in over 50 countries, while Middlebury has its study-abroad programs in locations such as China, India, and Brazil.
Additionally, both universities have strong research programs, with opportunities for students to participate in cutting-edge research projects. Georgetown has research centers focused on topics such as global health, cybersecurity, and social justice, while Middlebury has research opportunities in areas such as environmental science, neuroscience, and language acquisition.
Student Body: Georgetown vs Middlebury
Diversity and inclusivity are essential factors to consider when choosing a university. Both Georgetown and Middlebury have made strides in promoting diversity on their campuses. Georgetown's undergraduate student population is comprised of 48% White, 9% Hispanic, 8% Black, 22% Asian, and 12% International students, while Middlebury's undergraduate student population is 53% White, 16% Asian, 7% Hispanic, 4% Black, and 20% International students.
Both universities have made conscious efforts to increase the representation of underrepresented minorities on their campuses. Middlebury has implemented an All-in policy that ensures students from low-income families have the financial resources to attend the institution. Georgetown, on the other hand, has a "Latinx Leadership Forum" that awards merit scholarships for students who impact their communities positively.
It is important to note that both universities have also taken steps to address gender diversity. Georgetown has a Women's Center that provides resources and support for female-identifying students, while Middlebury has a Women and Gender Studies program that offers courses and research opportunities in the field. Additionally, both universities have active LGBTQ+ student organizations and provide resources for LGBTQ+ students, such as gender-neutral housing options and counseling services.
Admission Requirements: Georgetown vs Middlebury
Both Georgetown and Middlebury have highly competitive admission processes. Georgetown's acceptance rate is 12%, while Middlebury's rate is 13%. To be considered for admission, students need to submit an application that includes transcripts, test scores, essays, and recommendation letters.
However, each university has unique requirements. For example, Georgetown allows students to submit a standardized test score policy rather than an ACT or SAT, while Middlebury requires a resume in addition to the traditional requirements. Prospective students should research each institution's admission requirements to ensure their applications meet the guidelines.
In addition to the standard application requirements, both Georgetown and Middlebury have specific requirements for certain programs or majors. For example, Georgetown's School of Foreign Service requires proficiency in a second language, while Middlebury's Environmental Studies program requires a portfolio of relevant work. Prospective students should carefully review the requirements for their intended program of study.
It's also important to note that admission to these universities is not solely based on academic achievements. Both Georgetown and Middlebury value extracurricular activities, community service, and leadership experience. Prospective students should highlight their involvement in these areas in their application materials.
Campus Life: Georgetown vs Middlebury
Both Georgetown and Middlebury offer a vibrant campus life with numerous social and extracurricular activities for students. Georgetown has over 200 student organizations, including academic clubs, social clubs, service organizations, and cultural clubs. Meanwhile, Middlebury offers a variety of recreational options, including skiing, hiking, and kayaking, among others.
Georgetown students have various nightlife options, including bars and clubs, which are less readily available in the rural setting of Middlebury. However, students on either campus will find an inclusive and vibrant student community with much to explore.
Additionally, both Georgetown and Middlebury have strong athletic programs, with opportunities for students to participate in varsity, club, and intramural sports. Georgetown is a Division I school and offers 29 varsity sports teams, while Middlebury is a Division III school and has 31 varsity sports teams. Both schools also have state-of-the-art athletic facilities, including gyms, pools, and fields, for students to use.
Sports and Extracurricular Activities: Georgetown vs Middlebury
Sports and extracurricular activities are essential aspects of campus life that contribute to an enjoyable college experience. Georgetown University has 29 varsity sports teams, including basketball, football, rowing, and tennis, among others. Middlebury, on the other hand, offers a variety of outdoor sports, including hiking, skiing, and mountain biking, with 31 varsity sports teams.
Extracurricular activities are also plentiful, with both universities offering a variety of clubs and organizations to participate in, including music groups, student government, and community service organizations.
However, some unique extracurricular activities are only available at one of the universities. Georgetown University has a highly regarded debate team that competes nationally and internationally. Middlebury, on the other hand, has a strong focus on environmental sustainability and offers many clubs and organizations dedicated to this cause, such as the Middlebury Energy Committee and the Middlebury Organic Garden.
Faculty and Staff: Georgetown vs Middlebury
Faculty and staff play a significant role in the quality of education at any university. Both Georgetown and Middlebury have highly qualified, experienced faculties. Georgetown has a student-to-faculty ratio of 11:1, while Middlebury has a ratio of 8:1.
The faculty at Georgetown consists of industry experts and scholars with practical experience in their fields, while Middlebury is renowned for having a faculty composed of the highest-qualified academics who prioritize undergraduate education and encourage direct communication with students. Prospective students should consider the teaching staff's quality and teaching style to determine which institution would be a better fit.
It is also important to note that both Georgetown and Middlebury offer opportunities for students to engage with their professors outside of the classroom. Georgetown has a mentorship program that pairs students with faculty members who share similar interests, while Middlebury has a strong advising system that provides students with personalized guidance throughout their academic journey. These resources can greatly enhance a student's learning experience and should be taken into consideration when choosing a university.
Graduate Outcomes: How Do Georgetown and Middlebury Graduates Fare in the Job Market?
The ultimate goal of attending university is to prepare for a career and achieve success in a chosen field. Both Georgetown and Middlebury are well-known for producing graduates that excel in their chosen fields. Georgetown boasts a strong network of alumni who excel in high-level government positions, law, banking, journalism, and entertainment. Meanwhile, Middlebury graduates cover areas such as environmental preservation, education, science, literature, and music.
Prospective students should investigate and understand each institution's statistics concerning graduate employment, internships, and other career-related opportunities. This knowledge will enable them to determine which institution aligns well with their career goals and aspirations.
It is important to note that while Georgetown and Middlebury have different areas of expertise, both institutions prioritize providing their students with ample opportunities to gain practical experience in their fields of study. Georgetown offers a variety of internships and co-op programs, allowing students to gain hands-on experience in their desired industries. Middlebury, on the other hand, emphasizes experiential learning through its study abroad programs and immersive learning opportunities.
Tuition and Financial Aid: Georgetown vs Middlebury
Finances are an essential consideration when choosing a university. Both Georgetown and Middlebury are private institutions with high tuition and fees, and prospective students need to understand the costs to make informed decisions.
In the 2022-2023 academic year, Georgetown's tuition and fees will be $59,360, while Middlebury will cost students $74,674. However, both institutions offer generous financial aid packages to students, with 53% of Georgetown students and 49% of Middlebury students receiving some form of financial assistance.
It's important to note that financial aid packages can vary greatly between students, depending on their individual financial situations. Both Georgetown and Middlebury use a need-based approach to determine financial aid eligibility, taking into account factors such as family income, assets, and number of dependents. Additionally, both schools offer merit-based scholarships to students who demonstrate exceptional academic or extracurricular achievements.
Campus Housing: Georgetown vs Middlebury
Living arrangements while attending university are critical factors to consider. Georgetown University offers housing options for first-year students in traditional dormitories or apartments for upperclassmen, including on-campus townhouses. Middlebury College provides three-year housing guarantees and has nine halls modeled on class years, accommodating first-years, sophomores, juniors, and seniors.
Both institutions provide various facilities aimed at comfortable and safe living arrangements for their students. Dormitories offer students an opportunity to live near classmates to maximize socialization, whereas apartments provide more privacy and independence while remaining close to the university community.
However, there are some differences between dormitories and apartments that students should consider before making a decision. Dormitories usually have communal bathrooms and shared living spaces, which can be a great way to meet new people and make friends. On the other hand, apartments often have private bathrooms and kitchens, which can be more convenient for students who prefer to cook their meals or have a quieter living environment.
Another factor to consider is the cost of living in dormitories versus apartments. While dormitories are generally cheaper, they may not offer as much privacy or independence as apartments. Apartments, on the other hand, can be more expensive, but they may provide students with more space and amenities, such as a gym or pool.
Study Abroad Programs: Opportunities Offered by Both Universities
Having an opportunity to study abroad is a valuable experience aimed at broadening students' perspectives and helping them develop intercultural competencies. Georgetown University offers several study abroad programs, with over 45% of students participating. Middlebury emphasizes study-abroad opportunities, with numerous immersive study-abroad programs in over forty foreign countries.
Prospective students who want to study abroad during their university experience should research each institution and identify which offers programs that most align with their academic and career goals.
It is important to note that studying abroad not only enhances a student's academic and career prospects but also provides a unique opportunity to immerse oneself in a new culture and gain a global perspective. Both Georgetown University and Middlebury offer programs that cater to a wide range of interests and academic disciplines.
Students can choose from semester-long programs, summer programs, or even year-long programs, depending on their preferences and academic requirements. Additionally, both universities provide extensive support services to ensure that students have a smooth transition and a fulfilling experience while studying abroad.
Research Facilities: Georgetown vs Middlebury
Research facilities play a significant role in providing students with first-hand, practical opportunities to engage in research. Both Georgetown and Middlebury provide their students with research opportunities and resources to pursue academic excellence.
Georgetown offers students access to several research centers, including the Center for Latin American Studies and the Georgetown Institute for Women, Peace, and Security. Meanwhile, Middlebury provides opportunities for interdisciplinary work and collaboration, with research centers such as The Franklin Environmental Center and The Rohatyn Center for Global Affairs.
Furthermore, Georgetown University has a state-of-the-art research facility, the Biomedical Research Center, which provides students with access to cutting-edge technology and equipment for conducting research in the field of biomedical sciences. Middlebury College also has a unique research facility, the Bread Loaf Mountain Campus, which offers students the opportunity to conduct research in a natural setting, surrounded by the beautiful Green Mountains of Vermont.
Both universities also offer students the chance to participate in research projects with faculty members, providing them with mentorship and guidance throughout the research process. These projects can lead to publications in academic journals and presentations at conferences, giving students valuable experience and exposure in their field of study.
Alumni Network: Georgetown vs Middlebury
Networking is essential to career success in any field, and alumni associations provide these necessary resources. Both Georgetown and Middlebury have comprehensive alumni networks, offering graduates numerous opportunities to stay connected and engage with their peers.
Alumni associations on both campuses provide professional development programs for students, offering access to career coaches and employment resources. Additionally, the associations offer social networking opportunities to help alumni build friendships and maintain close relationships with each other.
Another benefit of joining the alumni association of each university is the opportunity to give back to the community. Both Georgetown and Middlebury have active alumni volunteer programs that allow graduates to participate in community service projects and make a positive impact on the world.
Furthermore, alumni associations often provide exclusive benefits and discounts to their members. For example, Georgetown alumni can receive discounts on travel, insurance, and even car rentals. Middlebury alumni can access discounted tickets to cultural events and receive discounts on continuing education courses.
Conclusion: Which University is a Better Fit for You?
Deciding which institution is best for you ultimately depends on which university aligns most closely with your academic and career goals, social needs, and financial considerations. Georgetown's strengths lie in its diverse programs, location, and established alumni network, while Middlebury's strengths include its intimate community, dedication to undergraduate education, and expansive research opportunities.
It is essential to weigh the different aspects offered by Georgetown and Middlebury, such as location, tuition, student demographics, and the quality of academics and resources, before making a final decision.
By considering all the factors and conducting thorough research, you will be able to identify the university that suits your needs best. Regardless of the decision, attending a university with a strong reputation, excellent academic resources, and a supportive community will set you up for success in your future career.
Another important factor to consider when choosing between Georgetown and Middlebury is the campus culture. Georgetown is known for its vibrant social scene, with numerous student organizations and events that cater to a diverse range of interests.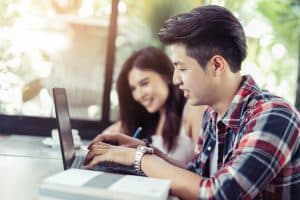 Middlebury, on the other hand, has a more laid-back atmosphere, with a focus on outdoor activities and community engagement. Depending on your personality and preferences, one campus culture may be more appealing than the other.
Finally, it is worth considering the long-term benefits of attending each university. Georgetown's location in Washington D.C. provides students with unparalleled access to internships and job opportunities in politics, international relations, and business.
Middlebury's strong emphasis on research and critical thinking skills prepares students for success in a wide range of fields, from academia to entrepreneurship. Ultimately, the decision between Georgetown and Middlebury should be based on careful consideration of all these factors, as well as your own goals and aspirations.
If you're set on getting into a world-class college but aren't sure how to make it happen, we can help! AdmissionSight is a leading college entrance expert with over a decade of experience helping students just like you get into the schools of their dreams.
At AdmissionSight, we focus on offering a wide range of services, all aimed at helping students perfect their applications to catch the attention of admissions officers. Contact us today to schedule a free consultation and learn more about what we offer.