Georgetown vs Northeastern: A Comprehensive Look at Two Top Universities
Choosing the right university is a major milestone in a student's life. With so many options available, it is not always easy to determine which university is the best fit. This article provides a comprehensive comparison of Georgetown vs Northeastern, two well-respected universities in the United States.
Introduction: Understanding the Importance of Choosing the Right University
The decision to attend a particular university can have a significant impact on a student's career prospects, social life, and personal growth. Therefore, it is essential to make an informed decision based on relevant criteria. The following sections provide a detailed analysis of various factors related to Georgetown and Northeastern universities.
One of the most critical factors to consider when choosing a university is the quality of education offered. Both Georgetown and Northeastern universities are renowned for their academic excellence and have consistently ranked among the top universities in the country. They offer a wide range of undergraduate and graduate programs, including business, engineering, law, and medicine, among others.
Another crucial factor to consider is the campus culture and environment. Georgetown University is located in the heart of Washington D.C., and its campus is known for its historic architecture and vibrant student life. Northeastern University, on the other hand, is located in Boston, Massachusetts, and offers a more urban campus experience. Both universities have a diverse student body and offer numerous extracurricular activities and clubs to enhance the student experience.
Location and Campus Facilities: Georgetown vs Northeastern
The location of the university and its surrounding area can significantly impact a student's academic and social growth. Georgetown is located in Washington, DC, a vibrant city with many opportunities for internships, networking, and cultural events. On the other hand, Northeastern is located in Boston, Massachusetts, another great city for college students, with lively neighborhoods, historic sites, and sports teams that attract a considerable following.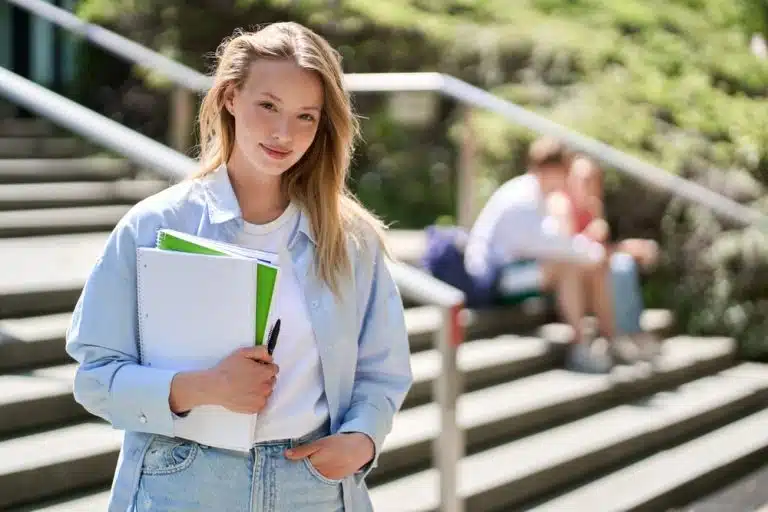 Both universities have impressive campus facilities that provide students with academic, cultural, and athletic opportunities. Georgetown's campus boasts a state-of-the-art science center, a library with more than two million volumes of books, and a range of athletic facilities including a pool, gymnasium, and tennis center.
At Northeastern, students can choose from over 400 clubs and societies, attend lectures and events in the Curry Student Center, and take advantage of the university's extensive indoor and outdoor recreational facilities.
Additionally, Georgetown University has a unique feature in its location – it is situated right next to the Potomac River, providing students with a beautiful view and access to water activities such as kayaking and paddleboarding. Northeastern, on the other hand, is located near the Charles River, which also offers opportunities for outdoor recreation.
Academic Programs: A Detailed Comparison of the Offerings at Georgetown vs Northeastern
Georgetown offers over 50 undergraduate degree programs across eight schools, including business, nursing, and foreign service. Several graduate programs are also available, such as law, medicine, and public policy. Georgetown's academic programs are renowned for their rigor, research opportunities, and global perspective.
Similarly, Northeastern offers a diverse range of undergraduate and graduate programs in fields such as engineering, health sciences, and journalism. Northeastern's programs are known for their experiential learning opportunities, co-op internships, and interdisciplinary research.
In both universities, students have access to distinguished faculty members who are leading experts in their respective fields. They are committed to mentoring students, conducting cutting-edge research, publishing scholarly work, and engaging in public service.
Georgetown University is located in Washington D.C., which provides students with unique opportunities to engage in politics, international relations, and public policy. The university has partnerships with various organizations, including the World Bank and the International Monetary Fund, which offer internships and research opportunities to students.
On the other hand, Northeastern University is located in Boston, which is known for its vibrant startup culture and innovation. The university has strong ties with the city's tech industry, providing students with access to internships and job opportunities in companies such as Amazon, Google, and Microsoft.
Faculty and Research: A Look at the Professors and Research Opportunities Available at Both Universities
Georgetown and Northeastern are homes to esteemed scholars and innovators who are dedicated to advancing knowledge in their disciplines. Georgetown's faculty includes Nobel laureates, prominent public figures, and experts in international affairs, politics, and law.
At Northeastern, faculty members receive significant research funding from government agencies, private foundations, and corporations. They collaborate with students to develop innovative solutions to pressing global issues, such as climate change, healthcare, and cybersecurity.
Students at both universities have numerous opportunities to get involved in research projects, present their work at conferences, and publish in scholarly journals. These experiences prepare them for graduate study or careers in academia or industry.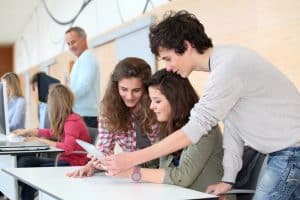 Additionally, both universities offer undergraduate research programs that allow students to work closely with faculty members on cutting-edge research projects. At Georgetown, the Undergraduate Research Opportunities Program (UROP) provides funding and support for students to conduct research in a variety of fields, from biology to economics. Northeastern's co-op program also offers students the opportunity to gain hands-on research experience through six-month work placements with industry partners and research institutions.
Admissions Process: Understanding the Requirements and Selectivity of Georgetown vs Northeastern
The admissions process at Georgetown and Northeastern is highly competitive, and applicants must meet stringent requirements to be considered for admission. Georgetown's acceptance rate is approximately 12%, with an average SAT score of 1480 and 33 ACT scores.
Similarly, Northeastern's acceptance rate is around 18%, with an average SAT score of 1460 and 33 ACT scores. Both universities consider various factors in admissions decisions, such as academic achievement, extracurricular activities, essays, and letters of recommendation.
In addition to these factors, Georgetown and Northeastern also consider demonstrated interest in the university. This can include attending information sessions, visiting campus, and engaging with admissions representatives. Demonstrated interest can be a deciding factor in admissions decisions, especially for highly selective universities like Georgetown and Northeastern.
It is important for applicants to also note that both universities offer early action and early decision options. An early action is a non-binding option that allows applicants to receive an admissions decision earlier than the regular decision deadline. Early decision is a binding option, meaning that if an applicant is accepted, they must attend the university. It is crucial for applicants to carefully consider their options and deadlines before applying.
Student Life: Comparing Extracurricular Activities, Housing, and Social Scene at Georgetown vs Northeastern
Both Georgetown and Northeastern offer a vibrant campus life, with numerous extracurricular activities, clubs, sports, and cultural events. Georgetown's campus has a lively social scene, with numerous student organizations, debate clubs, and cultural groups.
Northeastern's campus has a lively college-town feel, with numerous bars, restaurants, and shops. Students have access to multiple housing options, including on-campus dormitories and off-campus apartments. Both universities also have onsite medical clinics, career centers, and counseling services to support students' well-being.
One of the unique aspects of Georgetown's student life is its location in Washington D.C. This provides students with numerous opportunities to engage in internships, volunteer work, and attend political events. The university also has a strong emphasis on community service, with many students participating in service projects throughout the city.
On the other hand, Northeastern has a strong focus on experiential learning, with many programs offering co-op opportunities for students to gain real-world experience in their field of study. The university also has a strong commitment to sustainability, with many initiatives aimed at reducing its carbon footprint and promoting environmental awareness among students.
Career Opportunities: Georgetown vs Northeastern
Georgetown and Northeastern have robust career services that prepare students for successful careers in various fields. Georgetown's career center provides students with job search strategies, resume writing and interview coaching.
Northeastern's co-op program provides students with hands-on work experience in a range of industries such as finance, healthcare, and technology. Northeastern graduates have high job placement rates, with many securing jobs at top companies, such as Amazon, Google, and Deloitte.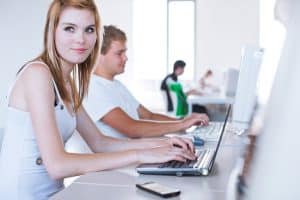 Additionally, both Georgetown and Northeastern have strong alumni networks that provide valuable connections and resources for recent graduates. These networks offer mentorship opportunities, job postings, and networking events that can help graduates land their dream jobs. Many alumni from both universities have gone on to successful careers in various industries, and are eager to help current students and recent graduates achieve similar success.
Tuition Costs and Financial Aid: Analyzing the Cost of Attendance and Availability of Financial Assistance at Both Universities
The cost of attending Georgetown and Northeastern varies depending on several factors such as program of study, residency, and financial aid eligibility. Generally, Georgetown's tuition is around $56,000 per year, while Northeastern's tuition is around $50,000 per year.
Both universities offer comprehensive financial aid packages, including grants, scholarships, loans, and work-study opportunities. Students can apply for need-based or merit-based aid, and some programs may offer additional funding options, such as assistantships or fellowships.
It is important to note that the cost of attendance at both universities goes beyond just tuition. Students must also consider expenses such as room and board, textbooks, and transportation. Georgetown and Northeastern both provide estimates for these additional costs on their websites, which can help students plan and budget accordingly.
Additionally, students should be aware of the deadlines for financial aid applications. Both universities have specific deadlines for submitting the Free Application for Federal Student Aid (FAFSA) and other financial aid applications. Students need to meet these deadlines to be considered for the maximum amount of financial assistance available.
Alumni Networks: A Look at the Professional Networks Available to Graduates from Georgetown vs Northeastern
Graduates from Georgetown and Northeastern benefit from extensive alumni networks that offer career support, mentorship opportunities, and social events. Georgetown's alumni association has over 160,000 members worldwide, with many holding influential positions in government, business, and academia.
Northeastern's alumni association is similarly robust, with over 260,000 members from various industries, including healthcare, engineering, and finance. Both universities provide graduates with access to exclusive events, job postings, and professional development resources.
Additionally, both Georgetown and Northeastern have alumni chapters in major cities across the United States and around the world. These chapters provide graduates with opportunities to connect with fellow alumni in their area, attend local events, and expand their professional networks. Alumni chapters often host networking events, career panels, and social gatherings, allowing graduates to stay connected to their alma mater and to each other long after graduation.
Final Thoughts: Which University is Right for You?
Choosing between Georgetown and Northeastern can be challenging, given their many similarities and differences. It's important to consider factors such as location, academic programs, research opportunities, and career services.
If you are interested in international affairs, politics, or law, Georgetown may be the right fit for you. If you want to gain hands-on work experience before graduation and have a flexible curriculum that allows you to explore multiple disciplines, Northeastern may be a better option.
Another important factor to consider is the campus culture and community. Georgetown has a strong emphasis on tradition and history, with a close-knit community of students and faculty. Northeastern, on the other hand, has a more modern and innovative approach, with a diverse student body and a focus on experiential learning.
Conclusion: Making an Informed Decision About Your Future Educational Path
Deciding where to attend college is a life-changing decision that requires careful consideration of various factors. By comparing Georgetown and Northeastern's facilities, academic programs, faculty, research opportunities, admissions process, student life, career services, and cost of attendance, you can make an informed decision that aligns with your academic and career goals.
It is important to remember that the decision-making process does not end once you have chosen a college. Throughout your academic journey, you will encounter new opportunities and challenges that may require you to reevaluate your goals and make adjustments to your educational path. It is important to stay open-minded and flexible and to take advantage of the resources and support available to you at your chosen institution.
If you're set on getting into a world-class college but aren't sure how to make it happen, we can help! AdmissionSight is a leading college entrance expert with over a decade of experience helping students just like you get into the schools of their dreams.
At AdmissionSight, we focus on offering a wide range of services, all aimed at helping students perfect their applications to catch the attention of admissions officers. Contact us today to schedule a free consultation and learn more about what we offer.