Georgetown vs UPenn: A Comprehensive Look at Two Top Universities
When considering which university to attend, there are many factors to take into account. Georgetown University and the University of Pennsylvania (UPenn) are among the top universities in the United States. In this article, we will provide a comprehensive look at Georgetown vs UPenn across different aspects, from campus size and quality of academics to student life and alumni networks.
Introduction to Georgetown and UPenn
Georgetown University, located in Washington, D.C., is a private, Jesuit Catholic university founded in 1789. On the other hand, UPenn is a private Ivy League university located in Philadelphia, Pennsylvania, established in 1740.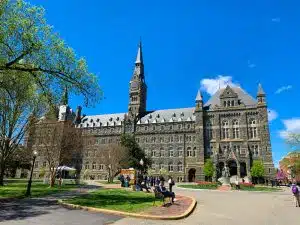 Both universities are known for their excellent academic programs, distinguished faculty members, and impressive alumni networks. Georgetown University is particularly renowned for its School of Foreign Service, which is consistently ranked as one of the top international relations programs in the world.
The university also strongly commits to social justice and public service, with many students participating in community service projects and internships in government and non-profit organizations.
UPenn, on the other hand, is known for its prestigious Wharton School of Business, consistently ranked as one of the top business schools in the world. The university also strongly focuses on interdisciplinary research, with many faculty members collaborating across different departments and schools to tackle complex societal issues.
Campus Size and Location
Georgetown's campus spans over 104 acres, and buildings are situated along the Potomac River in Georgetown's historic district. The university also has satellite programs in Italy, Qatar, and other countries.
In contrast, UPenn's campus spans over 279 acres and is located in the heart of Philadelphia. Both universities have picturesque campuses with state-of-the-art facilities.
Georgetown's location in Washington D.C. provides students with unique opportunities to engage in politics, internships, and cultural events. The campus is just a few miles from the White House, the Capitol, and other government buildings.
Additionally, Georgetown's location in the heart of Georgetown, a vibrant and historic neighborhood, offers students access to various shops, restaurants, and entertainment options.
Historical Background of Georgetown and UPenn
Georgetown has a rich history as one of the country's oldest Catholic and Jesuit institutions. Notably, Georgetown played a significant role in abolishing slavery, and its campus was used as a stop on the Underground Railroad.
Meanwhile, UPenn was founded by Benjamin Franklin and has played an integral role in American history since its establishment, with numerous US Presidents and other leaders among its alumni.
Georgetown's commitment to social justice and equality has continued throughout its history. In the 1960s, the university was at the forefront of the Civil Rights Movement, with students and faculty participating in protests and advocating for change.
Today, Georgetown continues to prioritize diversity and inclusion with initiatives such as the Georgetown Scholarship Program, which provides financial assistance to low-income and first-generation college students.
UPenn has also been a leader in promoting social justice and equality. In the 1950s and 60s, the university was a hub for civil rights activism, with students and faculty participating in sit-ins and protests.
Recently, UPenn has launched initiatives such as the Penn First Plus program, which supports first-generation, low-income students, and the Penn Center for Minority Serving Institutions, which works to improve educational opportunities for underrepresented groups.
Academic Programs at Georgetown vs UPenn
Georgetown and UPenn offer diverse academic programs spanning various fields, including business, law, medicine, and the sciences. Georgetown is well-known for its School of Foreign Service, which focuses on international relations and security; its law and medical programs are also highly recognized.
On the other hand, UPenn is renowned for its Wharton School of Business, which is consistently ranked among the top business schools in the world.
In addition to these programs, Georgetown also offers a highly regarded School of Nursing and Health Studies, preparing students for healthcare and public health careers. The university also strongly focuses on the humanities, with English, history, philosophy, and theology programs.
On the other hand, UPenn has a top-ranked School of Education that offers teaching, counseling, and educational leadership programs. The university also has a strong presence in the arts, with music, theater, and visual arts programs, as well as a renowned museum and art collection.
Admission Requirements and Application Process
Georgetown and UPenn both have highly selective admissions processes and require well-rounded applications. While admission requirements differ slightly between the institutions, both have similar requirements, such as high test scores, excellent grades, and extracurricular activities. Generally, applicants must submit transcripts, test scores, essays, and letters of recommendation.
In addition to the standard admission requirements, Georgetown strongly emphasizes community service and leadership experience. Applicants are encouraged to showcase their involvement in volunteer work, internships, and leadership positions in their application.
Georgetown also offers an optional interview process for applicants, allowing them to highlight their strengths and accomplishments further. On the other hand, UPenn values diversity and intellectual curiosity in its applicants. They look for students with a passion for learning and a desire to impact their communities positively.
UPenn also offers a unique Early Decision program, which allows students to apply early and receive a decision by mid-December. However, this program is binding, meaning accepted students must attend UPenn.
Student Life at Georgetown vs UPenn
Both universities offer a vibrant social life with many clubs and extracurricular activities. Georgetown has over 200 student organizations, including academic, cultural, and sports clubs.
At the same time, UPenn has over 600 student organizations, including special interest, religious, and social justice groups. Both universities offer excellent facilities, including sports centers, libraries, and health services.
Additionally, both universities strongly emphasize community service and encourage students to get involved in volunteer work. Georgetown's Center for Social Justice Research, Teaching, and Service offers numerous opportunities for students to engage in local and global service projects.
UPenn's Netter Center for Community Partnerships connects students with community organizations and provides resources for service-learning courses. Both universities also have programs that allow students to participate in alternative break trips, where they can volunteer during school breaks in different parts of the world.
Faculty and Staff in Both Universities
Georgetown and UPenn both have highly qualified and distinguished faculty. Many professors at both institutions are well-recognized in their fields of study, with many esteemed awards and accomplishments.
In addition, both institutions have committed staff members who work tirelessly to ensure student success. At Georgetown, the faculty is known for their dedication to teaching and mentorship. Professors often go above and beyond to provide students with opportunities for research and internships, helping them to gain valuable experience in their chosen fields.
The staff at Georgetown is also highly regarded, with many departments offering resources and support to students throughout their academic journey.
Similarly, UPenn boasts a faculty that is accomplished in their research and deeply committed to their students. Professors at UPenn are known for their accessibility and willingness to engage with students outside of the classroom.
The staff at UPenn is also highly supportive, with many resources available to help students navigate academic and personal challenges.
Research Opportunities for Students
Georgetown and UPenn are research-focused universities, allowing students to engage in various research projects. Georgetown, for example, has a dedicated School of Medicine, which enables students to take advantage of research opportunities in the medical field.
On the other hand, UPenn is home to many research centers, including the Penn Center for Assistive and Rehabilitative Technologies, where students can participate in innovative research to improve rehabilitation techniques.
Additionally, both universities offer undergraduate research programs that allow students to work alongside faculty members on cutting-edge research projects. These programs provide students with valuable hands-on experience and the opportunity to contribute to the advancement of their field of study.
Students can also present their research findings at conferences and publish their work in academic journals, further enhancing their academic and professional credentials.
Athletics Programs at Georgetown vs UPenn
Both universities have a range of athletic programs and facilities to offer their students and fans. Georgetown is known for its successful basketball team, which competes in the Big East Conference. At the same time, UPenn is recognized for its football team and participation in the NCAA Division I Ivy League.
In addition to basketball, Georgetown also has a strong track and field program, with several athletes competing at the national level. The university also offers a variety of intramural sports, including soccer, volleyball, and ultimate frisbee.
UPenn's athletic facilities include the historic Franklin Field, which has hosted numerous track and field events and football games. The university also has a strong rowing program, with both men's and women's teams competing at the national level.
Campus Facilities at Georgetown vs UPenn
Both universities are known for their state-of-the-art facilities. Georgetown has a wide selection of modern research labs and sports centers, including a new athletic facility that includes a pool, fitness center, and other amenities. UPenn has similarly impressive facilities, including its medical research centers and numerous libraries.
Georgetown's campus also boasts a beautiful outdoor space with a large quad area for students to relax and study. The university has recently invested in upgrading its technology infrastructure, providing students with high-speed internet and advanced computer labs.
UPenn's campus is known for its historic architecture, with many buildings dating back to the 18th and 19th centuries. The university strongly focuses on sustainability, with LEED-certified buildings and a commitment to reducing its carbon footprint.
Additionally, UPenn has a thriving arts community, with multiple galleries and performance spaces for students to showcase their talents.
Alumni Networks at Both Universities
Both universities have produced numerous successful alumni who have made significant contributions to their fields. Georgetown alumni include former US President Bill Clinton and numerous politicians, business leaders, and journalists.
UPenn alumni include business magnate Warren Buffett, US President Donald Trump, and several Nobel laureates. Both universities offer strong alumni networks that provide numerous networking opportunities for recent graduates.
These alumni networks offer a variety of resources and benefits to their members. They often provide career services, such as job postings and resume reviews, as well as opportunities for mentorship and professional development.
Additionally, alumni networks frequently host events and reunions, allowing graduates to stay connected with their alma mater and fellow alumni. These networks can be valuable for recent graduates navigating their post-college careers.
Cost of Attendance at Georgetown vs UPenn
Both Georgetown and UPenn are private universities, so tuition costs are higher than average. While costs vary depending on the program and individual circumstances, Georgetown and UPenn provide strong financial aid programs that aim to assist students with financing their education.
Additionally, both schools have a history of offering scholarships to students based on merit and financial need.
It is important to note that the cost of attendance at Georgetown and UPenn goes beyond just tuition. Students must also consider expenses such as room and board, textbooks, and other fees. However, both universities offer resources to help students budget and manage these additional costs.
Furthermore, students should also explore opportunities for work-study programs and internships, which can provide valuable experience and financial support. Both Georgetown and UPenn have robust career centers that can assist students in finding these types of opportunities and connect them with potential employers after graduation.
Job Prospects for Graduates
Georgetown and UPenn both have a long history of preparing their graduates for successful careers. Many students secure high-paying jobs or attend prestigious graduate schools after graduation. Both universities offer robust career services to help students and alumni connect with prospective employers.
In addition to career services, both universities also have strong alumni networks that provide valuable connections and opportunities for recent graduates.
Many alumni are eager to help fellow Hoyas or Quakers succeed in their careers and are willing to offer mentorship or job referrals. This network can benefit graduates looking to break into competitive industries or fields.
After considering all aspects of these two universities, it's clear that Georgetown and UPenn are excellent institutions with much to offer students. Moreover, it's worth noting that Georgetown and UPenn have strong alumni networks that can benefit students after graduation.
Georgetown's alumni network is particularly strong in the fields of politics and law, while UPenn's network is known for its connections in finance and business.
Additionally, both universities offer a wide range of extracurricular activities and clubs for students to get involved in. From sports teams to cultural organizations, there is something for everyone. These activities can enhance your college experience and provide valuable networking opportunities and skills development.
The best choice between Georgetown vs UPenn ultimately depends on your personal preferences and academic goals.
AdmissionSight provides valuable guidance to students facing the decision between Georgetown and UPenn. By considering factors such as academic programs, industry connections, and campus culture, they assist students in making an informed choice.
Furthermore, AdmissionSight offers personalized strategies, essay review, and interview preparation to enhance students' chances of gaining admission to either university, maximizing their potential for success.