Good Questions To Ask On A College Tour
What are good questions to ask on a college tour?
What are some good questions to ask on a college tour? There is a common saying that refers to college tours as "the golden mile," and tour guides are often considered to be a campus's most important employee.
The college will use the tour guide and the campus tour as tools to entice you to apply to the school and possibly enroll there. You will also be educated about the school during both of these experiences. However, the purpose of the college visit is not solely for the college to excite you about its institution; rather, it is also for you to determine whether or not the school is a good fit for you.
However, not all college tours are created equal, and you should not merely act as a passive recipient of information during any of them. The campus tours that are the most informative are the ones in which you are actively engaged, so don't roll your eyes at your parents when they ask a question; instead, jump on the bandwagon and ask as many questions as you can.
College is going to require a significant investment of your time, effort, and resources. You can think of it as a home away from home. Consider the things that are significant to you and the questions that you would like answered about them on campus.
Here are questions to ask on a college tour:
1. What is it about your school that you enjoy the most?
Visits to college campuses typically involve meeting a large number of students. They are the most reliable source of information that communicates how they currently feel.
College students are typically very open to having conversations about their lives outside of school. Discovering the aspect of college life that most piques their interest is an essential piece of information for you to acquire.
2. Which subject do you enjoy learning the most?
There is no denying the significance of academics to the overall college experience. It is irrelevant whether the person you are speaking with is also participating in the same program as you. It makes no difference if they both have the same major.
What matters is what they have to say about the academic topics that excite them. Students need to attend a school where they are allowed to investigate issues that are personally meaningful to them. Attending college presents a wonderful chance to investigate a subject area that particularly interests you.
When you tour colleges and universities, you shouldn't be afraid to ask students about their everyday academic experiences.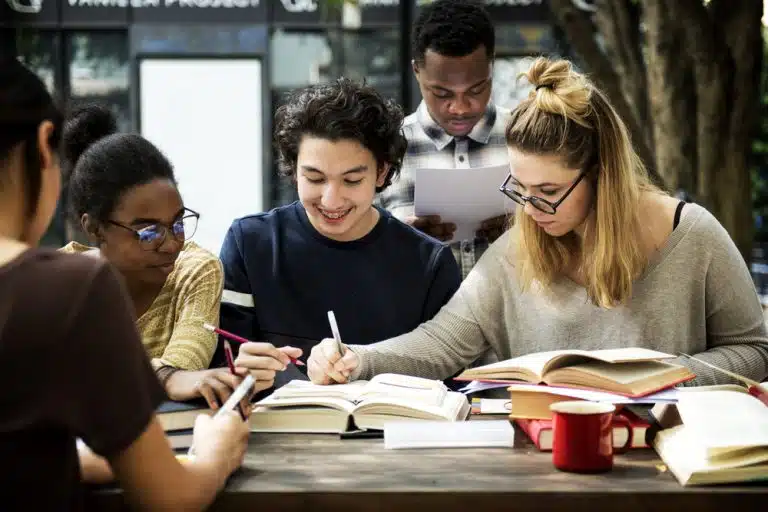 You may also pose this inquiry to any of the members of the faculty with whom you speak. You should seek out teachers who are enthusiastic about passing on their knowledge to their students. You want them to have a zest for discovery, learning, and curiosity that is contagious to others.
3. Why did you choose this school?
Every single student has their justification for choosing this institution. Some of them are highly intimate in nature. Others are drawn to a specific field of study or program of study. Some people appreciate the natural beauty of the campus. Asking the students why they chose this school over others is one of the good questions to ask on a college tour so that you can get more information about it. The answers may shed some light on the situation.
4. What is school spirit like?
A college campus will typically have an atmosphere that is difficult to describe in words. Are there a lot of students dressed in the appropriate uniform? Are the students excited about the events – the speakers, the panels, and the discussions? Are students allowed to cheer for the athletic teams?
Even though it may be challenging to define school spirit, you shouldn't let that stop you from inquiring about it with the students. Let them decide what school spirit means. If they care about where they go to school, they will be able to describe it using their own words. If the responses you receive are neutral, take that as another sign.
5. Where do you feel the school falls short, in your opinion?
This may be an awkward question to ask, but it needs to be asked. No campus is without its flaws. Discovering the aspects of a college campus that students despise can be an eye-opening experience. Finding out what a student enjoys doing the most can be important, but this can be just as important.
6. How accessible are faculty and staff?
You might have a burning question about a lecture, or you might be having trouble with an assignment for homework. You might simply be interested in carrying on an engaging discussion about a subject that was brought up in the classroom.
Access to the faculty and staff is one of the good questions to ask on a college tour. It is essential, regardless of the motivation behind it. The faculty should take an active role in the life of the campus and be accessible to students during office hours and in more casual settings. They are there to support your educational endeavors. Find out from the students how they interact with the faculty and how they feel about those encounters by asking them about it.
7. How would you rate the food on campus?
Does it matter where students eat? Absolutely! This is one of the questions you ask on a college tour. It is especially important to consider if you have dietary restrictions due to religious beliefs or because you are a picky eater. You want to make sure that you do not consume gluten, dairy products, or tree nuts, for example, if you are allergic to these things.
You'll want to inquire about the standard of the food, the variety of options, and the overall flavor.
Investigating yet another aspect of food is recommended. Consider how significant it is to sit down together around the dinner table and talk about the day and your life. College students have an incredible opportunity to catch up with friends, laugh, and decompress during meal times on campus. When the food is delicious, those moments will be remembered fondly and will help strengthen relationships.
8. What is social life like?
You put in a good portion of your time in the various classrooms and laboratories. You will need to look for a place to study to complete your homework and reading assignments. But despite this, there is still plenty of time to take advantage of the campus.
Find out how students spend their free time on campus. How are the parties usually run? Parties like that, are they hosted by students? Do they take place in people's rooms on campus or away from the university? These are sets of good questions to ask on a college tour to learn more about the school's social life.
Inquire about concerts that student performance groups and outside acts will be putting on. I was wondering if there were any student theater groups or music performances that put on plays or musicals. The college experience would not be complete without these aspects of campus life included in its fabric.
What other kinds of things can students do for fun, either on or away from campus? Discovering the activities that students participate in during their free time is an essential consideration.
9. What do students do when they are not in the classroom?
When they aren't studying, students frequently take part in extracurricular activities like clubs and sports. Mock trials and the Model United Nations are two examples of clubs that are actively related to academics on campus.
Some groups are based on a student's identity, such as organizations for students of a specific race, ethnicity, religion, or culture. Publications such as student newspapers, magazines, and radio stations are also very common in these types of segments.
On a college campus, you'll frequently come across choruses and orchestras, as well as theater companies, improv comedy troupes, Cappella groups, and choruses.
Asking questions about activities that you might be interested in taking part in can help you find out information about them. Find out if these organizations are run by students or if they have a faculty advisor. Are there opportunities for students to take on leadership roles within their school's various clubs and organizations?
It's even possible that the student you ask takes part in the activity or knows someone else who can put you in touch with others involved.
10. How would you describe a typical day?
Find out how often the students you run into are in the classroom or the lab, how often they are studying, and how often they are hanging out with their friends. If they are athletes, you should inquire about how much time they spend training and how much time they spend away from campus competing.
Getting a feel for a typical day can help you picture yourself in a situation that's similar to the one being described.
11. How does college dormitory life work?
In dorms, you'll find people from all over the country and the world living together, which makes for a lively and exciting environment. The dorm room can be a wonderful place to meet new people and find out more about each other.
Inquire concerning the proportions of a dorm room as well as its layout. Make sure you are aware of the various options for storage space. Are the rooms equipped with air conditioning?
Students will be able to tell you how noisy the dorms are and at what times. They are also able to share information regarding whether people typically study in their dorm rooms, the library, or other locations.
12. What makes the student body unique?
Each student body at a university, as well as each class, has its distinct personality. Certain college campuses have the propensity to attract particular types of students.
You will have a better idea of whether the college or university is a good fit for you if you ask current students about the other students and what differentiates them from one another.
13. Are there any opportunities for volunteer work?
Finding ways to give back to one's local community is often a significant and rewarding part of the college experience. There are even offices at some educational institutions dedicated to assisting students in making connections with local volunteer opportunities. If giving back to the community through volunteer work is an integral part of who you are, consider the options presented here.
14. How effective is career support?
College is an experience that includes preparing you for a future in your chosen field of work. You are going to require guidance no matter what your plans entail—attending graduate school or entering the workforce. Career centers are staffed with knowledgeable individuals who are experts in guiding students through the process of career exploration.
You can get assistance in applying for summer jobs, internships, and fellowships at career centers. They may even have access to financial resources that can help support your career exploration with alumni, employers, and experiences.
15. What are the most popular traditions on campus?
Each campus has its unique traditions. Simply by inquiring about them, you can find out more about those special moments. Find out how people participate in these traditions, as well as whether or not they are valued and the reasons why.
16. What guidance would you give to a first-year student who is just starting?
During your tours of different colleges and universities, you should ask yourself this question to gain some of the most valuable insights possible. In addition, there is no requirement that you restrict the question to only apply to students.
Inquire with individuals such as admissions officers, faculty members, and others you come in contact with. You should prepare yourself for a wide range of responses. You will need to evaluate these various concepts for yourself before arriving at your conclusions, just as you will need to do with many other aspects of college.
Other important questions to ask on a college tour
Continue reading to gain knowledge about some additional vital questions that should be asked during a college tour.
Academics: Questions to ask on a college tour
What was the total enrollment for your beginning-level classes? Upper-level courses?
Have teaching assistants or professors been responsible for instructing you in any of your classes? In your classes, what exactly do you do as a teaching assistant?
How difficult is it to register for classes as a freshman at a university?
How frequently are you expected to meet with your advisor throughout the course of the year? Are the advisors easily accessible for meetings with their respective students?
How did you decide upon your major? Is it simple to change one's academic focus? How much time do I have to make up my mind about what I want to study before I have to formally declare it?

Residential Life: Questions to ask on a college tour
Where exactly do first-year students live? Is it independent from the upperclassmen?
Can you tell me about the housing options in the dorms? Are students typically expected to live off campus? Is there a housing option available for all four years? If it is not, how easy or difficult is it to find alternatives either on or off campus?
How would you rate the food on campus? Is participation in a meal plan required? How much do the various off-campus food options cost?
How would you describe your experience of living in the dorms so far? What exactly do you enjoy about it? What exactly do you not like about it?
Student Life: Questions to ask on a college tour
What kinds of organizations and events take place on this campus? What sorts of things do you get involved in?
Does the campus have a significant Greek life community that's active in the social scene? What is a rush like?
How often do students go home on the weekends? How does this impact the other aspects of your life? Describe a typical weekend that you and your friends have spent together.
Would you say that the school's identity is heavily influenced by athletics? What kinds of competition are offered, such as varsity, club, and intramural levels? How difficult and time-consuming are they to complete?
Other Opportunities: Questions to ask on a college tour
Does the university offer any research opportunities? How often do students get involved in research projects? When conducting research, do students assist and collaborate with their professors?
Are there a lot of job opportunities on campus? Off-campus? How challenging is it to look for work?
During the course of the school year, how many different opportunities for students to participate in internships are there? How have your internships contributed to the overall quality of your college experience?
Do students ever go on study trips? When in the course of their college career do students typically do this? Which resources are accessible to students who are interested in participating in study abroad programs?
Experience of a Freshman: Questions to ask on a college tour
How long does the first-year student orientation last? Is this going to be a good use of my time? What aspect of the orientation for first-year students did you enjoy the most? Least favorite?
What words of wisdom do you have for first-year students who are just starting? In retrospect, what do you wish you had known then that you know now?
What kinds of resources are made available to first-year students to help them make a smooth transition?
Requirements: Questions to ask on a college tour
On a scale from easy to difficult, how difficult has it been for you to fulfill your requirements? Do you get a say in the requirements that must be met, including the classes that must be taken?
How many classes and how many credits are expected of students during each semester?
To what extent does your advisor assist you in the process of choosing classes?
Campus Safety: Questions to ask on a college tour
How secure is the neighborhood in which the campus is located? When you were off campus, did you ever get the feeling that you were in danger?
What kinds of safeguards, in the form of guidelines and protocols, are in place for the students? How readily available are the campus security personnel?
Resources: Questions to ask on a college tour
What resources are available on campus for health and wellness? How efficient are these various resources? What sorts of services are available for people with disabilities on campus?
Are there services for providing tutoring available? Where can I find the writing center? How efficient are these various programs?
How many different computer labs are available on campus? Does the college supply its students with a computer? Do you have any suggestions for what kind of computer (PC or Mac, laptop or tablet) someone should buy?
Locations Suitable for Studying: Questions to ask on a college tour
How many different library options are there on this campus? How often do students come to these libraries to do their homework? When exactly are these libraries available for research and study purposes?
Aside from the classrooms, what other learning opportunities are there on campus? Are there sufficient areas for group study to be held? Where do you typically do your studying?
Application Process: Questions to ask on a college tour
Why did you decide to enroll at this particular school? What do you find to be the most enjoyable aspect of your time spent here? Which of these do you dislike the most?
Were there any other schools besides this one that you were interested in?
If you could go back in time, what one piece of advice would you give yourself before applying to college?
How does the application process for this school differ from the procedures used by other schools? Do you have to conduct interviews, do you strongly suggest doing so, or are they not required? Is it taken into consideration how many times I come to campus each week?
What to expect on a college tour?
Now that you have a good list of questions to ask on a college tour, it is also important to know what to expect on a college tour. Larger educational institutions typically have a visitor center that is staffed by a few individuals from the admissions office.
Group information sessions are frequently held there, which are then followed by student-led tours of the campus. During a group information session, you will have the chance to not only learn more general information but also ask questions that are specific to you.
Group information sessions can take place either in the admissions office or in another location on campus, and they are typically followed by student-led tours. Small liberal arts schools typically have an admissions office.
In addition to letting you see the most important buildings on campus, the campus tour also gives you the chance to ask a current student a question that is tailored to you and your particular areas of interest.
The typical length of a campus tour is about an hour, and it will take visitors through the library, an academic building, the student center, a dining hall, and a dorm room.
Nevertheless, there is more to the trip than just taking in the sights. It is also important to evaluate your connections to the institution and its student body, as well as whether or not you have the impression that you would be able to succeed there.
Spend some time in the student center, library, or dining hall in addition to taking a guided walking tour of the campus. You'll have the opportunity to observe how members of the community interact with one another and get a clearer picture of the typical schedule that students follow.
When determining which college is the right one for you, it is critical to visit the institution in person and get a sense of the campus as a whole.
You will learn so much more about a college campus and how it functions, lives, and grows when you take a tour of the campus. Your college visit will benefit from your having a good set of questions prepared in advance, as this will help add new dimensions to the experience.
If you're set on getting into a world-class college but aren't sure how to make it happen, we can help! AdmissionSight is a leading college entrance expert with over a decade of experience helping students just like you get into the schools of their dreams.
We focus on offering a wide range of services all aimed at helping students perfect their applications to catch the attention of admissions officers. Contact us today to schedule a free consultation to learn more about what we offer.