Exploring Harvard Religious Studies
Harvard University has always been a leader in higher education, and its approach to religious studies is no exception. In this article, we will explore the history and evolution of Harvard religious studies, its role in campus culture, and its inclusivity efforts. We will also take a look at Harvard's interfaith dialogue and collaborations, the impact of the religious studies program on alumni careers, and the perspectives of students studying religion at Harvard.
The History and Evolution of Religious Studies at Harvard
Harvard's commitment to religious studies dates back to its founding in 1636. Early courses were focused on Christianity, but over time the program expanded to include a wide range of religious traditions. In 1805, Harvard appointed its first professor of Hebrew language and literature, and by the mid-1800s, the university had developed a comprehensive curriculum in biblical literature and theology.
In the twentieth century, as the study of religion became more interdisciplinary, Harvard's program expanded to include courses in history, philosophy, sociology, and anthropology. Today, the Department of Religion offers a wide range of courses on world religions, the history of religion, and religion and culture.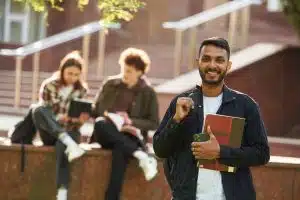 One of the most notable developments in the history of religious studies at Harvard was the establishment of the Center for the Study of World Religions in 1960. The center was founded with the goal of promoting interdisciplinary research and dialogue on the world's major religious traditions. Today, the center hosts conferences, lectures, and workshops that bring together scholars from a variety of disciplines to explore the intersections of religion, culture, and society.
Another important aspect of Harvard's religious studies program is its commitment to promoting interfaith dialogue and understanding. The university has established a number of initiatives aimed at fostering dialogue between different religious communities, including the Harvard Interfaith Council and the Pluralism Project. These initiatives provide opportunities for students and scholars to engage in meaningful conversations about religion and to learn from one another's perspectives.
The Role of Religion in Harvard's Campus Culture
Religion plays an important role in Harvard's campus culture. The university has a rich history of religious diversity dating back to its founding, and today, students from all religious backgrounds are welcomed and supported. Harvard has a number of student religious organizations, including the Hindu Student Association, Harvard Hillel, and the Harvard Islamic Society, which provide opportunities for students to practice their faith and engage with others in the community.
Religious life at Harvard is not limited to student organizations. The university offers a wide range of religious services and programs, including weekly Catholic and Protestant services and a weekly Jewish Shabbat service.
In addition to these services, Harvard also has a number of academic programs that explore the intersection of religion and various fields of study. The Harvard Divinity School, for example, offers graduate degrees in theology and religious studies, while the Committee on the Study of Religion provides undergraduate students with the opportunity to explore religion from a variety of disciplinary perspectives.
Furthermore, Harvard's commitment to religious diversity extends beyond its campus. The university has partnerships with religious institutions around the world, including the Alwaleed Islamic Studies Program, which promotes understanding and dialogue between the Islamic world and the West, and the Harvard Global Health Institute, which works with religious leaders to address health issues in their communities.
A Look at Harvard's Religious Diversity and Inclusivity Efforts
Harvard is committed to creating an inclusive and welcoming environment for students of all religious backgrounds. The university provides a number of resources and support services for students to help them navigate their faith journeys. These services include spiritual counseling, chaplaincy services, and access to meditation and prayer rooms on campus.
Harvard's Office of the Chaplain also works to promote interfaith understanding and dialogue on campus. The office sponsors a number of events throughout the year, including interfaith prayer services and discussion series on topics related to religion and social justice.
Additionally, Harvard has a Religious and Spiritual Life Council, which is made up of representatives from various religious and spiritual groups on campus. The council works to promote collaboration and understanding among different faith communities and to ensure that all students feel supported in their religious or spiritual practices.
Harvard's Interfaith Dialogue and Collaboration Initiatives
Harvard is dedicated to promoting dialogue and collaboration between people of different faiths. The university has a number of interfaith initiatives, including the Harvard Interfaith Council and the Harvard Pluralism Project. The Interfaith Council hosts events and provides resources for students of different faiths to come together and learn from one another.
The Pluralism Project, founded by Harvard professor Diana Eck in 1991, is a research project that seeks to understand the changing religious landscape of America and promote interfaith understanding.
In addition to these initiatives, Harvard also offers courses and programs that explore the intersection of religion and various fields of study, such as law, medicine, and public policy. These programs aim to equip students with the knowledge and skills to navigate the complexities of a diverse and globalized world. Harvard also partners with other universities and organizations to promote interfaith dialogue and understanding on a broader scale.
The Impact of Harvard's Religious Studies Program on Alumni Careers
Harvard's religious studies program has produced many successful alumni, including scholars, religious leaders, and community activists. Graduates of the program have gone on to work in a wide range of fields, including education, healthcare, and social justice. Many alumni credit their time at Harvard with providing them with a deep understanding of the role of religion in society and the skills necessary to navigate complex social and cultural issues.
Prominent Harvard Faculty Members in the Field of Religious Studies
Harvard is home to many renowned faculty members in the field of religious studies. These scholars are leaders in their fields and have made significant contributions to the study of religion. Some of the current prominent faculty members include Karen King, director of Harvard's Women, Gender, and Sexuality Studies program; Diana Eck, founder of the Harvard Pluralism Project; and Michael Puett, professor of Chinese history and philosophy.
In addition to these faculty members, Harvard also boasts a number of distinguished visiting professors in the field of religious studies. These scholars come from all over the world and bring a wealth of knowledge and expertise to the Harvard community. Some recent visiting professors include Tariq Ramadan, a Swiss Muslim scholar and philosopher, and Elaine Pagels, a renowned scholar of early Christianity.
Harvard's commitment to religious studies extends beyond its faculty members and visiting professors. The university offers a wide range of courses and programs in religious studies, covering topics such as the history of religion, religious ethics, and the intersection of religion and politics. Students at Harvard have the opportunity to engage with these topics in a rigorous academic setting and to explore the role of religion in contemporary society.
Student Perspectives on Studying Religion at Harvard
Students who study religion at Harvard have a unique perspective on the role of religion in society. They come from diverse religious backgrounds and are able to explore their own faith traditions while learning about the beliefs and practices of others. Students who have studied religion at Harvard have reported that the program has helped them to develop critical thinking and analytical skills, as well as a deep appreciation for the diversity of religious traditions.
Furthermore, the program also offers opportunities for students to engage in community service and social justice work, which are often rooted in religious values and teachings. Many students have found that studying religion at Harvard has not only enriched their academic experience but also their personal and spiritual growth.
The program encourages students to think deeply about their own beliefs and values and to engage in meaningful conversations with others who may hold different perspectives. Overall, studying religion at Harvard provides a unique and valuable opportunity for students to broaden their understanding of the world and their place in it.
How Harvard Compares to Other Top Universities in Religious Studies Education
Harvard is widely recognized as one of the top universities in the world for religious studies education. Its faculty is world-renowned and the university offers a wide range of courses and resources for students interested in studying religion. Harvard's religious studies program is consistently ranked among the top programs in the country and is known for its interdisciplinary approach and commitment to diversity and inclusivity.
In addition to its strong academic program, Harvard also offers a variety of extracurricular activities for students interested in religious studies. The university has numerous student organizations focused on different religious traditions, as well as opportunities for community service and interfaith dialogue. These activities provide students with a chance to engage with their faith in a meaningful way outside of the classroom.
Furthermore, Harvard's location in the heart of Cambridge, Massachusetts, provides students with access to a vibrant and diverse religious community. The city is home to a wide range of religious institutions, from historic churches to modern mosques, and students have the opportunity to attend services and events at these institutions and learn from members of different faiths.
Opportunities for Student Involvement in Religious Organizations and Activities at Harvard
Harvard offers a wide range of opportunities for students to get involved in religious organizations and activities on campus. These organizations provide students with opportunities to learn about their own faith traditions and engage with others in the community. Students can join groups such as the Buddhist Meditation Group, the Christian Fellowship, or the Interfaith Youth Initiative, among others.
In addition to these groups, Harvard also offers a variety of religious services and events throughout the year. Students can attend weekly services at the Memorial Church, participate in interfaith dialogues, or celebrate religious holidays with their peers. These events provide students with a sense of community and belonging, as well as opportunities to deepen their understanding of different faith traditions.
Furthermore, Harvard's Office of Religious and Spiritual Life offers resources and support for students of all faiths. The office provides counseling services, hosts workshops and retreats, and connects students with local religious communities. This support system helps students navigate the challenges of college life while staying connected to their faith and values.
Analyzing the Representation of Different Religions in Harvard Courses
Harvard's religious studies program is committed to providing students with a broad understanding of different religious traditions. The program offers courses on Christianity, Judaism, Islam, Hinduism, Buddhism, and many other traditions. Students have the opportunity to learn about the history, beliefs, and practices of these traditions and explore their own faith journeys.
In addition to the traditional courses, Harvard also offers courses that explore the intersection of religion with other fields such as politics, literature, and art. For example, there is a course on "Religion and Politics in America" that examines the role of religion in shaping American politics. Another course, "Religion and Literature," explores the representation of religion in literary works.
Harvard's religious studies program also provides students with opportunities to engage in experiential learning. Students can participate in service projects, attend religious services, and even travel abroad to study different religious traditions. These experiences allow students to gain a deeper understanding of the lived experiences of different religious communities and apply their knowledge in real-world settings.
The Future of Religious Studies Education at Harvard
As religion continues to shape societies and cultures around the world, it is important for universities to continue to invest in religious studies education. Harvard is committed to remaining a leader in this field and continuing to provide students with a comprehensive understanding of different religious traditions and their impact on society. The university will continue to develop its program, working to incorporate new perspectives and emerging fields of study.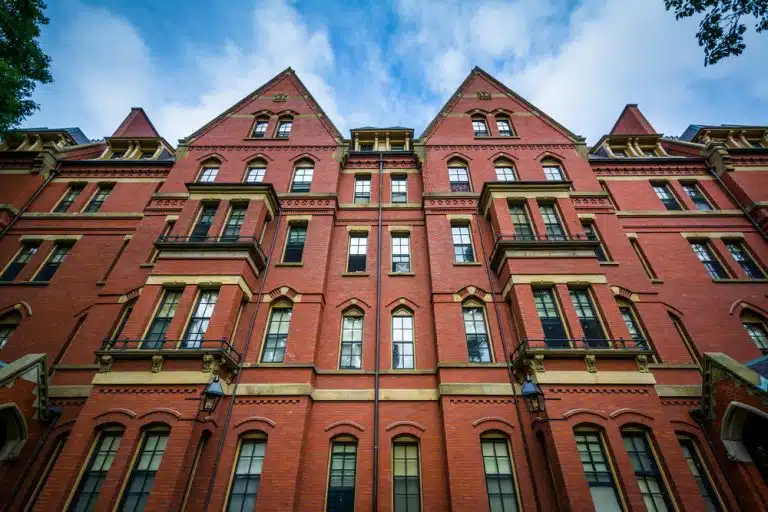 In addition to its commitment to traditional religious studies, Harvard is also exploring new ways to incorporate technology and digital media into its program. This includes the use of virtual reality and online resources to enhance students' understanding of religious practices and beliefs. The university is also working to expand its partnerships with religious organizations and communities, providing students with opportunities for hands-on learning and engagement with diverse perspectives.
Want to learn more about getting into Harvard? You've come to the right place. At AdmissionSight, we have over 10 years of experience guiding students through the competitive admissions process.
AdmissionSight can help you put your best foot forward when applying to college this fall. Contact us today for more information on our services.