Haverford vs. Columbia: Which University is Right for You?
Choosing the right university can be a daunting task. With so many options, it can be challenging to determine which institution will provide the best fit for you. This article will compare Haverford vs. Columbia to help you decide where to apply and attend.
Location and Campus: How Do Haverford and Columbia Compare?
One of the most significant factors to consider when choosing a university is location, and both Haverford and Columbia have unique characteristics that set them apart. Haverford is in a suburban area of Philadelphia, while Columbia is in the heart of New York City. Haverford's campus consists of 200 acres of greenery and historic architecture, and Columbia's campus spans 36 acres of urban landscape in Morningside Heights.
While Haverford may offer a more serene and tranquil environment, Columbia provides students with access to all the cultural and professional opportunities New York City offers. It ultimately comes down to your personal preferences and priorities.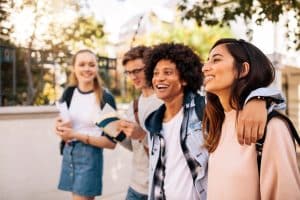 Another factor to consider when comparing the campuses of Haverford and Columbia is the size of the student body. Haverford has a smaller student population of around 1,300 undergraduate students, while Columbia has over 8,000 undergraduate students. This means that Haverford may offer a more intimate and close-knit community, while Columbia provides a more diverse and bustling atmosphere.
In terms of campus facilities, both universities offer state-of-the-art resources for their students. Haverford has a newly renovated library, a science center, and a music building, while Columbia has a world-renowned journalism school, a business school, and a medical center. Both universities also have a variety of dining options, athletic facilities, and student organizations to cater to the diverse interests of their student body.
Admissions: Haverford vs. Columbia
When it comes to admissions, both universities have competitive application processes. Haverford and Columbia each have an acceptance rate of around 6%, meaning that the majority of applicants are not accepted.
The requirements for each school vary slightly. Haverford asks applicants to submit the Common Application, transcripts, standardized test scores, essays, and recommendations. Conversely, Columbia requires the Common Application, transcripts, test scores, essays, recommendations, and a list of extracurricular activities.
Deadlines also differ between the two institutions. Haverford has an Early Decision deadline of November 15th and a Regular Decision deadline of January 1st. Columbia's Early Decision application deadline is November 1st, and Regular Decision applications are due by January 1st.
It is important to note that both universities offer need-blind admissions policies, meaning that an applicant's financial need is not taken into consideration during the admissions process. However, both schools do require financial aid applications to be submitted separately in order to determine eligibility for need-based aid.
In addition, both Haverford and Columbia offer a variety of merit-based scholarships for incoming students. These scholarships are awarded based on academic achievement, leadership potential, and other factors, and can significantly reduce the cost of attendance for students who receive them.
The Student Body: Haverford vs. Columbia
Another critical factor in choosing a university is the student body. Haverford has a small student body of around 1,300 students, while Columbia has over 30,000. However, Haverford prides itself on its small class sizes and personalized attention from faculty and staff.
Both universities have a diverse student body, with Haverford having a slightly higher percentage of students who identify as non-white. Haverford also strongly emphasizes its Honor Code and fosters a supportive academic community. Columbia has a vibrant and innovative academic culture that is both challenging and engaging.
Additionally, Haverford has a close-knit community where students often form strong bonds with their peers and professors. The small size of the student body allows for more opportunities for collaboration and discussion in and outside of the classroom. Conversely, Columbia has a larger student body offers a wider range of extracurricular activities and events. Students at Columbia have the opportunity to explore a variety of interests and passions through clubs, organizations, and events.
Faculty and Academics: Haverford vs. Columbia
Regarding faculty and academics, both universities provide exceptional educational opportunities. Haverford's small class sizes allow for personalized attention from professors who are experts in their respective fields. Columbia's world-renowned faculty includes Nobel laureates, MacArthur "Genius" grant winners, and Pulitzer Prize winners.
Both Haverford and Columbia offer various research opportunities, including internships, independent studies, and collaborations with faculty members. The curriculum at Haverford is focused on providing students with a well-rounded liberal arts education, while Columbia offers a more specialized and interdisciplinary approach.
Additionally, Haverford and Columbia both prioritize experiential learning opportunities for their students. Haverford's Center for Career and Professional Advising offers resources for students to gain hands-on experience through internships, research, and community engagement. Columbia's Core Curriculum includes courses encouraging students to engage with the world beyond the classroom, such as the Global Core and Science, Technology, and Society requirements.
Housing and Residential Life: Haverford vs. Columbia
Where you live while attending university is a crucial aspect to consider. At Haverford, all first-year students are required to live on campus in one of the six residential halls. Upperclassmen have the option to live off-campus or in college-owned apartments.
Columbia has a wide variety of housing options for students, including traditional dorms, apartment-style housing, and theme houses. First-year students are guaranteed on-campus housing, and upperclassmen have the option to live off-campus or in university-affiliated apartments.
Living on campus can provide a unique experience for students, as it allows them to be fully immersed in the university community. Haverford's residential halls offer a variety of living arrangements, including single, double, and triple rooms, suites, and apartments. Each hall has its unique culture and community, and students are encouraged to participate in their hall's activities and events.
Off-campus housing can also be a great option for students who want more independence and privacy. Haverford's off-campus housing options include apartments and houses located within walking distance of campus. Students who choose to live off-campus are still encouraged to participate in campus activities and events and are provided with resources and support from the college.
Financial Aid and Scholarships: How Much Does it Cost to Attend Haverford or Columbia?
Attending university can be expensive, and both Haverford and Columbia recognize the importance of making education affordable and accessible. Both institutions provide need-based financial aid to students who demonstrate financial need.
In addition to need-based financial aid, Haverford and Columbia offer merit-based scholarships to students who demonstrate exceptional academic achievement or other outstanding qualities. These scholarships are highly competitive and can cover a significant portion of tuition costs.
It's important to note that the cost of attendance at both universities includes tuition, room and board, textbooks, and other fees. However, students can reduce these costs by living off-campus or applying for additional scholarships and grants from external organizations.
Extracurricular Activities: Haverford vs. Columbia
Involving extracurricular activities can enrich your university experience and provide personal and professional growth opportunities. Haverford provides its students with over 145 student organizations, including clubs focused on community service, social justice, and the arts.
Columbia has over 500 student organizations, including clubs focused on academic interests, athletics, and community outreach. It also has a robust Division I athletics program, with over 30 varsity sports teams.
Moreover, both universities offer a wide range of volunteer opportunities for students to give back to their communities. Haverford has partnerships with local organizations, such as Habitat for Humanity and the Boys and Girls Club, while Columbia has a dedicated center for community service and social action, which coordinates volunteer projects throughout New York City.
Additionally, many of the extracurricular activities at both universities offer leadership opportunities for students. Haverford's student government association and Columbia's student council provide students with the chance to develop their leadership skills and make a positive impact on campus.
Career Services: Job Placement Rates, Internship Programs, and Alumni Networks
When you attend university, you want to feel confident that it will prepare you for a successful career. Both Haverford and Columbia provide their students with excellent career services, including job placement assistance, internship programs, and alumni networks.
Haverford's Career and Professional Advising Office works with students to develop their professional skills and connect them with internship and job opportunities. Columbia's Center for Career Education provides students with access to job and internship databases, career counseling, and networking events.
In addition to these services, both universities also offer career fairs and workshops to help students prepare for the job market. Haverford hosts an annual career fair where students can meet with employers from various industries and learn about job opportunities. Columbia's Center for Career Education offers workshops on resume writing, interviewing skills, and networking strategies.
History and Traditions: What Makes Haverford or Columbia Unique?
Both Haverford and Columbia have a rich history and unique traditions that make them stand out. Haverford is a small liberal arts college that was founded in 1833 and has a reputation for its excellent academics and strong community spirit.
Columbia University is one of the oldest and most prestigious universities in the United States, dating back to 1754. It has a long history of academic excellence and has produced numerous prominent alumni, including Barack Obama, Ruth Bader Ginsburg, and Neil deGrasse Tyson.
One of the unique traditions at Haverford is the Honor Code, which dates back to 1896. The Honor Code is a student-run system that emphasizes trust, respect, and responsibility. Students are expected to uphold the code in all aspects of their academic and personal lives, and violations are handled by a student-run Honor Council.
At Columbia, one of the most notable traditions is the Varsity Show, a student-written and produced musical comedy that has been performed annually since 1894. The show is a beloved part of Columbia's culture and often features satirical commentary on current events and campus life.
Rankings and Reputation: How Do Haverford and Columbia Stack Up Against Each Other?
Both Haverford and Columbia are highly regarded institutions with excellent academic reputations. According to the U.S. News & World Report 2022 rankings, Haverford is ranked #11 among National Liberal Arts Colleges, while Columbia is ranked #3 among National Universities.
However, rankings are not everything, and ultimately, what matters most is finding the university that is the best fit for you.
When it comes to campus culture, Haverford and Columbia have distinct differences. Haverford is known for its tight-knit community and emphasis on collaboration, with a student-to-faculty ratio of 9:1. On the other hand, Columbia is known for its bustling urban environment and diverse student body, with a student-to-faculty ratio of 6:1. Both universities offer a range of extracurricular activities and opportunities for students to get involved on campus.
Conclusion: Which University is the Best Fit for You?
Choosing the right university is a significant decision that requires careful consideration of your academic and personal goals. Both Haverford and Columbia provide their students with exceptional educational opportunities, outstanding faculty, and vibrant campus communities.
Haverford may be the right choice if you are looking for a more intimate and close-knit community. Columbia could be the perfect fit if you crave the energy and excitement of an urban environment and want to connect with a vast network of alumni and professionals.
Ultimately, the decision comes down to your personal preferences, priorities, and goals. We hope this article has provided you with useful information that will help you make an informed decision about which university is best for you.
It is important to note that both universities offer unique opportunities for students to engage in research, internships, and community service. Haverford's Center for Peace and Global Citizenship allows students to engage in social justice work locally and globally. Columbia's location in New York City offers students access to various internships and professional development opportunities.
Additionally, both universities have strong alumni networks that can provide valuable support and connections for students as they navigate their post-graduation careers. Haverford's alumni network is known for its close-knit community and willingness to support current students, while Columbia's alumni network is vast and includes many prominent figures in various industries.