Haverford vs UC Davis: Which University is Right for You?
If you're making the important decision of where to attend university, it's crucial to compare your options in detail. In this article, we'll compare Haverford vs. UC Davis and see the differences between them. We'll cover everything, from the location of the campuses to the diversity of the student body, to help you determine which university is right for you.
Location and Campus: How Do Haverford vs UC Davis Compare?
Haverford College is located just outside of Philadelphia, Pennsylvania, in a small suburb with access to many cultural and historical attractions. UC Davis, on the other hand, is situated in Davis, California, in close proximity to the state capital of Sacramento. Both campuses offer beautiful, sprawling green spaces and modern facilities.
However, there are some notable differences between the two campuses. Haverford College is a small, liberal arts college with a tight-knit community, while UC Davis is a large, public research university with a diverse student body. Haverford's campus is more compact and walkable, while UC Davis's campus is much larger and bike-friendly. Additionally, Haverford is located on the East Coast, which offers easy access to major cities like New York and Washington D.C., while UC Davis is located on the West Coast, which provides opportunities for outdoor activities like hiking and skiing.
Majors and Programs: What Are the Differences Between Haverford and UC Davis?
Both Haverford and UC Davis boast strong academic programs, but they differ in their areas of specialty. Haverford offers a liberal arts education with 31 majors, while UC Davis has a much broader range of programs, with over 100 majors to choose from. UC Davis also has a renowned School of Medicine, which provides a pathway for students interested in entering the medical field.
Additionally, Haverford has a strong emphasis on undergraduate research, with opportunities for students to work closely with faculty members on research projects. UC Davis also offers research opportunities, but with its larger student body, competition for these opportunities may be more intense. Haverford also has a unique honor code, which emphasizes trust, respect, and responsibility among students and faculty. This code is upheld by the student-run Honor Council, which investigates and adjudicates any violations of the code.
Class Size and Student-to-Faculty Ratio: Which University Offers More Personalized Attention?
With a student-to-faculty ratio of 9:1, Haverford College offers a highly personalized education. UC Davis, while still offering a student-to-faculty ratio of 21:1, is a much larger university with more students per class. This means that Haverford students will likely receive more individualized attention, whereas UC Davis students may enjoy a more diverse range of perspectives in the classroom.
However, it is important to note that class size and student-to-faculty ratio are not the only factors that determine personalized attention. Haverford College is a liberal arts college with a smaller student body, which allows for more opportunities for students to interact with their professors outside of the classroom. On the other hand, UC Davis is a research university with a wider range of academic programs and resources, which can provide students with unique opportunities for hands-on learning and research experience.
Student Life: How Do Haverford and UC Davis Differ in Terms of Extracurricular Activities?
Both universities offer a plethora of extracurricular activities, from sports teams to music ensembles. Haverford, however, has a strong emphasis on community service and social justice issues. UC Davis boasts a vibrant student life culture, with numerous clubs and organizations on campus. Both universities have a strong sense of community and opportunities to get involved.
One notable difference between the two universities is the availability of outdoor recreational activities. UC Davis is located in Northern California, surrounded by beautiful natural landscapes, and offers opportunities for hiking, camping, and skiing. Haverford, on the other hand, is located in suburban Philadelphia and has limited access to outdoor recreational activities. However, Haverford does offer a variety of indoor recreational activities, such as yoga and dance classes, for students to stay active and engaged.
Housing Options: Comparing Dorms, Apartments, and Off-Campus Living at Haverford and UC Davis
Both Haverford and UC Davis offer a variety of housing options. Haverford has a range of dorms and apartments on campus, while UC Davis offers dorms, apartments, and even houses for student living. Both universities also provide resources for finding off-campus housing, and many students choose to live in nearby apartments and houses.
One major difference between the housing options at Haverford and UC Davis is the cost. On-campus housing at Haverford tends to be more expensive than at UC Davis, but off-campus housing near Haverford can be more affordable. In contrast, on-campus housing at UC Davis is generally more affordable, but off-campus housing can be more expensive due to the high demand in the area.
Another factor to consider when choosing between dorms, apartments, or off-campus living is the level of independence and privacy desired. Dorms offer a more communal living experience, while apartments and off-campus housing provide more privacy and independence. At Haverford, some apartments even have kitchens, allowing students to cook their own meals and have more control over their living situation. At UC Davis, some houses for student living offer even more independence and privacy but may require more responsibility and upkeep.
Tuition and Financial Aid: Which University is More Affordable for You?
The cost of attending Haverford College and UC Davis varies significantly. Haverford's tuition is around $68,000 per year, while UC Davis's tuition is around $15,200 per year for in-state students and $46,000 per year for out-of-state students. However, both universities offer financial aid packages to students who qualify, and it's important to weigh the cost against the quality of education and resources available.
When considering financial aid, it's important to note that Haverford College is a need-blind institution, meaning that they do not consider a student's ability to pay when making admissions decisions. This can be a huge advantage for students who come from low-income families and may not be able to afford the full cost of tuition. UC Davis, on the other hand, is not need-blind, but they do offer a variety of scholarships and grants to help offset the cost of tuition for students who demonstrate financial need.
Another factor to consider when comparing the affordability of these two universities is the cost of living. Haverford College is located in a suburban area outside of Philadelphia, which can be more expensive than living in the surrounding areas. UC Davis, on the other hand, is located in a college town in Northern California, which may have a lower cost of living. It's important to factor in the cost of housing, food, and transportation when making a decision about which university is more affordable for you.
Diversity and Inclusion: A Look at the Demographics of Haverford vs. UC Davis
Both universities value diversity and strive to create an inclusive community. Haverford has a student body that is majority white, with notable representation from international students and students of color. UC Davis has a more ethnically diverse student body, with a significant population of Hispanic and Asian students. Both universities have resources available to support diversity and inclusivity on campus.
However, it is important to note that diversity goes beyond just ethnicity. Haverford and UC Davis also have diverse student populations in terms of socioeconomic status, gender identity, sexual orientation, and abilities. Haverford has a strong LGBTQ+ community and offers resources such as gender-neutral housing and a queer mentoring program. UC Davis has a center for Chicanx and Latinx students, as well as a center for African Diaspora students. Both universities also have disability services offices to support students with disabilities. Overall, while the demographics of the student body may differ, both Haverford and UC Davis prioritize creating a welcoming and inclusive environment for all students.
Career Services: Which University Offers Better Opportunities for Post-Graduate Success?
Both universities offer comprehensive career services to help students prepare for their post-graduate careers. Haverford has a well-established career development center that provides individualized support to students. UC Davis has a robust internship and job network, with partnerships with numerous organizations and career fairs held regularly.
However, it is important to note that the success of post-graduate opportunities also depends on the student's individual efforts and networking skills. Both universities offer resources and support, but it ultimately falls on the student to take advantage of these opportunities and make meaningful connections in their desired field. Therefore, students should not solely rely on the career services provided by the university, but also actively seek out opportunities and build their own professional network.
Athletics: Comparing the Sports Teams and Facilities at Haverford vs. UC Davis
Both universities offer competitive sports teams and top-notch athletic facilities. Haverford is a Division III school with a focus on individualized coaching and team success. UC Davis is a Division I school that competes in the Big West Conference and has a range of sports teams to choose from.
Additionally, Haverford has a strong emphasis on intramural sports, with a variety of options for students to participate in recreational activities. UC Davis also offers a wide range of fitness classes and programs, including yoga, Pilates, and dance. Both universities prioritize the health and wellness of their students, providing ample opportunities for physical activity and exercise.
Research Opportunities: Which University Has More Resources for Undergraduate Research?
Both Haverford and UC Davis place a strong emphasis on undergraduate research and offer ample resources for research opportunities. Haverford has a strong faculty-led research program, while UC Davis has numerous research institutes and centers located on campus.
Additionally, Haverford offers a variety of research grants and fellowships for students to pursue independent research projects. These grants can cover expenses such as travel, equipment, and materials. UC Davis also offers research funding opportunities, including the Undergraduate Research, Scholarship, and Creative Activities Conference, where students can present their research findings.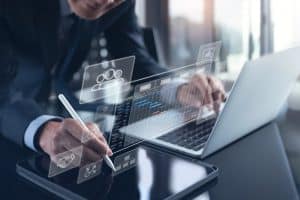 Furthermore, both universities have partnerships with local research institutions and organizations, providing students with even more opportunities to engage in research outside of campus. Haverford has partnerships with institutions such as the Children's Hospital of Philadelphia and the Wistar Institute, while UC Davis has partnerships with the Lawrence Livermore National Laboratory and the California National Primate Research Center.
Alumni Networks: A Look at the Connections You Can Make After Graduating from Haverford vs. UC Davis
Both universities have active alumni networks that offer opportunities for career networking and professional development. Haverford has a large alumni network, with notable graduates including Nobel Laureates and politicians. UC Davis also has a strong alumni community, with graduates working in a range of fields around the world.
Joining an alumni network can provide you with access to a wealth of resources and connections. Haverford's alumni network, for example, offers mentorship programs, job boards, and networking events. UC Davis alumni can also take advantage of similar resources, including career counseling and alumni-exclusive job fairs.
Additionally, alumni networks can be a great way to stay connected to your alma mater and give back to the university community. Both Haverford and UC Davis have active alumni associations that organize events and fundraising campaigns to support the schools. By getting involved with your alumni network, you can help shape the future of your university and make a difference in the lives of current and future students.
Admissions Requirements: What Do You Need to Get Accepted into Haverford vs. UC Davis?
Admissions requirements for Haverford and UC Davis differ slightly. Haverford places a strong emphasis on academic achievement and values extracurricular involvement and community service. UC Davis also values academic achievement but also takes into account leadership experience and other achievements outside of the classroom.
Additionally, both Haverford and UC Davis require applicants to submit standardized test scores, such as the SAT or ACT. However, Haverford has adopted a test-optional policy for the application cycle due to the COVID-19 pandemic. UC Davis also considers the applicant's personal statement and letters of recommendation in the admissions process.
Faculty Profiles: A Look at the Professors Teaching at Haverford vs. UC Davis
Both Haverford and UC Davis have highly qualified faculty members with impressive academic backgrounds. Haverford has a student-faculty ratio of 9:1, which allows for personalized attention and mentorship opportunities. UC Davis has a larger faculty size, with a range of professors specializing in diverse fields.
However, despite the differences in size and student-faculty ratio, both Haverford and UC Davis prioritize teaching excellence. Haverford professors are known for their dedication to undergraduate education, often involving students in their research projects and providing individualized feedback on assignments. UC Davis professors also prioritize teaching, with many receiving awards and recognition for their innovative teaching methods and commitment to student success.
Student Success Stories: A Collection of Inspiring Tales from Students Who Attended Haverford or UC Davis
Both Haverford and UC Davis have many inspiring stories of student success, with graduates going on to pursue graduate degrees, start businesses, and excel in their respective fields. It's important to consider the successes of past graduates when considering which university to attend.
Overall, comparing Haverford and UC Davis requires careful consideration of each university's unique strengths and weaknesses. By weighing factors such as location, academic programs, and financial aid options, you can determine which university is the best fit for you and your goals.
One notable success story from Haverford is that they graduated with a degree in biology and went on to become a renowned researcher in the field of genetics. She credits her success to the personalized attention she received from her professors at Haverford, who helped her develop her research skills and provided her with valuable networking opportunities.