Everything You Need to Know About the High School Quiz Bowl
For millions of high school students across the United States, some of the greatest memories of their high school experience takes place in the form of valuable extracurriculars such as the Quiz Bowl.
Not only can extracurriculars such as the Quiz Bowl lead to incredibly memorable moments in life, but they can also play a huge role in helping high school students get into the universities that they are most interested in attending.
That is especially true for extracurriculars that not only expand a student's social life but their educational life as well. For students who are looking to pursue something that is fun, challenging, and competitive, but also wants to check the academic boxes that top colleges are looking at, the Quiz Bowl is one of the best options currently available. Quiz Bowl is a wonderful program available in schools throughout the United States that will test a student's knowledge in many numbers of different topics. 
Together, we will break down what the Quiz Bowl is, how it works, and how students can sign up if they are interested in joining. On top of that, we will also go over some of the very best ways in which high school students can prepare for the Quiz Bowl so that they can get as much out of it as possible. 
What is the Quiz Bowl?
To put it simply, Quiz Bowl is a competition in which two participating teams engage in a lively and challenging head-to-head competition in which they answer questions based on general areas of knowledge and expertise such as literature, history, fine arts, science, current affairs, pop culture, sports and much more. In many ways, Quiz Bowl can be seen as a fun type of game show for high school students across America. 
When it comes to what kind of extracurricular activity Quiz Bowl is categorized in, it is widely considered to be competitive, academic, and interscholastic activity. When students join their school's Quiz Bowl team, they are expected to fulfill a number of responsibilities. Those responsibilities include attending practices to prepare for competitions and representing their school in area-specific competitions. 
Overall, the students and schools that face one another are typically decided upon either by the school district, athletic conference, county, or state. There are certain competitions that allow a greater number of teams to join than others.
One thing that all students who participate in a Quiz Bowl will be familiar with is the competition's buzzer system in which students use a buzzer to announce when they believe they have come to the correct answer for a given question. The buzzer is part of what makes the Quiz Bowl a highly active and entertaining activity to both be a part of and watch and is a big part of the reason why many consider it to be something like a game show for high school students.
Which high school students can compete?
Quiz Bowls come in all different sizes and can be designed for students who all go to a single school or can transition to offering competitions for many different schools at the same time. Tournaments will determine which schools are eligible. One of the biggest things Quiz Bowl tournaments do take care of is to make sure that they are not inviting schools to tournaments that may have already come across the list of quiz questions that they plan on asking their participants to answer.
While there is not a single governing body that oversees all of the Quiz Bowl tournaments across the United States, there are a number of different organizations that make sure that tournaments abide by the same rules. The National Academic Quiz Tournaments (NAQT) LLC is one of those organizations that run local tournaments, head national championships, and even sell practice guides that can help students and teams prepare for an upcoming Quiz Bowl.
Based on NAQT LLC rules, high school Quiz Bowl tournaments are available to any students that are within high-school age. Even students who are homeschooled are typically easy to qualify for Quiz Bowl competitions and are able to form their own team as a collective to make up the necessary number of students to participate.
What are the topics that the Quiz Bowl covers? 
At this point, chances are good that you are interested in what actual topics you could expect to face if you yourself were to sign up for a Quiz Bowl team. As previously mentioned, Quiz Bowl covers a fair share of different topics:
Literature

such as novels, short stories, drama and poetry

Science

such as biology, chemistry, physics, astronomy, mathematics, computer science, Earth science, and laboratory science

Fine arts

such as painting, music, opera, jazz, sculpture, photography, ballet, film, architecture

History

primarily focused on American history and European history

Religion, mythology, and philosophy
Social sciences

such as psychology, economics, anthropology, sociology, and linguistics

Geographies

such as cities, states, regions and natural landmarks

Current events
Each Quiz Bowl is made up of two teams compiled of one to four different students. In the Quiz Bowl, the two teams compete against one another to earn points by displaying their knowledge on questions that are rooted in the aforementioned topics. In the competition, a Quiz Bowl moderator will read questions to both teams from a packet of questions. Once the question has been presented, any member on either team can ring their buzzer to try to answer the question at hand.
In the competition, many of the questions will be a "toss-up," where any team member on either team can answer the question. Other questions are "bonus questions" which will allow a specific team more chances at points by answering a toss-up question correctly.
During all this time, a scorekeeper will be keeping track of which team answers which questions correctly.
How can students get involved?
The simplest way to join a Quiz Bowl team is to find out if your school already has a team and get involved that way. Either speak with the team's captain or a teacher who is involved to see what you need to do in order to join and if there are any spots open.
It is also important to remember that just because your school has a Quiz Bowl team does not mean that you will necessarily be competing right away. Just like a sports team, you may have to work your way up until you are able to take part in your school's actual competitive team. With that being said, you can still learn a lot, make great friends, and gain a fantastic and fun skill while you earn your stripes and prepare for your first competition.
What if your school does not have a Quiz Bowl team?
If your school does not already have a Quiz Bowl team, there are definite ways in which you can play a major role in starting one. One important thing to keep in mind is that you will want to check with your school's administration body to find out how to create a school-affiliated club. 
The reason why a Quiz Bowl team needs to be affiliated with the school on an official basis, unlike many other kinds of clubs, is because that official affiliation is the only way that a Quiz Bowl team can earn invitations for multi-school competitions.
It can be harder to go this road, but the one very beneficial thing to keep in mind is that one thing that is even more impressive than being a passionate and active member of an extracurricular club in the eyes on college admission officers is actually starting that extracurricular club in the first place. This will not only show how hard you worked in order to achieve your goal, but it also shows that you are a leader as well.
Why are extracurriculars like the Quiz Bowl so important?
Before we go into some useful resources that students can use if they are interested in pursuing Quiz Bowl as one of their high school extracurriculars, we at AdmissionSight think it's important to quickly break down why extracurriculars are so important to pursue.
While college admissions are never cut and dry, there are some things that every single college is looking for when they are deciding between students to admit and which they will, unfortunately, have to reject. The reason why extracurriculars are so crucial to a fantastic admissions profile is that it allows admissions officers a chance to get to know you just a little bit more.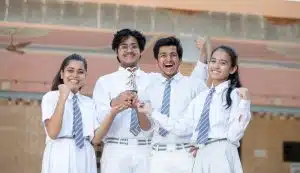 Here are some factors that admissions officers will undoubtedly look at:
What clubs did students participate in?

What initiatives did students take on? Were they leaders in their out-of-class activities (like a

Quiz Bowl

captain or a team captain on a sports team), or did they just participate in a supportive role?

What significant positions did a student hold?

Did a student take part in many different extracurriculars in smaller ways or did they commit a lot of their time and energy to just a few?

How did a student work to improve their school community in a productive and meaningful way?

What motivates a student?

How did the student demonstrate their leadership abilities and passion for a given activity through their extracurriculars?
While your grades and test scores will of course matter, you must assume that it will be your essays and extracurriculars that really help set you apart. After all, admissions officers want to know that if accepted, you would become a valued and productive member of their school's community. How you spent your time as a high schooler is one of the ways that they will try to determine that very question.
What are some valuable resources for Quiz Bowl practice?
If you are now very interested in joining a Quiz Bowl team, chances are good you are interested in how you can best prepare to help lead your team to victory. Preparing for a Quiz Bowl not only requires you to freshen up on facts and information that will help you pursue your Quiz Bowl goals, but you're also going to want to perfect your use of the tournament's buzzer system so that you can be the first to answer questions when you know the right answer.
Here are some of the best online resources for Quiz Bowl:
The

Quizbowl Resource Center

has some of the best information pertaining to the Quiz Bowl on the Internet. Here, students will be able to find out about upcoming tournaments, tournament statistics, past questions, and will get access to helpful forum discussions where students can discuss topics, questions and form an online community.

High School Quiz Bowl Packet Archives

is a collection of many thousands of Quiz Bowl questions that were asked between the years of 1988 and 2017. They include leveled questions for novices up to experts and even allows users to search and filter questions by age level and difficulty.

The

National Academic Quiz Tournaments

is a highly valuable resource that is actually run by former players and coaches that make a point to offer tournament questions, practice questions, rules, and other tips on how to enjoy the best success at any upcoming Quiz Bowl tournaments. The NAQT also runs Quiz Bowl tournaments at the middle school, high school, community college, and collegiate levels.
Conclusion
There is no doubt that extracurriculars are some of the best ways to set yourself apart from other students. When it comes to the Quiz Bowl, the value is that it not only shows college admission officers that you are determined to challenge yourself outside of school, it also proves that you are able to work with your teammates, and ideally, even lead them.
Hopefully, this has helped you better understand all that goes into signing up for and competing in a Quiz Bowl tournament. All that's left for you to do is find out what options are available to you when it comes to your future in Quiz Bowl.