The History of Women's Colleges
Education for girls and women was initially offered within family settings, in local dame schools, public elementary schools, and at female seminaries present in every colony. However, the inception of women's colleges can be traced back to the limited educational access for young ladies from affluent families. The emphasis on teaching "ladylike accomplishments" rather than academic subjects may have further limited access to education.
Historically, these educational institutions—whether seminaries or academies—were often small and had short lifespans. Frequently established by individual women or small groups, many did not outlive their founders. When assessing the claims of various colleges stating they were the "first" women's colleges, it's crucial to note that some female seminaries from the 18th or early 19th century evolved into degree-granting colleges. Others transitioned into renowned private high schools.
Attending a women's college in that era differed from attending a women's seminary in earlier times. For example, Wesleyan College holds the distinction of being the first true "women's college" in the United States. Chartered in 1836, it was the first college for women capable of granting degrees akin to those earned by men, making it the world's first "women's college."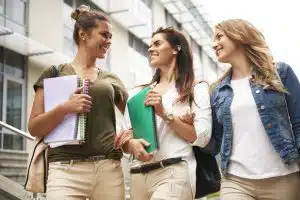 However, most higher education institutions for women emerged in the early 19th century, primarily serving as teaching seminaries. The Women's College Coalition notes that the mid-19th century saw a surge in women's colleges. This growth coincided with societal views on the appropriate roles for women, which, beyond preparing them for duties as wives and mothers, included religious instruction, singing, dancing, literature, and more.
The academic curricula for girls paralleled that of boys, readying them for leadership roles in their communities. Women's education was mostly restricted to seminaries that trained them for the only socially acceptable profession: teaching, which mandated singlehood. Numerous early women's colleges originated as female seminaries, which played pivotal roles in shaping educational landscapes.
Though many erstwhile women-only colleges have transitioned to coeducation, a significant proportion of their student population remains female. These institutions have retained their unique characteristics, such as smaller class sizes, superior teacher-student ratios, and a focus on experiential learning. These colleges have produced accomplished graduates globally, bolstering not just the empowerment of women in male-dominated fields but also the universal value of education. Today, students at these institutions can study a broad range of subjects, from liberal arts to health sciences and vocational programs.
Why Do Women's Colleges Exist?
In the 19th century, many women aspired to further their education but faced barriers, as almost all institutions exclusively admitted male students. This gap led to the birth of women's colleges. Notably, before 1835, no college in the United States permitted women to enroll.
The 1830s saw the emergence of both coeducational institutions, like Oberlin (established in 1833), and women's colleges. Oberlin distinguished itself as one of the pioneers in coeducation. From 1836 onward, a majority of women's colleges sprang up, especially in the Northeastern and Southern regions of the U.S.
Throughout history, the first women's colleges differed significantly in their designs from male colleges. Founders, fearing that higher education might erode women's traditional femininity, created highly structured learning environments. Many women's colleges occupied a single building, isolating their students from the broader community, unlike men's colleges that often boasted expansive campuses centered around a green. These designs drew inspiration from the female seminary concept.
Most early women's colleges were private, emphasizing liberal arts or having a religious affiliation. Notably, they employed a higher percentage of female faculty than coeducational institutions. Between 1836 and 1875, over fifty such colleges for women came into existence.
Between 1837 and 1889, the "Seven Sisters" schools emerged, becoming some of the foremost institutions for women's higher education. These schools, including Vassar, Wellesley, Smith, Bryn Mawr, Barnard, Radcliffe, and Mount Holyoke, paralleled the Ivy League in their academic rigor, especially when the Ivy League schools rarely admitted women. In the 1870s, Cornell set a precedent by offering undergraduate admissions to women.
By the mid-19th century, most U.S. institutions still only enrolled males. Therefore, women aspiring for higher education often had no choice but to join women's colleges.
While many women's colleges followed the independent liberal arts model, some focused on religious education. From 1900 to 1930, 19 new Catholic women's colleges were established. However, inclusivity had its limitations. While some, like the Seven Sisters, began admitting Black students by the late 1800s, others lagged behind. Most Historically Black Colleges and Universities (HBCUs) admitted both genders, but Spelman College was exclusively for women.
In an era with limited coeducational opportunities, women's colleges filled a significant void. But as more universities turned coeducational, the appeal of women's colleges began to shift.
By the late 19th century, coeducational institutions offered freedoms absent in many women-only colleges. The strict moral guidelines enforced at early women's colleges to preserve "female decorum" were often less stringent at coed institutions.
Women's Colleges in the 21st Century
In the 1930s, when women's colleges in the 21st century were just starting to gain momentum, coeducational schools already accounted for 70% of all undergraduate enrollments. As more universities began admitting both men and women, the number of students attending women's colleges declined. Today, less than 5% of female college students attend women's colleges.
Over the course of four decades, from the 1960s to the 2010s, history saw an 80% decrease in the number of women's colleges. This decline occurred largely because many of these institutions either closed down or transitioned to a coeducational model.
Vassar College began admitting males in 1967, followed by Sarah Lawrence College in 1968. Pitzer College and Wheaton College in Massachusetts became coeducational in 1970 and 1988, respectively. However, such transitions weren't always smooth. For instance, after Mills College announced plans to admit male students in 1990, protests from students and alumni forced the college to reverse its decision.
By the 21st century, women's colleges became a smaller part of the U.S. higher education landscape. In 2012, while over 1,015,000 students were enrolled in private coeducational universities, just over 58,000 students attended women's colleges. Notably, students of color constituted approximately 43% of enrollees at women's institutions, compared to only 30% at coed liberal arts colleges.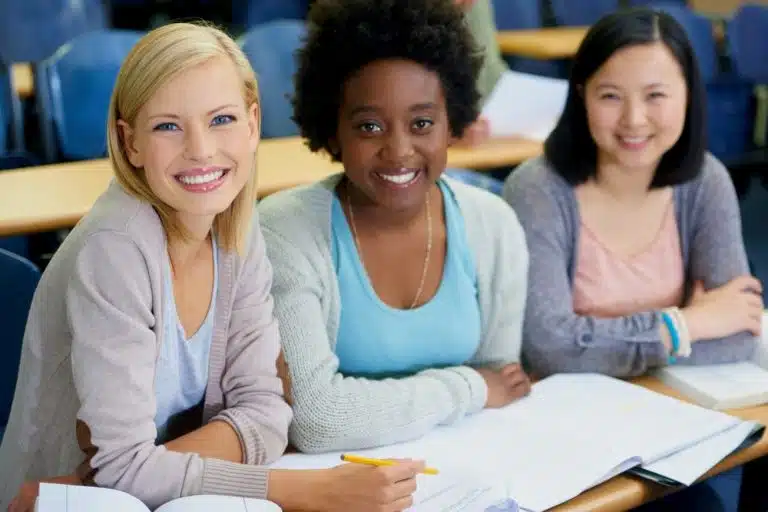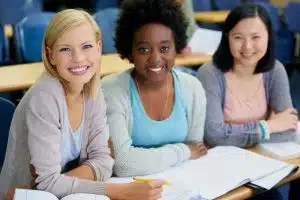 What distinguishes modern women's colleges? The Women's College Coalition highlights their student-centered teaching approaches, small class sizes, and strong liberal arts programs.
In 2021, women's colleges continued to uphold their commitment to providing inclusive environments for female students. They remain dedicated to nurturing leaders and employ a large percentage of women in both academic and administrative roles.
Throughout history, women's colleges might have predominantly catered to wealthy, white, Christian students, but contemporary admissions policies prioritize socioeconomic and ethnic diversity. Almost half of all first-year students at these institutions are eligible for Pell Grants, and most colleges offer financial aid to incoming students. Additionally, a higher proportion of students of color enroll in women's colleges than in coed liberal arts colleges. In 2021, students of color made up 43% of enrollees in women's colleges, versus 30% at coeducational liberal arts institutions.
What are the Benefits of Applying to A Women's College
Even though the number of women's colleges in the United States has declined, these institutions continue to play crucial roles.
A Supportive Network
One benefit students reap from attending an all-female environment is gaining confidence in their chosen subjects. Such an atmosphere fosters a culture where women are encouraged to participate actively in their courses and extracurricular activities. Moreover, women's colleges boast some of the highest national graduation rates within four years.
Higher Acceptance Rates
Although women's colleges are academically rigorous, their acceptance rates tend to be higher than those of coeducational institutions. This can be attributed to gender-specific admissions, meaning reduced competition, which enhances one's acceptance odds.
Robust Alumni Network
Many graduates of women's colleges become leading figures in their fields. Students from these institutions often benefit from an extensive and influential alumni network.
Smaller Class Sizes
Women's colleges, being predominantly liberal arts institutions, typically offer smaller class sizes. This means students have more opportunities to interact with their professors, fostering a stronger sense of community.
Throughout history, women's colleges have consistently shown higher student retention rates compared to coed private institutions. Women who attend these exclusive institutions are more likely to graduate within four years than those attending coed colleges. Furthermore, women's colleges show higher student engagement levels than their coeducational counterparts.
Impressively, these colleges outperform coed institutions in awarding bachelor's degrees in STEM fields. While only 19% of women of color at coed liberal arts colleges choose STEM majors, this number rises to 34% at women's colleges. Alumni from women's colleges are also more inclined to pursue higher education and secure postgraduate degrees.
These colleges create avenues for female faculty members to assume leadership roles. About 60% of faculty at women's colleges are women, and a staggering 90% of their college presidents are female. In contrast, only around 30% of college presidents nationwide are women.
While the initial intent behind establishing women's colleges has shifted over the years—given that women are now present in the most prestigious institutions across all categories—modern women's colleges continue to offer nurturing and supportive environments, emphasizing women's education.
Are Women's Colleges More Selective?
The majority of women's colleges share a fundamental goal: to help their students succeed and graduate, primed to assume leadership roles in their respective fields. However, admissions standards can vary widely across individual women's colleges. For instance, institutions like Barnard maintain rigorous admissions criteria and have substantial tuition fees. Nevertheless, they continue to draw significant attention from applicants due to the high-quality education they offer.
It's important to note that there's no one-size-fits-all standard for women's colleges. Each offers something distinctive to prospective students. Still, these colleges often share several features that collectively make them attractive options for many young women. Every institution offers its unique academic programs, networking opportunities, and internships, aiming to deliver a holistic educational experience.
Class Cross-Registration Options
Several of these colleges are strategically located near larger universities, allowing their students the option to cross-register and attend classes at these neighboring institutions. This arrangement offers students the chance to experience the nurturing and empowering environment of a prestigious women's college while simultaneously accessing the expansive resources of a bigger university if their chosen subjects require it.
Typically, students begin cross-registering at the partner university during the second semester of their first year. By doing so, they benefit from:
Advanced equipment
A broader network of peers and educators in their field enhances their potential for success.
Want to learn more about the history of women's colleges in the US? You've come to the right place. At AdmissionSight, we have over 10 years of experience guiding students through the competitive admissions process.
AdmissionSight can help you put your best foot forward when applying to college this fall. Contact us today for more information on our services.