How Big Is Johns Hopkins University?
Is Johns Hopkins A Large Campus?
If you wonder how big is Johns Hopkins University, at Homewood, which is located in North Baltimore and spans an area of 140 acres, is home to approximately 5,000 undergraduate students. It is the location of approximately dozens of research labs, two libraries, residence halls, administrative buildings, as well as athletic and recreation facilities. The School of Engineering has been around since 1914 and the School of Arts & Sciences since 1916. 
They have four campuses in the city of Baltimore: Homewood, where the schools of Arts and Sciences, Engineering, and Education are located; East Baltimore, where schools of Medicine, Nursing, and Public Health are located; the Peabody campus, where the Peabody Institute, the nation's oldest conservatory, is located; and Harbor East, which is located on the waterfront and is home to the Carey Business School.
The School of Advanced International Studies has campuses in Italy and China in addition to its main location in Washington, District of Columbia, which is about an hour drive south of Baltimore. In addition, the Applied Physics Laboratory, which is the largest university-affiliated research center in the country, is located in Laurel, Maryland, which is not too far away.
Every first and second-year student at Homewood College who attends classes full-time is guaranteed housing and is required to either live on campus or with a parent or guardian. In addition to dorms, the university also owns a number of apartment buildings in the surrounding area.
One of the residence halls at Hopkins that was finished in the fall of 2006 is called Charles Commons. If you are interested to know how big is Johns Hopkins University's residence hall? More than 600 people call the two connected buildings home, and they can be found living in single rooms within 2- or 4-person suites.
Common lounges, a dining facility, a performance stage, a fitness room, meeting spaces, a game room, a faculty member and graduate assistant in residence, a community kitchen, music rooms, the campus bookstore (Barnes & Noble), and an Insomnia Cookies can also be found in this building. Other amenities include a two-sided fireplace, a music room, a graduate assistant in residence, a community kitchen, and a fitness room.
If you are still curious about "Is Johns Hopkins a large campus?", let's learn more about the building and facilities around the campus. The Sheridan Libraries are the primary research library resources for the university. These libraries include the Brody Learning Commons, the Milton S. Eisenhower Library and its collections at the Albert D. Hutzler Reading Room in Gilman Hall, the John Work Garrett Library at Evergreen, and the George Peabody Library at Mount Vernon Place. 
Together, they offer access around the clock to a vast assortment of electronic resources, such as more than 171,000 print and electronic journals and more than 900,000 electronic books, in addition to their collection of more than 3.7 million physical books.
The Ralph S. O'Connor Recreation Center is a facility that was opened in the spring of 2002 and has a total area of 63,000 square feet. It is situated at the North Gate of the Johns Hopkins University Homewood Campus. Programs provided by the Ralph S. O'Connor Recreation Center are designed with the overarching goals of health, wellness, physical fitness, and community engagement in mind.
The staff engages students and members in activities that will improve their well-being. These activities range from exciting outdoor trips and courses that encourage and develop leadership, teamwork, environmental stewardship, character development, and transferable life skills to yoga classes that help build inner strength and reduce stress.
What Is the Area Around Johns Hopkins Like?
There is always something new to find in Baltimore, whether you are visiting well-known tourist destinations such as the Inner Harbor, the National Aquarium, or Fort McHenry (the birthplace of "The Star-Spangled Banner"), or more off-the-beaten-path destinations such as the Edgar Allan Poe House and Museum or the peaceful Sherwood Gardens. Throughout the course of the year, the city plays host to a variety of events, both large and small.
How big is Johns Hopkins University's neighborhood? Hundreds of people visit the Baltimore Farmer's Market every Sunday to pick up fresh local produce, cheeses, flowers, and bread (and maybe a cup of locally roasted Zeke's coffee, too). Baltimore sports fans are passionate about their Orioles and their Ravens. Sci-fi lovers can geek out at the Baltimore Comic-Con.
Each year, the state of Maryland hosts the Maryland Film Festival in the spring, a book festival in the fall, and Artscape, which is known as the largest free crafts festival in the United States, in the summer.
The city of Baltimore is home to over 225 distinct neighborhoods, each of which provides residents with a one-of-a-kind living experience.
The following destinations can describe what is the area around Johns Hopkins like:
Butcher's Hill
Butcher's Hill, which is adjacent to the Johns Hopkins Hospital medical campus, is a pleasant neighborhood that is located in close proximity to the Johns Hopkins Hospital. Commuting to more remote neighborhoods is made simple thanks to the availability of free shuttle bus services provided by Hopkins as well as a convenient subway line.
Fells Point, Canton, and Charles Village
Another popular neighborhood close by is Fells Point, which was once a maritime center and features streets paved with cobblestone but is now the epicenter of Baltimore's nightclub scene.
Young professionals are drawn to the neighboring neighborhood of Canton, which is also located on the waterfront. Canton is known for its charming coffee shops, hip restaurants, and converted rowhomes. In addition, those who do best in a setting more typical of graduate students will find Charles Village, which is located right next to the Johns Hopkins Homewood campus.
Federal Hill, Mt. Vernon
Federal Hill is located just to the south of the city's central business district. This neighborhood offers a variety of restaurants and pubs, as well as quick access to the Inner Harbor and Camden Yards, which are respectively the home of the MLB Orioles and the NFL Ravens.
To the north of the central business district are the neighborhoods of Mount Vernon and Bolton Hill, which have developed into cultural hubs thanks to the conversion of historic mansions into unique apartment buildings.
Mount Vernon, an upscale and historically significant neighborhood filled with restaurants, shops, and galleries, is located in the center of Baltimore's cultural district.
Mount Vernon is home to a wide range of residential options, including historic townhouses, walkup apartments, as well as contemporary apartment complexes and high-rises. Notable figures such as Emily Post and George Peabody once called Mount Vernon home.
The Peabody Conservatory, the Center Stage Theater, and the Baltimore Symphony Orchestra are all located in the neighborhood.
How Many People Apply to Johns Hopkins in A Year?
The level of competition was extremely high, and as a result, only 6.5 percent of the 37,150 applicants who had applied for the early decision round and the regular decision round received the coveted admissions letter.
The new students came from 63 different countries as well as 48 of the 50 states in the United States of America, the District of Columbia, Puerto Rico, and the Virgin Islands of the United States of America. Additionally, the students were representatives of 7,774 high schools located across the globe.
Between the years 2020 and 2021, there was a sizable increase in the total number of applicants to Johns Hopkins University.
The pandemic and Johns Hopkins University's decision to make taking standardized tests optional are probably to blame for this growth. Both the Class of 2025 and the Class of 2026 had a very comparable number of applications and acceptances. You can check below how many people apply to Johns Hopkins in a year.
| | | | |
| --- | --- | --- | --- |
| | Class of 2024 | Class of 2025 | Class of 2026 |
| Total Freshman Applicants | 29,655 | 38,725 | 37,150 |
| Accepted Applicants | 2,604 | 2,476 | 2,408 |
| Total Admission Rate | 8.80% | 6.40% | 6.50% |
What Is Johns Hopkins's Acceptance Rate?
How big is Johns Hopkins University's admissions? Only 2,408 students will make up the Johns Hopkins University class of 2026; of those, 1,586 were admitted through the university's regular admissions process.
It is likely that the COVID-19 pandemic, optional standardized testing, and an uptick in the number of students applying to college have contributed to the downward trend in admission rates that have been reported by the majority of the nation's top universities over the past three years.
Johns Hopkins is not an exception to this rule because it is one of the most competitive non-Ivy League schools in the country. The percentage of people who are admitted has also dropped. Let's see what is Johns Hopkins's acceptance rate for the Class of 2026.
In December of 2021, Johns Hopkins University released the results of their Early Admission Round I for the Class of 2026. This prestigious university recently shared the news that 520 applicants had been successful in gaining admission, representing a 21 percent acceptance rate for early decision applicants.
It just so happens that this is the same number of people who were granted admission during the first round of Early Decision for the Class of 2025.
| | | | |
| --- | --- | --- | --- |
| | Received Applications | Admitted Students | Acceptance Rate |
| Regular Decision Admissions | 31,650 | 1,586 | 5% |
| Early Decision Admissions | 5,500 (estimated) | 822 | 15% |
Overall Acceptance Rate for Class of 2026
Only 2,407 of the 37,150 applications that were submitted for a spot in the 2022-23 freshman class were selected to be considered for admission. The acceptance rate at this point is equal to 6.5 percent. This is a significantly lower acceptance rate than the 9 percent that was seen for both the Class of 2024 and the Class of 2025.
The difficulty of the applicant's secondary school record, the grade point average, the scores on standardized tests, the essay, and recommendations, as well as the applicant's character and personal qualities, are the six aspects that Johns Hopkins University considers to be "very important" in their admissions process.
The admissions committee considers factors such as class rank, extracurricular activities, and talent or ability to be "important." Volunteer work, first-generation status, state residency, geographic residence, legacy status, ethnicity, and paid work experience are some of the factors that are "considered" in the decision-making process.
When carrying out a holistic review, the admissions committee is looking for evidence of the following:
1) Academic Character: "How do you demonstrate your academic passions? What is important to you?"
2) Impact and Initiative: "We urge students to think about how they can make a difference through service, leadership, and innovation."
3) Personal Contributions: "How do you engage with your community—academic, personal, and social? What personal qualities do you possess that would make you a good fit for our campus?"
What Is the Average Class Size At Johns Hopkins University?
You will undoubtedly come across the phrase "student-to-faculty ratio" as you go on college tours and engage in research regarding potential schools. To put it more plainly, it refers to the ratio of the number of students enrolled at a school to the number of faculty members who have been hired at that school.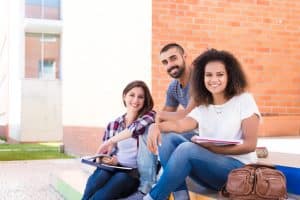 Quite a few educational institutions, including colleges and universities, point to this number as something they believe you will appreciate. The ratio of students to teachers can also be roughly estimated by looking at the size of the college campus.
The larger campuses result in a high ratio (less individualized attention). A small-sized campus results in a lower ratio (more personalized experience)
According to experts, a student-to-faculty ratio that meets or exceeds the national average of 18 students per faculty member. It is considered to be a good student-to-faculty ratio in American colleges and universities. To clarify, this does not refer to individual classes where there are 18 students to 1 teacher; rather, it refers to the overall student body to the overall faculty.
What is the average class size at Johns Hopkins University? Being a medium-sized college, Johns Hopkins University's student-to-faculty ratio is 7 to 1, and 74 percent of the university's classes have fewer than 20 students. This indicates that the university prioritizes providing individualized attention to its students.
How Many Majors Does Johns Hopkins Have?
On its Homewood campus, the university provides students with the opportunity to pursue their academic interests in a variety of ways thanks to the absence of a required core curriculum. To exhibit how many majors does Johns Hopkins have, here are 52 academic majors and 50 minors the university offers:
Majors
Africana Studies
Anthropology
Applied Mathematics & Statistics
Archaeology
Behavioral Biology
Biology
Biomedical Engineering
Biophysics
Chemical & Biomolecular Engineering
Chemistry
Civil Engineering
Classics
Cognitive Science
Computer Engineering
Computer Science
Earth & Planetary Sciences
East Asian Studies
Economics
Electrical Engineering
Engineering Mechanics
English
Environmental Engineering
Environmental Science
Environmental Studies
Film & Media Studies
French
General Engineering
German
History
History of Art
History of Science, Medicine & Technology
Interdisciplinary Studies
International Studies
Italian
Materials Science & Engineering
Mathematics
Mechanical Engineering
Medicine, Science & the Humanities
Molecular & Cellular Biology
Natural Sciences
Near Eastern Studies
Neuroscience
Philosophy
Physics
Political Science
Psychology
Public Health Studies
Romance Languages
Sociology
Spanish
Systems Engineering
Writing Seminars
Minors
Accounting & Financial Management
Africana Studies
Anthropology
Applied Mathematics & Statistics
Bioethics
Business
Civil Engineering
Classics
Computational Medicine
Computer Integrated Surgery
Computer Science
Earth & Planetary Sciences
East Asian Studies
Economics
Energy
Engineering for Sustainable Development
English
Entrepreneurship & Management
Environmental Engineering
Environmental Studies
Film & Media Studies
Financial Economics
French
German
History
History of Art
History of Science, Medicine & Technology
Islamic Studies
Italian
Jewish Studies
Latin American Studies
Leadership Studies
Linguistics
Marketing & Communications
Mathematics
Museums & Society
Music
Near Eastern Studies
Philosophy
Physics
Psychology
Robotics
Social Policy
Space Science & Engineering
Spanish for the Professions
Spanish Language & Hispanic Culture
Theatre Arts & Studies
Visual Arts
Women, Gender, and Sexuality
Writing Seminars
The most notable achievements of Johns Hopkins University include the establishment of the first school of public health in the United States, the advancement of medical research, and the university's role in establishing Johns Hopkins Hospital as one of the premier medical facilities in all of the world.
This has greatly influenced the most popular major taken by students of this institution. Here are the ten most popular majors for 2020 Johns Hopkins University graduates:
| | |
| --- | --- |
| Public Health (General) | 11% |
| Neuroscience | 10% |
| Bioengineering and Biomedical Engineering | 10% |
| Cell/Cellular and Molecular Biology | 9% |
| Computer and Information Sciences (General) | 8% |
| International Relations and Affairs | 6% |
| Chemical Engineering | 5% |
| Economics (General) | 5% |
| Mathematics (General) | 4% |
| Mechanical Engineering | 3% |
Johns Hopkins University's acceptance rate is incredibly low by any standard. Your individual chances of admission, however, depend on how special is your profile. AdmissionSight can help you make your application stand out. We will walk you through the process of applying to colleges and help you gain admission to the school of your dreams. Book your consultation with AdmissionSight now!