How Long Does It Take To Get SAT Scores Back?
How long does it take to get SAT scores back?
How long does it take to get SAT scores back? Don't you wish you could learn your SAT results right away after you finish the exam to get quick payback for all your SAT preparations? Or perhaps you'd want to pretend it never happened and completely forget about it (better luck next time)!
In either case, you will have to wait around 13 days to receive your SAT results. This blog explains the specifics of SAT score reporting and provides guidance on what to do after receiving your results.
When do you get your SAT scores?
How long does it take to get SAT scores back? It's a good question that everyone is thinking about now that the exam is over.
Scores for the SAT multiple-choice exam are made public 13 days after the test date. The College Board has revised its schedule to deliver your SAT scores sooner after years of longer waits (between three and six weeks).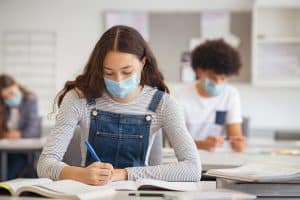 The actual publication date for SAT scores now varies. On the day of your score release, the College Board estimates that nearly half of all students will have access to their results by 8 a.m. Eastern Time (ET). Sometimes it begins at 5:00 a.m. ET (2 a.m. Pacific Time). However, because the release timing isn't always precise, I wouldn't suggest repeatedly refreshing your account at that moment. By 8 p.m. ET, the other half will learn their results (5 p.m. Pacific). Nevertheless, you won't need to keep checking throughout the day because the College Board will contact you when your results are ready.
If you've told your colleges that they should get your scores, they will get them within 10 days of when you get them.
How to find SAT scores?
Knowing how to find SAT scores is vital compared to knowing how long does it take to get SAT scores back.
1. View your results online.
Most people use the College Board website to retrieve their SAT results online. You need a College Board account, which you may create without charge. When your SAT results are available to view, you will receive an email to let you know.
On the College Board website's home page, click the "sign up" option to create an account. Tell them you are a student after that. Basic details like your entire name, birthdate, school and email address will need to be provided. Additionally, you will need to select a special username and password.
2. Ask for a paper grade.
If you register for the SAT by mail and don't have a College Board account, you will receive a paper copy of your score. You must specify if you want a paper score report in addition to an online report while registering for the SAT online.
3. Get your result over the phone.
You can also contact customer service to acquire your SAT results. Call the College Board's customer service and provide your birthdate and test registration number. Your SAT exam admission ticket contains the registration number.
To obtain your scores via phone, you must pay a charge. This implies that you must provide the customer service representative with your credit card information.
4. Hold off for a month.
The SAT results may not be accessible for up to a month. So how long does it take to get SAT scores back? When you register for a test date, be prepared to wait up to 30 days to get your test results prepared to wait up to 30 days to get your test results. For a March 11 exam, for example, the exam could be available around April 13.
On the SAT part of the website, the College Board normally specifies when you can anticipate your results. (If you already have a College Board account, you may also receive an email when your results are released.)
5. Explain why subsequent scores are now available.
The results may occasionally be roughly a week late. On the day that scores are available, you will receive a notice urging you to check back later. This happens if you take a make-up exam or if there was an error on the answer sheet. It may also occur if the information on your answer sheet differs from the information on your registration form or if your answer sheet was sent after the deadline.
SAT Scores Not Released Yet
If the status of your SAT results is "SAT Scores Not Released Yet,"  AdmissionSight suggests not stressing too much about any of them happening to you, as none are really frequent. The four main reasons for score delays are listed down below:
Cause 1: An audit of random tests
The most unlikely scenario is that your test was chosen by the College Board for a random assessment of tests to verify score accuracy. If such were the case, you would eventually receive your scores after a long delay.
You could phone your local College Board office if you didn't receive an email or letter from them (they like to mail out information, for some reason). But be ready to be moved around and delayed for a bit. If it isn't obvious, I haven't experienced the College Board's best customer service.
Cause 2: Test-related red flags
Another reason your test might have been marked is if you increase your score by an exceptionally high amount, like 400 or 500 points. The College Board may ask you to retake your test to check for scoring accuracy or indications of cheating if your SAT score increases by hundreds of points between test administrations.
It's a good idea to exhibit your work in your test booklet in case this occurs, in addition to aiding you in problem-solving when you are taking the SAT. In this manner, it will be simpler for you to demonstrate your honesty.
The College Board may compare your answers with those of the students sitting next to you in these situations or if a teacher reports cheating in order to rule out any wrongdoing.
Cause 3: Errors at your testing location
Inconsistencies at the exam site could also be the cause of a delayed score. For instance, on the SAT administered on June 6, 2015, some students were given an additional five minutes to complete a portion that was supposed to take twenty minutes.
Cause 4: Simply because they're slow
Finally, it's possible that the College Board is simply behind schedule. They have a ton of tests from students in the US and other countries to grade.
Call the College Board to try to figure out what's going on if you know of other students from your testing facility or even testing room who have received their results.
So, how long does it take to get SAT Scores back? How to find SAT Scores? You must be curious to find out more about SAT scores. AdmissionSight is happy to help!
We at AdmissionSight have more than ten years of expertise assisting students in navigating the tough admissions process at the world's greatest college string students in navigating the tough admissions process at the world's greatest colleges.
The average acceptance rate for our students at Ivy League institutions like Stanford, MIT, UChicago, or Caltech is 75%. One of the best records in the industry is this one. Please feel free to schedule your first meeting by making an appointment today.