How to be a Lawyer?
A person who has been granted a license to engage in the practice of law is called a lawyer. Either they act as advocates on their client's behalf or they perform some other type of employment inside the legal industry. There are some lawyers who don't actually do any legal work. You are considered a lawyer whenever you have completed the necessary steps to earn a law license and have received that license. The road to becoming an attorney is not always an easy one to travel. Knowing how to be a lawyer is important to start on your path at an early age and learn great study habits while still in high school.
Many students have the ability to benefit greatly from pursuing a career in the legal system, particularly if they are more at ease working with words than they are with statistics. On the list of the 100 Best Jobs compiled by U.S. News and World Report, the position of a lawyer comes in at number nine.
Both the public sector and the commercial sector employ lawyers in various capacities. When an attorney is hired to represent a client, that attorney is responsible for assisting the client in understanding the law and pursuing the course of action that will be most advantageous to the client's position. Their assistance may take several forms, ranging from advising their client on the manner in which the law pertains to their situation to formally defending their client in a legal proceeding. Knowing how to be a lawyer is knowing you might prepare legal documents, interview witnesses, conduct depositions, argue court motions, and conduct trials. The majority of lawyers have some degree of variety in their work from day to day.
In addition to the personal satisfaction that comes from assisting customers, lawyers receive wages that are significantly higher than the national average; partners at the most prestigious law firms frequently make more than one million dollars annually. However, even for individuals who do not end up in the very highest ranks of the legal profession, the median compensation for a lawyer is still substantial, clocking in at $122,960 in 2019. This indicates that the legal profession is a very lucrative one.
How to Become a Lawyer?
In order to know how to become a lawyer, prospective attorneys are required to complete a number of requirements, such as obtaining undergraduate and graduate degrees, passing examinations, and going through the licensing process. Before starting down this path, anyone who is interested in learning how to be a lawyer should first question why they want to become a lawyer and whether or not they are willing to devote a number of years to the study of law in order to achieve their goal. If you are interested in pursuing a career as an attorney, the following guide provides an overview of the many educational, skill-building, and licensure requirements necessary to get started in the field.
Complete a Bachelor's Degree Program You Enjoy
A minimum educational criterion for entry into law school is the completion of a bachelor's degree program. At this level, the American Bar Association does not encourage specializing in any one particular topic of study. According to the American Bar Association (ABA), students from practically every academic discipline are accepted into law schools. These disciplines include everything from political science to mathematics. Students planning to pursue a career in law frequently major in English, political science, economics, business, philosophy, or journalism during their undergraduate studies.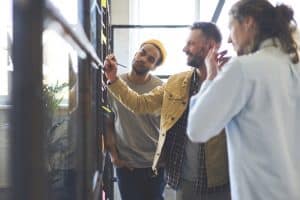 There is no path that leads directly to admission to law school that is better than another. However, according to those who teach in the field of legal education, prospective law students who enroll in subjects that they find interesting typically report higher GPAs. In addition, given the significance of your undergraduate grade point average in the evaluation of your application to law school, putting your attention on classes that you find interesting can help you become an attractive candidate.
Pass the Law School Admission Test
In addition to having an undergraduate degree, taking the Law School Admission Test, also known as the LSAT, is an essential part of the admissions process for law school. Scores on the Law School Admission Test (LSAT) are used as an objective metric by the admissions staff to evaluate the applicants' levels of knowledge and overall quality. There are a total of five different sections of multiple-choice questions on the test, in addition to a writing sample that is not scored. Candidates' abilities in crucial aspects of future legal work, such as reading comprehension, information management, analysis, critical thinking, reasoning, and argumentation, are evaluated on the Law School Admission Test (LSAT).
Identify Law Schools and Complete Applications
Some students decide not to continue their studies after completing their undergraduate degree, while others choose to get professional experience in a different sector before enrolling in law school. No matter the time of year, prospective students should only consider law schools that have been granted accreditation by the American Bar Association.
In addition to the overall grade point average, the coursework completed during undergraduate studies, and the scores obtained on the LSAT, additional admission criteria may include community service, affiliation with organizations, and letters of recommendation written by educators, alumni, or legal professionals. Students who are currently in the research phase of the application process for law school will find that the Law School Admission Council is an excellent resource.
Earn a Juris Doctor Degree
There are 205 law schools in the United States that have been accredited by the American Bar Association (ABA), and all of them offer the Juris Doctor (JD), which is the degree that is required to practice law in the United States. Prior to submitting an application, prospective students should familiarize themselves with the professors, areas of study, tuition, and curriculum of the institution.
How to be a lawyer involves students choosing a program that provides a concentrated curriculum in the subject matter that most piques their interest because the field of law encompasses a wide variety of subspecialties. Students have the option of specializing in fields such as family law, real estate law, property law, criminal law, environmental law, or tax law, for instance. If students attend school full-time for three years, they should be able to earn their Juris Doctor degree. Popular concentrations include:
Corporate law
Corporate or business law is a lucrative profession that includes tasks such as the establishment and dissolution of corporations, mergers and acquisitions, corporate disputes, and more. Corporate or business law can also be referred to as commercial law.
Family law
Legal matters pertaining to families, such as marriage and divorce, domestic partnerships, adoption, and the welfare of children, are under the purview of family law.
Labor law
Labor attorneys deal with the connections between workers and employers, and they frequently represent one side or the other in matters including discrimination, remuneration, and collective bargaining.
Civil rights law
Lawyers that specialize in civil rights work to ensure that their client's constitutional protections are upheld, and they frequently represent clients in legal proceedings brought against or involving the government.
Health law
Health law is a vast topic that focuses on everything linked to healthcare, including healthcare policy, patents, and medical malpractice.
Intellectual property law
Patent attorneys, trademark lawyers, and copyright specialists work hard to ensure that their client's intellectual property is safeguarded in every way possible.
Tax law
Tax attorneys are intimately familiar with the tax laws and frequently contribute to the development of tax policy in addition to representing clients in tax disputes.
Pass the Bar Examination
Prior to becoming qualified to practice law in a state, attorneys are often required to have graduated from a law school that has been approved by the American Bar Association (ABA) and to have passed the state bar test. In spite of the fact that every state has its own testing requirements, taking the bar exam typically takes place over the course of two days.
On the first day, candidates take the Multistate Bar Examination, and on the second day, they focus on writing examinations that cover a variety of different legal topics. Before granting complete legal licensure, the state board of bar examiners considers not only the candidate's performance on the bar exam, but also the candidate's educational background, level of expertise, character, and capacity to represent the interests of others in legal affairs.
Advance Your Career
There are a lot of doors that might be opened for lawyers looking to improve in their profession. In most cases, newly licensed attorneys begin their careers as associates. How to be a lawyer involves collaborating closely with more seasoned attorneys to enhance their skills. After a number of years of productive work in the legal field, attorneys have the opportunity to advance their careers and become partners in established firms, or they may decide to launch their own legal practices.
Some attorneys go on to judicial or public service careers instead of continuing their careers in private practice. In addition, lawyers have the option of continuing their education by earning a master's degree or even a PhD degree. Both the Master of Law (LLM) and the Doctor of Philosophy (PhD) degrees are frequent options for practicing attorneys who are interested in pursuing careers that involve research and academic studies.
How to Choose a Law School?
For aspiring lawyers, "How to choose a law school?' is always their greatest dilemma. After the first year, students at the majority of law schools take the same foundational classes; but, from that point on, the curriculum at law schools can vary greatly. If you already have a good idea of what area of law you want to specialize in, you should look for a law school that emphasizes clinical work or offers elective classes in the area of law that interests you. If you are unsure about the direction that you want to take in your legal profession, you might want to think about the variety of programs that are offered at each law school.
A number of law schools offer substantial financial aid in the form of scholarship and grant programs, which can help students with the financial burden of obtaining a legal education. When making a choice, knowing how to be a lawyer, is you thinking about the aid package that is available to you financially? When making your decision, you should also take into account other aspects, such as where you want to reside when you graduate, the academic reputation of the schools you're thinking about attending, and the percentage of students who successfully pass the bar exam at those schools.
Legal Specialties
The majority of attorneys specialize their practices in one particular topic of law. There are many different subfields of the legal system, and no practicing lawyer could ever be expected to comprehend all of them. Even while some attorneys establish what is known as a general practice, the scope of their services is still limited to meeting the fundamental legal requirements of individual customers and companies with less than 100 employees. Many different areas of legal practice are open to lawyers, including the following:
Business
Estate planning
Criminal law
Appeals
Contract law
Worker's compensation
Disability/Social Security
Personal Injury
Family law
Adoption
Landlord/Tenant
Constitutional law
Tax law
Administrative law
Professional discipline
How Long Does it Take to be a Lawyer?
How long does it take to be a lawyer? It takes approximately seven years to become a lawyer, including the time spent in post-secondary education and law school. This includes the time spent earning a bachelor's degree, which typically takes four years, and the time spent studying law, which typically lasts three years.
If you want to become a registered lawyer more quickly, you can shorten the amount of time it takes to do so by enrolling in a JD program that is accelerated. You will complete your legal education in just two years rather than the traditional three thanks to this curriculum.
If you choose to get your law degree after completing your undergraduate degree in the same amount of time, this will save you time. Participation in this program, which is also known as a BA-to-JD program, allows you to finish your first year of law school during your fourth year of undergraduate study. By participating in this program, you will be able to complete your undergraduate studies and legal education in six years rather than seven.
Is a Law Degree Worth it?
Different factors inspire people to choose careers as lawyers for a variety of reasons. It is always in their mind that is a law degree worth it. It's a profession that requires ambition. People who get a kick out of the struggle of overcoming an obstacle and the sense of accomplishment that comes with moving up the ranks of a company may find that a career in law is a suitable fit for them.
There are currently 804,200 lawyers actively practicing their profession in the United States, and the U.S. Bureau of Labor Statistics (Lawyers Handbook 2020) projects a 9% increase in the demand for their services over the next ten years. These estimates are derived from national data rather than information particular to the institution.
In addition, the Bureau of Labor Statistics of the United States reports that the median annual compensation for a lawyer is $126,930 per year, and the typical hourly wage for a lawyer is $61.03 per hour. These estimates are derived from national data rather than information particular to the institution. Conditions in your region may vary greatly depending on the attorney's years of experience, the legal specialty they practice, and the geographic location in which they do their work.
It is possible for a lawyer to choose to establish their own legal practice if they have ambitions to advance their career. On the other hand, a lawyer could put their years of experience to use in the political arena by utilizing their legal education. It's possible that they'll shift laterally into working for a government agency, or that they'll work for a government agency first before transitioning into private practice. There is also the option of practicing law while concentrating on academics. The path that an attorney takes in their professional life is heavily influenced by the attorney and the personal career goals that they have.
Others in the legal profession are driven primarily by a desire to be of service to their clients. Because lawyers have a lot of influence, working in the legal system can be appealing to those who wish to make the world a better place. They have the ability to initiate legal proceedings in order to request administrative directives that have a significant bearing on the community. People who go into the legal field typically do so because they derive a tremendous deal of personal fulfillment from being of service to others, regardless of the scope of that service.
Want to learn more about how to be a Lawyer? You've come to the right place. At AdmissionSight, we have over 10 years of experience guiding students through the competitive admissions process.
AdmissionSight can help you put your best foot forward when applying to college this fall. Contact us today for more information on our services.