How to become a College Professor?
Do you get a burst of energy out of interacting with students and conducting research? Do you think you would enjoy a career in the academic world?
If you enjoy guiding others, sharing your knowledge, and participating in lively debates on the subjects that most interest you, and if you consider yourself to be someone who continues to learn throughout your life, then working at a university as a professor might be an excellent option for your future career. In line with this, it is best if you'll be able to explore how to become a college professor as early as now.
Professors are academic instructors at the postsecondary level who are considered to be experts in their respective fields or subjects. They typically hold the highest-ranking teaching position at the university or college where they work and are responsible for instructing a diverse range of students.
It's not uncommon for professors to work in a variety of settings, ranging from large, prestigious public universities to more intimate, non-profit educational organizations. There is an expected 12% increase in employment opportunities for college professors over the next ten years, and the current median salary for a college professor is $79,640 per year.
As long as there is an expectation that students will continue their education beyond the secondary level, there will be a need for postsecondary teachers.
What are the fundamental requirements for getting a job in a college or university? To become one, you need to know what are the specific steps on how to become a college professor.
Essential requirements to meet in order to become a college professor
If you are wondering how to become a college professor, there are a few prerequisites that must be met before you can pursue a career as an educator. Before you can become a college professor, you should generally expect to need all of the following qualifications, although the specifics of these requirements can vary slightly depending on the school and the field.
1. A doctorate in the subject area in which you would like to teach
The majority of teaching positions at four-year colleges and universities require candidates to hold a doctoral degree in the subject area that they wish to instruct.
For those who are interested in teaching economics, for instance, earning a doctorate in economics is almost certainly required. Alternatively, if you want to teach Japanese literature, you should get a doctorate in a field that is relevant to the field, such as comparative literature, Japanese studies, or Japanese literature.
Doctoral programs require applicants to have a bachelor's degree and a master's degree, and they can take anywhere from five to seven years to complete. It is important to keep in mind, however, that many doctoral programs do allow you to earn your master's degree while you are working toward your doctorate.
However, without a doctoral degree, is it even possible to instruct students at the college level? Yes, but only at specific educational institutions and in specific professional arenas.
The Bureau of Labor Statistics (BLS) reports that some community colleges and technical schools allow people with just a master's degree to teach classes. However, since these positions can be quite competitive, if you only have a master's degree and are competing against applicants with doctorates, you will likely have a lower chance of standing out and getting that job offer.
In addition, those with only a master's degree are sometimes allowed to teach in certain fields. For programs in creative writing, for instance, the minimum degree requirement is a Master of Fine Arts.
2. Experience in the classroom
Having prior experience in the classroom is yet another important qualification for academic positions. This includes any prior experience teaching or directing a group of students in a classroom setting.
The majority of college professors first gain teaching experience while they are enrolled in graduate school. Students enrolled in a wide variety of master's and doctoral programs are strongly encouraged and in some cases even required to teach or assist in teaching undergraduate courses.
Graduate students at certain universities have the opportunity to obtain teaching positions on a part-time basis in the capacity of Graduate Student Instructors. Under the direction of a full-time faculty member, you will typically be responsible for teaching undergraduate-level courses in this position.
There is also the position of teaching assistant or teacher's aide available at the college level. The primary professor, who is typically a full-time faculty member, relies on teaching assistants to assist with a variety of tasks, including grading papers, preparing materials and assignments, and leading smaller classes that focus on discussion.
3. Accreditation for working professionals (depending on the field)
In addition to earning a doctoral degree, you might be required to earn certification in a specific area as well, depending on the subject area that you wish to instruct.
If you intend to instruct in a technical or vocational field, such as health, education, or accounting, the only time certification or a license of some kind will be required of you is during the preparation stage of your career.
In addition, one of the things you need to know on how to become a college professor is that while a teaching credential is not typically necessary to be able to instruct students at the college level, you will be required to hold one if you wish to instruct students at the secondary level (i.e., middle school or high school).
4. Publications and a notable academic presence
If you want to work in academia and become a college professor, having a significant number of publications is absolutely necessary. Prospective college professors are strongly encouraged to have as many academic publications as possible. This is due to the fact that full-time teaching jobs at the college level are among the most competitive jobs in the country.
This is one of the utmost importance if your goal is to obtain a tenure-track position, as this type of position provides professors with the highest level of job security. Indeed, the well-known adage "publish or perish" is completely applicable to both those who are interested in becoming professors and those who are already in the field.
If you want to be a competitive candidate for tenure-track teaching positions, you will not only need to have a few scholarly articles under your belt, but you will also need to have large, well-received publications, such as books. This is because having a few scholarly articles under your belt is not enough.
To summarize, in order to become a professor, one needs not only a doctoral degree and prior teaching experience but also a significant amount of high-quality, ground-breaking research. In short, a well-established educational background is an important ground in how to become a college professor.
Core responsibilities of a college professor
The day-to-day duties of a college professor can vary depending on the subject matter that they teach, but the following is intended to serve as a general outline of those duties:
Educate
The majority of a college professor's time is typically spent instructing students in various classes. They may be qualified to teach a wide range of topics, depending on the specialty in which they have been trained.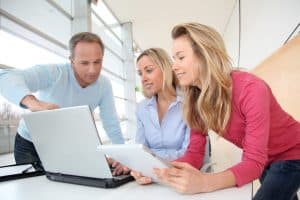 For instance, a professor working in an English department may be asked to instruct students in poetry, literary criticism, creative writing, or journalism.
Help Learners
Assisting the learning of others is at the core of what it means to teach. The goal of college professors is to assist students in successfully completing the requirements necessary to earn a degree or certification.
This is accomplished by teaching students by expanding their knowledge base and acquiring new skills. Additionally, professors assist students by evaluating their development through the use of papers, tests, projects, and one-on-one tutoring sessions.
Develop educational programs
The professors write the assignments and help design the curriculum using the expert knowledge that they have. When creating the course outlines or syllabi for each new semester, they frequently take into consideration the many different ways in which their students learn as well as the specific requirements they have.
Investigate various topics
College professors should make it a priority to maintain a lifelong learning mindset. They achieve this goal by conducting research, publishing their findings in books and academic journals, going to conferences, and keeping abreast of the most recent developments and ideas in their respective fields of study.
Keep an eye on the students
Professors frequently take on the role of mentors for eager students who are enrolled in their classes. This mentor-mentee relationship is an essential experience for students who intend to pursue doctoral degrees after completing their studies at the graduate level.
Provide support to the administration
A large number of institutions rely on the judgment of individual departments when it comes to reviewing policies and making hiring recommendations. The majority of the time, it is expected of professors, particularly those who are employed full-time, that they will participate in the committees of the department in which they are employed.
What is the difference between a professor and a teacher?
It is not unusual to hear people use the terms "teacher" and "professor" interchangeably; however, these two titles actually address two very distinct groups of people. Simply put, a teacher instructs younger students, ranging in age from elementary school to high school, whereas a professor teaches students who are enrolled in postsecondary education programs.
Professors are typically the highest level of educators and are considered to be experts in their respective academic fields or subjects. Although both a teacher and a college professor have professional training, the path to becoming a college professor is more complicated and requires a higher level of education.
How to become a college professor?
Some part-time positions, as well as those at community and vocational colleges, require only a master's degree. This is in contrast to the majority of four-year colleges and universities, which require a professor to have a Ph.D. in their field of study.
After graduating from high school, you should prepare yourself for at least six to nine additional years of academic work in order to finish the requirements necessary to become a college professor.
At every stage of your journey to becoming a college professor, it is essential to keep the following considerations in the back of your mind:
High School
Achieve success in academics and on standardized tests
When applying for admissions and scholarships, your high school transcript as well as your performance on placement exams will be taken into consideration.
To ensure that you have the best chance of succeeding, you should prioritize achieving high grades and performing well on standardized tests.
Get ready for college.
If you want to become a professor, you will need to attend graduate school, so it will be to your advantage if you can get into a prestigious college. To be successful in this endeavor, you will require a high score on either the SAT or the ACT.
It is recommended that you take either the SAT or the ACT for the first time sometime around the beginning of your junior year. You should now have sufficient time to retake the exam in the spring and, if necessary, a third time during the summer before or during the fall of your senior year.
Your target score on the Scholastic Aptitude Test or the American College Testing Program will be heavily influenced by the colleges to which you apply.
When you are a junior in high school, you should already be giving some consideration to the college applications you will submit after graduation. You should make sure that your college applications are turned in as early as possible because many colleges and universities have a cap on the number of new students they can accept each semester.
Bachelor's Degree
Obtain a degree relating to the subject area that you wish to teach
Because your area of expertise as a professor does not begin until you earn your bachelor's degree, it is essential to give some thought to the topic or discipline that most piques your interest.
For instance, if you're interested in teaching poetry at some point in the future, majoring in English will give you a solid grounding in the subject matter that you'll need to know.
Achieve success and make good use of relationships
It can be difficult to keep up excellent grades while pursuing a bachelor's degree; however, the grades you earn in your bachelor's program will position you favorably for receiving financial aid in the form of scholarships or grants when you apply to graduate school.
When looking for references or internship opportunities, the strong relationships you develop with the professors who teach you during your undergraduate studies are also important.
Register for the Graduate Record Examination and submit your applications
The Graduate Record Examination, also known as the GRE, is a standardized test that is required for admission into graduate programs at many different colleges and universities.
You should start the application process for graduate school at least six months before the beginning of the fall semester and find out if the school you want to attend requires a certain GRE score.
Master's Degree
Ensure that you have strong grades and a thesis statement
It is essential that you maintain a high GPA while you are studying for your graduate degree. For students to remain in good academic standing, many graduate schools require students to keep their overall grade point average above 3.0.
The completion of a master's thesis, which is a lengthy piece of academic writing, is typically the final requirement for earning a master's degree. This is the case with the majority of master's degree programs.
Work as a teaching assistant to gain real-world experience
You will have a better understanding of the daily responsibilities of lecturing, grading, and managing your time as a professor if you gain classroom experience by working as a teaching assistant.
In addition, the longer you work as a TA in the classroom, the more comfortable you will become in your role of assisting students in their learning.
Doctorate Degree
Cultivate relationships and publish a prize-winning dissertation
The most important aspects of your doctoral program are going to be expanding your knowledge of your specialty, cultivating professional connections, and conducting research for and writing your dissertation– a more in-depth version of a thesis.
Your ability to position yourself favorably in the job market following completion of your doctoral program will largely be determined by the quality of the dissertation you produce.
Apply for post-doctoral positions
When you are nearing the completion of your doctoral program, you should start the application process for teaching jobs at the colleges and universities of your choice.
Before being hired on a full-time basis within a department, many academics begin their careers as an adjunct or contract-based professors so that they can gain experience in the field.
Post-Doctorate
Keep applying, and when an offer is made, accept it!
You shouldn't be surprised if it takes some time before you receive an offer for a faculty position in higher education because these jobs are in such high demand.
While you are in the process of being interviewed for a position, it is to your advantage to continue to expand your teaching experience by working as an adjunct professor or guest lecturer.
It takes a lot of hard work and years to become a college professor, but it's not impossible if you know what you need to do to get ready for the job and increase your chances of getting hired as a college professor. If you take by heart these steps on how to become a college professor, you are one step close to achieving your dreams.
Becoming a professor is, as a whole, an extremely challenging endeavor. There are currently a great number of people who are qualified to apply for teaching jobs at the college level, but only a limited number of full-time teaching positions are available. Thus, the competition for tenure-track jobs is particularly fierce.
Even though the employment growth rate for professors is at a high of 11%, this does not mean that it will be easy to land a job as a professor. The job market for professors is extremely competitive.
In line with this, it really matters that you have a great educational foundation. If you aspire to become a college professor, it is best that you maximize all the resources that you can to be academically competitive.
AdmissionSight offers great academic guidance that will allow you to sort things out and prepare you for achieving your goals.
Well, nothing good comes easy, but if you have a dream as big as becoming a college professor, it is best that you take it one step at a time. You can always begin by setting up a free initial consultation with us today.