How to become a Lawyer?
A person who has been granted a license to engage in the practice of law is called a lawyer. Either they act as advocates on their client's behalf or they perform some other type of work within the legal industry. You are considered a lawyer once you have completed the necessary steps to obtain a law license and have actually received it.
The road to becoming a lawyer is not always an easy one to travel. It is critical to get a head start on your goals by beginning your journey at a young age and developing solid academic routines while you are still in high school.
What does a Lawyer do?
Both the public sector and the private sector employ lawyers in various capacities. When a lawyer is hired to represent a client, he or she is responsible for assisting the client in understanding the law and pursuing the course of action that will be most advantageous to the client's position.
Their assistance may take many forms, ranging from advising their client on the manner in which the law pertains to their situation to formally representing their client in a legal proceeding.
Legal documents may be prepared, witnesses may be questioned, depositions may be taken, court motions may be argued, and trials may be presided over by attorneys. The majority of lawyers experience some degree of variety in their work from day to day.
Throughout the various legal processes, lawyers are there to assist individuals and businesses. They are responsible for drafting legal documents, constructing cases, going to hearings, and trying cases.
Other responsibilities include collaborating with attorneys and other professionals in the criminal justice and legal systems, participating in depositions, resolving cases, and sending legal correspondence.
Lawyers are employed in a diverse array of fields, including real estate, business, the legal system, healthcare, and politics, to name a few. They frequently also focus on a particular area of law, such as one of the following:
Bankruptcy law
Employment law
Corporate law
Probate law
Immigration-related law
Family law
Legal safeguards for animals
Intellectual property law and trademark regulation
The law governing private injuries
How to become a lawyer?
In order to become a practicing lawyer, one must first satisfy numerous educational and testing requirements. The following is a list of the fundamental steps required to become a lawyer:
1. Obtain a degree of at least a bachelor's level
In order to apply to law school, you will need to have at least a bachelor's degree. Students with a diverse range of academic backgrounds can gain admission to law school.
On the other hand, undergraduate degrees in fields such as criminal justice, English, economics, philosophy, and political science are among the most common.
Take classes during your time as an undergraduate student that are pertinent to the subspecialty of law in which you have some interest in working.
For instance, if you want to work as a corporate attorney, you ought to enroll in a greater number of business classes. The goal of your undergraduate education should be to provide you with a solid and varied foundation of knowledge as well as the opportunity to investigate the areas of study that most interest you.
2. Take the admission test for law school (LSAT)
Following the completion of your bachelor's degree, the next step in the process is to take the LSAT. Reading comprehension, critical thinking, and argumentation are just some of the topics that are covered in the five multiple-choice sections that make up this test.
You have 35 minutes to complete each section. Electronic tablets are used in the administration of the exam, which takes place at a designated location and on the appointed date. You will first need to take the exam in person, and then you will have to complete a written portion, which you can turn in online from the comfort of your own home.
In order to determine whether or not you would be a good candidate for the program, law school admissions officers will look at both your LSAT scores and your undergraduate history.
In order to ensure that they have adequate time to submit their applications to law school, a lot of undergraduate students choose to take the LSAT at the end of their junior year.
It is in your best interest to study for the LSAT before actually taking it. The LSAT is primarily a test of your skills, and it is recommended that you take some practice exams in order to get a better understanding of the different types of questions and how to respond to them.
Before you take the LSAT, you should give yourself several months to study the materials and put your knowledge to the test with practice exams. The more successful you are in academics, the better your chances will be of being accepted to a prestigious law school.
3. Submit an application to law school
You can begin the application process for law school as soon as you have received your LSAT scores. The majority of students apply to several different law schools, giving them a variety of options from which to select.
You are going to be required to send in official transcripts, scores from the LSAT, letters of recommendation, and additional information with each application that you send in.
Candidates who have high LSAT scores, excellent letters of recommendation, and significant extracurricular experience are sought after by many schools. Your commitment to the field can be demonstrated even further by completing an internship at a law firm or courthouse in your community. You can show that you are eager to learn by participating in volunteer work with a group in your community.
4. Obtain a degree of Doctor of Jurisprudence
After completing your studies at a law school, you will be awarded a Juris Doctor degree. A doctorate in law typically requires a time commitment of three years to complete. Every school follows its own curriculum and has its own set of requirements to graduate.
Coursework in general studies will typically be required of you during the first two years of your legal education. During your final year of law school, you will typically have the opportunity to start specializing in a particular practice area by taking elective courses.
5. Obtain a passing score on the bar examination
Successful completion of the bar exam in the state in which you wish to become licensed to practice law is the final requirement for becoming an attorney.
For instance, in order to practice law in the state of New York, one must first earn a passing score on the New York State Bar Exam. Although there are some differences from one state to the next, the bar exam is typically conducted over the course of two days.
The multistate bar examination is what you'll be testing for on the first day, and the written exam portion is what you'll be taking on the second day.
The bar exam preparation process requires a significant amount of study time. It is recommended that you devise a plan for your academic pursuits that spans a number of months. You should also find a good test preparation course and materials to assist you, and you should concentrate your efforts on topics that are asked about multiple times during the bar exam.
After you have finished the exam, the state's bar examiners will take into consideration not only your test scores, but also your educational background, character, and ability to represent other people in legal matters.
In the event that they determine that you are suitable in each of these areas, you will then be issued a license to practice law.
The work environment for Lawyers
According to the Lawyers Handbook 2020 published by the United States Bureau of Labor Statistics, lawyers spend most of their days working in an office setting. They spend the majority of their day seated at a desk, whether they work in a courthouse or an office. This is the case regardless of where they work.
Although it varies depending on the area of practice, the majority of lawyers don't have to travel more than a day's distance in order to do their jobs. It is not typical for most attorneys to do a significant amount of travel outside of their geographic area; however, they may visit a few different courtrooms in their area. Although attorneys may occasionally be required to leave their offices in order to meet with a client or locate a witness, the vast majority of the work that they do takes place behind closed doors.
Jobs available for legal professionals
It's possible for lawyers to find work in any of the following areas:
Private practice
Attorney for the district or the prosecuting attorney
Public defender
Legislative drafter
A professor of law
Charity and non-profit organization lawyer
Lobbying and advocacy on behalf of a client
Advocacy and lobbying on behalf of underrepresented groups on behalf of a charitable organization
Judge of the administrative law
Magistrate
An assistant judge in charge of research
Counsel working directly for a company within that company
Counsel for a government department or agency
Skills you must have to become a lawyer
If you want to know how to become a lawyer and a successful one on its note, you need a diverse set of academic and interpersonal skills.
Although the majority of people are probably aware that attorneys need analytical and debating skills, there are a few key skills that are crucial to an attorney's success that may not be as obvious. These skills can be broken down into two categories: analytical and debating skills.
Technology Skills
It is essential for attorneys to have technological proficiency. It does not matter whether a lawyer works in private practice, for a government agency, or even as a judge; they are required to have experience working with a variety of software applications.
The majority of legal services providers make use of case management software to organize client files and client billing. In order to prepare even the most fundamental documents, attorneys are required, at a minimum, to type and make use of various software systems. Access to various pieces of legal research software is provided to attorneys by a variety of services, both free and for a fee.
Hearing and Understanding
If they are unable to hear and understand what their clients are saying to them, legal professionals will be unable to provide the best possible service to those clients. In order to fully comprehend the particulars of a client's circumstance, an attorney needs to have the ability to actively listen to the client. It is essential for a lawyer to have a keen eye for detail because cases frequently turn on the smallest of points.
In addition, the ability of the attorney to understand what is being said is essential to the success of both the direct examination of a witness and the cross-examination of a witness.
An attorney needs to be able to take careful notes and accurately record what the judge says in the event that the judge issues an oral opinion but later instructs the parties to put it in writing.
In spite of the fact that lawyers are frequently required to make statements, they are unable to be effective advocates for their clients if they do not listen.
Patience
As part of their job, lawyers are constantly exposed to both positive and negative information. They are required to negotiate diplomatically with the opposing counsel. There are times when the cogs of justice move at a snail's pace. It takes patience to ride out these inevitable highs and lows in the legal profession.
Business Management
The act of practicing law in private practice entails the attorney in question taking on the responsibilities of a business manager. It is necessary for lawyers to be familiar with the processes of client intake, billing, and payment processing. They need to educate themselves on how to market their company effectively and how to make judicious selections from the pool of potential customers.
When customers do not pay for the services they receive, they need to be aware of how to handle collections in an efficient manner. In order to perform their jobs successfully, the vast majority of attorneys need to have some knowledge of business management.
Communication in both written and spoken forms
One of the most important things you need to know about how to become a lawyer is that communication is crucial. Understanding and analyzing large amounts of information is a requirement for practicing law. They are required to read quickly and determine what information is pertinent to their case. After that, they are responsible for effectively conveying this information in written form.
While other careers in the legal field place an exclusive emphasis on writing, certain specializations place a primary emphasis on oral communication. However, all lawyers are required to have strong reading, writing, and oral communication skills.
Logical Reasoning
In order to practice law, one must have the ability to apply facts. They need to be able to examine the circumstances and decide whether or not a rule is applicable to the situation, as well as whether or not the rule has any exceptions. They need to put their skills in logic to use in order to find flaws in the arguments that the other side is presenting.
There is a purpose behind the inclusion of logic games as a significant component of the Law School Admission Test. In order to practice law, one needs to be able to construct logical arguments, reason, and judge the validity of the arguments presented by others.
Why should one go to law school?
Different factors inspire people to pursue careers as lawyers for a variety of reasons. If you are searching for how to become a lawyer, it means that there is something about being a lawyer that interests you.
Because of the nature of the work, one must have drive. People who get a kick out of the struggle of overcoming an obstacle and the sense of accomplishment that comes with moving up the ranks of a company may find that a career in law is a good fit for them.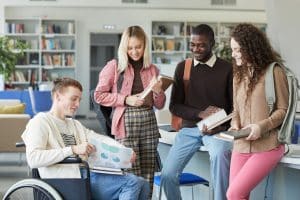 Others in the legal profession are driven primarily by a desire to be of service to their clients. Because lawyers have a lot of influence, working in the legal system can be appealing to those who want to make the world a better place. They have the ability to initiate legal proceedings in order to request administrative orders that have a significant bearing on the community. People who go into the legal field typically do so because they derive a great deal of personal fulfillment from being of service to others, regardless of the scope of that service.
What to look for in a good Law School and how to find it?
When deciding whether or not to pursue a degree in law, there are many factors to take into consideration. Prospective students have a responsibility to make certain that they are getting a satisfactory return on their investment by selecting a law school that meets both their educational requirements and their aspirations for their future careers.
Before making their decision to apply to law school, students should consider the following list of considerations.
The Accreditation of the ABA
If a law school graduate does not have a Juris Doctor degree from an American Bar Association–accredited program, they are ineligible to take the bar exam in almost all of the states in which they wish to practice law. To become a practicing lawyer, one of the most fundamental requirements is to pass the bar exam.
Preparation for the Bar Exam
Law schools have traditionally prepared their students to sit for the bar examination in the state in which the school is physically located. Prospective students need to give some thought to the locations of the legal systems in which they are interested in working once they have completed their education.
On the other hand, some states have reciprocal agreements with other states that allow law school graduates from one state to practice law in another state after they have passed the bar examination in both of those states.
Libraries and other resources for research
Reading is an essential part of the legal education process, and there will be a lot of it. Students interested in how to become a lawyer should investigate the research facilities and libraries available at the schools they are considering attending. This investigation should include assessing the quality of the library collection, as well as the staff, research materials, and even operating hours.
Faculty
The success of each and every student is contingent on the members of the teaching staff. Students who are considering applying to a school ought to familiarize themselves with the educational and professional histories, as well as the research interests, of the faculty members. The ratio of teachers to students at each school is another crucial factor because it provides an indication of how personalized the educational experience will be at that institution.
Curriculum
When they graduate, law students are not typically required to have any sort of concentration under their belts. However, before applying to the school, prospective students should first become familiar with its academic offerings.
There are many different types of law schools, and not all of them offer programs that cater to the specific needs and interests of each student. Second, students who are interested in receiving an education that is comprehensive should make sure that the school they attend provides a lengthy and varied list of classes that supplement the general law curriculum.
There are a lot of things you have to keep in mind if you really want to know how to become a lawyer.  The path to becoming one may be more difficult than the other degree. Maximizing your opportunity through a private tutoring program that will academically guide you all throughout your journey as a law student can be a really great edge for you.
We at AdmissionSight have helped students get into the best universities around the world for over a decade. Seventy-five percent of our students gain admission to elite institutions like Stanford, MIT, UChicago, and Caltech, giving us one of the best records in the business. To schedule your preliminary consultation, please call or email us at your earliest convenience.