How To Become a Veterinarian
How To Become a Veterinarian
Let's talk about how to become a veterinarian. The admission requirements for veterinary schools share a number of similarities; however, specific requirements may vary from school to school. As a result, it is advisable to familiarize yourself with the admission requirements early on in your career, as this may influence your course selection, particularly after your freshman year of college.
The American Association of Veterinary Medical Colleges' centralized application service is utilized by the majority of veterinary schools in the United States (Veterinary Medical College Application Service-VMCAS). This application service accepts your application and letters of recommendation and distributes them to the specified schools. Applicants must submit their transcripts through the VMCAS. Many schools also require that this information be sent directly to the school on a separate application.
In high school, begin preparing as soon as possible
Take all of the mathematics, chemistry, biology, and physics courses available to you in middle school and high school; they will open many doors for career paths in college, including veterinary medicine.
The undergraduate degree program in college
Select a degree program that offers a solid foundation in the biological and physical sciences. Create a list of degree programs offered by various colleges and universities, then visit each one individually. Find the program that best meets your needs. There are a variety of undergraduate majors required for admission to veterinary schools.
Essential college criteria
Prior to applying to veterinary schools, there are prerequisites you must meet during your undergraduate education.
1. Grade Point Average (GPA): Maintain a competitive GPA, 3.5 or higher if possible. The majority of veterinary schools closely examine courses from the past three to four semesters. This is the most basic step on how to become a veterinarian.
2. Volunteer with a veterinarian to gain a broad range of animal and clinical experience, as well as an appreciation for the veterinary medical field. This could be your chance to determine if veterinary medicine is right for you.
3. Graduate Record Examinations: After taking the SATs or ACTs for college admissions, you believe you are finished. Not quite! The Graduate Record Examination (GRE) is accepted by the majority of veterinary schools, while the MCAT is accepted by some veterinary schools and medical schools. Check each school's website for their standardized test score expectations.
4. Choose three individuals to write your letters of recommendation. One must be from an academic advisor, one must be from a veterinarian, and the third can be from anyone of your choosing (typically one of your course instructors). During your college education, it is important to get to know your academic advisor and/or professors. Some institutions may require two letters from veterinarians. This is one of the most crucial tips on how to become a veterinarian.
The application will give you the option to waive your right to review evaluation letters. You also have the option to not waive this right and request to see the letters following the evaluation of your application. While it is your right to examine the letters, we recommend that you waive that right.
Before writing the letter, evaluators will determine whether you have waived your right to see the letters. Some schools may believe that evaluators' reluctance to make negative comments about students does not compel them to waive their right to review the evaluations. This can impact how the admissions committee evaluates the letter.
5. Leadership and communication skills; and extracurricular activities: It is strongly suggested that you participate in student club activities, such as the Pre-Vet club, which will provide you with numerous opportunities to serve your community and interact with people from all walks of life.
Make an effort to hold an officer position or serve on a committee, which will afford you numerous opportunities to develop your leadership and communication abilities. Remember that the admissions committee is searching for future leaders.
Undergraduate course requirements
The majority of American veterinary schools require the following college courses:
Two terms of general chemistry with laboratory.
Two semesters of lab-based organic chemistry
One or two semesters of laboratory-based Biochemistry and Molecular Biology.
Two semesters of general biology laboratory work
Two terms of physics with laboratory.
Mathematics –  The minimum requirement varies by institution and ranges from algebra and trigonometry to two semesters of calculus. Note that this is a minimum standard. Even if their published requirement is algebra and trigonometry, most schools do not accept students who have not taken calculus.
General education
The required number of credits in each of the aforementioned categories may vary between veterinary schools. Consequently, it is essential to verify the admissions requirements of each veterinary school.
So how to become a veterinarian after all that? Well, senior-year college students traditionally apply to veterinary schools by September 15 of their senior year (generally speaking). Hopefully, you will have the entirety of your junior year to prepare for the GRE and choose which and how many veterinary schools to apply to.
There are numerous factors to consider when selecting schools to which to apply. Despite the fact that each of the thirty veterinary schools is of high caliber, each school possesses unique strengths. When making a decision, you only need to match your strengths and desires with theirs. We recommend applying to five to seven schools.
Take the time to evaluate schools in order to determine the best schools for you and to reduce your application fees. Start your online VMCAS application as soon as it is available. Request recommendation letters in a timely manner. Utilize VMCAS's packing list to send them a complete package.
After receiving interview invitations from veterinary schools, you begin to prepare for each interview. Prepare for your interviews by consulting with your academic adviser, pre-vet club advisers, and career counseling advisers on campus. Typically, the Pre-Vet Club holds sessions with applicants from the previous year to discuss general dos and don'ts for veterinary school applications and interviews.
The standard deadline to "accept" or "decline" admission is April 15.
In the United States, veterinary medical education is four years beyond the bachelor's degree. In order to practice in the United States, candidates must pass the North American Veterinary Licensing Examination (NAVLE) after earning their D.V.M. or V.M.D. This is how to become a veterinarian. Online listings detail each state's licensing procedures and requirements.
There are currently 22 veterinary specialties recognized by the AVMA. After obtaining a DVM/VMD degree, applicants may pursue board certification in one or more specialties. By visiting the AVMA American Board of Veterinary Specialties website, you can access the websites of all AVMA-recognized veterinary specialty organizations.
Veterinarian's Oath
Being admitted to the profession of veterinary medicine, I solemnly swear to use my scientific knowledge and skills for the benefit of society through the protection of animal health, the relief of animal suffering, the conservation of livestock resources, the promotion of public health, and the advancement of medical knowledge. I will practice my profession conscientiously, with dignity, and in keeping with the principles of veterinary medical ethics. I accept as a lifelong obligation the continual improvement of my professional knowledge and competence.
How long does it take to become a veterinarian?
So, how long does it take to become a veterinarian? Typically, at least eight years are required to become a veterinarian. On average, a student needs four years to earn a bachelor's degree. Then, students must enroll in veterinary school for an additional four years.
After graduating from veterinary school, students are eligible to obtain the necessary licenses and begin practicing as veterinarians. Note that some veterinary school graduates pursue additional certifications, which will extend the timeline.
For instance, a graduate of veterinary school may spend an additional year as an intern obtaining specialty clinical training. Others may require two to five years of additional residency training before becoming board-certified in a medical or surgical specialty. The following are veterinary medicine specialty options:
Orthopedic surgery
Neurology
Zoo medicine
Equine medicine
Dermatology
Cardiology
So how to become a veterinarian and maintain the profession? Veterinary professionals must continue their education in order to stay abreast of the most recent medical findings that may affect their patients. All states will require veterinarians to complete annual continuing education in order to maintain their licenses. Some veterinarians in active practice decide to pursue specialty training to better serve their patients and advance their careers. For instance, they may decide to obtain certification in ultrasound technology, veterinary dentistry, or animal chiropractic care.
How much does it cost to be a veterinarian?
Another important query is how much it costs to become a veterinarian. First, consider the cost of your undergraduate degree. Costs for veterinary school vary based on whether you attend a private or public institution and whether you reside in the state. During the past three decades, the cost of veterinary school has skyrocketed in tandem with all other costs associated with higher education.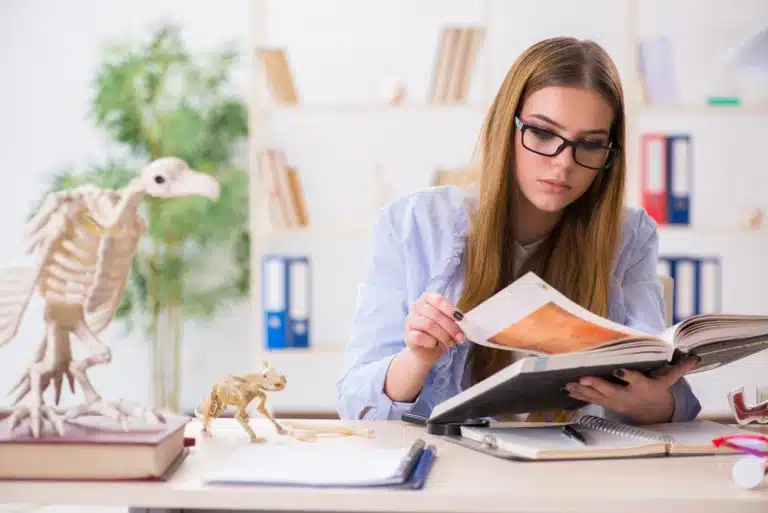 The estimated total cost of attendance (tuition, fees, and average living expenses) for four years for pre-vet students entering veterinary school in the United States ranges between $150,000 and $420,000. Your costs will vary based on your state of residence or your decision to attend a private veterinary school.
While scholarships can be helpful, the majority of veterinary students rely on loans to finance their education. Interest accrued on student loans during enrollment will increase the total cost of attendance.
How to become a veterinarian technician?
If you just like to work with animals without becoming a vet yourself, you need to know how to become a veterinarian technician.
Animal lovers seeking an accelerated degree program that is more affordable and less time-consuming than veterinary medical school should consider becoming a veterinary technician. According to the American Veterinary Medical Association (AVMA), vet techs play a crucial role in veterinary settings by monitoring the health conditions of animal patients; taking diagnostic images with advanced equipment; assisting veterinarians with surgical, dental, anesthetic, and other types of assistance; restraining animals during routine examinations; processing laboratory samples; communicating with pet-owners; preparing vaccines and serums; and maintaining clinic records.
5 steps to becoming a vet tech
Complete an associate degree in veterinary technology.
Pass the Veterinary Technician National Exam.
Become a member of the National Association of Veterinary Technicians (NAVTA).
Find a job in a veterinary clinic.
Maintain certification.
Entering your dream school with AdmissionSight
AdmissionSight can help you make the strongest application possible. And we know from experience, that standing out with a great essay and writing supplement can make the difference that gets you into any college of your choice. We have more than a decade of assisting students with a high success rate of 75%. Set up a free consultation today to learn more about what the admissions professionals can do for you.