How to Choose Between Ivy League Coaches
When it comes to gaining admission to some of the most prestigious and competitive universities in the United States, top grades and great standardized test scores are sometimes not enough.
It may come as something of a shock, but the truth is that many of the most intelligent and most accomplished high school students in the world need help getting into schools such as Harvard, Stanford, or University of Chicago.
That is why so many of those types of students depend on Ivy League coaches.
Ivy League coaches – or Ivy League consultants or admissions consultants as they are commonly called – are professional individuals who helped high school students with lofty college admission goals make the most out of their strengths to get into top schools.
Whether you are a student, or the parent of a student, who is interested in getting into an Ivy League or top ten school, chances are good that you have already considered using an Ivy League consultant. Whether you are convinced that you need one and are already looking, or simply want to learn more before deciding if Ivy League coaching is right for you, then you have come to the right place.
Here at AdmissionSight, we make it our goal to help brighten passionate high school students in any way that we can. For that reason, we've gone through the effort to break down how any high school student can choose between Ivy League coaches.
What to look for in a quality Ivy League coach
Without a doubt, there are a lot of different options available to students when it comes to college admissions consulting. When just starting out with the decision-making process, one of the best things you can do is comparing and contrasting each company's offerings, experience and level of expertise so that you can figure out which option is the best fit for you or your student.
Here are a number of factors that you should consider when it comes to looking out for Ivy League coaches.
Ample time to work with your student
One of the most important factors when it comes to finding the right college admissions consultant is availability. After all, even the most experienced and most well-connected consultant isn't going to be a lot of help if they are really hard to get in touch with.
Effective and easy communication is incredibly crucial to how much the high school student in question benefits from the relationship. While it is normal for students and admissions consultants to have established times that they speak or meet with one another, the admissions process is quite unpredictable. For that reason, getting a sense of how available they'd be outside of those agreed upon hours is useful.
Moreover, it is very important for all parties to establish a set of rules in terms of how both sides will communicate with one another.
Prices that are consistent with the rest of the market
Look, there's nothing wrong with wanting to know how much you are going to have to pay to have your student work with an admissions consultant. Well there is no doubt that a full service consultant can come with a pretty hefty price tag, it is absolutely advised that you do a fair bit of research to try and get a good idea of what a typical price is.
The reason for this is because there are certain consultants within the industry who try to benefit from the high levels of anxiety that come with the college admissions process. Remember, paying the highest possible price doesn't always mean that you will be getting the best possible product, so it's important to keep clear eyes during this aspect.
With that being said, it is also not advised that you go with simply the cheapest option, as those options may be underpriced because of a lack of experience, quality, etc.
Years of experience within the industry
Whenever you are working with a consultant of any kind it is absolutely crucial that you end up going with someone who has the experience necessary for success. The very same thing can and should be said about the college admissions process.
It is imperative that the college consultant that you end up working with is extremely knowledgeable about the admissions process and the current admissions landscape. As this industry continues to grow in popularity, it is important to make sure that your Ivy League coach is fully prepared to maximize the success of every student that they are working with. Learning about their experience within the industry is a good way to gauge that.
While you don't necessarily need your admissions consultant to have experience in a college admissions office, it is helpful to know how familiar they are with the entire process from start to finish. It's also important to know that the coach has at least some experience working with students or other peers.
Aligned and realistic goals
One thing that some parents and students trip up on is the idea that a college admissions consultant should be able to make the impossible possible. What that means is that some people believe that the admissions consultant will be able to work magic when it comes two helping a student with low grades and average standardized test scores get into some of the best schools in the world. Has anyone should know, that is not the job of a college admissions consultant.
For that reason, if you find that a potential option that you are meeting with is offering unrealistic promises and goals you should absolutely look for different options. Ultimately, the success of any high school student's college application process rests on what they bring to the table. The admissions officer is only there to help them maximize what they have already done or are willing to do.
So, when you are meeting with potential consultants, make sure that you get a sense that your goals, your student's goals and the goals of the consultant themselves are aligned. This is the best way to ensure overall success.
Good chemistry
No one is saying that a college admissions consultant has to be best friends with every high school student that they work with. However, the student and his or her parents should get a sense that there is a natural and positive connection that exists between the student and the consultant.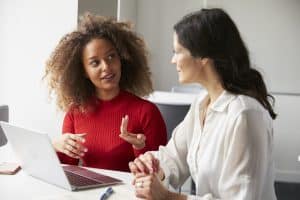 Ultimately, what every student and admissions consultant should be aiming for when it comes to the relationship that they have is something that is based on partnership and trust. They should not be friends per se, because at the end of the day this is a professional and serious relationship. However, the student should not have to see their Ivy League as an authority figure, as that could ultimately lead to a break of trust. Looking for a relationship that is somewhere in the middle tends to yield the most positive results.
They cover the topics that you want and need to be covered
Most undergraduate admissions officers these days go by an admission process that is known as a "holistic" review process. For that reason, you are going to want your student to receive a holistic service.
It's important to know that there are some college admissions consultants that focus on very specific aspects of the process, such as planning a curriculum or preparing for personal statement essays.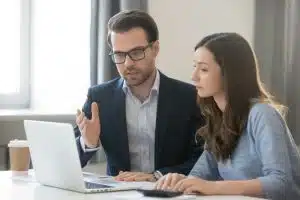 However, it's really important for parents and students to know that the college application process does not begin with the application itself; instead, the application process actually begins in 9th grade. In fact, it is now becoming more common for first students even younger than high school age to begin working with an admissions coach.
Essentially, every student is going to want to be sure that every aspect of the application process is covered. This means planning a curriculum that is impressive, finding extracurriculars that will allow the student to pursue their passions and stand out from the crowd, preparing for the standardized tests they can have an incredible impact on a student's application aspirations, and much more.
Ideally by the time the actual application process begins, a student who has been working with an Ivy League coach for quite some time will already have the skills and confidence needed to get into the school of their dreams.
That does not mean, however, that an Ivy League consultant is not going to help with the applications themselves. The best consultants will help a student select the schools that are the best fit as well as help them fill out applications in a way that will really help them stand out. This of course includes helping the student secure fantastic letters of recommendation as well as helping them craft outstanding personal essays.
Do your own research before making your final decision
The final thing that you want to look out for when you are making your decision about a college admissions consultant is to do your own research into how previous clients felt their needs were met in the past. One great tool that the Internet has offered all of us is the ability to write and read reviews about any kind of business anywhere in the world. That fact of course applies to Ivy League coaches as well. A simple Google search will allow you to read countless reviews from all different kinds of previous clients.
What's that being said, if you find that it is exceptionally difficult to find any reviews, both positive or negative, online you should probably take that as a sign that they do not have the experience necessary to help you and your student in the way that is necessary.
If you narrow it down to two Ivy League college consultants, ask yourself:
when it comes down to the actual decision-making process, it can be quite hard to make that final decision. After all, working with an emissions consultant is a fairly large investment, and you may worry that you will regret the decision that you end up making in the long term.
For that reason, there are some important questions that you should be asking yourself, especially if you have managed to narrow down your options to just a couple of great choices. That way, you will be able to rest assured that you made the very best choice for your student.
Which provides more value?
We've already touched upon this a bit as something to make sure that you are aware of as you start your search process. But the price and value can also be a great deciding factor when you are looking to cut down your potential options from three, to two and finally to one. And keep in mind, price and value can be two very different things.
When you are comparing a few different admissions consultant options, remember that this entire arrangement should be seen as an investment rather than a cost. After all, when students are applying to expensive schools, that price is also seen as an investment. So, you should not just be looking at price, but also looking at what services are offered.
If a company has a higher fee than another, but also offers a lot more services and tools, then that may very well be the better decision to go with. You should be going with the option that you think gives your student the best chance at success. If that comes with a bit of a higher price tag, that is likely a good investment to make.
Which do you and your student connect more with?
This is also something that we have discussed, but it is so crucial that we thought it would be a good way to discern between your top two choices as well. Ultimately, the relationship between a student and their admissions consultant is one that has to be built off of mutual understanding and trust. If one of those factors is not at 100 percent, then the student is really not going to get the most benefit as he or she could.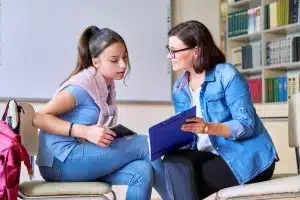 The student needs to feel comfortable putting a fair amount of their future in the hands of their consultant, trusting that the consultant knows how to best enjoy success when applying to top schools. On the flip side, the consultant has to be confident in their belief that the students that they work with are doing everything in their power to make their college dreams a reality. So, if there is truly nothing separating one Ivy League coach from the other, the student should really feel good about just going with the option that makes them feel more comfortable and confident.
What do the reviews say
Another consideration that you should be making when it comes to making your decision between the final two choices for admissions coaches. Of course, you have already done a fair bit of research when it comes to reviews from previous clients for both options, but that was just to make sure that they truly offer what they claim to and have overall positive reviews.
When it comes to making your final decision, you may have to dive quite a bit deeper than that to really come to a conclusion that you are happy about. Think about searching for reviews and testimonials on many different sites.
Moreover, if you are not satisfied with the information that you were able to glean from the reviews that you found online, there is absolutely nothing wrong with asking the consultant or company themselves for the contact information of some of their past clients so that you can reach out directly. If you do want to do this, just make sure that you are prepared with a list of questions that you want answers to.
Focus on results
Finally, what matters most is results. That's why we at AdmissionSight are proud of the fact that 75 percent of the students that we work with get into either an Ivy League school or a top 10 school outside of the Ivy League. If you really can't make up your mind, just go with the consultant that boasts better results!
You don't have to apply to Ivy  League schools alone
It can be scary and daunting for a high school student to apply to an Ivy League. That is especially true if they feel like they are out there flying blind! Luckily, you do not have to do it alone. Here at AdmissionSight, our number one priority is helping passionate and determined students get into the school of their dreams, no matter if that school is an Ivy League school, a large public university, or a small liberal arts college!
We'd love to help you make your admissions goals a reality, but even if you end up working with a different admissions consultant, we – above all – hope that this breakdown was helpful in helping you find the right match.