How To Decide On A College?
What should I consider when choosing a college?
What factors should be considered when selecting a college? The process of learning how to decide on a college does not have to start and end with applying to schools with prestigious names like the Ivies. There is a wide variety of schools available to choose from, some of which are more well-known than others but are all deserving of your consideration. Here are some pointers to consider as you learn how to decide on a college.
1. Explain who you are and why you are going in the first place.
Before you begin your search for a college, you should conduct a reflective assessment of yourself and your motivations for pursuing higher education. Why are you going? What are some of your skills and qualities that set you apart? What are some of your areas of weakness? What do you hope to achieve in this life, something concrete or something more ephemeral?
Are you able to function well in social situations on your own, or do you require the companionship of close relatives? As you ask these questions, you should discuss your thoughts with your loved ones, friends, and the guidance counselors at your high school. People closest to you and with the most in-depth knowledge of you are in the best position to assist you with these crucial matters.
2. Campus life and culture
You can further narrow down your options by better understanding what your actual college experience would be like. One of the best ways to do this is to talk to students currently enrolled at the institution; however, you can also research online and talk to campus representatives or admissions experts. How do students pass the time in school? What kinds of extracurricular activities are particularly well attended on and off campus? Are there a significant number of students who are active members of fraternities and sororities? Do many students go home on the weekends?
3. Do not let the stories make you feel frightened
If you only pay attention to the headlines, you might get the impression that no one is getting anywhere. In reality, most colleges and universities in this country take in more students than they turn away, and this is the case across the board. That's why, as you learn how to decide on a college, you will find that you have many options that will lead to a great fit for you if you are willing to investigate beyond the very narrow band of highly selective colleges. If you do this, you will find that you have a lot of choices.
It is important that you are knowledgeable about your academic profile and compare it to the academic profile of the class that was most recently admitted and enrolled at the colleges you are researching. Check the college admissions office website for this information, and if you can't find it there, give them a call. Ask the guidance counselor at the high school you attend for additional advice and direction as it relates to the school.
4. Attending a well-known college does not ensure future success
Consider the people in your life who are happy and successful, and do some research to find out where they went to college (or if they went at all). Ask the same thing about people who are considered famous college professors. It is more likely that the experiences and opportunities encountered while attending college, along with your personal qualities and traits, will be the most important factors in determining your success in life rather than the college you attended.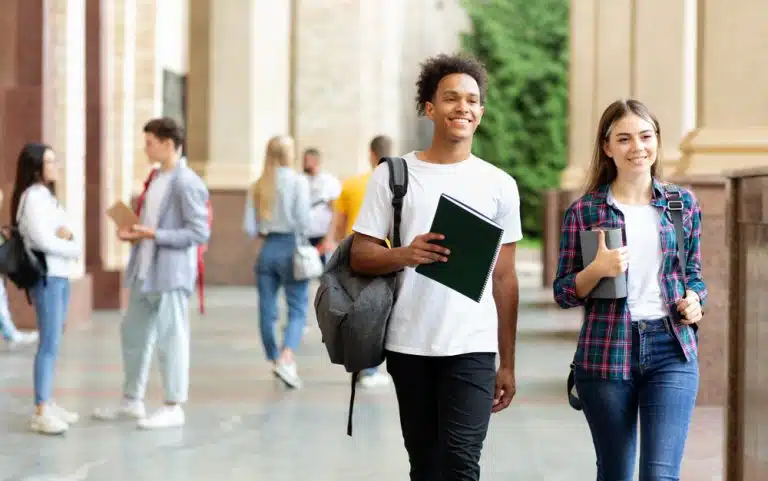 Employers and graduate schools are not as concerned with a candidate's college pedigree as with the candidate's outstanding skills and experience. When looking for colleges, it is important to inquire about the outcomes of previous students. You will discover that many colleges outperform the Ivies and "name brands," even though you may not have heard of them!
5. Preparation for a profession
In an ideal world, college is a wonderful experience in and of itself and a stepping stone to whatever you choose to do after graduation. When thinking about how to decide on a college, it is important to consider how well the schools can assist you in locating and preparing for a particular line of work.
Does the institution have a strong network of previous students? Are there interesting internships available for current students related to their fields of study? During your visit to the campus, you might want to think about stopping by the career center to get more information about its services.
Keep an open mind when choosing schools
Even though it's a good idea to have some ideas about the kinds of colleges that might be a good fit for you, it's important to keep an open mind about all the possibilities when you first start your search. When deciding where to attend college, here are some strategies that can help you keep an open mind.
1. Put your preconceived notions about what will be successful for you to the test.
"You may not think you're able to thrive in a large institution because you came from a small high school, but you may do better in that type of setting," says a history professor at the University of Central Florida named Luis Martinez-Fernández. "You may not think you can thrive in a large institution because you come from a small high school."
2. Communicate with those who are familiar with you.
Disclose your objectives to your parents, teachers, relatives, friends, and school counselor. Ask them if they know of any schools that might be a good fit for you, and see if they can make any recommendations.
3. Don't put restrictions on your search.
At the beginning of this process, you might eliminate some colleges from consideration because you believe they are either too expensive or too difficult to get into. However, neither of these assumptions may be accurate. Keep in mind that there are ways to reduce the cost of attending college, such as by applying for financial aid, and that there is more to college admissions than just grades and test scores.
Decide based on the college degree of choice
What do you plan to major in when you get to college? The quickest way to learn how to decide on a college is to narrow your search by answering that question. Students interested in unusual majors such as poultry science or video game design may discover that their prospective schools do not provide instruction in those areas. Check the rankings of schools in those fields if you are interested in pursuing such things as engineering, business, or nursing.
It is helpful to have a broad concept of the subject matter that interests you the most before selecting a college; however, you are not required to have a specific major in mind. Narrowing your interests down to broad categories, such as STEM majors, humanities majors, or education majors, can benefit your college search.
When you know what areas of study most appeal to you, the next step is to research the degree programs provided by potential schools and match those programs to your personal, and educational goals. Some educational institutions are particularly strong at the undergraduate level, providing opportunities for students to gain research experience or design their interdisciplinary majors. At the graduate level, some universities stand out thanks to their excellent business or medical schools.
Last but not least, prospective students should investigate the courses provided by potential universities when considering how to decide on a college. Pay close attention to the different scheduling options, especially if you are interested in taking classes at night or on the weekends.
Now you have an idea of how to decide on a college. College life should be a little easier. If you are still planning your college admission, you should get guidance from AdmissionSight. With guidance from AdmissionSight's top experts in college admission with 10 years of experience, you can get into any college you dream of. You can talk to our experts today to get started.