How To Get Into College Of Your Dreams
Importance of college
Though some people think otherwise, there is significance in going to college. The sense of accomplishment that one can experience in getting into college is immeasurable. Learning, exploring, growing, and dreaming are all wonderful activities to pursue during one's time in high school. But it is a different story when you reach college. As such, students must know how to get into college.
You have a responsibility to be ready for the difficulties you will encounter once you get to college and begin your studies there. The transition from high school to college can be difficult for students because it marks the beginning of their independent lives, and for many of them, it also marks the first time they will be living away from their families and friends.
You may not know what you want to major in or where you want to attend college when you begin your first year of college. However, there are things that you can do that will move you closer to being prepared to choose a good college, apply to it, and be accepted by it.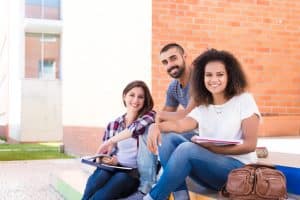 Some students are considering not attending college at all. You may believe that college is simply the continuation of high school, but this is not the case. Going to college will open doors for you that your high school education will not. In addition, college has the potential to transform you in ways that you could never have imagined for yourself.
Benefits of going to college
1. Become aware of your interests
The college years are often marked by a lot of discovery. It may be the first time moving out on one's own or the beginning of life in a new location. One big benefit of entering college is that you will have the opportunity to learn about yourself and your interests both inside and outside the classroom while attending college. You will be required to take some general education classes and the electives you choose to pursue outside your major.
As you learn how to get into college, you may become interested in a topic you had never even entertained before taking these classes. In college, as opposed to high school, you have more freedom in selecting your courses, which can lead to the discovery of novel information. Because of this, you might find out about interests and passions you had no idea you had previously been able to uncover.
2. An increase in available employment opportunities
Many jobs require a college degree. You may need a specific kind of degree to get the level of position that you're going for, though. It is common practice to require a two-year associate's degree or a four-year bachelor's degree for entry-level positions.
Obtaining a higher-level degree, such as a master's or doctoral degree, may be required of you if you have career goals that involve specializing in a particular area and working in a leadership capacity. If you want to increase your chances of getting hired, getting a degree may help, but it also depends on the field in which you want to work.
3. A greater possibility of financial gain
Numerous studies have demonstrated that having a college degree significantly increases one's earning potential. If you have a degree, you have a better chance of making more money in your career. One of the biggest reasons more people are learning to get into college is income.
Students who earn a bachelor's degree have a better chance of earning more throughout their lives than those who do not earn a degree. This number has the potential to go up as the level of your degree goes up as well.
4. Decrease the rate of unemployment
Graduates with a college degree have unemployment rates that are significantly lower than those without a degree. According to Forbes, there is a correlation between higher education levels and lower unemployment rates. For instance, in November 2020, the unemployment rate was 6.7%, but the rate for those with a degree was 4.1%. This survey was done in the US.
This is because it is more likely for someone with a degree to be hired than someone without. Simply put, having a degree puts you in a better position to compete with other applicants than those who do not have degrees.
5. Improved skills
The coursework in college imparts a wide variety of skills. Generally, a person's skills can be broken down into hard and soft skills. Hard skills are job-related abilities that are typically technical. To give you an idea, learning how to code is a difficult skill you will need to acquire if you want to have a career as a web developer.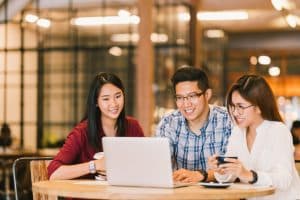 On the other hand, soft skills have a greater likelihood of being transferable between jobs and are also applicable to life in general. Problem-solving, communication, and working well with others are among the skills you learn as you go on how to get into college. Both skills will be taught to you during your time at the college. This should be kept in mind throughout your college experience.
6. Personal development
Attending college can be beneficial to one's personal growth. The college experience provides students with the opportunity to develop a diverse set of skills and capabilities. Entering college has the potential to cultivate feelings of independence and control, in addition to teaching the skills necessary to manage one's own time effectively and make decisions based on sound reasoning. Having these types of soft skills and abilities is necessary when dealing with life in the real world.
7. Networking
When they attend college, students can interact with people from all over the world. Consider the case of the University of the People as an illustration. Students from over 200 countries and territories currently enroll in our online school, which does not charge tuition fees. Many college students also participate in internships, allowing them to build connections with people who might become their employers.
8. Employment possibilities in other countries
If you want to find work in another country, having a degree can demonstrate to potential employers that you have the qualifications necessary to perform the position's duties. A college degree is a way to demonstrate that you can organize your time effectively and maintain your dedication to working toward a goal, regardless of the context.
Therefore, the same message will be true regarding obtaining a degree from an institution in another country. However, you may want to work in particular fields, such as medicine, law, or education. In that case, the degrees you earn in one country might not be entirely transferable to another country (or even state).
9. Preparation for a specialized career
This benefit might be easy to overlook, but it has significant value. After obtaining a foundational degree in a field, the next step toward achieving the level of expertise or specialization of your choice in any field is to earn that degree. As such, if you want to be even better in a specialized career option, it is wise that you learn more about how to get into college.
How to increase your chances of entering college
1. Exams
Scores on the SAT or ACT are no longer considered in the admissions process for California's public universities and colleges. Even though you are not required to take the exams, you might want to sign up for the ASVAB, SAT, or ACT.
Your scores can be counted toward satisfying minimum requirements and can also be used to guide academic advising decisions regarding your class placement. Use the free materials, study guides, and practice tests available online for the SAT or ACT.
2. Grades
Working hard in high school is the most important thing you can do to improve your chances of getting into college. In the end, even though college can be many different things, its primary purpose is to be a place where one can further their education. That indicates you need to maintain a high GPA in high school.
A key element you should understand as you learn how to get into college is that grades can be a big deciding factor in one's admission. When reviewing your applications, the admissions officers will be looking for evidence that you are a capable student who will effectively use the institution's resources.
This indicates they are looking for a high grade point average and outstanding academic performance. Some may even ask for a graded paper. Try your hardest throughout all four high school years to earn the highest grades possible.
3. College essays
Most colleges and universities today require applicants to write at least one and frequently more than one essay as part of the application process. A personal statement, also known as the Common Application Essay, is required almost universally by educational institutions.
At this point, you will have the opportunity to share your background and experiences with admissions officers. In addition to the standard college essay, applicants to many selective schools are now required to write supplemental essays specific to the institution to which they are applying.
These supplemental essays provide admissions officers with more information about how prospective students will interact with the existing student body. What will they be learning? Which clubs do they intend to join? Why this particular school? If you have compelling supplemental essays, colleges will be more likely to view you as a peer of their own.
Invest some time in crafting essays that are appropriate for college. Before you put pen to paper, give it some thought and reflection. Write, revise, and rewrite your work. This is your chance to make a good impression on people. In your writing, convey who you are by describing characteristics such as being enthusiastic, exciting, passionate, and intellectually curious.
4. Extracurricular
This factor is sometimes overlooked by many people who are learning how to get into college. However, a student's extracurricular activities can also be a big boost, as college interviewers will look into one's extracurriculars to see if they fight their school's social life.
Participate in activities at your school or in the community throughout high school and during the summer breaks. You must keep track of the activities you participate in outside of school, whether sports, extracurricular or co-curricular activities, or volunteer work in your community. Climb the ranks to positions of leadership. Show that you have improved. Become exceptionally skilled in at least one of your areas of interest.
5. Recommendations
In addition to the essays you submit with your application, colleges place significant weight on the letters of recommendation that previous teachers and administrators have written about you. In general, it is a good idea to seek recommendations from your guidance counselor and teachers who know you well.
Refresh their memories by giving them a "personal data" or "brag sheet" at least one month before the deadlines for college recommendations. This will highlight your academic accomplishments, athletics, activities, community service, and leadership positions.
It is important to remember the following when requesting a letter of recommendation: (a) ask early; (b) ask in person, and (c) ask teachers who are familiar with you. They don't need to be the instructors in whose classes you received the highest grade. Always opt for a heartfelt and personal letter to make the best impression. In addition to that, please highlight anything noteworthy that occurred during the summer.
6. Interviews
If the colleges you're applying to require on-campus interviews, you should get ready for them. Even though some colleges do not require this, doing so can be beneficial as you learn how to get into college, making an impression on the admissions committee.
You should reread your essays and any other information you have obtained regarding individual colleges. Maintain a positive attitude and speak clearly. Dress in a businesslike manner rather than in a casual one. Send thank you notes or emails to the interviewers after the event, expressing that you are still interested in working for their organization.
7. Get everything in order
When you begin the application process, you will want to be organized to keep track of everything you need for your application. This includes application deadlines, requests for transcripts, orders for standardized test score reports, requests for recommendations from teachers, and all of the information you have on each college and university to which you are applying. Keeping track of all of your applications might be easier with the help of a straightforward spreadsheet.
8. Gain the support of your family, including your parents
During this difficult process, having the support of your family can make a significant difference. Seek their advice and input on the types of colleges that would be most suitable for you. You shouldn't let the fact that your family may be struggling financially prevent you from applying to college; many different financial aid sources are available for students who want to further their education.
As you get the support that you need in getting into college, guidance from experts in college admissions is also a key to your success. As such, guidance from AdmissionSight can go a long way. With guidance from AdmissionSight's top experts in college admission with 10 years of experience, you can get into any college you dream of. You can talk to our experts today to get started.