How to Get into MIT with Average Grades
When it comes to getting accepted by some of the best undergraduate programs in the United States, it is abundantly rare for students without incredible grades to get in. In fact, a student's grade point average is widely considered to be the most important thing on a student's application. Learn "how to get into MIT with average grades?".
However, that does not mean that it is impossible to get into MIT with average grades.
And if you're wondering how to get into MIT with average grades, then you have absolutely come to the right place!
At AdmissionSight, we make it our number one priority to help the high school students that we work with every application cycle to help them figure out what schools are the best fits for them and what it will take to make that goal of getting into those schools a reality. Without fail, that means helping students overcome the low acceptance rate at MIT and getting in.
So, even while MIT is often considered even more competitive than the hardest Ivy League to get into, it is possible to say, "I got into MIT with bad grades."
Thanks to our years of expertise and experience within the college admissions process in the United States, AdmissionSight knows what success stories look like for high school students applying to MIT. So whether you feel you have the grades necessary to get into MIT, or if you are worried that you may be lacking in that department but still want to improve your chances of getting into this fantastic school, then you have absolutely come to the right place.
Let's get into it!
MIT's admission requirements
For any high school student in the United States, one of the main goals of the application process for any student that is looking to get into a top undergraduate program is to offer as much information about their high school years. From this information, admissions committees then decide whether or not a student has what it takes to not only get accepted into the school, but also excel within the rigorous academic style of a school like MIT.
That is typically why a student's grade point average is so crucial to a student's application. Essentially, admissions officers base how a student did in high school to try to predict how that student will do once they get to undergraduate school. And it is about more than just the kinds of grades that a student gets, but also what kind of courses they take.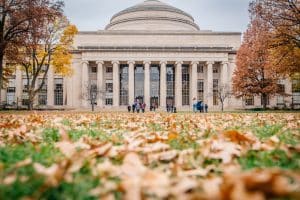 While MIT does not have a required list of courses that high school students need to take in high school to be able to apply to MIT, the admissions officers at the school absolutely look for certain kinds of courses on a student's high school curriculum.
Here are the kinds of courses that students how have the goal of getting into a top school should absolutely take during their high school education:
English: four years, with significant emphasis on writing and literature.
Mathematics: four years of any rigorous mathematics incorporating a solid grounding in fundamental skills (algebra, geometry, trigonometry). We also welcome preparation in skills related to statistics, data science and calculus.
History/Social Studies: three or more years, with courses that include the writing of essays.
Science: three or more years of laboratory science (including biology, chemistry and physics).
Foreign Language: three or more years of the same foreign language.
Another really important thing that students need to look out for when they are planning their high school curriculum each year is to enroll in advanced courses whenever possible. This is especially true when students have the goal of applying to and attending a school such as MIT. This usually refers to either Advanced Placement (AP) or International Baccalaureate (IB) courses.
These classes come with much more advanced subject matter, a more standardized syllabus, and higher expectations for the enrolled students across the board. There are a lot of reasons why high school students who want to get into top undergraduate programs should take as many of these advanced courses as possible. However, there is one reason why admissions officers look for these kinds of classes above all else.
That reason is basically because AP and IB courses are styled after undergraduate classes in terms of difficulty and the style in which the students are taught and examined. On top of that, students can actually take placement exams where, if they earn a high enough score, they can earn college credits! Admissions officers most care about these kinds of classes, however, because they can serve as a solid predictor for how a student will perform once they get to undergrad.
MIT admissions basics
Now that you know what is generally expected of high school students that apply to MIT, we wanted to quickly break down some of the most basic numbers that are related to MIT admissions. Those numbers are the average GPA that students who get into MIT earn in high school, the average SAT score that accepted students earn, the average ACT score that accepted students earn and the acceptance rate at the MIT undergraduate program itself.
Those are just some of the really incredible numbers related to the admissions at MIT. If you know anything about the admissions environment within the United States, you know that these are some of the highest average scores and GPAs amidst all schools in the country! After all, MIT is truly one of the most impressive schools in the country. If you are interested in seeing how the MIT acceptance rate compares to the hardest Ivy League to get into, take a look below at all of the acceptance rates at the eight Ivy League programs, below:
Harvard University – 5.2 percent
Yale University – 6.9 percent
Princeton University – 6.1 percent
Columbia University – 5.8 percent
University of Pennsylvania – 9.2 percent
Brown University – 8.3 percent
Dartmouth College – 12.5 percent
So as you can see, not only is MIT's current acceptance rate lower than all of those of the schools in the Ivy League, but it is quite a lot lower. That should give you a pretty good idea of just how hard the school is to get into even for students with exceptional grade point averages.
How to improve your chances of getting into MIT
These lofty scores and the incredibly low acceptance rate at MIT may make you feel as though there is no answer when it comes to the question, "How to get into MIT with average grades?"
The truth is that having average grades is not going to make getting into MIT any easier for any student. After all, a student's grade point average is the most important thing for any student's undergrad application.
However, there are ways to overcome a low GPA and still get into a school like MIT. If you are looking for ways to improve your chances of getting into MIT or any other incredibly selective school without a GPA that seems up to snuff, here are some of the steps that you are going to want to take.
Take responsibility for your low grade point average
When applying to a highly competitive school like MIT, you may feel the urge to try to simply overlook and ignore your below average grade point average with the hope that the school will look it over as well. However, that would be a major mistake to make!
One of the most important things that any high school student can do to overcome an average GPA and get into a top school like MIT is take responsibility for the things that went wrong during their years in high school.
This is especially true if you are the kind of student who suffered academically because of an unforeseen event that took place during your high school years. Some of the most common examples of this include family issues such as a divorce or loss of life, an illness that you dealt with, moving into a different city or state or moving schools, or anything similar.
In fact, a student who is able to do this effectively and own up to their own mistakes and discuss why they struggled academically for a period of their high school years, you could end up looking quite mature and impressive in the eyes of the admissions officers at MIT. After all, admissions officers are people too and they'll be impressed if you can offer a humble and mature explanation for your academic struggles.
One common unforeseen experience that had an impact on a lot of students' ability to perform well in the classroom has been the COVID-19 pandemic. With schools shutting down and remote schooling becoming the norm for millions of students across the country, many top students saw their grades fall.
If you are one such student, you should absolutely take the time in your application to discuss how COVID-19 had an impact on your academics and why you believe you will be able to overcome those challenges when you begin your undergraduate education.
Get impressive and convincing letters of recommendation
Another great way to overcome a less-than-ideal GPA and get into a top school like MIT is to really make the most out of the opportunity that the letters of recommendation section of your application present. Every student applying to MIT needs to send in two letters of recommendation from two different teachers at their high school.
If you are a student who is applying to MIT with an average GPA, you are going to need quite an endorsement from your teachers. In fact, you will likely want to meet with them prior to them writing your letter and go over what exactly you are hoping to achieve from these letters. Of course, this does not mean telling your teachers what to write, but instead it means offering them insight into the kind of narrative that you are looking to give the schools so that they can support and strengthen it.
You will certainly want to ask teachers who taught you in multiple courses, and you will also want to ask teachers who have seen you succeed and lead in the classroom. If you have dealt with a reason why your grades struggled, you will likely want to ask teachers who are aware of those circumstances to write your letters.
This will offer you the best possible chance to further improve your argument  to prove to the admissions office at MIT that despite your average high school grade point average, you are deserving of a spot at MIT.
One other thing to keep in mind is that high school students should make sure that they are asking for these letters in advance. Typically, it is recommended that students approach teachers about writing their letters of recommendation either at the end of their junior year of high school or at the very beginning of their senior year of high school. This will ensure that the student will get the letters that they need by the time that they plan on sending in their MIT application.
Crush your standardized test scores
Another fantastic way for students to prove that they have the academic skill to excel at a top school like MIT despite a somewhat forgettable grade point average is by earning a fantastic score on either the SAT or ACT.
In fact, there was once a time when students tended to believe that a high standardized test score was actually more important than a fantastic GPA. That is – absolutely – no longer the case. However, students can still help their case and improve their chances of overcoming a middling GPA with a truly stellar SAT or ACT score.
With that in mind, it is important for students to remember that even the very best SAT or ACT scores are pretty much average at MIT. For a refresher:
The average SAT score for students accepted to MIT is 1535
The average ACT score for students accepted to MIT is 35
Just in case you do not know, a perfect SAT score is a 1600 and a perfect ACT score is a 36. So it is going to be rather difficult to really do anything that impressive in the eyes of the MIT admissions committee.
Still, if you are looking to overcome an average GPA, a truly incredible – if not perfect – standardized test score should be considered a basic necessity for MIT applicants.
In fact, a great SAT or ACT score can be even more impactful right now as MIT has suspended standardized test requirements due to the COVID-19 pandemic. That means that many students who do not love their scores will likely not send in scores at all. That means a great score on your part has a better chance of standing out in the best way possible!
However, the fact that the majority of schools have adopted some kind of test optional policy, but approximately 2 million students still took either the SAT or ACT last year is a pretty good indication that a lot of students are still taking one of these exams despite their current optional status at so many schools.
Write stellar personal essays
The final way in which you can overcome your average GPA to get into MIT is to write truly remarkable personal essays. These days, a lot of importance is placed on the personal essay section of the application. The reason for this is because these personal essays and statements are seen as the best way for a school's admission committee to get an idea of who an applying student actually is as a person.
After all, a school is not accepting anyone for their stats or grades, really. They're accepting them because they believe that that student will be a productive and positive member of the school's community while they are enrolled and long after they graduate.
So, to give yourself a chance to overcome your average GPA and get into MIT, make sure to give yourself the time and make the necessary effort to write essay responses that are truly special and will really set you apart from the rest of the students that apply.
We can help you improve your chances of getting into MIT
No one is ever going to tell you that getting into MIT is going to be easy. That is especially true if you are applying to MIT with an average high school grade point average. However, just because it is hard does not mean that it is impossible. AdmissionSight can absolutely help you improve your chance of overcoming your average GPA and the school's ultra-low acceptance rate and get in.
Contact us today to set up a free consultation so we break down what we will do for you to improve your chances of getting into this fantastic institution.