How to Get Into Occidental: A Step-by-Step Guide
Occidental College is a prestigious liberal arts college located in Los Angeles, California. Known for its strong academic programs and vibrant campus community, Occidental offers a unique and enriching college experience. If you're interested in attending Occidental, this step-by-step guide will provide helpful information on how to get into Occidental College. Let's dive in!
Understanding Occidental College
History of Occidental College
Occidental College, located in Los Angeles, California, is a prestigious institution of higher education that has been shaping young minds since its establishment in 1887. With a rich history and a commitment to academic excellence, Occidental College has become a renowned learning and intellectual growth center.
The history of Occidental College is steeped in tradition and a dedication to providing a rigorous education. Founded by Presbyterian clergy and laymen, the college was initially established as the Occidental Boarding School in Boyle Heights.
Over the years, it evolved into a college, moving to its current location in Eagle Rock in 1914. Since then, Occidental College has continued to expand and thrive, becoming a respected institution known for its commitment to academic excellence and intellectual curiosity.
Throughout its history, Occidental College has played a significant role in shaping the intellectual landscape of Southern California. It has produced numerous distinguished alumni who have made significant contributions in various fields, including politics, entertainment, and academia. The college's commitment to fostering critical thinking and intellectual curiosity has driven its success and reputation.
What Makes Occidental Unique?
Occidental College stands out among other institutions of higher education for several reasons. One of the key factors that sets Occidental apart is its unwavering commitment to fostering a diverse and inclusive community. The college believes in the power of education to promote social justice and encourages its students to engage with complex global issues. By providing a supportive and inclusive environment, Occidental College prepares its students to become well-rounded individuals ready to positively impact the world.
Another aspect that makes Occidental unique is its emphasis on small class sizes. Unlike larger universities where students can feel lost in a sea of faces, Occidental offers a more intimate learning environment. With an average class size of 18 students, students can engage in meaningful discussions with their professors and classmates. This personalized approach to education fosters a sense of community and allows for deeper connections and a more enriching learning experience.
Overview of Courses and Majors at Occidental
Occidental College offers various courses and majors across various disciplines, ensuring that students have ample opportunities to explore their interests and develop a well-rounded education. Whether you are passionate about literature, environmental studies, or neuroscience, Occidental has programs that will meet your academic goals.
Occidental College offers literature, history, philosophy, and language courses within the humanities. Students can delve into the works of significant literary figures, analyze historical events, and explore the complexities of human thought. In the sciences, the college provides rigorous programs in biology, chemistry, physics, and environmental studies. Students have access to state-of-the-art laboratories and research opportunities that allow them to gain hands-on experience and contribute to scientific advancements.
Occidental College also offers interdisciplinary programs that bridge different fields of study. For example, the Urban and Environmental Policy (UEP) program combines elements of sociology, political science, and environmental studies to address complex urban issues and promote sustainable development. These interdisciplinary programs give students a unique perspective and the skills to tackle real-world challenges.
Overall, Occidental College offers a comprehensive and diverse curriculum that prepares students for various careers and further academic pursuits. With its rich history, commitment to inclusivity, and wide range of courses and majors, Occidental College continues to be a leading institution of higher education that nurtures the minds of tomorrow's leaders.
Preparing for Occidental Admission
When preparing for admission to Occidental, you must challenge yourself academically. Take rigorous courses in various subjects, including English, math, science, social sciences, and foreign languages. Occidental looks for students who are committed to learning and intellectual curiosity.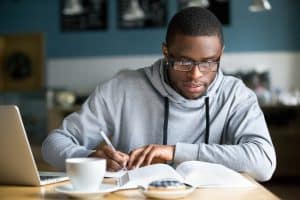 One way to challenge yourself academically is taking advanced placement (AP) courses in high school. These courses are designed to provide college-level material and can help you develop the skills and knowledge necessary for success at Occidental. By taking AP courses, you can demonstrate to the admissions committee that you are ready for the rigors of college coursework.
In addition to taking challenging courses, it's also important to excel in them. Strive for high grades and actively participate in class discussions and assignments. This will showcase your academic abilities and demonstrate your dedication to your education.
Extracurricular Activities and Leadership Roles
Occidental values students actively engaged in their communities and demonstrating leadership potential. Participate in extracurricular activities that align with your interests and passions. Whether it's joining a student organization, participating in community service projects, or taking on leadership roles in your school, these experiences can strengthen your college application.
One way to demonstrate your leadership potential is by taking on a leadership role in a club or organization. This could involve being a student club's president or vice president, organizing events, or leading a team. By taking on such roles, you can showcase your ability to take initiative, work well with others, and positively impact your community.
Furthermore, participating in community service projects can also highlight your commitment to making a difference. Consider volunteering at local nonprofits, participating in service trips, or organizing fundraisers for charitable causes. These experiences demonstrate your compassion and empathy and provide opportunities for personal growth and development.
Importance of Community Service
Community service is an integral part of the Occidental College experience. The college values students who actively contribute to their communities and strive to make a positive difference. Volunteering benefits those you assist and helps you develop valuable skills and a sense of empathy.
When engaging in community service, it's important to choose opportunities that align with your interests and values. This will allow you to make a more meaningful impact and truly connect with the people you serve. Whether tutoring underprivileged students, working at a local food bank, or participating in environmental conservation efforts, find a cause that resonates with you and commit yourself to it.
Additionally, community service can also provide you with valuable experiences and skills that can benefit you in your future academic and professional pursuits. It can help you develop leadership skills, improve your communication and teamwork abilities, and provide you with a broader perspective on the world.
The Application Process
Applying to college can be an exciting and nerve-wracking time in a student's life. It's a chance to showcase your achievements, goals, and potential to the institutions you're interested in. At Occidental College, they use the Common Application, an online platform that streamlines the application process and allows you to apply to multiple colleges and universities with ease.
Before diving into the application, it's essential to familiarize yourself with the requirements. Take the time to carefully read through the submission deadlines, required documents, and essay prompts. Each college may have specific requirements, so ensure you know what Occidental College is looking for.
Understanding the Common Application
The Common Application is a user-friendly platform that simplifies the college application process. It allows you to create one application and submit it to multiple colleges. This means you don't have to spend hours filling out individual applications for each college you're interested in. The Common Application saves you time and energy, giving you more opportunities to focus on other aspects of your college journey.
When using the Common Application, paying attention to the details is crucial. Make sure you complete each section of the application thoroughly and accurately. Double-check your personal information, academic history, and extracurricular activities. Review your responses and ensure they accurately represent who you are as a student and individual.
Crafting Your Personal Statement
The personal statement is one of the most critical components of your college application. This is your chance to tell your story, share your passions, and highlight what makes you unique. Take the time to reflect on your experiences, goals, and values. Use this space to showcase your personality and demonstrate how you can contribute to the Occidental College community.
When crafting your personal statement, authenticity is key. Be genuine and true to yourself. Admissions officers read countless essays, so standing out from the crowd is crucial. Consider seeking feedback from teachers, counselors, or mentors who know you well. Their insights can help you refine your essay and make it even more compelling.
Letters of Recommendation: Who to Ask and How
Letters of recommendation provide valuable insights into your character, accomplishments, and potential. Choosing individuals who know you well and can speak to your abilities is important. This might include teachers, academic advisors, or mentors who have worked closely with you.
When asking for letters of recommendation, it's essential to plan ahead. Give your potential recommenders ample time to write a thoughtful and detailed letter. Approach them early in the process and provide them with any necessary materials, such as a resume or personal statement, that can help them craft a strong recommendation.
Remember, the individuals writing your letters of recommendation are doing so out of their own goodwill. Be grateful and respectful of their time and effort. A sincere thank you note goes a long way in expressing your appreciation for their support.
As you embark on the college application process, remember to stay organized, manage your time effectively, and seek support when needed. Applying to college is a significant step toward your future, and Occidental College is excited to learn more about you through your application.
Standardized Tests and Occidental
Standardized tests play a significant role in the college admissions process, and Occidental College recognizes their importance. However, Occidental has implemented a test-optional admissions policy, allowing applicants to decide whether to submit their SAT or ACT scores.
Occidental College understands that standardized test scores may not always accurately reflect a student's abilities and potential. Therefore, if you believe your scores do not accurately represent your academic strengths, you can withhold them from your application. Instead, highlight other aspects of your application that demonstrate your academic abilities and potential.
Occidental College's test-optional policy means that you have the freedom to choose whether or not to submit your SAT or ACT scores. If you have performed well on these exams and believe that your scores will enhance your application, you are encouraged to submit them. However, if you feel that your scores do not reflect your true academic capabilities, you can choose not to include them.
This test-optional policy is designed to provide students with a fair and holistic evaluation process, allowing them to showcase their unique talents and strengths beyond standardized test scores.
How to Prepare for These Tests
If you decide to submit your SAT or ACT scores, it is crucial to adequately prepare for these exams. Familiarize yourself with the test format, including the different sections and question types. This knowledge will help you navigate the exam confidently.
Reviewing the content areas covered in the SAT or ACT is also essential. Take advantage of official study materials provided by the College Board or ACT, Inc. Additionally, reputable resources such as test prep books, online practice tests, and tutoring services can further enhance your preparation.
Consider taking practice tests to gauge your current skill level and identify areas for improvement. Practice tests can also help you develop effective test-taking strategies, such as time management and question prioritization.
Importance of AP/IB Scores
While not required, strong Advanced Placement (AP) or International Baccalaureate (IB) exam scores can significantly strengthen your application to Occidental College. These scores demonstrate your ability to excel in rigorous college-level coursework and may even earn you college credit.
If you have taken AP or IB courses, it is crucial to adequately prepare for these exams. Review your course materials thoroughly, ensuring that you have a solid understanding of the content and concepts. Consider seeking additional support from your teachers or online resources if needed.
Scoring well on AP or IB exams showcases your academic abilities and demonstrates your commitment to intellectual growth and the pursuit of knowledge. These scores can provide valuable evidence of your readiness for college-level coursework at Occidental College.
Financial Aid and Scholarships
Understanding Occidental's Financial Aid System
Occidental College is committed to making education accessible to all students, regardless of their financial circumstances. The college offers need-based financial aid packages that may include grants, scholarships, work-study opportunities, and loans. This comprehensive financial aid system ensures that every student can pursue their academic goals without the burden of excessive financial stress.
When it comes to financial aid, Occidental College takes a personalized approach. The college understands that each student's financial situation is unique; therefore, they try to tailor financial aid packages to meet individual needs. By carefully reviewing each student's financial information, Occidental's financial aid office is able to determine the most appropriate combination of grants, scholarships, work-study, and loans to help students afford their education.
Occidental's financial aid packages are primarily need-based, meaning they are awarded based on a student's demonstrated financial need. This ensures that aid is distributed to those who require it the most. However, the college also recognizes and rewards exceptional academic achievement and talent through merit-based scholarships. These highly competitive scholarships are awarded to students who have demonstrated exceptional academic performance, leadership skills, or artistic talent.
Scholarships Available for Occidental Students
Occidental College offers a wide range of scholarships to support students in their academic pursuits. These scholarships may be based on merit, talent, or specific areas of study. By providing financial assistance through scholarships, Occidental aims to recognize and reward students who have demonstrated exceptional abilities and achievements in their chosen fields.
One of the scholarships available at Occidental is the President's Scholarship, which is the highest honor awarded to incoming first-year students. This prestigious scholarship recognizes academic excellence, leadership potential, and a commitment to positively impacting the Occidental community. The President's Scholarship recipients receive a substantial financial award and additional support and resources throughout their time at Occidental.
In addition to the President's Scholarship, Occidental offers scholarships for students pursuing specific areas of study, such as the Science Scholars Program for students interested in STEM fields, the Arts Scholars Program for students with a passion for the arts, and the Global Scholars Program for students interested in global issues and international relations. These specialized scholarships provide financial support and unique academic and personal growth opportunities.
How to Apply for Financial Aid and Scholarships
When applying for financial aid and scholarships at Occidental College, it is important to be aware of the application process, requirements, and deadlines. The first step is to complete the Free Application for Federal Student Aid (FAFSA), which is used to determine a student's eligibility for federal financial aid programs. The FAFSA takes into account various factors such as income, assets, and family size to calculate an Expected Family Contribution (EFC), which is used to determine the amount of financial aid a student may receive.
In addition to the FAFSA, Occidental College also requires students to complete the College Scholarship Service (CSS) Profile. The CSS Profile provides a more detailed and comprehensive view of a student's financial situation and is used by the college to assess eligibility for institutional aid, including scholarships and grants. It is important to note that the CSS Profile may have its own set of deadlines, so it is crucial to apply in a timely manner.
Occidental College's financial aid office is available to assist students throughout the application process. If you have any questions or need guidance, don't hesitate to reach out to the knowledgeable and supportive staff at the financial aid office. They can provide valuable information, help you navigate the financial aid application process, and ensure that you have the best chance of receiving the financial assistance you need to make your Occidental education a reality.
Tips for a Successful Interview
Common Interview Questions
Occidental College offers interview opportunities for interested students. Prepare for your interview by familiarizing yourself with common interview questions. Reflect on your experiences, goals, and how Occidental aligns with your aspirations. Practice articulating your thoughts and ideas coherently to make a positive impression.
Dress professionally and arrive on time for your interview. Be sure to make eye contact, demonstrate active listening, and engage in thoughtful conversation. Convey your enthusiasm for Occidental, and remember to ask intelligent questions about the college and its community.
Send your interviewer a thank-you note or email as a gesture of appreciation. Use this opportunity to reiterate your interest in Occidental and highlight any points that you may not have touched upon during the interview. A well-crafted follow-up message can leave a positive and lasting impression.
What to Do After Acceptance
Understanding Your Acceptance Package
Congratulations on your acceptance to Occidental College! Take the time to carefully review your acceptance package, which will contain important information such as enrollment deadlines, financial aid award details, and next steps. Make a note of any required forms or actions you need to take to secure your spot at Occidental.
Preparing for Your First Semester at Occidental
As you prepare for your first semester at Occidental, reach out to the college's orientation staff for information about orientation programs and resources available to new students. Familiarize yourself with class registration procedures, academic advising options, and campus amenities. Use this time to connect with fellow incoming students and learn more about what to expect during your time at Occidental.
Tips for a Smooth Transition to College Life
Transitioning to college life can be both exciting and challenging. Take advantage of Occidental's resources and support systems, including academic support services, student organizations, and counseling services. Embrace new opportunities, engage in college activities, and remember to care for your physical and mental well-being as you navigate this new chapter.
By following this step-by-step guide, you'll be well on your way to understanding how to get into Occidental College. Remember to start early, stay organized, and be authentic throughout the application process. Good luck!
Interested in further understanding the roadmap to Occidental College? With more than a decade of experience, AdmissionSight has been a reliable guide for students amid the competitive admissions landscape.
Turn to AdmissionSight this fall to enhance your college application. Contact us today to explore more about our service offerings.