How to Get Into the University of Florida: A Step-by-Step Guide
Are you dreaming of attending the prestigious University of Florida? Getting accepted into your dream university can seem daunting, but with the right guidance and preparation, you can increase your chances of admission. In this comprehensive guide, we will take you through the step-by-step process of how to get into the University of Florida, covering everything from understanding the admission requirements to navigating the application process. So, let's dive in and discover the path to making your dream of studying at the University of Florida a reality!
The University of Florida: An Overview
Founded in 1853, the University of Florida is a public research university located in Gainesville, Florida. It is one of the oldest universities in the state and boasts a rich history and tradition.
UF offers over 100 undergraduate majors and numerous graduate programs across a wide variety of disciplines. It is classified among "R1: Doctoral Universities – Very high research activity" and is known for its strong programs in areas such as engineering, business, agriculture, and the life sciences.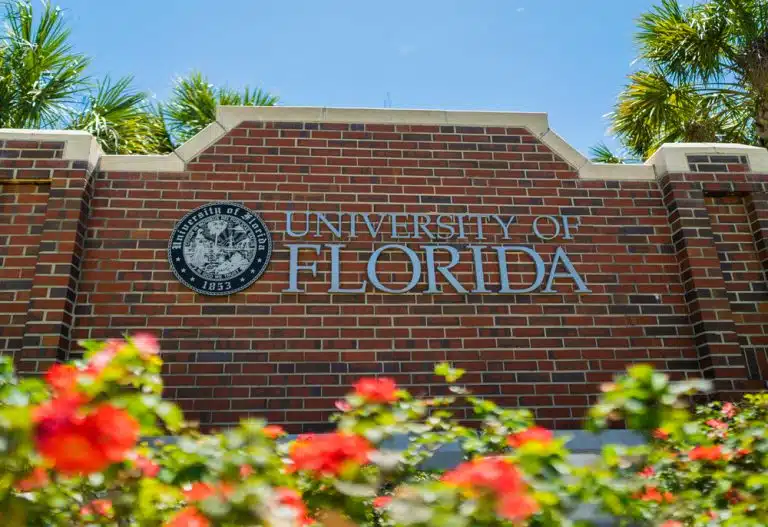 Spanning over 2,000 acres, the UF campus is home to a diverse student body of over 60,000 students. The campus features modern facilities, historical architecture, research centers, and the Florida Museum of Natural History.
The Florida Gators, UF's athletic teams, are celebrated and play a significant role in the school's culture. Competing in the NCAA's Division I and a Southeastern Conference (SEC) member, they have won numerous national championships across various sports.
The University of Florida has produced numerous successful sports, entertainment, politics, and business alumni. Some have gone on to win Olympic medals and even serve in high governmental offices.UF researchers have made significant contributions in various fields, including agriculture, healthcare, and technology. The university consistently emphasizes the importance of innovation, research, and community engagement.
With over 1,000 student organizations, the University of Florida provides a plethora of opportunities for involvement and personal growth. Whether you're interested in joining academic clubs, pursuing sports, or participating in cultural organizations, there's something for everyone. Engage in campus events, make new friends, and embrace a well-rounded college experience.
Imagine joining the university's renowned debate club, where you'll engage in intellectual discussions and sharpen your communication skills. Or perhaps you'll find yourself on the soccer field, representing the university in thrilling matches against rival teams. With so many options, you'll have the chance to explore your passions and discover new ones.
Additionally, the university hosts regular workshops and seminars on a wide range of topics, allowing you to expand your knowledge beyond the classroom. From guest lectures by industry experts to interactive sessions on personal development, these events provide valuable insights and networking opportunities.
In essence, the University of Florida is recognized for its academic excellence, vibrant student life, athletic prowess, and contributions to research and innovation.
Understanding the University of Florida Admission Process
The University of Florida has a competitive admission process, and meeting the minimum requirements is crucial. With an acceptance rate of 30%, applicants are typically expected to have completed a challenging high school curriculum and a strong academic record. The university considers factors such as the rigor of your courses, your class rank, and the grades you have achieved. It's important to note that while meeting the minimum requirements is a good starting point, it's not a guarantee of admission.
In addition to academic qualifications, the university also considers standardized test scores, extracurricular involvement, and other factors. This holistic approach allows the admissions committee to assess applicants from various angles and determine their potential for success at the University of Florida.
Importance of GPA and Test Scores
Your GPA and standardized test scores significantly influence the University of Florida admission process. The average GPA at the UF is 4.4-4.6, and the combined C grade point average in the core academic courses, calculated by the university, from all schools attended (both high school and college). Maintaining a high GPA throughout high school demonstrates your academic capabilities to the admissions committee. It shows that you have consistently performed well and can handle the rigorous coursework at the university.
Similarly, performing well on standardized tests, such as the SAT or ACT, is vital. These scores provide a standardized measure of your academic abilities and serve as a benchmark for comparing applicants. Students admitted to the University of Florida typically have an SAT score ranging from 1350 to 1490 or an ACT score between 30-34. While meeting the minimum requirements is important, striving for a GPA and test scores above the averages of admitted students will significantly boost your chances of acceptance.
It's worth noting that the University of Florida also considers the strength of your high school curriculum when evaluating your application. Taking advanced courses, such as Advanced Placement (AP) or International Baccalaureate (IB) classes, can demonstrate your willingness to challenge yourself academically and give you an edge in the admission process.
Role of Extracurricular Activities and Letters of Recommendation
Beyond academics, the University of Florida values students actively engaging in extracurricular activities. Don't overlook the importance of showcasing your involvement in sports, clubs, community service, or leadership roles in your application. These activities demonstrate your ability to manage your time effectively, work collaboratively with others, and contribute to the community. They also provide insight into your interests, passions, and personal growth.
Furthermore, securing strong letters of recommendation from teachers, mentors, or supervisors who can vouch for your skills and character will bolster your application. These letters provide a third-party perspective on your abilities and can highlight qualities that may not be evident from your academic record alone.
In conclusion, the University of Florida's admission process is highly competitive, and it's crucial to understand the criteria and requirements to maximize your chances of acceptance. By excelling academically, participating in extracurricular activities, and securing strong letters of recommendation, you can present a well-rounded application that showcases your strengths and potential as a future student at the University of Florida.
Preparing Your Application for the University of Florida
Now that you have a solid understanding of the University of Florida admission process, it's time to prepare your application materials. Take the following steps to ensure your application stands out from the rest.
Applying to the University of Florida is an exciting opportunity to pursue your higher education goals. As you embark on this journey, paying attention to the details and presenting yourself in the best possible light is essential. Here are some additional tips to help you prepare your application:
Crafting a Compelling Personal Statement
Your personal statement is an opportunity to showcase your personality, motivations, and aspirations. Take the time to brainstorm experiences that have shaped you and topics that genuinely reflect who you are. Craft a well-structured essay that captivates the reader and highlights how you align with the values of the University of Florida.
When writing your personal statement, consider including specific examples that illustrate your growth and development. Share stories demonstrating your resilience, problem-solving skills, and ability to overcome challenges. By providing concrete examples, you can paint a vivid picture of who you are as an individual and why you would be a valuable addition to the University of Florida community.
Choosing the Right References for Your Application
Letters of recommendation can provide valuable insights into your character and potential as a student. Choose individuals who know you well and can speak to your academic abilities, personal qualities, and potential for success at the University of Florida. Be sure to ask for recommendations well in advance to allow your references ample time to write meaningful letters.
When selecting your references, consider contacting teachers, mentors, or supervisors who have seen your growth and potential firsthand. They can provide unique perspectives on your abilities and qualities that make you a strong candidate for admission. Additionally, consider asking for recommendations from individuals who can speak to your involvement in extracurricular activities, community service, or leadership roles. These references can provide a holistic view of your capabilities and showcase your well-roundedness.
Tips for Highlighting Your Academic Achievements
While your GPA and test scores are impressive indicators of academic success, your application may benefit from showcasing additional achievements. Consider including any honors, awards, research projects, or advanced classes you have completed. Use this opportunity to demonstrate your intellectual curiosity and commitment to academic excellence.
When highlighting your academic achievements, it's important to provide context and explain the significance of each accomplishment. Share how these experiences have shaped your academic journey and contributed to your personal growth. Admissions officers are interested in understanding what you have achieved and how these achievements have influenced your goals and aspirations.
Furthermore, consider discussing any unique academic experiences or challenges you have faced. For example, if you have participated in a specialized academic program or pursued independent research, share these experiences' impact on your intellectual development. By showcasing your passion for learning and your willingness to go above and beyond, you can demonstrate your readiness for the academic rigor of the University of Florida.
Navigating the University of Florida Application Process
With your application materials prepared, it's time to navigate the University of Florida's application process. By following these steps, you'll ensure your application is complete and submitted on time.
Understanding the Application Timeline
It's important to know the University of Florida's application deadlines. Mark key dates, including the submission deadline, to stay on track. Consider submitting your application well to avoid technical difficulties or last-minute stress.
When it comes to the application timeline, it's not just about knowing the deadlines but also understanding the different stages of the process. The University of Florida typically opens its application period several months before the deadline, giving prospective students ample time to gather all the necessary documents and complete the application form. It's recommended to start early and plan your application strategy accordingly.
Completing the Application Form: A Step-by-Step Guide
The University of Florida uses an online application system via Common App. Carefully read and follow the instructions provided during the application process. Provide accurate and comprehensive information, ensuring that your contact details, academic records, and personal statements are error-free.
When completing the application form, take your time and pay attention to detail. Each section of the form serves a specific purpose and provides the admissions committee with valuable information about you as an applicant. It's essential to showcase your achievements, experiences, and motivations effectively. Remember, the application form is your opportunity to make a strong impression and stand out.
In addition to the basic information and academic records, the University of Florida may require applicants to submit additional documents, such as recommendation letters, test scores, or a portfolio. Gather these supplementary materials well in advance and submit them according to the university's guidelines. Missing or incomplete supporting documents can negatively impact your application.
What to Do After Submitting Your Application
After submitting your application, following up and staying informed is crucial. Monitor your application status through the university's online portal and ensure all supporting documents are received. Keep an eye out for any additional information or interview requests.
While waiting for a decision, it's natural to feel a mix of excitement and nervousness. Remember that the admissions process takes time, and patience is important. In the meantime, you can use this waiting period to explore more about the University of Florida, its academic programs, campus life, and student resources. This will help you better understand the university and showcase your genuine interest and enthusiasm if you are invited for an interview or asked to provide additional information.
Lastly, pat yourself on the back for completing this significant step! Applying to college can be a challenging and time-consuming process, but by taking the necessary steps and submitting a strong application, you have already demonstrated your commitment and dedication to your academic journey. Now, all that's left to do is wait for the admissions committee to review your application and make their decision.
Financial Considerations for Prospective Students
As you plan for your future at the University of Florida, it's essential to consider the financial aspects. Here's what you need to know:
Overview of Tuition and Living Expenses
The tuition and living expenses cost can vary, depending on residency status and chosen program. Familiarize yourself with the university's website to understand the financial commitments involved. Additionally, explore potential scholarships, grants, or work-study opportunities that can help alleviate the financial burden.
When it comes to tuition, the University of Florida offers a range of rates depending on whether you are an in-state or out-of-state student. In-state students benefit from a significantly lower tuition fee compared to out-of-state students. It's important to carefully consider your residency status and explore the requirements for establishing residency if you consider attending the University of Florida as an out-of-state student.
Living expenses also play a crucial role in your financial planning. While tuition covers your academic expenses, you must account for housing, meals, transportation, books, and other personal expenses. The university provides resources to help you estimate these costs, allowing you to create a realistic budget for your college years.
Scholarships and Financial Aid Opportunities at the University of Florida
The University of Florida offers eligible students various scholarships and financial aid options. Research and apply for scholarships aligned with your field of study or specific achievements. By exploring these opportunities, you may find financial assistance to significantly reduce your educational expenses.
One scholarship program offered by the University of Florida is the Florida Bright Futures Scholarship. This program provides financial aid to Florida high school graduates who meet specific academic requirements. It's worth investigating if you are a Florida resident and meet the eligibility criteria.
Aside from scholarships, the university provides financial aid through grants and work-study programs. Grants are typically need-based and do not require repayment, making them an excellent option for students with financial constraints. On the other hand, work-study programs allow you to work part-time on campus to earn money for your educational expenses.
Completing the Free Application for Federal Student Aid (FAFSA) is crucial to determining your eligibility for scholarships and financial aid programs. This application assesses your financial need and helps the university determine the financial aid package you may qualify for. Submitting the FAFSA as early as possible is important to maximize your chances of receiving financial assistance.
In conclusion, as you embark on your journey at the University of Florida, it's essential to carefully consider the financial aspects. Take the time to research and explore the various scholarships, grants, and work-study opportunities available to you. By doing so, you can make informed decisions and alleviate the financial burden associated with pursuing higher education.
Conclusion: Making Your Dream of Studying at the University of Florida a Reality
By following this step-by-step guide, you'll be well-equipped to navigate the University of Florida admission process. Remember to start early, stay organized, and put your best foot forward in your application. Showcase your unique qualities and contributions, and don't hesitate to reach out to the university's admission office for guidance or clarification. With dedication and preparation, you can increase your chances of getting into your dream university and setting the foundation for a successful academic journey at the University of Florida. Good luck!
Interested in further understanding the roadmap to the University of Florida? With more than a decade of experience, AdmissionSight has been a reliable guide for students amid the competitive admissions landscape.
Turn to AdmissionSight this fall to enhance your college application. Contact us today to explore more about our service offerings.