How to Get Into Tulane University: A Step-by-Step Guide
Tulane University is a prestigious institution located in New Orleans, Louisiana. Known for its academic excellence, vibrant campus life, and commitment to community engagement, Tulane offers students a unique and enriching experience. Whether you're a high school student preparing for college or a transfer student considering a new academic path, this step-by-step guide will provide valuable insights and tips to help you get into Tulane University successfully.
Understanding Tulane University
Overview of Tulane University
Established in 1834, Tulane University is a private research university with a rich history, robust academic rigor, and cutting-edge research reputation. With undergraduate programs in the School of Liberal Arts, the School of Science and Engineering, the School of Architecture, and the A.B. Freeman School of Business, Tulane offers a diverse range of academic disciplines to explore.
At Tulane University, students receive a world-class education and access to a vibrant campus community. The university prides itself on fostering a supportive and inclusive environment where students can thrive academically, socially, and personally. With state-of-the-art facilities, dedicated faculty, and a commitment to experiential learning, Tulane provides students the tools they need to succeed in their chosen fields.
Furthermore, Tulane University has a strong emphasis on research and innovation. The university has numerous research centers and institutes where students and faculty collaborate to address pressing global challenges. From studying climate change and public health to exploring the latest advancements in technology and entrepreneurship, Tulane is at the forefront of groundbreaking research.
The Importance of Tulane's Location: New Orleans
One of the unique aspects of Tulane University is its location in the vibrant and culturally rich city of New Orleans. The city's distinctive blend of history, food, music, and festivals provides an unparalleled backdrop for learning and personal growth. Tulane students can immerse themselves in the unique atmosphere of New Orleans, exploring its neighborhoods, engaging with its diverse communities, and experiencing its rich cultural heritage.
Moreover, Tulane's strong ties with the local community create numerous opportunities for students to engage in service, internships, and research that address the city's most pressing challenges. Whether working with local non-profit organizations, participating in community development projects, or researching urban resilience, Tulane students actively contribute to improving New Orleans.
Additionally, New Orleans offers various extracurricular activities for Tulane students to enjoy. From attending jazz festivals and Mardi Gras parades to exploring the city's renowned culinary scene, there is always something exciting happening in New Orleans. The city's vibrant arts and music scene provides constant inspiration and creativity for students pursuing their passions outside the classroom.
Overall, Tulane University provides a top-notch education and offers a unique and enriching experience through its location in New Orleans. The combination of academic excellence, research opportunities, and the vibrant city atmosphere make Tulane a truly exceptional institution for higher education.
The Admission Process at Tulane University
Tulane University, located in New Orleans, Louisiana, is known for its rigorous academic programs and vibrant campus life. The admission process at Tulane is highly competitive, with thousands of applications received each year. To increase your chances of being admitted, it's important to familiarize yourself with the admission requirements and deadlines.
Admission Requirements
When applying to Tulane University, it's important to familiarize yourself with the admission requirements. To be considered for admission, prospective students must submit their high school transcripts, standardized test scores (such as the SAT or ACT), letters of recommendation, and a well-crafted personal statement highlighting their academic achievements, extracurricular involvement, and personal aspirations.
Tulane University takes a holistic approach to admissions, considering academic achievements, personal qualities, and potential for success. While there are no specific course requirements, Tulane values a strong college preparatory curriculum. The university seeks students who have challenged themselves academically and are committed to learning.
Additionally, Tulane encourages applicants to showcase their unique talents and experiences. Whether through involvement in community service, leadership roles in clubs and organizations, or participation in sports or the arts, Tulane values students who have positively impacted their communities.
Application Deadlines
Being aware of Tulane's application deadlines is crucial to ensure a smooth application process. The regular decision deadline is typically mid-January, with early decision and early action options available for those who wish to demonstrate their commitment to Tulane.
Early decision applications are binding, meaning that if accepted, you are obligated to enroll at Tulane. This option is ideal for students who have identified Tulane as their top choice and are ready to commit to attending if accepted. By applying early decision, students can show their dedication and enthusiasm for becoming part of the Tulane community.
On the other hand, early action applicants receive an early notification of their admission decision, but they are not bound to attend if accepted. This option allows students to receive an early indication of their admission status while still having the flexibility to explore other options before making a final decision.
Early Decision vs. Regular Decision
Deciding between early decision and regular decision requires careful consideration. Early decision can provide a competitive advantage in the admission process, as it demonstrates a high level of interest in Tulane. By committing to Tulane as your top choice, you show the admissions committee that you are dedicated to becoming a part of the Tulane community.
On the other hand, a regular decision offers more flexibility and allows students to explore other options before making a final decision. This option is ideal for students who want to keep their options open and compare financial aid packages from different universities.
Regardless of your decision plan, it's important to submit a strong and well-prepared application. Take the time to carefully craft your personal statement, highlighting your academic achievements, extracurricular involvement, and personal aspirations. Submitting strong letters of recommendation and ensuring that your high school transcripts accurately reflect your academic abilities will also greatly enhance your chances of being admitted to Tulane University.
Remember, the admission process at Tulane University is highly competitive, but with careful preparation and a strong application, you can increase your chances of being admitted to this prestigious institution.
Preparing Your Application
Preparing your application for Tulane University involves several important steps. In addition to completing the necessary forms and gathering your transcripts, you will need to focus on crafting a winning personal statement, requesting letters of recommendation, and preparing for standardized tests. Each of these components plays a crucial role in presenting a comprehensive and compelling application.
How to Write a Winning Personal Statement
Your personal statement is an opportunity to showcase your unique qualities and aspirations. It serves as a window into your academic achievements, extracurricular involvement, leadership experiences, and personal growth. When writing your essay, it is important to carefully consider the content and structure to ensure that it effectively conveys your motivations, goals, and how Tulane University fits into your educational journey.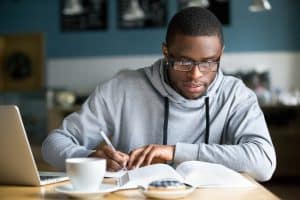 Start by brainstorming ideas and reflecting on your experiences. Consider the moments that have shaped you, the challenges you have overcome, and the passions that drive you. Remember to be authentic and genuine in your voice as you begin to write. Admissions officers are looking for a personal statement that offers insight into who you are as an individual.
Take the time to revise and edit your personal statement, ensuring that it accurately represents your voice and showcases your writing skills. Seek feedback from trusted mentors, teachers, or family members who can provide valuable insights and suggestions for improvement. Remember, this is your chance to make a lasting impression, so make sure your personal statement truly reflects your unique story.
Tips for Requesting Letters of Recommendation
Letters of recommendation play a crucial role in the admission process. They provide valuable insights into your academic abilities, personal character, and potential for success at Tulane University. When selecting recommenders, it is important to choose individuals who know you well and can speak to your strengths and accomplishments.
Consider reaching out to teachers, mentors, or coaches who have significantly impacted your academic or personal development. These individuals can provide specific examples and anecdotes highlighting your abilities and potential. Before approaching your recommenders, providing them with relevant information, such as your resume or a brief overview of your interests and goals, can be helpful. This will give them a better understanding of your background and help them craft a more personalized recommendation.
Remember to give your recommenders plenty of time to write your letters. It is courteous to ask at least a month in advance and provide them with any necessary forms or instructions. Express gratitude for their support and update them on your application progress. A well-written and enthusiastic letter of recommendation can greatly enhance your application and provide valuable insights to the admissions committee.
Preparing for Standardized Tests
Standardized test scores are an essential component of the application process. While Tulane University operates under a test-optional policy, meaning that you can choose not to submit test scores, strong scores can still strengthen your application. It is important to carefully consider whether or not to include them.
Tulane University has a competitive acceptance rate of 10%. The SAT scores of admitted students typically range from 1360 to 1510, while their ACT scores fall between 30 and 33.
If you decide to submit test scores, preparing for the SAT or ACT is crucial. Familiarize yourself with the test format, question types, and time constraints. Taking practice tests can help you identify areas of strength and areas that may require additional review. Numerous resources, such as study guides, online tutorials, and test prep courses, can provide additional support.
Remember that standardized tests are just one piece of the puzzle. Admissions officers at Tulane University take a holistic approach to evaluating applications, considering factors such as your academic achievements, extracurricular involvement, and personal qualities. While strong test scores can certainly bolster your application, they are not the sole determining factor in the admissions decision.
Ultimately, the key to preparing for standardized tests is to find a balance that works for you. Consider your strengths, weaknesses, and personal circumstances when deciding whether or not to include test scores in your application. Trust your instincts and choose what best aligns with your overall application strategy.
Understanding Tulane's Academic Programs
Overview of Majors and Minors
Tulane University offers a wide range of majors and minors across various disciplines. Whether you're interested in the humanities, sciences, fine arts, or business, there is likely a program that aligns with your passions and career goals. Take the time to explore the curriculum offerings, faculty expertise, and research opportunities within your desired field of study to ensure a good fit.
When it comes to majors, Tulane University has an extensive list to choose from. If you have a passion for literature, you can pursue a major in English and immerse yourself in the works of Shakespeare, Jane Austen, and Toni Morrison. For those interested in the sciences, Tulane offers majors such as biology, chemistry, and neuroscience, where you can delve into the intricacies of life and the natural world. If you have an eye for design and creativity, you can explore majors in fine arts, architecture, or graphic design, where you can learn to express yourself through various artistic mediums.
But it doesn't stop there. Tulane also offers a wide range of minors that can complement your major or allow you to explore a different area of interest. You can choose to minor in philosophy to deepen your understanding of ethical dilemmas and philosophical theories. Or you can opt for a minor in entrepreneurship to gain the skills and knowledge necessary to start your own business. The possibilities are endless, and Tulane encourages students to pursue their academic passions and create a unique educational journey.
Special Programs and Opportunities
Beyond the traditional majors and minors, Tulane provides special programs and opportunities that enhance the academic experience. These include honors programs, interdisciplinary certificates, study abroad programs, and research opportunities with renowned faculty. Consider how these additional offerings align with your interests and goals and how they can contribute to your intellectual and personal growth.
One of the standout opportunities at Tulane is the Honors Program. This program offers a challenging and intellectually stimulating curriculum for high-achieving students. Through small class sizes and close interaction with faculty, students in the Honors Program can engage in in-depth discussions and research projects. They also have access to exclusive seminars, guest lectures, and networking events, providing a unique and enriching academic experience.
If you're someone who enjoys exploring different disciplines and making connections across fields, Tulane's interdisciplinary certificates might be of interest to you. These certificates allow you to combine courses from different departments to create a specialized area of study. For example, you can pursue a certificate in environmental studies, combining courses in biology, geology, and sociology to comprehensively understand environmental issues and solutions.
For those with a desire to explore the world and experience different cultures, Tulane offers a wide range of study abroad programs. Whether you want to study art in Florence, business in Shanghai, or public health in South Africa, there are numerous opportunities to immerse yourself in different societies and broaden your global perspective. Studying abroad allows you to gain academic knowledge and fosters personal growth and independence.
Tulane also prides itself on its research opportunities. With renowned faculty members leading cutting-edge research in various fields, students have the chance to work alongside these experts and contribute to groundbreaking discoveries. Whether you're interested in conducting research in the biomedical sciences, social sciences, or humanities, Tulane provides the resources and support to help you pursue your research interests.
Overall, Tulane University goes beyond the traditional academic programs by offering a plethora of majors, minors, and special opportunities. The university's commitment to academic excellence and student growth ensures that every student can find their niche and thrive in their chosen field of study.
Life at Tulane University
Campus Life and Housing
Tulane University offers a vibrant campus life that fosters a strong sense of community and involvement. From joining student organizations and participating in events to living in residential communities, there are endless opportunities to connect with fellow students and create lasting memories. Explore the various housing options available, such as traditional residence halls, learning communities, and theme-based housing, to find the best fit for your lifestyle.
Extracurricular Activities and Clubs
Getting involved in extracurricular activities and clubs is integral to the Tulane experience. With over 200 student organizations covering a wide range of interests, there is something for everyone. These activities provide opportunities for personal growth, leadership development, and forming lifelong friendships. Consider joining clubs related to your academic interests, hobbies, or community service to enrich your college experience.
Opportunities for Community Engagement
At Tulane University, community engagement is not just an option – it's a core value. The university strongly commits to civic engagement and encourages students to become active participants in the local community. Whether through service-learning courses, volunteer work, or involvement in community-based organizations, Tulane students are empowered to positively impact society while gaining practical skills and a deeper understanding of the world around them.
Financial Aid and Scholarships at Tulane University
Understanding Tuition and Fees
Before applying to Tulane University, it is essential to understand the costs associated with attending. Tuition fees, room and board, and other expenses should be considered when evaluating your financial situation. Tulane offers a variety of financial aid options, including scholarships, grants, loans, and work-study programs, to ensure that qualified students can access a quality education regardless of their financial background.
Applying for Financial Aid
To apply for financial aid at Tulane, it's important to submit the Free Application for Federal Student Aid (FAFSA) and the CSS Profile. These forms provide information about your family's financial situation and are used to determine your eligibility for need-based aid.
Additionally, Tulane requires the submission of any additional documents or forms as specified by the Office of Financial Aid. Be sure to meet all deadlines and requirements to maximize your financial aid opportunities.
Scholarship Opportunities
Tulane University offers a range of scholarships to recognize and support exceptional students. These scholarships may be merit-based, need-based, or focused on specific areas of study or talents. Some scholarships require separate application materials or have specific eligibility criteria. Keep an eye out for scholarship opportunities and be proactive in seeking out and applying for scholarships that align with your strengths and interests.
Tips from Successful Tulane University Applicants
Insider Tips for a Successful Application
Successful applicants to Tulane University often exhibit certain characteristics and strategies that set them apart. These insider tips can help you enhance your application and increase your chances of admission. Some key tips include demonstrating a genuine passion for learning, highlighting your unique experiences and perspectives, seeking leadership opportunities, and showcasing your commitment to positively impacting your community.
Common Mistakes to Avoid
While knowing what to do to increase your chances of admission is important, it's equally important to avoid common mistakes that could negatively impact your application. Some common mistakes to avoid include submitting a generic or sloppy application, failing to follow directions, not taking the time to proofread your essays thoroughly, and neglecting to cultivate meaningful relationships with recommenders. Being mindful of these pitfalls can help ensure a stronger application.
Conclusion: Your Path to Tulane University
Final Checklist for Applying to Tulane University
As you embark on your journey to apply to Tulane University, staying organized and focused is essential. Use this final checklist to guide your application preparation:
Familiarize yourself with Tulane's admission requirements
Explore Tulane's academic programs and identify your areas of interest
Draft a personal statement that showcases your unique qualities and aspirations
Request letters of recommendation from individuals who know you well
Prepare for standardized tests if applicable
Submit your application by the designated deadline
Encouragement for the Application Process
Applying to college can be an exhilarating yet challenging process. However, it's important to remember that your journey to Tulane University is about more than just the outcome. It's an opportunity for personal growth, self-discovery, and the pursuit of knowledge. Embrace the process, stay true to yourself, and approach each step enthusiastically and firmly. Your dedication and passion will shine through in your application, increasing your chances of success at Tulane University.
Interested in further understanding the roadmap to Tulane University? With more than a decade of experience, AdmissionSight has been a reliable guide for students amid the competitive admissions landscape.
Turn to AdmissionSight this fall to enhance your college application. Contact us today to explore more about our service offerings.