How to Get Into UNC Chapel Hill: A Step-by-Step Guide
Are you dreaming of becoming a Tar Heel? UNC Chapel Hill is consistently ranked among the top public universities in the United States, known for its prestigious academics, vibrant campus life, and storied sports tradition. If you're eager to join the ranks of this esteemed institution, this step-by-step guide will walk you through the process. From understanding the university's culture to navigating the application process, we'll dive in and unveil the secrets to getting admitted into UNC Chapel Hill.
Understanding UNC Chapel Hill
Overview of UNC Chapel Hill
Established in 1789, UNC Chapel Hill is the oldest public university in the country. With a rich history and a commitment to academic excellence, this esteemed institution has become a beacon of education and innovation. Nestled in the charming town of Chapel Hill, North Carolina, the university's sprawling campus spans 729 acres and is home to over 30,000 students.
As you enter the campus, you are greeted by the iconic Old Well, a symbol of good luck and a popular spot for students to gather. Walking through the campus, you'll find a blend of historic buildings, like the majestic Wilson Library, and modern facilities like the state-of-the-art Genome Sciences Building.
UNC Chapel Hill is renowned for its academic prowess, offering a wide range of programs and majors. The university's dedication to excellence is evident in its highly regarded schools, including the Kenan-Flagler Business School, the Hussman School of Journalism and Media, and the School of Medicine. Students can learn from world-class faculty who are experts in their respective fields.
Why Choose UNC Chapel Hill?
There are countless reasons why UNC Chapel Hill stands out among other universities. Not only does it offer a world-class education, but it also provides ample opportunities for research, internships, and community engagement. The university's commitment to inclusive excellence creates a diverse and supportive environment for all students.
UNC Chapel Hill is a hub of innovation and discovery, where students are encouraged to pursue their passions and positively impact the world. Whether conducting groundbreaking research in the labs, participating in service-learning projects in the local community, or studying abroad to gain a global perspective, students at UNC Chapel Hill have a wealth of opportunities to explore and grow.
Furthermore, the university prides itself on its strong alumni network, who have become leaders in their respective fields. From Pulitzer Prize-winning journalists to Nobel laureates, UNC Chapel Hill graduates have made significant contributions to society. As a student, you'll have access to this vast network, opening doors to internships, mentorship, and career opportunities.
Outside of academics, UNC Chapel Hill offers a vibrant campus life. With over 800 student organizations, ranging from cultural clubs to sports teams, there's something for everyone. The university's athletic teams, known as the Tar Heels, are a source of pride and spirit, with basketball games at the Dean Smith Center being a highlight of the college experience.
When it comes to campus resources, UNC Chapel Hill leaves no stone unturned. Students can access a wide range of facilities supporting their academic and personal growth, from state-of-the-art libraries to wellness centers. The university also provides comprehensive support services, including counseling and career advising, ensuring that students have the resources they need to thrive.
In conclusion, UNC Chapel Hill is more than just a university; it's a community that fosters intellectual curiosity, personal growth, and lifelong connections. With its rich history, commitment to excellence, and abundance of opportunities, UNC Chapel Hill is a place where dreams are realized and futures are shaped.
Preparing for UNC Chapel Hill
High School Course Requirements
UNC Chapel Hill seeks well-rounded individuals who have challenged themselves academically. The University of North Carolina at Chapel Hill has a competitive acceptance rate of 17%. To be a competitive applicant, ensure that you have completed a rigorous high school curriculum. This typically includes advanced math, science, English, social studies, and foreign languages courses. Taking AP or IB courses can also demonstrate your intellectual curiosity and preparedness for college-level work.
When it comes to math, consider taking courses beyond the basic requirements. Advanced math courses such as calculus or statistics can showcase your analytical skills and problem-solving abilities. These skills are highly valued at UNC Chapel Hill, especially if you plan to pursue a major in a STEM field.
In addition to science courses like biology, chemistry, and physics, consider exploring other branches of science, such as environmental science or neuroscience. These courses can demonstrate your interest in interdisciplinary studies and your ability to think critically about complex scientific concepts.
For English, challenge yourself with advanced literature or composition courses. These classes can enhance your reading and writing skills, which are essential for success in college. Consider taking courses that focus on diverse authors and perspectives to broaden your understanding of the world.
When it comes to social studies, go beyond the basic history and government courses. Explore topics such as sociology, anthropology, or international relations. These courses can help you develop a global perspective and an understanding of the interconnectedness of different societies and cultures.
Lastly, don't forget about foreign languages. UNC Chapel Hill values cultural diversity and encourages students to study languages other than English. Consider taking multiple years of a foreign language to demonstrate your commitment to global understanding and communication.
Extracurricular Activities and Leadership Roles
While academic performance is crucial, admissions officers value your involvement outside the classroom. Engage in extracurricular activities that align with your passions and demonstrate your ability to contribute to the campus community.
If you enjoy the arts, consider joining a theater group, choir, or art club. These activities can showcase your creativity and dedication to your craft. If you have a talent for music, consider participating in the school band or orchestra, or even starting your own band.
If you have a passion for sports, consider joining a school team or participating in individual sports. This can demonstrate your teamwork, discipline, and commitment. If you are interested in leadership roles, consider running for captain or joining a sports-related club where you can take on responsibilities and make a positive impact.
Volunteering is another great way to demonstrate your commitment to community service. Look for opportunities to volunteer at local organizations or participate in service projects. Consider taking on leadership roles within these organizations, such as organizing fundraisers or leading volunteer teams.
Lastly, consider joining clubs or organizations that align with your academic or career interests. This can demonstrate your passion for a particular field and your willingness to go above and beyond in pursuing your goals. For example, if you are interested in medicine, consider joining a science club or volunteering at a local hospital.
Standardized Test Scores
UNC Chapel Hill considers standardized test scores, such as the SAT or ACT, as part of the admissions process. Aim to achieve scores that align with the university's average range, but remember that these scores are just one piece of the puzzle.
The UNC System has waived the SAT or ACT requirement for those applying for admission in fall 2024. This means applicants can choose to submit their test scores, but it's not mandatory. If you've taken a test, it's up to you if you'd like to share your scores with us. Regardless of your decision on submitting test scores, UNC Chapel Hill will thoroughly evaluate your application for admissions, scholarships, and other opportunities.
However, admitted students typically have an SAT score ranging from 1350 to 1510 or an ACT score between 28 and 33.
Remember, the admissions process is holistic, and UNC Chapel Hill looks for students who excel academically and demonstrate a passion for learning, leadership potential, and a commitment to making a positive impact in their communities. Take the time to explore your interests, challenge yourself academically, and engage in meaningful extracurricular activities. Good luck!
The Application Process
Applying to UNC Chapel Hill involves several steps and requires careful attention to detail. In this section, we will explore the different aspects of the application process and provide helpful tips to ensure your application stands out.
Understanding the Common Application
UNC Chapel Hill, like many other universities, utilizes the Common Application. This user-friendly platform allows you to complete one application and send it to multiple universities, saving you time and effort. However, it's important to note that each university may have specific requirements or supplemental materials, so be sure to review each school's individual instructions.
When filling out the Common Application, take the time to carefully complete each section. Provide accurate and compelling information about yourself, including your academic achievements, extracurricular activities, and community involvement. This is your chance to showcase your unique qualities and experiences, so make sure to highlight what sets you apart from other applicants.
One crucial aspect of the Common Application is the essay prompts. UNC Chapel Hill provides specific prompts for you to respond to. Take the time to thoroughly read and understand each prompt, and then tailor your responses to showcase your personality and experiences. Be authentic and reflective in your writing, and ensure that your essay is free from grammatical errors. Consider seeking feedback from teachers, counselors, or trusted mentors to help refine your essay and strengthen it.
Writing a Compelling Personal Statement
Your personal statement is a crucial component of your application and gives you the opportunity to make a lasting impression on admissions officers. This is your chance to tell your story and explain why you are a perfect fit for UNC Chapel Hill.
When writing your personal statement, take the time to craft a well-written essay that effectively communicates your passions, goals, and experiences. Be sure to highlight how your background and experiences have shaped you and how they align with the values and mission of UNC Chapel Hill. Consider including specific examples and anecdotes to make your essay more engaging and memorable.
It's important to be authentic in your writing and let your true self shine through. Admissions officers are looking for genuine and unique individuals who will contribute to the university community. Avoid using clichés or trying to fit into a mold. Instead, focus on showcasing your individuality and what makes you stand out.
Lastly, proofread your personal statement carefully to ensure it is free from errors. Grammatical mistakes or typos can detract from the overall impact of your essay. Consider asking a teacher, counselor, or trusted mentor to review your essay and provide feedback. Their fresh perspective can help you refine your writing and make it even stronger.
Letters of Recommendation: Who to Ask and How
Letters of recommendation are an important part of your application and provide insight into your academic abilities and personal qualities. When selecting individuals to write your letters of recommendation, choose those who know you well and can speak to your strengths.
It's best to ask teachers from core subjects, such as English, math, or science, as they can provide valuable insights into your abilities and potential. These teachers have likely seen your academic growth and can speak to your work ethic, critical thinking skills, and intellectual curiosity.
In addition to academic recommendations, consider requesting a letter from a counselor or a community leader who can vouch for your character and extracurricular involvement. This can provide a well-rounded perspective of your abilities and highlight your contributions beyond the classroom.
When requesting a recommendation letter, approach potential recommenders with respect and gratitude. Give them ample time to write the letter and provide them with any necessary information, such as your resume or a list of your accomplishments. It's also a good idea to have a conversation with your recommenders to discuss your goals and aspirations, as this can help them write a more personalized and impactful letter.
In conclusion, the application process for UNC Chapel Hill requires careful attention to detail and thoughtful preparation. By understanding the Common Application, writing a compelling personal statement, and selecting the right individuals for your letters of recommendation, you can enhance your chances of being accepted into this prestigious university.
Financial Aid and Scholarships
Understanding the Cost of Attendance
UNC Chapel Hill is committed to making education affordable for all students. As a prospective student, it's essential to clearly understand the cost of attendance. This includes tuition and fees, room and board, books, and personal expenses. Familiarize yourself with the university's website and explore the specifics of their financial aid packages. Take note of the different options available to help you cover these costs.
Did you know that UNC Chapel Hill offers a comprehensive breakdown of their cost of attendance on their website? This resource provides detailed information about the estimated expenses for tuition, fees, housing, meals, books, supplies, and personal expenses. By exploring this breakdown, you can better understand the financial commitment required to attend UNC Chapel Hill.
When considering the cost of attendance, it's important to remember that UNC Chapel Hill is dedicated to providing financial assistance to those in need. They offer a variety of scholarships, grants, work-study opportunities, and loans to help bridge the gap between the cost of attendance and what you and your family can afford. Remember that financial aid is not limited to just scholarships; many other resources are available to assist you in funding your education.
Applying for Financial Aid
Once you've been admitted to UNC Chapel Hill, it's time to start the process of applying for financial aid. The university utilizes the Free Application for Federal Student Aid (FAFSA) as well as the CSS Profile. These forms gather information about your family's financial situation and help determine your eligibility for various types of aid.
Submitting these forms within the designated deadlines is crucial to ensure that you're considered for all available aid. The FAFSA opens on October 1st each year, and completing it as soon as possible is recommended to maximize your chances of receiving aid. On the other hand, the CSS Profile is required by some institutions, including UNC Chapel Hill, to gather additional information not captured by the FAFSA.
Did you know that the FAFSA allows you to list up to ten colleges or universities to receive your financial information? This means that you can apply for aid at multiple institutions simultaneously, giving you more options and opportunities to secure the financial assistance you need. Take advantage of this feature and explore various financial aid packages offered by different universities.
In addition to completing the FAFSA and CSS Profile, it's also important to research external scholarships and grants. Many local and national organizations offer scholarships based on various criteria such as academic achievements, community involvement, or specific talents. These scholarships can provide additional financial resources to supplement your financial aid package from UNC Chapel Hill.
Scholarships Available at UNC Chapel Hill
UNC Chapel Hill offers a range of scholarships to incoming students. These merit-based scholarships cover various academic, leadership, and talent-based criteria. They are designed to recognize and reward exceptional students who have demonstrated outstanding achievements and potential.
When applying for scholarships at UNC Chapel Hill, it's crucial to pay close attention to the requirements and deadlines for each scholarship. Some scholarships may have specific application procedures or additional materials that need to be submitted. Take the time to thoroughly review the scholarship criteria and tailor your application accordingly.
Did you know that UNC Chapel Hill offers scholarships specifically for students in certain majors or academic programs? These scholarships are designed to support students pursuing specific fields of study and provide them with additional financial assistance. If you have a particular academic interest or career goal, be sure to explore these specialized scholarships to see if you qualify.
Remember, when applying for scholarships, it's important to showcase your qualifications and unique attributes. Highlight your academic achievements, leadership experiences, community involvement, and any special talents or skills you possess. The scholarship committees are looking for well-rounded individuals who will academically and socially contribute to the UNC Chapel Hill community.
In conclusion, understanding the cost of attendance, applying for financial aid, and exploring the scholarships available at UNC Chapel Hill are essential steps in making education affordable. By taking advantage of the resources and opportunities provided, you can pave the way for a successful and financially supported college experience.
After the Application: What's Next?
When to Expect a Decision
After submitting your application, the waiting game begins. Admission decisions are typically released in late March for regular decision applicants and by late January for early action applicants. Keep an eye on your email and the applicant portal for updates, as UNC Chapel Hill will communicate your decision through these channels.
Understanding Your Admission Decision
Receiving an admission decision from UNC Chapel Hill is an exciting milestone. If you're admitted, congratulations! Take the time to celebrate your accomplishment and carefully review your acceptance letter for any additional information or next steps. However, if you receive a denial, remember that admission to highly selective universities is incredibly competitive, and this decision does not define your future success. Consider other universities on your list and explore alternative paths to achieve your goals.
Next Steps After Acceptance
Once you've been admitted, there are several essential steps to complete before officially becoming a Tar Heel. These may include submitting an enrollment deposit, confirming your decision to attend UNC Chapel Hill, and registering for orientation. Stay organized and meet all deadlines to ensure a smooth transition into university life.
Tips and Strategies to Increase Your Chances
Early Decision and Early Action: Pros and Cons
UNC Chapel Hill offers both early decision and early action options. Early decision is a binding agreement, while early action allows you to apply to multiple universities concurrently. Consider the advantages and disadvantages of each option, and decide which one aligns best with your aspirations and circumstances.
How to Stand Out in Your Application
To stand out in the competitive admissions process, showcase your unique qualities, experiences, and achievements. Demonstrate a genuine passion for your chosen field of study, and articulate how UNC Chapel Hill will play a pivotal role in your academic and personal growth. Be intentional in your application, ensuring every component highlights your strengths and potential contributions to the university.
Common Mistakes to Avoid in Your Application
Avoid common pitfalls that can weaken your application. Double-check all information for accuracy and completeness, proofread your essays meticulously for grammar and spelling errors, and follow all instructions precisely. Take advantage of resources like admissions workshops, college fairs, and guidance counselors to ensure you submit a polished and error-free application.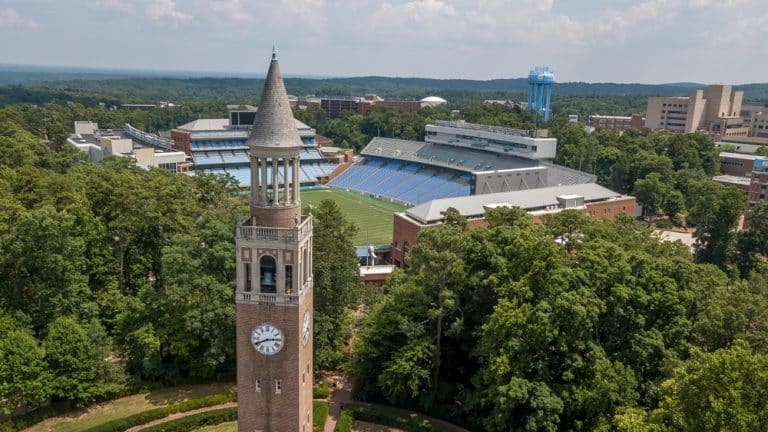 As you embark on this exciting journey toward UNC Chapel Hill, remember to stay true to yourself and the path you envision. Be proactive, take advantage of all available resources, and give each step your best effort. While admission to UNC Chapel Hill is competitive, your dedication and potential may be the ticket to becoming a proud Tar Heel. Good luck!
Interested in further understanding the roadmap to UNC Chapel Hill? With more than a decade of experience, AdmissionSight has been a reliable guide for students amid the competitive admissions landscape.
Turn to AdmissionSight this fall to enhance your college application. Contact us today to explore more about our service offerings.