How To Get Into Yale School Of Medicine?
The exceptional quality of Yale University's academic offerings has earned it a place among the United States' most distinguished educational institutions. The Medical Doctor (MD) program at Yale School of Medicine is consistently ranked well by a variety of publications, making it one of the most highly respected academic programs that the university has to offer. In this section, we will cover all you need to know on how to get into Yale School of Medicine.
How hard is it to get into the Yale School of Medicine?
How competitive is the admissions process to the Yale School of Medicine? The Yale School of Medicine has a very low admittance rate of only 4.8%, making it a very competitive school. The enrollment for the class of 2025 has over 7,200 applications received and the matriculants are only 104.
What GPA do you need to get into Yale medical school?
So, what minimum GPA is required to enroll in the Yale School of Medicine? Despite the fact that Yale has not disclosed any additional information regarding its most recent class, the following figures for the class of 2024 demonstrate the high standards that Yale maintains with regard to academic achievement. The median GPA required is 3.85 while the median MCAT score is 519.
What are the available programs at Yale School of Medicine?
What kinds of programs are offered to students at the Yale School of Medicine? Before you go over the process of how to get into Yale School of Medicine, it is crucial that you know which program fits you best. You can choose from the following:
Traditional Four-Year Program
The current curriculum at Yale School of Medicine was developed in 2015 with the intention of producing medical professionals who will both lead medical teams and discover innovative treatments.
Students in the MD program are expected to be self-directed and motivated, to handle problems as they come with grace and maturity, and to do all of this while simultaneously being engaged in full-time classes and receiving mentorship from professors. In addition to this, they are required to deliver a thesis that addresses a contentious issue in the scientific community.
Students will complete the Integrated Course Curriculum, Clinical Skills, and Longitudinal Clinical Experience as well as work with tutors during their first year of school.
In the second year, students complete the requirements of the first year and then begin clinical clerkships. In the third year, students complete their clinical clerkships and begin their first experiences with sub-internships, electives, and research. This continues into the fourth year of the curriculum when the pupils are finished.
Students who want to earn their MD after only spending four years in school will thrive in this standard program. Its quick pace is comparable to that of a few of the other Ivy League schools.
MD-PhD Program
It's possible that the MD-PhD program is right up your alley if you have an equal passion for medical practice and scientific investigation. The curriculum for the MD-PhD program includes not just a significant amount of time spent conducting scientific research but also research seminars, clinical rotations, and time spent in research labs. The length of time it takes students to graduate from the program is typically eight years. Former students have gone on to work as physicians in the following settings:
Medicine
Surgery
Pediatrics
Dermatology
Neurology
Psychiatry
Pathology
Radiology
Ophthalmology/ENT
Emergency Room
Family Medicine
Anesthesiology
MD Master of Public Health Program
Through the Yale Graduate School of Arts and Sciences, students have the opportunity to earn both their MD and their Master of Public Health degrees simultaneously. While you are studying both public health and the healthcare system, you will work toward earning a medical degree of the highest caliber. Your experience in the classroom will be at its highest level when there are only three to four students for every instructor.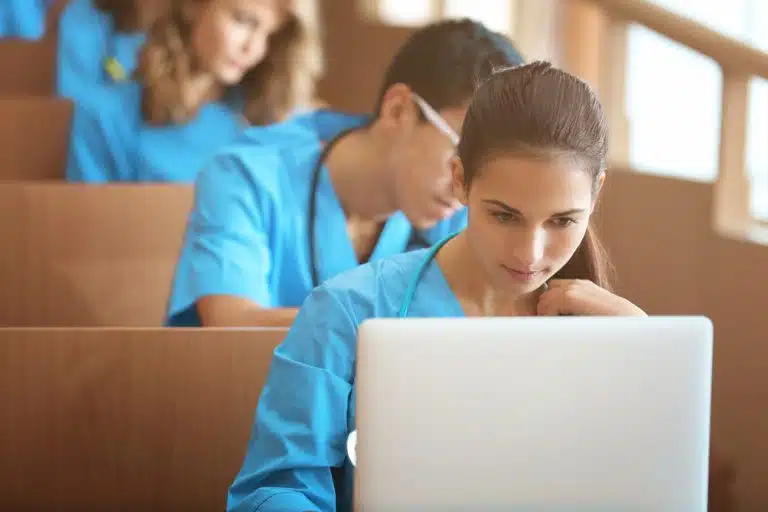 The coursework for the Master of Public Health degree can be finished in the following ways:
Two years of coursework with 20 units
A seminar teaching professional skills
Courses with in-depth instruction on ethics and public health
An applied practice experience paired with a summer internship
A thesis or capstone course to earn your Master's
MD Master of Health Science Program
At Yale, you can acquire your MD or Master of Health Science degree through one of two different programs.
You have the option of spending your time conducting clinical research or examining a wide range of laboratory specimens while keeping your eye focused on a microscope lens.
You will need a thesis advisor in addition to a thesis committee that consists of at least three people in order to be eligible for this program. In addition to this, you need to have a project that is completely funded and will take you a year to finish.
When you have finished fulfilling all of these prerequisites, you will be prepared to submit an application for the MD Master of Health Science program.
MD Juris Doctorate
Students who are interested in bridging the gap between their medical and legal skills can consider pursuing this specialized dual degree. This could come in handy in a variety of different situations. You can decide to concentrate on medical law, which would get you ready for leadership positions in hospitals and other healthcare facilities. After you graduate, you will work in both the medical and legal fields.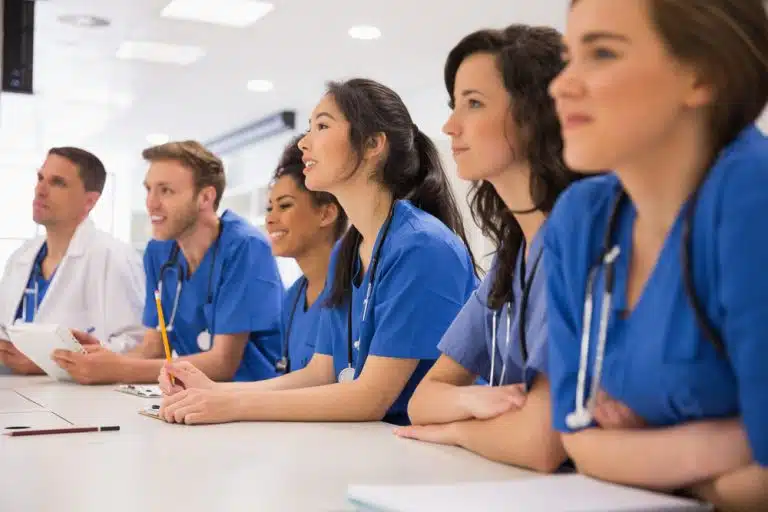 MD/Master of Business Administration Program
This program is a collaboration between the Yale School of Management and the Yale School of Medicine and is offered at Yale University.
This degree would certainly be useful for you as there are a lot of people working in hospital administration who have MBAs.
The student's first three years are spent at Yale School of Medicine, their fourth year is spent at Yale School of Management (along with the MBA curriculum), and then the student's fifth and final year is spent selecting electives from both the medical school and the management school.
You'll have a lot on your plate, but in the end, you'll emerge with a medical degree and a master's in business administration. It appears to be worthwhile from what we can tell!
MD Master of Divinity Program
This degree program offers a substantial amount of spiritual information that would work really well in conjunction with an MD degree. Students can learn how to read the Bible, ethical and theological issues, the history of various religions, and how to preach and counsel members of one's congregation as part of their coursework in religious studies.
Because of a collaboration between the Yale School of Medicine and the Yale School of Divinity, it is now feasible for students to graduate from both schools with degrees in medicine and theology.
Physician Assistants Program
Physician Assistants are not required to go through as much schooling as MDs, physician assistants are unable to treat patients on the same level as their more highly educated counterparts. However, PAs have the ability to see patients on their own, administer prescriptions, and carry out all of the activities that are typically performed by nurses.
The Physician Assistant program is comprised of three distinct facets: didactic, clinical, and research.
The classroom instruction portion of the program lasts for a total of one year and includes both lectures and classes. After that comes the clinical portion, which consists of clinical clerkships lasting for a total of 16 months.
Students will continue to work on their theses even while they are doing their clerkships. The research component of the Doctor of Physician Assistant degree is concurrent with the didactic and clinical portions of the program.
During the didactic phase of the PA program, students are required to take a course titled "Introduction to Research," and they participate in considerable research during the medicine and surgery portion of the curriculum. It is a rigorous curriculum that will train you to provide effective medical care to patients so that you can work as a physician assistant.
What are the pre-med requirements at Yale School of Medicine?
As we go over the process of how to get into Yale School of Medicine, it is important to get to know the prerequisite. The following are the Yale School of Medicine's pre-med requirements:
Attendance for at least three academic years or its equivalent at a college, university, or institution of technology that has been granted accreditation.
Completion of the following courses with a passing grade, including all required laboratory work:
General Biology or Zoology (2 semesters)
General Chemistry (2 semesters)
Organic Chemistry (1 semester)
Biochemistry (1 semester – laboratory recommended, but not required)
General Physics (2 semesters)
The standard amount of academic credit awarded for each semester for courses that are considered acceptable in these fields is between three and four semester hours.
The pre-medical studies have to be completed at a college or university in the United States, Canada, or the United Kingdom.
It is permissible to take classes at a community college in the United States as long as the classes involve hands-on laboratory experience and have a curriculum that is on par with those of four-year colleges, universities, or institutes of technology.
Credits earned in the United States Advanced Placement program during high school do not, on their own, fulfill the requirements for entry into premedical programs; however, advanced college courses, university courses, or institute of technology courses—for which students are made eligible by AP credits—may be substituted for introductory-level courses in each of these subjects.
The Admissions Committee does not have a preference when it comes to the major field of study for undergraduate students. Instead, they defer this decision to the students themselves and offer the recommendation that they advance beyond the elementary level in the field of study of their choice rather than pursuing an undirected program.
A grasp of the humanities, arts, and culture in addition to an appreciation for the scientific underpinnings of technology and civilization are all essential components of a liberal education, which serves as the foundation for further academic study at the graduate level.
A student who plans to pursue a career in medicine will enter a field that is closely associated with the natural sciences and will need to be adequately prepared to deal with chemistry and biology at the graduate level.
Moreover, students who are entering college with a strong background in the sciences, as indicated by advanced placement, are encouraged to replace advanced science courses for the customary prerequisites specified above in this paragraph.
How do I get Yale medical admission?
The process on how to get into Yale School of Medicine is rigorous. Thus, we have provided here everything you need to know about how to get Yale medical admissions.
Take the MCAT
The Medical College Admissions Test (MCAT) is a requirement for admission into the Doctor of Medicine and Doctor of Medicine/Ph.D. programs offered by the Yale School of Medicine.
The American Medical College Application Service should be contacted by applicants in order for them to have their exam scores sent to Yale School of Medicine. The most recent version of the MCAT that you can send in is from January 2019, if you are applying in 2022 with the goal of starting in August 2023.
It is important for you to know that Yale School of Medicine will not examine your application until they have received your MCAT scores.
Apply to Yale via AMCAS
You must apply through AMCAS, which stands for the American Medical College Application Service, in order to get into Yale School of Medicine. This application will be forwarded to each individual medical school that you indicate on the application.
You are required to state that you intend to submit an application to Yale School of Medicine on the AMCAS application. You will be extended an invitation to submit a supplementary application to Yale when you have finished submitting your AMCAS application.
Submit Yale's Secondary Application
Applicants to the MD and MD/Ph.D. programs are required to submit an online Yale Secondary Application in addition to their AMCAS application in order to finish the application process and be considered for admission.
After they have submitted their AMCAS application, all applicants will receive an invitation via email to complete a Yale Secondary Application. It is expected that you will receive this email invitation within two weeks of submitting your AMCAS application to Yale, beginning in early July when the Yale Secondary Application becomes available online.
Application Revisions
After you have sent in your Yale Secondary Application, you will not be able to make any changes to it through the online system. You are required to provide the Office of Admissions with a written explanation of the changes you wish to make. You can do so by logging in to your application, selecting the "Status" tab, selecting the "Communication" menu, and finally selecting the button to send an email to the Admissions Office.
You can use the Document Upload tab in the Secondary Application to upload a pdf document if you want to submit an update to your application at any time throughout the application season (before or after an interview).
Contact Information Updates
After you have filed your application, you are required to advise AMCAS of any significant changes that have been made to your contact details that have occurred since then.
Send In Your Letters Of Recommendation
All MD and MD/Ph.D. candidates should seriously consider submitting a letter to the Premedical Committee.
You have the option of submitting at least three individual letters of recommendation in the event that your school does not have a Premedical Committee. It is important that these letters come from people who are in a position to comment knowledgeably about your achievements, abilities, expertise, and/or personal qualifications.
They could have been given to you by people who have instructed or worked with you throughout your time in classes at the undergraduate or graduate level, in research settings, clinical settings, extracurricular or community service activities, professional settings, or any other environment.
It is recommended, but not required, to have at least one of the letters come from a person who has experience in the scientific field. The letters should include information and support that will be useful and beneficial to the Admissions Committee. This material should augment the information that exists elsewhere in your application.
The AMCAS Letter Service is where you should send any letters of recommendation that you have written.
Verify The Current Status Of Your Application
Simply logging into the student portal will allow you to monitor the progress of your application at any time.
Interviews
Emails will be sent out to those applicants who have been selected for an interview.
Notification of the Decision and a Timeline
By the 15th of March, the Admissions Committee will get in touch with all of the applicants to let them know their choice. It is required that all admitted students respond to their offer of admission by the end of the business day on April 30.
Waitlist Offers
Applicants who are offered a position on the waitlist and have until the end of the day on April 30 to react to the offer are required to do so. Applicants who have been placed on a waitlist but have not done so by the end of the business day on April 30 will have their names removed from the waitlist and will not be given any further consideration for admission in this cycle.
Moreso, applicants who are offered acceptance from the waitlist after the 30th of April but before the 1st of June will have five business days to respond to their offer of acceptance. If an applicant does not answer within five business days, the offer of admission will be revoked, unless the applicant has been granted an extension (due to extenuating circumstances) beyond this date by the YSM admissions office.
Deadline for Making a Commitment to Enroll
Applicants who are interested in taking part in the START program are required to "commit" to enrolling at YSM by 5:00 p.m. Eastern Standard Time (EST) on the Friday before START, and they are not allowed to maintain waitlist spots at any other schools.
Deferring Offer of Admission
Requests to postpone an offer of admission to Yale School of Medicine (YSM) for one academic year due to circumstances that have arisen during the application year will be taken into consideration. The request must be submitted no later than the fifteenth day of April of the admissions cycle in which the candidate was offered admission.
An admitted student may request to defer their enrolment at YSM for a period of one or two years, depending on the circumstances, in order to pursue or finish a significant and primary academic objective that arises during the application year (e.g. a Churchill, Rhodes, Marshall, Gates-Cambridge fellowship). In general, requests for deferrals that are not based on academic performance are denied.
All decisions made on requests to defer are final. If an applicant who has been offered admission decides to pursue other opportunities and not matriculate at YSM after having their request to defer denied, then their offer of admission will be withdrawn from YSM, and they will need to reapply in a future cycle if they are interested in attending the school.
How can I increase my chances of getting into Yale?
So, how can you improve your chances of being accepted into Yale? As mentioned, the process of how to get into Yale School of Medicine is really challenging. However, one of the greatest factors that can save you is your essay.
The prompts for the Yale School of Medicine's secondary essay change from one academic year to the next. In the academic year 2021-2022, Yale distributed the following two mandatory essay prompts:
Required Essay #1: Prompt
"Yale School of Medicine values diversity in all its forms. How will your background and experiences contribute to this important focus of our institution and inform your future role as a physician? (500 words limit)."
Writing the Required Essay for Yale School of Medicine #1:
Your supplementary essays are the area to provide Yale insight into who you are as a person beyond the numbers that you have presented in your application. This particular essay question is what's known as a "diversity essay," which means that you get the chance to showcase and appreciate the one-of-a-kind viewpoint that you bring to the table here.
To get things rolling, come up with a few thoughts on what sets you apart from others. Diversity can refer to many different aspects of a person, including their race and ethnicity, their health, their culture, their interests, their birthplace, their social situation, their values, and their abilities, to name just a few. Remember that there is no such thing as the "right life experience" when it comes to deciding what to write about in your paper.
Consider the experiences in your past that have contributed to the person you are now. You might write about your hometown, an event in the community, a family ritual, a narrative passed down from generation to generation, or anything else — as long as it is authentic. Avoid using cliches in this section; Yale is interested in learning about your distinctive qualities, and they don't want to see something that they've already read in other essays.
In the final part of the prompt, you are asked how your story would prepare you for the position of physician in the future. It is a great approach to end your response to the challenge on a strong note if you include this element of the prompt in the conclusion of your essay. Respond by elaborating on the ways in which your experiences have molded you into the person you are today and the ways in which you believe those experiences have prepared you to take on the job of a physician.
Required Essay #2: Select One Of The Following Prompts
"While there is great emphasis on the physician-patient relationship, Yale School of Medicine also emphasizes the importance of training future physicians to care for communities and populations. Describe how your experiences would contribute to this aspect of the mission of the Yale School of Medicine. (500 words limit)"
"Research is essential to patient care, and all students at Yale School of Medicine complete a research thesis. Tell us how your research interests, skills, and experiences would contribute to a scholarship at Yale School of Medicine. (500 words limit)."
Writing the Required Essay for Yale School of Medicine #2:
Although there is a significant focus on the interaction between the patient and the doctor at Yale School of Medicine, there is also a strong emphasis on the significance of preparing future doctors to provide care for communities and populations. Describe the ways in which the Yale School of Medicine could benefit from your experiences in light of this particular facet of its purpose.
Research is an integral part of providing quality treatment to patients, and at Yale School of Medicine, each student is required to complete a research thesis. Please elaborate on how your research interests, talents, and experiences would benefit the academic community at the Yale School of Medicine.
To begin, select the prompt to which you feel the strongest connection. In the first prompt, you will be asked to make a connection between your experiences and the importance they have in treating communities and populations. This question is a good choice for medical students who have had experiences in their communities that led them to pursue a career in medicine (i.e., volunteering, being from an underserved community, representation, etc.)
Consider a period when you were involved in a community activity that taught you anything that made a difference in who you are and how you live your life. After you've decided what you want to write about, write from a position of growth. This means that your narrative can be gloomy and emotional; perhaps you committed a mistake, but you learned something beneficial from the experience. How has that experience helped you grow as a person and ultimately prepared you to be a better doctor in the future?
The second prompt is more appropriate for medical students who have an interest in conducting medical research. In the event that you have previous experiences that have ignited your interest in the industry, now would be the time to elaborate on those encounters. Whether it was an experience with incurable cancer or a brick wall in your study that you continued pushing through, whatever it was, highlight your dedication to finding answers to the questions that have been plaguing you.
It is not necessary for you to have direct experience in medical research in order to respond to this prompt; instead, think broadly. Learning is something that drives doctors who have a strong interest in medical research to continue their education. What specific experiences have led to the development of your voracious appetite for knowledge? What kinds of insights do you anticipate gaining access to in the years to come?
Be sure to respond honestly in your essays and avoid writing in a way that you believe Yale wants to hear from you. Now is the moment for Yale to learn about you as a person, what motivates you, and why your experiences and hobbies will make you an exceptional physician in the future.
The process of how to get into Yale School of Medicine is not easy, but it is possible if you have a strong application, write real essays, and put in an extensive effort to prepare for your interview. Keep in mind that those that apply to Yale Medicine are the cream of the crop. You'll need to give the application procedure your whole attention if you want to increase the likelihood that your application will be noticed.
Consider seeking the assistance of a seasoned admissions consultant like AdmissionSight if Yale School of Medicine is your ideal choice but you are anxious about the application process.
You will receive assistance from our admissions counselors at every stage of the application process, from composing the ideal essay to receiving coaching for interviews.
At AdmissionSight, we have over 10 years of experience guiding students through the competitive admissions process to get accepted to the top universities in the world. Feel free to set up an appointment today to book your initial consultation.