How to Get Off a Waitlist on College
College waitlist
What does it mean to be on a college waitlist? It's not a terrible thing to be waitlisted at a college—your application was strong enough to avoid rejection!—but it's undoubtedly uncomfortable there. After all, being on a college waitlist is stressful just because you don't know if you'll be accepted or not, and even thinking of ways how to get off a waitlist.
Fortunately, there are a lot of things you can do to improve your chances of being removed from a waiting list. This article explains how the college waitlist operates, what to do if you have been placed on it, and how to get off a waitlist.
When you are waitlisted instead of deferred, the college has looked over your application and decided to put you on a list of people who are waiting to be admitted.
Being placed in a "holding pattern" of sorts by being on a college waitlist is typical. Students on the waitlist may or may not be accepted by the admissions committee. Furthermore, unlike a deferral circumstance, a waitlist decision is typically not altered by fresh information.
If you are put on a waitlist, you can typically find out if the school has admitted people off its waitlist in the past and, if so, how many. Your chances of getting accepted depend on a lot of different factors. For example, at some universities, waitlisted applicants almost never get accepted.
Sometimes, the best way how to get off a waitlist is to submit an application to another school to guarantee that you have a spot somewhere. Making plans with one of your backup schools is always a good idea; do not put your hopes in a waitlisted college.
Avoid the urge to start a barrage of recommendation letters and phone calls to the admissions department, whether you are deferred or waitlisted. This may negatively affect your chances of admission in practically every situation.
Some universities go so far as to specify in the letters that they won't accept any further phone calls or letters of recommendation on the student's behalf. If the admissions office does want additional materials, they are typically more interested in specific information (test results, grades, etc.) than in recommendations or personal statements.
Keep in mind that being waitlisted or postponed does not necessarily mean you were denied admission. It's like you've been told to wait a little longer while an official decision is made. Use the time carefully, as you would with any waiting period. Increase your test scores or grades, or just keep up your strong academic performance.
Don't give up, and make sure you have backup plans with another school. It can be upsetting to be waitlisted or postponed, but it's not the end of the world or your college quest.
What are your chances of getting off the college waitlist?
What are your chances of getting off the college waitlist? How to get off a waitlist? If your first-choice school has waitlisted you, you may be curious about your chances of being removed from the list and receive a full acceptance.
Your chances of getting off the college waitlist are mostly determined by five things:
The number of openings for the school's freshman class.  The likelihood that you will be accepted off the waitlist decreases as the number of spaces decreases. In contrast, your chances of getting a placement increase with the number of open spaces.
The school's preferences for the representation of majors, regions, etc. in the freshmen class. For instance, if a school didn't admit enough engineering majors, it would probably admit engineering majors off the waitlist first.
Your likelihood, if accepted, of attending the institution. This largely depends on your level of interest in the school and whether you've made an effort to show that you still want to go there (we'll go through how to do this in the next section).
The strength of your overall application, particularly in light of other waitlist candidates. Although it's impossible to know for sure, it's likely that you're a top candidate for admission if you possess outstanding attributes like a SAT score or GPA that's significantly higher than the school's 75th percentile.
Your waitlist ranking in terms of priority (if the school ranks applicants).
The likelihood of being accepted off a waitlist is ultimately determined by the school at which you were waitlisted. How likely you are to be admitted is extremely difficult to predict because highly selective colleges receive applications from hundreds of qualified students each year, many of whom wind up on the waitlist.
Additionally, the number of applications a college chooses to accept off its waitlist can vary greatly depending on the year you apply. This happens because the school's specific requirements, as well as the quality and number of applicants, tend to change slightly from year to year. For example, a school might want to accept more majors one year than it did the year before.
How to get off a college waitlist
How to get off a college waitlist? Decisions about college admission can take several months, forcing candidates to wait and wonder if they have been accepted, rejected, or added to a waitlist. Some applicants are dismayed by the results, especially those who were waitlisted at their first college choice.
Here are some tips from AdmissionSight on how to get off a waitlist:
Choose whether you still want to go. You should first think about how much more college coursework you want to do. You might have received acceptances from colleges that you would prefer to attend. If the school is still your preferred choice, you should make sure to remain on its waiting list.
Many universities require you to reply to a waitlist invitation in order to accept a seat on the list. You won't be given consideration for admission if you decline the offered seat. The schools frequently email you or request that you reply through the portal specific to each institution.
Maintain contact. Some colleges advise you to visit the campus. As soon as your schedule permits, schedule a visit and make an effort to meet with your admission representative to leave a positive impression.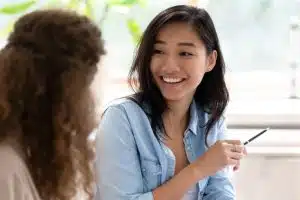 Furthermore, visiting the campus in person is different from viewing it online or on a website. You'll have all the information you need to decide if this school is still the best option for you.
Keep getting good scores. Don't allow your final high school semester grades to deteriorate. You want to prove to college admissions officers that you are capable of handling challenging coursework.
Reiterate your intention to attend the university in a letter. Anything that has changed since you submitted your application should be mentioned in the letter. Include any recent classes, projects, research, extracurricular activities, or other endeavors that you have finished. You should state in the letter that you still intend to attend.
You can also think about requesting a letter of recommendation from a different teacher. You can, however, ask a coach or a manager at your part-time job or internship to write a letter for you instead of having it come from someone at your school. Send it only if it can give your application a new perspective.
Additionally, you can upload any videos or pictures of recent accomplishments to your LinkedIn page. Our students are encouraged to use LinkedIn as an online portfolio to enhance their resumes.
Never mind being placed on a waiting list as long as you follow some of the tips on how to get off a waitlist. AdmissionSight has been an industry leader in helping students get accepted into esteemed colleges all over the world for the past ten years. With 75% of our students getting into elite universities like Stanford, MIT, UChicago, and Caltech, we have one of the highest success rates in the sector. Schedule your initial consultation today.