How To Get Recruited For College Football
Football receives more scholarships than any other sport in the history of college athletics. There are almost 900 college football teams in the United States, and all of these teams have more than 80,000 college football players. After graduating high school, your overall chance of participating in college football is approximately 7%. If we break it down even further, the probability of playing football in Division 1 is just under 3%. Because of this, a great number of ambitious students are interested in gaining knowledge regarding how to get recruited for College Football.
You need to be two steps ahead of everyone else to play college football at the Division 1 level, the highest level of competition. Although a child's performance and execution are essential in determining whether or not they will be recruited to play football at the high school or college level, this is not the only reason a child can be recruited to play football at either of these levels.
When should I start trying to get recruited?
If you are interested in playing college football and want to know how to get recruited, you first need to learn when the recruiting process begins. When should I start trying to get recruited? This might be something you are thinking about as a college hopeful.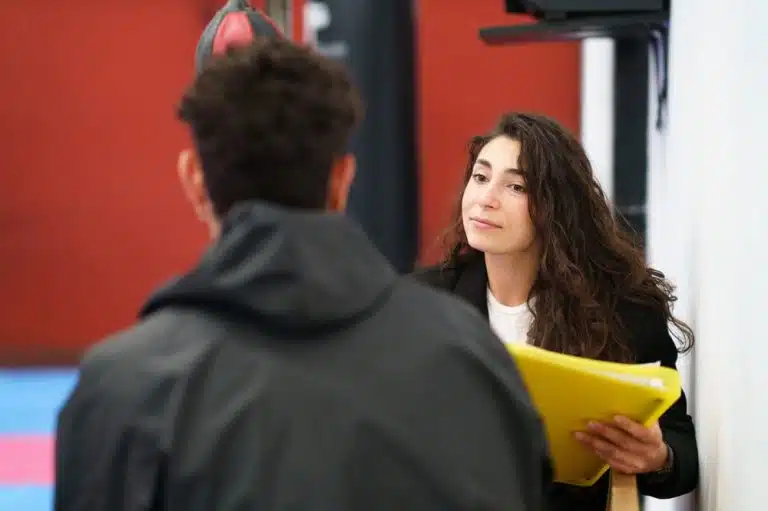 Before we get into the dates, it's important to distinguish between when athletes should begin the recruiting process and when they should expect to hear from college coaches. This distinction is necessary because there is a time lag between the two events. After an athlete decides to participate in college football, the recruiting process officially begins.
Once they have settled on this option, they should immediately begin researching schools, producing a highlight video of themselves, and carrying out the other preparatory tasks necessary for a fruitful recruiting process. The majority of this work ought to be done during the athlete's first and second years of high school, as those are the years in which they are most likely to be most active.
College football coaches will begin to show interest in top high school athletes as early as the middle school level. However, Division I football programs will begin seriously recruiting players during their sophomore and junior high school years. This is true for the vast majority of recruits. The majority of the time, they will have filled their roster for a recruiting class by the time the recruits are nearing the end of their junior year of high school or the beginning of their senior year. D2, D3, and NAIA coaches will wait until the junior or senior year of a potential recruit's high school career before beginning their search for players who were not selected by a D1 program.
Your family will have access to a wider variety of opportunities if they begin the recruitment process sooner rather than later. The athlete needs to get their information in front of coaches before they fill their rosters for that recruiting class. This is especially important if the athlete is interested in playing for Division I schools.
Preparing for college football recruitment
Football players from all over the country are finishing up the recruiting process and deciding which college they will attend. Aspiring collegiate athletes need to follow a plan to increase their chances in the college football recruitment process. And juniors, and even sophomores, should begin thinking about recruiting as early as possible. It is never too early. However, where do you even begin? To help you with the process of recruiting, here are some tips.
1. Create an account with the NCAA clearinghouse
The first step in learning how to get recruited for College Football is entering the NCAA clearinghouse. If you believe you have what it takes to compete at Division I or Division II levels of the NCAA, you are required to register with the NCAA. You must go to the NCAA's website (www.ncaa.com) to register on their clearinghouse. This is the process that must be followed to become certified by the NCAA and play at Division I or II level of competition.
There is a fee associated with registering, but there is a way to waive this fee if your household is financially unable to do so. You can still create a profile page on the website, even if you are unsure which level you will play or if you are unsure whether you will play Division III.
2. Focus on your grades
Many students report that their junior year is the most challenging academic year they have ever experienced. The majority of the time, they have a packed schedule with classes. There are no grace periods. Now is the time to put your attention solely on your grades. Be sure to keep up with any classes you might be having trouble with, seek additional tutoring if necessary, and maintain consistent communication with your instructor.
3. Go to the weight room.
Your opportunity to get bigger, stronger, and more agile comes during the springtime. Make going to the weight room a priority in your life. If you're serious about taking your football game to the next level, your strength and speed will be the defining characteristics that set you apart from the competition.
Maintain vigilance regarding your attendance. Don't worry if you're competing in another sport simultaneously. Most college coaches want their student-athletes to have a wide range of interests and skills, and they know that there are many advantages to participating in a variety of sports.
4. Compile a list of the schools that you are considering attending.
As you learn how to get recruited for College Football, you should take some time to do some research on potential colleges and universities that you would like to attend. In your best interest, have these conversations with your parents or other responsible adults. For example, if you want to study in California, you might ask yourself some questions.
Are your parents able to travel to see you if they want to? Are you able to pay for all or a portion of the tuition? Do they want to get more intimate with you? Or perhaps you're interested in studying law and order at the university level. Does that school, which seems interested in you as a player, offer that particular line of study?
Making an informed choice about your future academic path requires careful consideration of many different aspects. It is in your best interest to concentrate your time and attention on the educational institutions that fulfill your fundamental prerequisites and provide a positive experience for the entirety of your family.
5. Schedule an appointment with the school's guidance counselor.
Discuss things with your school's guidance counselor to ensure everything is on track with your four-year high school plan. Check to see that you are enrolled in the required classes to compete in the NCAA. Certain educational institutions have a solid understanding of the prerequisites you must meet. However, if your school does not routinely send students to programs offered by the NCAA, you may need to spend additional time with your counselors to ensure you remain eligible.
Nothing is worse than getting to the end of your senior year and finding out that you are ineligible because a summer school course you took at a local charter school is not NCAA-certified. This can make you ineligible for various opportunities, including college scholarships.
6. Some highlights from Hudl
One of the important elements of how to get recruited for College Football is to show what you can do as a player. If you are a junior and have not yet compiled your highlights on Hudl, you should start doing so as soon as possible. College coaches are always looking for talented athletes to recruit, and the best way to attract their attention is to get in touch with your high school coach and send them a highlight video of your best performances.
Hudl has created a phenomenal platform enabling athletes to share their videos easily with coaches. Be sure to devote a sufficient amount of time to the creation of a high-quality highlight film. Make sure to get your coach's opinion on the matter. In most cases, he will be aware of what college coaches want to see and what they do not want to see.
7. Get familiar with the FAFSA application procedure.
To be eligible for financial assistance, you must submit a document known as the Free Application for Federal Student Aid (FAFSA). Even if you are awarded a scholarship that pays for your entire education, you are still required to fill out this form.
It is a good idea to start researching this application process, especially with your parents, even though you won't fill out the FAFSA until your senior year of high school. Because you will need to obtain documents related to taxes and more from your parents or legal guardians, you will undoubtedly require their assistance.
8. Establish a contact list for all of the coaches.
Keeping track of all the college coaches you want to talk to is an important step in your recruiting process. If there are people who can help you know how to get recruited for College Football, it's them. You need to recall where you sent your film and the recipients of any emails or direct messages you sent. You should record every interaction you have with a college coach.
To keep track of these contacts on your phone, you should create a spreadsheet in Excel or develop a system. You could also use the Notes app on your iPhone to track your contacts better. Because colleges are trying to maintain some semblance of order, they are keeping track of their contacts with you; you should do the same.
9. Consider the possibility of any official visits.
You may have the chance to go on an official visit very soon, even if you haven't already. Again, talk to your parents or guardians about the college tours you want to take and ensure they are on board. You should list the schools you intend to visit during an "official visit" and the schools you might want to visit during an "unofficial visit." Each recruit is eligible for five official visits, so making the most of these opportunities is important.
10. Put together a summer camp and combine the calendar
Start researching the opportunities you will have this coming summer to market yourself at camps and combines by doing some research now. Are you going to travel by plane to the various camps across the country? Or should I just stick around? Soon, colleges will begin spreading the word about their summer camps. You should prioritize attending camps hosted by educational institutions to which you intend to apply for scholarships or walk-on invitations. Find out when those combines or camps are going to be held.
Becoming a college football recruit
After following and learning how to get recruited for College Football, you finally get scouted to play. One final and important tip that a college football recruit should follow is to sign carefully. The athlete must sign with the school to make the scholarship offer official and make it a legally binding agreement. The National Letter of Intent (NLI) is used by approximately 650 NCAA Division I and Division II schools. Additionally, NAIA and NHCAA schools each have their version of the NLI that students can sign.
Since the NLI is a legally binding document, families should check, double-check, and even triple-check that they understand what they agree to before putting pen to paper. By signing this document, an athlete commits to competing for the university for one academic year, and the university commits to providing the recruit with the scholarship amount for that academic year.
As you progress look into getting into college, it is also ideal that you are guided by the best professionals in college admission. At AdmissionSight, we can guide you through getting in the college that you would want to enter. Book your initial consultation today to start your path to a better future.