How to prepare for Graduate School?
When it comes to making plans for your education, there are a lot of moving variables you need to take into mind. When you decide to continue your education beyond a bachelor's degree, the planning process becomes significantly more difficult.
Getting ready for graduate school involves a lot of attention and hard work. There are a lot of decisions to make, such as which graduate degree to pursue and how to find the money to pay for it all.
This is intended to assist prospective graduate students in tackling some of the most challenging tasks that they would be confronted with when preparing to seek a graduate school degree, such as selecting, applying for, and funding a graduate school.
Below are the things you need to know so that you can be well-guided on how to prepare for graduate school.
Why attend graduate school?
Why pursue a graduate degree? A graduate degree is essential for those who want to advance their careers and boost their earning potential within their chosen fields. A master's or doctoral degree, even if it is not necessary for admittance into a field, can often lead to a higher salary or upward career mobility.
Marketing, software engineering, database administration, management, and business administration are all examples of careers that can benefit from additional education in terms of both earnings potential and career mobility.
It is not possible to switch careers without first obtaining an advanced degree. There are instances when earning an associate's or bachelor's degree in a field that covers a wide range of topics might serve as a useful stepping stone toward entering the workforce.
However, many people quickly come to the conclusion that the occupation they initially chose offers limited opportunities for professional development or workplace happiness. It's possible that earning a master's or doctoral degree is the key to opening doors to improved job opportunities.
It's easy to underestimate passion, but it could be the most compelling argument of all. Earning a graduate degree in a field that you have a strong passion for can be your greatest reward, and it can lead to professional advantages that are completely unexpected.
How to choose the right graduate school program?
Choosing the appropriate master's degree program for your individual objectives is, without a doubt, the single most significant thing you can do before you start going over the guide on how to prepare for graduate school.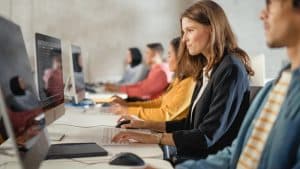 If you are thinking about going to graduate school but have not yet decided which program you want to apply to, here are a few considerations you should make while weighing the various possibilities available to you when making your decision:
Learning options and flexibility
Be sure to pick a course that offers a variety of learning opportunities and is flexible enough to accommodate your requirements. Find a program that will help you to keep a healthy balance in your life if you know that you will have to attend school while also fulfilling work or family responsibilities.
Hands-on learning
A master's degree should equip you with the skills you need to enter the field, and acquiring those skills typically requires gaining knowledge through experiences that are gained in the actual world. Students have the opportunity to obtain hands-on experience in the subject matter that interests them through participation in educational programs that are centered on experiential learning.
Industry-sourced faculty
At the graduate level, it can be quite beneficial to your education to have lecturers that are actively engaged in the same topic that you are interested in studying. These scholar-practitioners bring their personal experiences and points of view into the classroom, which enables them to provide students with a distinctive perspective on the professional world.
The preparation for your graduate study might be a lengthy process regardless of the school that you finally decide to enroll in. There are resources available to help ease your transition and get you ready for success at each and every stage of the process.
What are the requirements for graduate school?
If you want to know how to prepare for graduate school well, you need to take a look at what are the requirements for graduate school first so that you can strategize.
Every college or university has its own application form as well as extra criteria for submitting documents. Thankfully, the fundamental components that must be included are surprisingly consistent from one institution to the next and include the following items:
1. Application Forms
e ready to provide some fundamental information about yourself, such as your name, address, and other contact information, as well as your educational background. Students have a responsibility to be extremely aware of any and all application due dates. A missed deadline can be the death knell for an application's chances of being accepted.
2. Transcripts
Students are typically requested to produce a number of supplementary documents, but arguably the ones that carry the single greatest weight are transcripts. Not only do transcripts serve as an official record of your grades and your grade point average, but they also tell potential programs about the kinds of courses (and the level of difficulty) that you have completed in the past.
Students would be prudent not to fool themselves into believing that a high-grade point average is the only factor that matters and that the admissions committee won't notice if all of the classes taken were in simple topics. They will take note of that because this is graduate school.
3. Scores on standardized tests
The majority of graduate programs, but not all of them, require prospective students to submit their scores from one or more of the standardized tests for graduate schools.
The Graduate Record Examination (GRE) General Test is the one that is taken the most frequently among these tests. The verbal reasoning, quantitative reasoning, and analytical writing skills of students are evaluated on the GRE, which is provided by the Educational Testing Service (ETS).
In addition, the LSAT (for law school), MCAT (for medical school), and GMAT (for business school) is frequently needed.
There is a possibility that certain programs will demand an additional GRE Subject Test, which is an examination of knowledge pertaining to a particular area of study. Students should make it a priority to get in touch with potential graduate institutions as soon as feasible in order to get information regarding the standardized tests that are required for admission.
The vast majority of test takers devote a significant amount of time to exam preparation and frequently spend resources on preparatory workshops or tutorials like what AdmissionSight offers.
It is best to take exams early so that the results can be known in plenty of time to have an impact on a student's program selections. Even if the schools to which you are applying do not demand standardized test scores, the fellowships, scholarships, and other forms of financial assistance to which you are applying may do so.
4. Recommendation and cover letters
Personal references might be provided in the form of recommendation letters. The letters that are prepared by faculty members who have been actively involved in a student's undergraduate career and have taught them personally are considered to be the most credible.
Applicants need to be selective when choosing who will write their letters of recommendation. It is possible for an applicant to be accepted or rejected based on the strength of a letter of recommendation written by an experienced faculty member working in the applicant's desired field of study. The letter should detail the applicant's unique positive traits.
Students need to research the required letter format and criteria for each school to which they will be applying and communicate those expectations to the people who will be writing their recommendation letters.
It is extremely recommended that you make it as simple and straightforward as possible for references to compose letters of recommendation. This should involve providing letter writers with the following materials:
A copy of the candidate's objective statement, curriculum vitae, or resume
A list of the universities and their addresses, in addition to the due dates for submissions
Postage-paid envelopes that have already been addressed to the admissions committee of each program, or email addresses, if electronic submission is the preferred form of application.
Make sure that all of your requests for letters are submitted at least two months before the deadline for submission, and be sure to follow up with your references to verify that the letters were mailed on time.
5. Statement of purpose
The majority of graduate school applications require one or more written statements or essays, in which you will be asked to describe yourself, explain your interests, and discuss why you want to attend the program you're applying to.
In addition, you will be required to discuss why you want to attend the program you're applying to. In the application packet for each institution, detailed instructions should be provided regarding both the content and the structure of the written statement.
The statement of purpose and the personal statement are two of the most prevalent types of written statements. They frequently contain the same information, and it is possible that you will be requested to submit any one of them.
The candidate discusses his or her academic history, schooling, career aspirations, and the reasons why the graduate program will meet those goals in the statement of purpose, which is often a reasonably short and clear statement.
Because admissions committees are looking for applicants who have clearly defined research interests that are comparable to those of the department to which they are applying, the writer needs to describe those interests in a manner that is both clear and succinct.
6. Personal statement
When compared to the parameters of the statement of purpose, the personal statement typically has more latitude in terms of what it can cover. The applicant's personal statement is the place where the admissions committee will learn not only about the applicant's qualifications for the program but also about the applicant as a person.
It should detail the candidate's history and life experiences, as well as their personal struggles and ambitions, and their motives for getting a degree and other related topics.
The applicant's opportunity to convince the admissions committee of his or her passion for the area of study and the reasons why he or she is a good match for the particular program lies in the personal statement that is submitted with the application. It is the part of the application where the candidate differentiates themselves from the other applicants.
How to prepare for graduate school?
You will be able to concentrate on making the most of your time on campus and remaining on top of your schoolwork once you have resolved the fundamental issues like tuition, housing, and the like. At the beginning of your career as a graduate student, there are a few other things that should take precedence. Here's how to prepare for graduate school:
Make a schedule for yourself.
In order to be successful in graduate school, planning is essential. The creation of a weekly routine can help ease some of the stress associated with the experience of attending graduate school.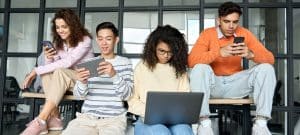 Make an effort to schedule time for studying, writing papers and projects, as well as meeting personal requirements such as going out with friends and exercising. Your agenda is most likely going to be something of a work in progress and you will most likely have to make adjustments to things that aren't functioning as you go along so scheduling will be helpful.
Maintain a lead over your course workload.
When faced with a high workload, one strategy for staying ahead of the game is to go over the course syllabi in advance. Having an understanding of a syllabus enables you to build a work schedule that is more practical for you, given that the workload may change from week to week.
Prioritizing your time will also help you break any harmful habits from college, such as pulling all-nighters and procrastinating.
Establish a robust network of support.
During your time in graduate school, cultivating meaningful relationships with people who have your back can be beneficial to your mental health. Certain components of this network have the potential to serve as the basis for your professional network.
In order to become better acquainted with your fellow students, you can strike up conversations with them before and after classes, form study groups, offer your services as a volunteer for extracurricular activities, and organize enjoyable events.
Peers are another valuable resource that can assist you in maintaining your accountability and developing further in your academic career. Putting in the effort to cultivate those relationships at an early stage is a fantastic approach to positioning yourself for future success.
Participate in your campus community.
Undergraduates aren't the only ones who can enjoy campus life! Maintaining a healthy work-life balance and establishing relationships with other students, staff, and faculty members outside of your department can be made easier when you have the sense that you are part of a larger campus community.
Engage in extracurricular activities on campus and investigate the various events, groups, and clubs that are available to graduate students. Check the resources that are available on campus such as the library, the gyms, and the student centers. You can also see if there are any carpools that you can join or volunteer for if it is suitable to your circumstances to do so.
Communicate with the faculty.
Make an effort to get to know your instructors and participate in the activities of the department. It is essential to establish professional relationships in the sector in which you intend to work and to identify professors whose research interests are compatible with your own.
When it's time for you to serve as a teaching assistant or put together a committee for your thesis or dissertation, having these contacts already established will be beneficial to you.
After you have made the decision that graduate school is the best choice for you, you should consider how to begin preparing yourself to be a competitive applicant and how to position yourself to be successful during your time as a graduate student. When you start getting ready for whatever it is, keep these resources in mind.
The application process for graduate school requires hard work, determination, and patience. It is possible to prevent the application process for graduate school from becoming stressful by preparing ahead thoroughly and maintaining an ordered state.
The significance of completing a quality application cannot be emphasized enough, therefore now is not the time to cut corners or rush through the process. It is important for the student to invest the time and effort required to ensure that it is perfect.
With over a decade of experience, AdmissionSight has helped thousands of students successfully navigate the rigorous application processes of the world's most prestigious colleges and universities. We know exactly how to prepare for graduate school and we can guide you looking forward. Schedule your free preliminary consultation at your earliest convenience.