How to Prepare for the GRE?
How to get ready for the GRE Exam? The Graduate Record Examination, also known as the GRE, is an entrance exam for graduate schools. Aspiring graduate students who have a habit of putting off studying for tests should not attempt to cram for the GRE, as it is difficult to achieve an impressive score on this test without significant preparation, according to the advice of experts. So, one does wonder how to prepare for the GRE.
Many students, particularly those who are still enrolled in undergraduate programs, would answer something along the lines of "Oh, generally I'll study for an exam over the course of a weekend, and… be all set." Not at all like that is this quiz. Students need to understand that it is not only about the subject and that it is not sufficient to have memorized hundreds of vocabulary words and gone through math topics that they haven't seen since high school.
This is the most important thing that students need to know and how to prepare for the GRE is one of them. You need to have the ability to apply that knowledge and transform it into a problem-solver on the spot.
Students who are thinking about taking the GRE should give themselves timed practice exams and evaluate how well they did on those tests so that they will have the self-assurance necessary to do well on the real test. One important tip on how to prepare for the GRE is it's imperative that you feel at ease. "We like to call it, when we get dramatic, 'crisis prevention,' and so what it boils down to is a student's capacity to perform to their level when the pressure is on and when the time restrictions are real."
What is the GRE?
What is the GRE? The Graduate Record Examination, or GRE for short, is a standardized test that assesses test-reasoning takers and analytical skills in reading, writing, and mathematics. The test-score taker's on the GRE determine whether or not they are eligible for graduate school. The test is not subject-specific, nor does it require a deeper understanding of the material covered in a single college class. The test provides universities with a general indication of the degree to which a student is qualified to engage in the rigorous problem-solving and critical thinking that is necessary for graduate school.
The Graduate Record Examination (GRE) is typically needed for entrance to graduate schools, with the exception of law school and medical school. The scores are evaluated in conjunction with the student's college GPA, recommendations from teachers, and work history as part of the overall evaluation of the student's application to graduate school.
Students can considerably improve their chances of being accepted into graduate school by performing exceptionally well on the Graduate Record Examination (GRE), this is why it is important you figure out how to prepare for the GRE which in turn has a long-lasting impact on the development of your professional career.
How do You Prepare for the GRE?
The SAT is a typical admissions requirement for undergraduate schools, and the GRE General Test is a normal admissions requirement for graduate programs in most subjects. Having now known what the GRE is, it is natural to ask "how do you prepare for the GRE?". Although both tests are necessary.
The GRE does not focus on any one area of study in particular; rather, it evaluates your overall executive functioning abilities. The GRE test writers want to know how well your brain's "CEO," executive reasoning, works in terms of evaluating data, finding solutions to issues, and thinking critically. Executive reasoning operates like the CEO of your brain.
Strengthening further the importance of how to prepare for the GRE, your ability to prioritize the material that is offered to you and organize it in a manner that enables you to problem-solve quickly and effectively is essential to your success on the GRE. The following suggests how to prepare for the GRE which can help you perform at your very best:
Read a lot of analytical non-fiction
Do you believe that you could still lose weight even if you continued to eat snacks that provided less genuine nutritional benefits but more calories? The same idea applies to ensuring that one's mental faculties are well nourished, and the best medicine you can give yourself to keep your GRE skills in good shape is a varied and well-rounded diet of reading material.
If you don't fill your spare time with engaging with supplemental analytical non-fiction reading, then preparing for the GRE will feel like too much work for you to handle. Studies have shown that students who perform exceptionally well on the verbal portion of the GRE are typically philosophy or liberal arts majors. This is because students who major in these fields are exposed to a wide variety of narratives and academic writing styles during their time in undergraduate school.
It's possible that reading about topics that are unrelated to your primary areas of interest is not your ideal way to spend your free time, but the time you put in will be well worth it. Reading passages on the GRE test requires you to develop a high level of expertise in reading a variety of materials, and students who are accustomed to reading a large number of different types of texts have a significant advantage.
Adhere to a regular GRE study plan
However, all students are required to develop a solid command of the test, which typically takes at least three months of careful preparation for the GRE. Although the exact amount of study time necessary for optimal GRE scores varies from person to person, one thing remains the same: all students must develop a solid command of the test. If you have the luxury of extra time, then five months is the optimal amount of time to give yourself. The single most important thing you can do is create a disciplined study schedule and commit to following it religiously.
If you did well in your math classes in high school and are an ardent reader already, you may not need to prepare as much as other test takers who have less ability in these areas; however, your background can at best give you a head start. Be careful not to get too confident, and don't skimp on preparation for the GRE.
Make a practical plan for each day that allows a certain amount of time to study for the GRE, and check that you have covered every aspect of the test. In the end, you are the only person who can teach and coach you. You need to study ahead of time to ensure that you will have a good performance on the day of the test, just as it is important to brush your teeth on a regular basis to avoid bothersome and expensive dental problems.
Take practice tests
Stress is one of the most significant barriers to overcome when it comes to taking the GRE. Although you might find that each section is doable on its own, completing the entire test in one sitting (which will take you three hours and forty-five minutes) is analogous to running a marathon.
You have to get yourself ready for the GRE by working out, stretching, and gradually increasing the number of miles you run each week over the course of a few months. Students who don't have enough stamina run the danger of getting low grades.
One important tip on how to prepare for the GRE is to take practice exams. This will also teach you how to pace yourself throughout the real thing. These will serve as helpful reference points for establishing a baseline, and taking practice exams is an excellent approach to building up your stamina for testing situations. By practicing the full GRE, you will be able to get a sense of the mental and physical demands of the test, which will eventually enable you to work through the entire test with confidence and efficiency.
Make it a priority to complete your practice exams under circumstances that are, to the greatest extent possible, analogous to those of a GRE examination. You want your brain to become used to the idea of taking the test under conditions as close to the actual thing as possible.
Know your weaknesses
The sections of the GRE that you find to be the most difficult are probably also the ones that you detest the most. If you are a math whiz and have little use for verbose writing on esoteric issues, then swimming through dense prose will undoubtedly feel like swimming through a bog to you. On the other hand, individuals who find integers and exponential qualities dull typically have to struggle tooth and nail in order to make it through mathematical ideas.
You will be able to create a balanced pace of study if you are aware of your deficiencies and the ways in which you may work to improve them. You should put in as much effort as possible to establish your study schedule so that you may more successfully target areas in which you struggle. It could be horrible at first, but over time it will become easier to deal with.
Instead of focusing on tasks that are simple for you to complete, choose study resources that will help you enhance your skills and knowledge when it comes to topics in which you already have experience. By forcing yourself to work through stuff that you find weighty and difficult, the objective is to train yourself to focus in conditions that are as difficult as possible.
Chart your progress
During job interviews, potential employers want applicants to demonstrate how they have contributed to previous work initiatives in some way. They will always value data and empirical evidence of your achievements, such as increasing the company's sales by five percent or slashing operating expenses by fifty percent.
The preparation for the GRE might also profit from having specific performance benchmarks. Charting your progress is an absolute necessity due to the fact that it will provide an overview of your score gains and will objectively measure the effectiveness of your study strategies.
Your gauge for improvement needs to have a consistent set of criteria, and you need to measure your progress at least once each week, if not more frequently. Regular self-evaluation will shed light on your improvements for each question type and section. Additionally, recording your study routine will allow you to correct any unhelpful tendencies that may have emerged.
Trust your gut instinct
You have most likely encountered multiple-choice questions in which you have successfully eliminated some of the choices but are now stuck choosing between two solutions that make sense. After conducting research on the issue, gathering relevant data, carefully considering your available options, and narrowing your list down to just two, you have reached this conclusion.
It is possible to be frightened by the idea of "gut instinct," which is only an alternative way to explain intuition, which is the capacity to immediately comprehend something without the aid of cognitive information.
When you're taking the GRE, it can be a little frightening to know that you have a chance of passing with a success rate of only 50 percent (once you've narrowed your answer choices down to two). However, if you have studied the information deliberately and methodically and have put it into practice through the exercises, then trusting your gut instinct might become a shortcut to arriving at a logical conclusion.
It is acceptable to rely on your gut feeling and move forward with the option that comes to you intuitively provided that you have adequately prepared yourself and are employing effective test-taking tactics. Everyone's subconscious mind is responsible for a significant amount of processing, and when your conscious mind is stumped, your intuition can step in and assist you to find a solution to the issue at hand.
Do Scores on the GRE Really Matter?
Having an idea on how to prepare for the GRE, as a prospective graduate school student, you might wonder, do scores on the GRE really matter? To answer, this criterion may vary not just from institution to institution but also from applicant to applicant. Because of the minimal score requirement at some schools, it is critical that students do well on standardized tests. However, if the remainder of your application is particularly great, the marks you received might not matter as much.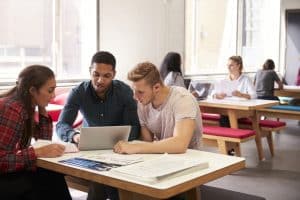 Scores on the Graduate Record Examination (GRE) are an important consideration for admissions officers at graduate schools, although they are not always the decisive decision. The GRE is a component of the application process, and while scoring well on it will undoubtedly improve your chances of being accepted, it is important to remember that other aspects of your application (such as your college grades, extracurricular activities, recommendations, etc.) also carry weight. This is why it is important you know how to prepare for the GRE.
In order to differentiate amongst applicants, graduate schools frequently use GRE results. GRE scores provide admissions managers with criteria that they may use to draw fair comparisons between individuals who would otherwise be impossible to grade fairly due to the very different undergraduate backgrounds they come from.
It is recommended that prospective graduate students investigate whether the graduate programs in which they are interested to have minimum GRE score requirements and look into the average GRE score required by those programs. This will allow them to focus their attention on graduate schools where they have a reasonable chance of being accepted.
Scores on individual GRE sections are typically given greater weight than overall GRE scores by admissions officers for graduate programs. A low math score, for instance, will not necessarily damage your prospects of entrance to renowned humanities and social science programs. This is because Ph.D. schools are often interested in applicants who have a high level of specialized knowledge.
Want to learn more about the best way how to prepare for the GRE? You've come to the right place. At AdmissionSight, we have over 10 years of experience guiding students through the competitive admissions process.
AdmissionSight can help you put your best foot forward when applying to college this fall. Contact us today for more information on our services.