How to transfer to Princeton
While the majority of college students, they will graduate from the very same school that they began their education at within four years. However, for some students, they choose to start their college education at one school and then finish their education at another.
Of course, we are talking about transfer students. In fact, it is believed that anywhere between 15 and 40 percent of students will transfer during college. If you always dreamed of attending Princeton University, but you were unable to get in after high school, you may be wondering how to transfer to Princeton.
Well, we've got you covered. Here at AdmissionSight, we help both high schoolers and students that are already studying at college make their Ivy League dreams a reality.
For that reason, we thought that it would be really helpful to break down some of the most important facts, tips and considerations when it comes to transferring to Princeton. After all, just because you weren't able to make the cut right after high school does not mean that you are no Ivy League material.
Sometimes, all it takes is another year of schooling to prove just how great you are to the admissions officers over at Princeton. Let's get started!
Princeton transfer students
One thing that is really important to keep in mind: just transferring to Princeton – or any top school for that matter – can actually be quite a lot harder than simply applying and getting accepted as an incoming freshman. Princeton actually makes it clear on their official site that their application admissions process "particularly encourages" students to apply who come from low-income backgrounds, community colleges and United States military veterans.
At Princeton, the transfer admission process includes an approach that is uniquely individualized and holistic in terms of how it reviews specific applicants' past achievements, potential and ability to contribute to the community at Princeton.
Of course, there is a strong expectation that any student who applies to Princeton as a transfer and gets in will be able to thrive in the school's rigorous and exceptional school curriculum.
It is also important for anyone thinking about potentially transferring to Princeton to know that the school only accepts students into the fall term of the school year.
Moreover, the vast majority of transfer students will be expected to begin their sophomore year at Princeton. Though there have been some cases in the past in which students are able to transfer into Princeton for their junior year. In every individual case, the student's past courses and credits will be evaluated to determine which school year they will be starting in.
Princeton transfer requirements
This is another aspect that is quite different when it comes to high school applicants to Princeton. At Princeton, the school makes it clear that while they have a list of preferred admissions expectations for their students, that there are no true requirements. They say this is the case because they recognize that some students simply do not have the opportunity to take the same kinds of courses that other students have.
However, that level of lenience is not replicated when it comes to college transfer applicants, and Princeton has a clear set of requirements that students must adhere to in order to be considered as a transfer applicant.
Here is the complete list of transfer requirements to Princeton:
Students with one year of eligible transferable course units may enter as sophomores; students with two years of transferable course units may enter as juniors.
Students with one full-time semester or more of postsecondary education by the time of enrollment should apply as transfer students. Students with less than one full-time semester by the time of enrollment are encouraged to apply as first-year students.
Students may not transfer for higher standing than fall of junior year entry.
Students who are dual-enrolled in both a high school and college program should apply as first-year students.
Students who have earned college credits before completing high school cannot transfer those college credits to a Princeton undergraduate degree.
Students who have already attained an undergraduate bachelor's degree or its equivalent are not eligible to apply for transfer admission, or for first-year admission, as Princeton does not grant second bachelor's degrees. However, students are eligible to apply for transfer admission if they have attained an associate's degree.
On top of that, the university offers a full list of the application requirements that they must send in as part of their application. Those requirements are as follow:
Coalition Application or Common Application
Princeton's Transfer Supplement
Graded Written Paper (preferably from an English or history course)
Application Fee or Waiver Fee
Official College Transcript (from all institutions attended)
Official High School Transcript
Transfer/College Report
Transfer Mid-Term Report (if the student is currently enrolled)
Two Academic Recommendations
SAT or ACT score (if applicable)
SAT Subject Tests (optional)
TOEFL, IELTS or PTE Academic for students that do not speak English as a native language
Princeton application deadlines
Transfer application becomes available in the fall
Transfer application, written graded paper and Princeton transfer supplement due on March 1
Princeton financial aid application due on March 9
All ACT, SAT and SAT subject tests have to be completed by end of March
Transfer decision notification will arrive by the middle of May
Transfer candidates have until late May to reply
Can you transfer to Princeton from a community college?
You might have missed it earlier, but we mentioned that Princeton actually explicitly states that the school not only accepts students who began their higher education at community college, but actually encourages students to apply! This should come as music to the ears of anyone who is currently studying at a community college and has hopes of one day attending Princeton or a different Ivy League school.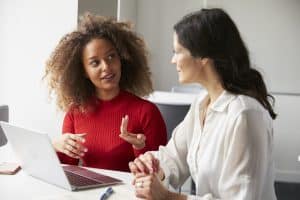 One of the most pervasive reasons for this boost in interest in students that are transferring from community college is because students who attend community college often represent underrepresented demographics on the vast majority of Ivy League campuses. And that doesn't necessarily mean underrepresented races, religious or ethnic groups.
Simply, the Ivy League is well aware of its reputation of being only an option for the wealthy. In an attempt to solve that issue and part ways with the exclusionary history of the Ivy League, the schools are making it a priority to look elsewhere than just the top prep schools and private schools in the United States and abroad. Now, the top students at community colleges will have a very real chance to apply – and get into – schools like Princeton, Harvard, Yale and more!
What is Princeton's acceptance rate for transfer students?
After everything you have read, you might be heavily encouraged by the very real opportunity to apply to Princeton! While it should be clear to you now that it is a possibility, we at AdmissionSight would not be doing our job if we didn't also make it clear just how hard it really is to get into Princeton. After all, it's hard enough for top high school students to get into Princeton, with the acceptance rate typically hovering below 5 percent!
When it comes to transfer applicants, the acceptance rate is quite a bit lower, however. For example, consider the fact that in 2019, Princeton received a total of 1,429 transfer applications. Of all those applications, just 13 students were ultimately accepted into the school.
We'll do the math for you. That's an acceptance rate of just .91 percent! This should be seen as a clear indication of just how hard it is to transfer into Princeton University. However, just because it is hard does not mean that it is impossible. And if transferring to Princeton is your dream, you absolutely owe it yourself to apply and give yourself the best chance possible of actually getting in.
Steps to applying to Princeton as a transfer
If you are curious about what you have to do in order to transfer to a school like Princeton, we at AdmissionSight want to do everything that we can to help! Part of that process is simply taking the steps to getting ready to apply in a way that will boost your chances of actually getting accepted as much as possible.
Applying to an Ivy League school not only demands that you are able to separate yourself form the pack and make a clear case for why you belong at an Ivy League, but it also demands a certain amount of self reflection and improvement as well. So, what are the steps to applying to an Ivy League? Let's break them all down together.
Make sure to understand what you did wrong
The first thing that you are going to want to do after you are denied from Ivy League schools as a high schooler is to do some soul searching and figure out why. It is important to know that the majority of universities will not provide any explanation as to why your application was rejected in the first place.
For that reason, it is important that you do the work on your own to try to best understand what aspects of your application were lacking. Chances are good that after some objective analysis you will be able to identify the aspects of your application that were lacking.
Another option that you can tap into if you're having trouble identifying the weak points in your application is to work with a college admissions consultant like AdmissionSight, so that they can do a full analysis of your application. Once you have identified what went wrong you will be able to know what you have to improve for the next time around.
Find another school to attend
The next step that you will want to take is to find another school to apply to. Of course, this can be another four year program that you got into, or it can be a Community College close to home. If you are interested in getting another opportunity to apply to an Ivy League school, the last thing that you want to do is take a gap year. The reason for this is because Ivy League schools are going to want to see that you can excel at the college level.
As previously mentioned, it may certainly be a good idea to consider going the Community College route, as Princeton expressly notes it's interest in students studying at them.
Still though, it is probably best for you to attend the best four year program that you can get into, as this will make it clear to admissions officers of Princeton that you can deal with a challenging college curriculum.
Choose a specific area of interest
One great way to improve your chances of getting accepted to Princeton – or any other Ivy League school – as a transfer student is to play to your strengths both when choosing what college you want to attend first and in terms of choosing the courses that you take.
If you know the field of study that you want to pursue, simply pick the school with the highest ranking in that field. That will absolutely stick out on your application as a positive. Moreover, when you are enrolling in courses, make sure to enroll in as many courses within that field of study as possible.
That way, you will not only give yourself a great chance at earning strong grades, but you will also be able to display that you are a driven, passionate and goal-oriented student.
Make a timeline and stick to it
Getting all your ducks in a row to transfer to a school like Princeton takes a lot of work and you are going to have to make sure that you make a timeline and checklist so that you can stay on top of all of the things that you have to do in time for sending in your application.
This is especially true if you are going to want to retake the Sat or ACT to improve the strength of your overall application.
On top of that, if you apply too early, you may not have the proof that you need to convince the admissions officers at the school that you belong. And if you wait too long, you may simply be too close to graduating at your current school to really be considered a viable transfer applicant. Finding a place right in the middle, is the best possible option for you!
We typically tell our students to think about applying to an Ivy League school either after their sophomore – or sometimes after their junior – year. This gives you at least two years to improve your performance in school, pursue your academic and extracurricular passions, and really get a good sense of what school you want to attend.
Get started on your Princeton transfer application
Before you know it, it will be time for you to apply to the Ivy League of your choice. If Princeton is the school of your dreams, it is important to make sure that you know about transfer application deadlines and requirements.
By this point, chances are good that you are a far more accomplished and dedicated student than you were in high school. You've done all that you can to improve your chances of getting in. Only time will tell if it is enough!
Get more help in coordinating your Princeton University transfer
After learning all of this great information and considering all of the opportunities and challenges that come with trying to apply to Princeton as a transfer, you may either feel more encouraged or more discouraged. That's pretty natural given the fact that applying as a transfer is genuinely hard.
One way to make the entire process quite a bit easier, however, is to decide to work with an experienced and trained college admissions consultant. Here at AdmissionSight, we work with many prospective transfer students every year.
When trying to apply to an ivy League school as a transfer, it is important to be dedicated and realistic about the journey. No one is going to do the work for you, and it is up to you to convince the admissions officers at the school of your dreams that you deserve to be there.
What we can do is offer you a tried and true roadmap that you can follow in order to dramatically improve your chances and get a leg up on the many other thousands of students who share the same dream as you.
75 percent of the students that we work with end up getting into either an Ivy League program or a top-10 school somewhere else in the United States. If you are interested in how we can help you become part of that impressive success rate, contact us today!