How to Work on Wall Street
If you ask a recruiter how to work on Wall Street right after college, they will probably say that the best way is through connections and a degree from an Ivy League school or one of the handful of other elite universities known as target schools.
However, not conforming to the stereotype should not be a cause to avoid doing something. On Wall Street, there have been successful people who did not have these advantages, despite the fact that these credentials may open doors. Many successful individuals on Wall Street didn't attend elite institutions, defied the odds, and worked their way up through the ranks. Here is a look at what it takes for an outsider to work on Wall Street and make it big!
What is Wall Street?
Wall Street is a term frequently used not only in the United States but also around the world. It can refer to the physical street, the financial industry as a whole, or both. The street is a prominent road in the financial district of Manhattan, which lies at the heart of New York City. Wall Street is the birthplace of the New York Stock Exchange (NYSE) and is home to many of the world's top banks, investment firms, and hedge funds.
While various activities occur on Wall Street today, financial trading is what has given the street its widespread notoriety. As a result, jobs specifically associated with Wall Street are typically linked to the financial industry. These positions are generally known for their lucrative compensation but also for their demanding nature and long hours.
How Do You Get a Job on Wall Street?
There is no guarantee that the most desirable jobs on Wall Street are located in New York City's Wall Street or even in New York itself for that matter. The name of this road in lower Manhattan has become virtually synonymous with the financial industry, although career opportunities in this field are available in nearly every country on the planet. But, we still wonder how to get a job on Wall Street.
You have found the proper site if you are seeking a profession that has the potential to earn a significant amount of money. On the other hand, if you value consistency more than anything else, you shouldn't work in this sector. Jobs on Wall Street are not immune to economic downturns. If the economy continues to struggle, it will have a detrimental influence on the financial industry.
Additionally, if you dream of working on Wall Street and aren't willing to put in a significant amount of extra hours, you shouldn't even contemplate working in this industry at all. There are a lot of jobs out there that provide you with the opportunity to spend more time away from the office. The following is a list of eight steps that you can do to increase your chances of finding work on Wall Street:
Earn a Business-Related Bachelor's Degree
Suppose you are interested in working on Wall Street. In that case, it may be beneficial for you to earn a bachelor's degree in a field connected to business, such as economics, accounting, business administration, or management. Additionally, degrees in fields like engineering, computer science, and mathematics could prove helpful in the financial sector. Although it is possible to find work with a degree that is unrelated to the subject, concentrating on business and other fields that are connected may offer you an advantage.
Earn a Master's Degree in Business Administration
Earning a Master of Business Administration (MBA) degree can significantly increase the number of professional prospects available to you on Wall Street and make you more marketable. However, this degree is not necessarily required. In addition, investment banks frequently scout college and university programs to locate potential job recruits. This means that if you participate in one of these programs, you may have an easier time getting a job on Wall Street.
Earn a Certification
It all depends on the industry you work in and the company you work for as to whether or not you are obliged to get certified. Certifications are yet another step that should be considered if you want your application to have a better chance of standing out from the crowd. Numerous organizations offer certifications in a variety of fields, including:
Accredited in the field of financial analysis
Professional in the field of certified funds
An investment advisor who holds the Chartered designation
Qualified market analyst with chartered status
Analyst in investment management who has certification
Participate in an Internship Program
Several companies provide internship opportunities for students who are juniors in college. Internships can offer you invaluable experience and introduce you to influential individuals with whom you can network. If you successfully complete an internship during your junior year, you can receive an invitation to complete another internship during your senior year. Companies frequently hire former interns to fill multiple entry-level analyst positions.
Expand Your Network
When you build a network, you put yourself in contact with crucial connections, which can lead to relationships that last throughout your career. They can offer you direction, help, and tips on how to find employment prospects. You might begin your networking efforts by chatting to advisers, instructors, alumni, and students majoring in finance or business at the college or university you currently attend. Making connections with people who work in the same field as you can often lead to ongoing talks about job openings, industry programs, and events that can help promote your professional development.
Determine Your Strengths and Areas of Interest
You can steer your job search toward roles that are the best fit for you by submitting applications for jobs that are aligned with the skillset and interests you already possess. On Wall Street, there is a wide range of employment opportunities, each of which calls for a unique set of capabilities and experiences. Researching specific occupations that match your interests, experiences, and abilities can help you stand out and get the attention of prospective employers in a competitive job market.
Write a Strong Resume and Cover Letter
Your CV ought to include specifics on the experiences and education that are most pertinent to the job description. Be sure that your CV showcases your talents and qualifications, including precise and quantitative examples of your past job performance, and send it out to potential employers.
In addition to this, your cover letter should have a narrative that describes who you are as well as your experiences and achievements. If you do not have any past experience in the financial industry, you should aim to present the education and abilities you have in a way that is consistent with the job description and the traits the company is looking for.
Get Yourself Ready for the Interviews
Investing some time in preparation for interviews can help you feel more at ease throughout the process and leave a strong impression on potential employers. You will be better equipped to plan answers that are effective and targeted if you conduct research about the particular role and firm and if you are familiar with the goods, services, and culture of the corporation. Be sure that you are able to demonstrate why you are the ideal candidate for the position and what sets you apart from the other applicants.
What Are the Different Jobs on Wall Street?
There are numerous careers and job types found along the renowned Wall Street in New York City. However, when people talk about "Wall Street jobs," they typically refer to roles like stockbrokers, equity traders, financial advisers, and bankers. All these professions are integral to the financial departments of various establishments.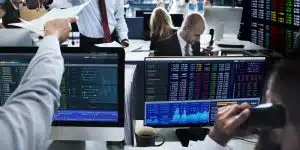 Though often focused on the New York Stock Exchange (NYSE), many companies also engage with other stock exchanges around the world. Those in these professions often buy and sell stocks, or offer education and advice on financial strategies.
Stock Brokers
A stock broker is perhaps the most well-recognized Wall Street profession. They buy and sell stocks for investors, aiming to turn a profit. Brokers often charge a fee per transaction and might also earn a percentage from any profits they generate.
Basic brokers assist clients who have a general idea of their goals but need specialist help to execute transactions. Brokers have expertise in areas ranging from personal investing and business strategy to various funding schemes. They often manage portfolios, providing performance reports and suggesting potential investment opportunities.
Equity Traders
Equity traders, much like stock brokers, buy and sell securities on behalf of clients. However, they typically oversee the purchase and sale of major corporate shares rather than individual stocks. In the context of Wall Street, shares represent units of ownership in a company.
Financial Advisers
Financial advisers offer tailored investment and money management strategies for individuals and families, often assisting in retirement planning. Clients can receive guidance on diverse investment opportunities, from stocks and bonds to real estate.
Bankers
Banking professionals also fall under the broad category of "Wall Street jobs." While many banks have their headquarters on Wall Street, their employees could be located elsewhere. This sector has a plethora of roles, from lower-level managers handling everyday tasks to top-tier executives in charge of pivotal managerial duties.
Bank loan officers evaluate and approve applications for various loans. These loans, including home mortgages, commercial real estate loans, and significant purchase loans, typically boost the bank's profits through accrued interest.
Research Analyst
Research analysts help clients strategize, optimize operations, and enhance efficiency. They dissect internal procedures and data, spotting potential issues and areas for growth. Their findings and recommendations are usually documented in comprehensive reports.
The Bottom Line
For recent college graduates, immediately securing a prestigious role as an investment banking analyst on Wall Street may be challenging. However, Wall Street offers myriad paths to success. If you've always aspired to work there, consider roles in smaller firms, multinational corporations, or positions that promise financial experience and potential ties to Wall Street.
Continuous networking is essential. Platforms like LinkedIn and even Facebook have professional groups that can aid your job search. Local Meetup groups can also be valuable networking avenues. Consider joining relevant trade organizations, such as the New York Society of Security Analysts, depending on your interest and location. Such organizations can open doors to beneficial networking opportunities.
Looking to pave your way to Wall Street? AdmissionSight, with over a decade of experience, can guide you through the competitive admissions process.
AdmissionSight can help you put your best foot forward when applying to college this fall. Contact us today for more information on our services.