Inside Harvard Business School: A Journey into the World of Business Excellence
Through this blog, you can gain practical knowledge and strategic insights in business management from the esteemed Harvard Business School. In a world where competition thrives, success often hinges on the quality of knowledge and skills one acquires. One educational institution stands above many others in shaping the business leaders of tomorrow, and that is Harvard's business school.
This world-renowned institution, nestled in the heart of Boston, Massachusetts, carries with it an unrivaled reputation for producing some of the best minds in the corporate sphere.
In this blog, a clear perspective on the magnitude and importance of Harvard's business school will be painted. So, fasten your mental seatbelts and get ready for an enlightening journey into the world of Harvard's business school.
Is Harvard's business school hard to get into?
Is Harvard's business school hard to get into? If you've ever dreamed of studying at this prestigious institution, you might have wondered if Harvard's business school is hard to get into. Well, today, we're here to shed some light on this burning question.
Harvard's business school stands tall as a premier institution, shaping the business leaders of tomorrow. The school has a reputation that resonates worldwide, making it a dream destination for many aspiring students.
But with such prestige comes high competition, and admission into this esteemed institution is a feat in itself.
Admissions Criteria
The competitive nature of Harvard's business school admissions is defined by the institution's holistic review process. The school looks beyond pure academic scores and takes into account multiple facets of an applicant's profile, such as leadership potential, community involvement, career progression, and personal qualities.
It is this comprehensive approach that makes the admissions process demanding and competitive, but also fair and meticulous.
How to Stand Out
In this competitive admissions landscape, standing out involves more than just showcasing academic prowess or a strong professional background. It requires highlighting personal attributes, experiences, and potential that align with the values of HBS.
The secret lies in presenting an authentic self-portrait. By highlighting unique experiences, sharing personal insights, and connecting life's dots in a meaningful way, candidates can differentiate themselves from others. Narrating a compelling story about personal growth, resilience, or innovation can be an impactful way to make a mark.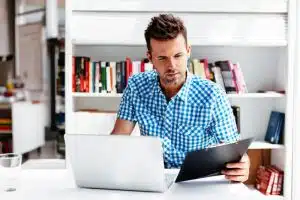 Despite the tough competition, it's crucial to remember that Harvard's business school wants its applicants to succeed. The institution provides numerous resources, like webinars, blog posts, and guidance sessions, to help candidates understand what Harvard's business school looks for in its students. Using these resources can be beneficial in crafting a strong and competitive application.
What are the admission requirements for Harvard Business School?
What are the admission requirements for Harvard Business School? If you have your sights set on attending this prestigious institution, you're curious about securing a spot. Here, let's go through the admission requirements and shed light on each critical component.
Academic Prerequisites
One of the most fundamental admission requirements is a bachelor's degree from an accredited institution. Harvard's business school accepts applicants from a broad spectrum of academic backgrounds.
Although a business degree is not necessary, you must showcase a strong academic record that reflects your dedication and capability to handle the rigors of Harvard's curriculum.
Required Tests
You should also be aware of the standardized tests required for admission. It accepts both the Graduate Management Admission Test (GMAT) and the Graduate Record Examination (GRE). There isn't a preference for either test, so you can choose the one you feel most comfortable with.
If you are an international student whose first language isn't English, the Test of English as a Foreign Language (TOEFL) or the International English Language Testing System (IELTS) may be required.
These tests are crucial to demonstrating proficiency in English, ensuring you can thrive in Harvard's business school environment.
Application Components
In addition to test scores and academic records, the application for Harvard's business school includes several other components. These elements provide your holistic picture, showcasing your experiences, potential, and fit for Harvard's business school.
Resume: This document summarizes your professional experiences, academic qualifications, and skills. It's a snapshot of your career, showing your progression, achievements, and impact in your professional field.
Essays: The essay is a critical part of the application as it allows you to express your personality, aspirations, and motivations. The program typically asks for one essay without any word limit, giving you ample space to share your story.
Recommendations: Harvard's business school asks for two recommendations, ideally from individuals who have supervised you directly. These recommendations should highlight your leadership potential, interpersonal skills, and personal qualities.
Interview Process
Once the application review is complete, a select group of candidates is invited for an interview. This step is an integral part of Harvard's business school admission process and is conducted either in person, on campus, or via video conferencing.
The interview offers a chance for the school to get to know you better and, likewise, for you to ask any questions about the school.
The interview is generally conversational and covers various aspects of the applicant's experiences and aspirations. Post-interview, candidates are required to submit a written reflection about their interview experience.
Securing a seat at Harvard is a challenging yet rewarding journey. Understanding the admission requirements is the first step in this process. With careful preparation and a clear vision, the road to Harvard's business school can lead to an enriching and transformative educational experience.
What are the key benefits of studying at Harvard's business school?
What are the key benefits of studying at Harvard's business school? If you've ever wondered about the advantages of pursuing a business education at Harvard, you've come to the right place. Read on as we explore the benefits of studying at Harvard's business school and grasp the incredible opportunities that await you.
Academic Advantages
Curriculum
At the heart of the academic benefits of Harvard's business school lies a meticulously designed curriculum that fuses traditional business disciplines with contemporary industry insights. From finance and marketing to leadership and strategy, the curriculum covers an extensive array of subjects, providing a comprehensive understanding of the business landscape.
The case method, a unique aspect of the curriculum, sets it apart from other business schools. This pedagogical approach immerses students in real-world business scenarios, fostering critical thinking and decision-making skills.
By analyzing complex business cases, students acquire a deep understanding of business principles, preparing them for leadership roles in the corporate world.
Moreover, the school's commitment to lifelong learning further augments the academic benefits. The curriculum is designed to stimulate intellectual curiosity, equipping students with the skills to navigate the ever-evolving business world even after graduation.
Faculty
Another cornerstone of Harvard's business school experience is its faculty. A world-class collection of thought leaders, researchers, and experienced professionals, the faculty brings an extraordinary depth of knowledge to the classroom.
They don't just teach—they inspire, challenge, and mentor students, preparing them for the challenges of the real world.
The faculty's diverse expertise also means students gain insights into various sectors, industries, and business functions. Their collective wisdom is an invaluable resource, opening doors to groundbreaking ideas, innovative strategies, and a broad understanding of global business trends.
Research Opportunities
The academic advantages of studying at Harvard's business school are not limited to the classroom. The institution boasts a robust research environment, providing students with numerous opportunities to contribute to knowledge creation in business.
From independent projects and fellowships to collaborative research with faculty, there are myriad ways students can engage with research. These experiences not only strengthen analytical skills but also enable students to delve deeper into their areas of interest.
Career Prospects
Job Placement Rates
A compelling indicator of Harvard Business School's role as a career catalyst is its impressive job placement rates. An impressive majority of graduates secure jobs within three months of graduation.
This isn't just any job; these are often high-level positions at esteemed organizations across various sectors. The school's dedicated career support services play a crucial role in this, providing tailored guidance to students and facilitating interactions with prospective employers.
Alumni Network
One of the most powerful assets Harvard's business school provides its students is access to an extensive, global alumni network.  This network isn't just a list of names; it's a dynamic, supportive community.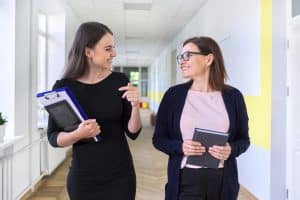 Alumni frequently engage with current students, offering mentorship, advice, and even job opportunities. They organize events, share industry insights, and foster connections, making Harvard's business school alumni network a goldmine of opportunities for both personal and professional growth.
Internship and Job Opportunities
Harvard's business school goes beyond traditional classroom learning by offering a wealth of internship and job opportunities. These experiences allow students to apply their learning in real-world settings, gain industry insights, and build a strong professional network.
Internships often serve as stepping stones to full-time job offers. Many students secure their post-graduation jobs through their summer internships, making these experiences crucial components of their career journey.
The school's strong ties with leading organizations across the globe further expand the range of opportunities available to students.
Community and Extracurricular Benefits
Life at Harvard's business school is a whirlwind of experiences where students not only learn from the world-class faculty but also from each other.
The student body at Harvard's business school is diverse, comprising individuals from different countries, cultures, industries, and academic backgrounds. This diversity creates a dynamic and vibrant campus life, fostering a culture of mutual learning and respect.
Living and learning together, students get the chance to form close bonds with their peers, celebrate victories, overcome challenges, and grow together. The residential experience at Harvard's business school further fuels this sense of community, making it a place to call home.
Clubs and Organizations
Another compelling aspect of Harvard's business school experience is the plethora of student clubs and organizations.
These groups cater to a wide range of interests, from industry-specific clubs and regional groups to cultural organizations and recreational clubs. Whether it's entrepreneurship, consulting, wine, or dance, there's a club for almost every interest.
These clubs not only enrich Harvard's business school experience but also provide opportunities for leadership and personal development. Students can organize events, lead initiatives, and make meaningful contributions to the community.
Through these experiences, they learn to work in teams, navigate challenges, and make an impact—skills that are valuable in both their personal and professional lives.
Being a part of Harvard's business school means becoming a part of a community that values diversity, fosters growth, and celebrates success together.
It's about embracing a multitude of experiences that shape not just excellent business leaders but well-rounded individuals who are ready to make a difference in the world. Undoubtedly, Harvard's business school experience is a treasure trove of opportunities that extend far beyond the classroom.
What are some tips for preparing a strong application to Harvard Business School?
What are some tips for preparing a strong application to Harvard Business School? Harvard's business school is renowned worldwide for its prestigious MBA program, known for producing some of the most influential business leaders of our time.
As one of the most competitive business schools, gaining admission to Harvard's business school requires a meticulously prepared application that stands out among thousands of candidates.
This blog post aims to provide you with valuable insights and practical tips to help you navigate the application process and increase your chances of success.
Showcasing Leadership Potential
Leadership is a quality that Harvard's business school values greatly in its students. When reviewing applications, the admissions committee looks for evidence of leadership potential—instances where candidates have stepped up, made an impact, and inspired others.
You can showcase this potential through your essays, recommendation letters, and resumes. Share stories that highlight initiative, problem-solving, and positive influence. Did you lead a team project, propose an innovative solution, or take on additional responsibilities? These are the kinds of experiences that can demonstrate leadership potential.
Demonstrating Academic Aptitude
While Harvard's business school values diverse backgrounds, you must show that you can handle its rigorous curriculum. Academic aptitude is assessed through undergraduate grades, GMAT or GRE scores, and TOEFL or IELTS scores (for international students).
Strong grades and test scores are important, but they're not the only way to demonstrate academic aptitude. If your scores are not perfect, focus on other aspects of your application that can show your ability to succeed in a challenging academic environment.
Perhaps you excelled in challenging courses, or maybe you made significant contributions to a research project. Highlight these achievements to show your academic prowess.
Highlighting Relevant Work Experience
Work experience plays a crucial role in Harvard's business school application process. The admissions committee looks for applicants who have a strong professional track record, showcasing their skills, achievements, and progression in their field.
Use your resume and essays to highlight your work experience. Focus not just on the roles and responsibilities but also on the impact you've made. Did you improve a process, lead a project, or surpass a target? These experiences can demonstrate your professional competence and potential.
The journey to Harvard's business school may be challenging, but it's also an opportunity for self-discovery and personal growth.
With determination, authenticity, and a clear vision, you can make your dream of joining the Harvard Business School community a reality. After all, the path is not just about getting in—it's about starting the journey towards becoming a global business leader.
Where does Harvard rank in business?
Where does Harvard rank in business? Harvard's business school, an emblem of prestige and quality in the realm of business education, continues to make its indelible mark. For many aspiring business leaders, getting admitted here is a dream, a goal that signifies reaching an educational peak.
The excellence of Harvard's business school is reflected not just in the impactful leaders it produces but also in its consistently high rankings on various business school lists.
In the most recent U.S. News & World Report rankings for the Best Business Schools in 2023-2024, Harvard University secured the 5th position. This accolade stands as a testament to its unwavering commitment to nurturing the next generation of business visionaries.
Harvard's high-ranking status is well-earned. Its curriculum is grounded in the rigorous case method, which challenges students to learn by doing by simulating real-world business problems and empowering them to become effective decision-makers.
Add to this a faculty teeming with accomplished professionals and thought leaders in various business disciplines, and it's no surprise that HBS continues to remain at the top of its game.
Whether you're an aspiring entrepreneur, a future CEO, or a budding business innovator, Harvard's business school offers a platform to hone your skills, expand your horizons, and achieve your career goals.
If the thought of joining the illustrious ranks of Harvard's business school students and alumni sparks excitement in your heart, now is the time to turn that dream into a reality.
Crafting a compelling application that stands out from the rest and communicates your unique potential requires careful planning, introspection, and strategic presentation.
Assistance from a seasoned expert can make this task less daunting and more effective. AdmissionSight, a leading college application consulting service, can offer invaluable insights and guidance throughout this journey.
With our impressive track record of helping students secure their places at top-tier institutions like Harvard, we can provide personalized advice, application strategies, and comprehensive support tailored to your needs.
Don't let the complexities of the application process hinder you from pursuing your dream. An initial consultation with us can be the first step in your path to Harvard's business school.
Take this opportunity to harness the expertise of our seasoned professionals and make your application shine with your unique qualities, ambitions, and potential. Your journey to Harvard Business School begins here. Contact us and book your initial consultation today!