Introducing JHU – Johns Hopkins University
Introducing JHU
Johns Hopkins University, also known as JHU, is one of the oldest research institutions in the United States. Its campus in Baltimore is renowned for its iconic red-brick architecture.
What is JHU?
Here's what JHU is; Johns Hopkins University is a private institution founded in 1876. It has a total enrollment of 6,132 undergraduates (fall 2021), is located in an urban area, and has a campus size of 140 acres.
A semester-based academic calendar is utilized. Johns Hopkins University is ranked seventh among national universities in the 2022-2023 edition of Best Colleges. Tuition and fees are $60,480 per year.
All Johns Hopkins University applicant events through April 12 have been canceled. Campus tours and admissions events are included. Classes are delivered remotely. Additionally, the university has suspended all new international exchange and domestic visitors, such as visiting students, faculty, and scholars.
It was the first research university in the United States, and today it invests more in research than any other academic institution in the United States.
It is also widely credited with revolutionizing higher education by integrating teaching and research as the first institution in the United States to do so. Johns Hopkins has produced 27 Nobel laureates, including the former president of the United States, Woodrow Wilson.
Johns Hopkins is structured into ten divisions with campuses in Maryland and Washington, D.C., as well as international centers in Italy, China, and Singapore. Johns Hopkins consistently ranks among the top 10 universities in the United States, and its undergraduate programs are also compete internationally.
The majority of JHU undergraduates attend classes at Homewood, a 140-acre campus in North Baltimore that houses the engineering and arts and sciences schools. It is a traditional college campus with red-brick buildings, tree-lined pathways, an iconic clock tower, and expansive green quads in the heart of a large and growing city.
During their first two years on the main campus, nearly all undergraduates live in residence halls, where they make friends and take advantage of one of the best campus dining programs in the United States. There is also easy access to world-class arts and culture: the school's conservatory, the Peabody Institute, regularly hosts musical extravaganzas, concerts, and performances, and the Center for Visual Arts, which is adjacent to the Baltimore Museum of Art, offers numerous artistic inspirations.
Off-campus, students can explore Baltimore, a city with a rich history as a working-class port that has grown into a hub of social, cultural, and economic activity while retaining a small-town atmosphere.
Why JHU?
You may ask, "Why JHU?" Well, Johns Hopkins' faculty and alumni have made ground-breaking discoveries in a variety of fields, from surgical innovations to water purification. Although it may be best known for its pre-med, science, and engineering programs, Johns Hopkins offers more than 50 majors, including music degrees from the Peabody Institute conservatory.
Michael Bloomberg, a billionaire alumnus, gave a record-breaking $1.8 billion to his alma mater in 2018, enabling it to strengthen its financial aid program and meet all demonstrated needs without loans. President Woodrow Wilson, journalist Wolf Blitzer, and media mogul John Malone are also notable alumni.
It is one of the most advanced research facilities in the region and played a crucial role in studying and researching the disease during the coronavirus pandemic of 2019–20.
As a result of the 2019–20 coronavirus pandemic outbreak, the most intelligent and well-educated members of the university community have joined forces to investigate SARS-CoV-2-caused disease and search for a possible cure.
Where is JHU?
So where exactly is JHU? The latitude and longitude of Johns Hopkins University, Baltimore, Maryland, United States, are 39.328888 and -76.620277 respectively.
Johns Hopkins University is one of the most prestigious educational institutions and a private university in Baltimore, Maryland, in the Pacific region of the United States. The main administrative portion of the university is located approximately four miles north of the city center of Baltimore, and the main campus of the university is also located in the city's north.
The Johns Hopkins University campus in Baltimore encompasses close to 140 acres and is equipped with all modern facilities and amenities, including libraries, stadiums, sports and leisure facilities, and anything else the university's students may require.
In addition to the campus in Baltimore, there is another large campus located in Washington, DC, the nation's capital. Consequently, Johns Hopkins University is a large organization with ten divisions located on both campuses. In addition, there are numerous colleges and universities located throughout Europe, North America, South America, and other continents, including the world's leading medical and science institutions affiliated with Johns Hopkins University.
How to Get Into JHU
Most importantly, how do you get into JHU? Let's start by analyzing the most recent admissions data.
JHU: early decision acceptance rate – class of 2026
JHU provides two ED options. The deadline for ED 1 is November 1, and the deadline for ED II is early January. During the 2021-22 admissions cycle, 304 out of 2,874 ED II applicants were admitted, for an acceptance rate of 11%. They enrolled alongside the 520 students admitted during the ED I phase. Although exact figures are not yet available, it is estimated that more than 20% of ED I applicants were accepted.
JHU acceptance rate – class of 2026
Only 2,407 of the 37,150 applications submitted for the freshman class of 2022-23 were accepted. This equates to a 6.5% acceptance rate. This rate is lower than the 9 percent acceptance rate for the classes of 2024 and 2025.
JHU admissions – SAT, ACT, GPA, and class rank
The median SAT score for enrolled members of the Class of 2025 was between 1520 and 1560, while the median ACT score was between 34 and 35. In addition, an astounding 99 percent of those who attended were in the top 10 percent of their high school classes. The average unweighted GPA for incoming college freshmen in 2021-22 was a near-perfect 3.9.
Admissions trends & notes – class of 2026
Johns Hopkins will continue to accept applications without requiring standardized tests through the 2025-26 application cycle.
20% of the Class of 2026 admitted students are first-generation college students.
The students admitted came from 48 states and 63 countries worldwide.
91% of admitted members of the Class of 2026 held part-time jobs during high school.
34% of accepted students were members of the student government at their school.
How JHU rates applicants
JHU considers the following six factors "very important" in their admissions process: secondary school, grade point average, standardized test scores, the essay, recommendations, and character/personal qualities. The admissions committee considers class rank, extracurricular activities, and talent/ability to be "important." Volunteer work, first-generation status, state residency, geographic residence, legacy status, ethnicity, and paid work experience are "considered" factors.
When conducting a holistic review, the admissions committee looks for evidence of the following:
Academic Character: "How do you demonstrate your academic zeal? What is essential to you?
Impact and Initiative: "We urge students to consider how they can affect change through service, leadership, and initiative."
Personal Contributions: "We're looking for students who are eager to pursue their passions at the college level and who are excited to join the campus community."
Who got admitted to JHU?
Consider the characteristics of the class of 2025. Geographically, the current undergraduate student body consists of the following:
Students from each of the fifty states.
There are students from 61 countries.
Students come from as close as 3.9 kilometers away and as far as Indonesia.
Competition is fiercest among applicants from states with an endless supply of qualified candidates (the entire Northeast and the West Coast). If you live in a state with a smaller population, such as Nebraska, South Dakota, or Montana, your location may increase your admissions chances.
Regarding ethnic identity, the distribution of incoming freshmen in the fall of 2021 was as follows:
19% White 19%
Asian Americans 28%
Hispanics 19%
African-Americans
American Indians 15%
International 3%
The gender distribution is as follows:
Johns Hopkins' yield rate
The yield rate at Johns Hopkins—the proportion of accepted students who choose to enroll, divided by the total number of admitted students—is 42%. This number is over 40 points lower than Harvard and Stanford, but in the same ballpark as a number of other prestigious private institutions.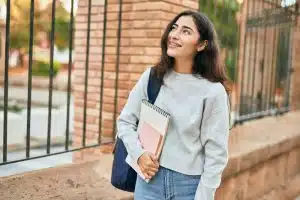 JHU's acceptance rate is comparable to that of institutions such as NYU, Rice, USC, and Carnegie Mellon.
Application hints for Johns Hopkins
If you intend to join the more than 37,000 Hopkins applicants for the next admissions cycle, you should consider the following information.
Johns Hopkins has recently discontinued alumni interviews. Therefore, your two required teacher recommendations are one of the best ways for admissions officers to learn more about you on a personal level.
Johns Hopkins does not consider "demonstrated interest," so you will not be evaluated based on whether or not you have visited the campus, communicated with an admissions officer, etc. Given the school's lower yield rate (relative to other elite schools), it is never a bad idea to ask an admissions officer a question, attend a virtual information session, or interact with the school on social media.
Ensure you devote sufficient time and effort to the Johns Hopkins-required supplemental essay. In the 2021-22 cycle, this was the prompt:
Founded in the spirit of exploration and discovery, Johns Hopkins University encourages students to share their perspectives, develop their interests, and pursue new experiences. Use this space to share something you'd like the admissions committee to know about you (your interests, your background, your identity, or your community), and how it has shaped what you want to get out of your college experience at Hopkins. (300-400 words)
Should I apply to JHU?
If you have strong academic and extracurricular credentials, there is no harm in submitting an application to Johns Hopkins. However, as with all highly competitive colleges in 2022-23, even the best and brightest students should have a college list that includes both "target" and "safety" schools. Those who will fare best in overcoming this admissions obstacle course will have a transcript of straight 'A's in an exceptionally rigorous course of study, superior standardized test scores (whenever possible given the pandemic), and at least two talents and interests outside the classroom.
During your senior year of high school and while you are preparing for college, you may feel overwhelmed. However, college placement companies such as AdmissionSight can assist you with the arduous application process.
AdmissionSight has ten years of experience in the college admissions industry. By guiding students through the admissions process, we have assisted thousands of applicants in gaining admission to Ivy League schools and other top-tier US universities. Please feel free to schedule an initial consultation to discuss this further today.