Introducing USC
Introducing USC
The University of Southern California, commonly known as USC, is a private research university located in Los Angeles, California. This university has a diverse and dynamic student body, world-class faculty, and a thriving campus community that provides a wealth of opportunities for students to grow and succeed.
USC is a world-class university that offers students a unique and rewarding educational experience. With its strong academic programs, vibrant campus life, and commitment to diversity and inclusion, this university is an excellent choice for students who want to achieve their academic and personal goals while being part of a supportive and inclusive community.
When was USC founded?
So when was USC founded? Well, the University of Southern California was founded in 1880, making it one of the oldest private research universities in California. The university was established with the aim of providing higher education opportunities to the growing population of Southern California.
Throughout its history, the university has been committed to innovation and excellence in education. In the early 20th century, the university established the first school of international relations in the United States, which has since become one of the top programs of its kind in the world.
USC also became one of the first universities to offer degrees in cinema and television, and its School of Cinematic Arts is consistently ranked as one of the best film schools in the world.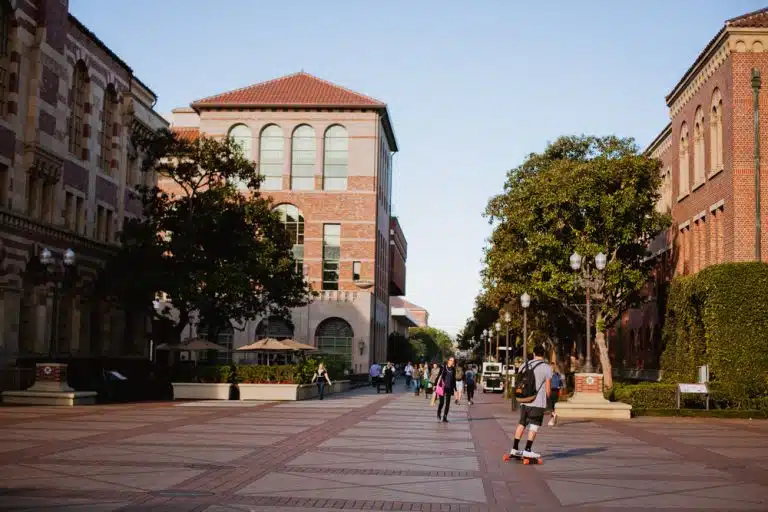 USC continues to be a world-class institution of higher education, with over 47,000 students and a commitment to academic excellence, innovation, and social responsibility.
Where is USC located?
Let's visualize where USC is. The is located in the heart of Los Angeles, California, one of the largest and most diverse cities in the United States. The campus covers over 200 acres in the University Park neighborhood, just south of downtown Los Angeles.
The location provides numerous benefits for students, including unparalleled access to the entertainment industry, business community, and cultural landmarks. The university has strong connections with industry leaders, offering students unique internship and networking opportunities.
The city also provides a wealth of cultural and recreational activities, from museums and theaters to beaches and hiking trails.
The University Park neighborhood is a vibrant and diverse community that is home to many students, faculty, and staff. The area has a rich history and is known for its historic architecture, including the iconic Los Angeles Memorial Coliseum, which has hosted numerous major sporting events and concerts over the years.
USC's location also makes it an important center for research and innovation. The university has strong partnerships with nearby research institutions, including the California Institute of Technology (Caltech) and the Jet Propulsion Laboratory (JPL), which are both located in nearby Pasadena.
Despite its urban location, the campus is a green and peaceful oasis in the midst of the bustling city. The university has invested heavily in sustainability initiatives, including green buildings, energy-efficient systems, and a robust public transportation system that makes it easy for students and faculty to get around the city without a car.
Why USC?
You might think, "Why USC?" There are many compelling reasons to consider studying at the University of Southern California. Here are just a few of the reasons why this university may be the right choice for you:
Academic excellence: USC is consistently ranked among the top 25 universities in the United States by U.S. News & World Report. The university offers over 150 majors and minors, as well as numerous graduate and professional programs, all taught by world-class faculty who are leaders in their fields.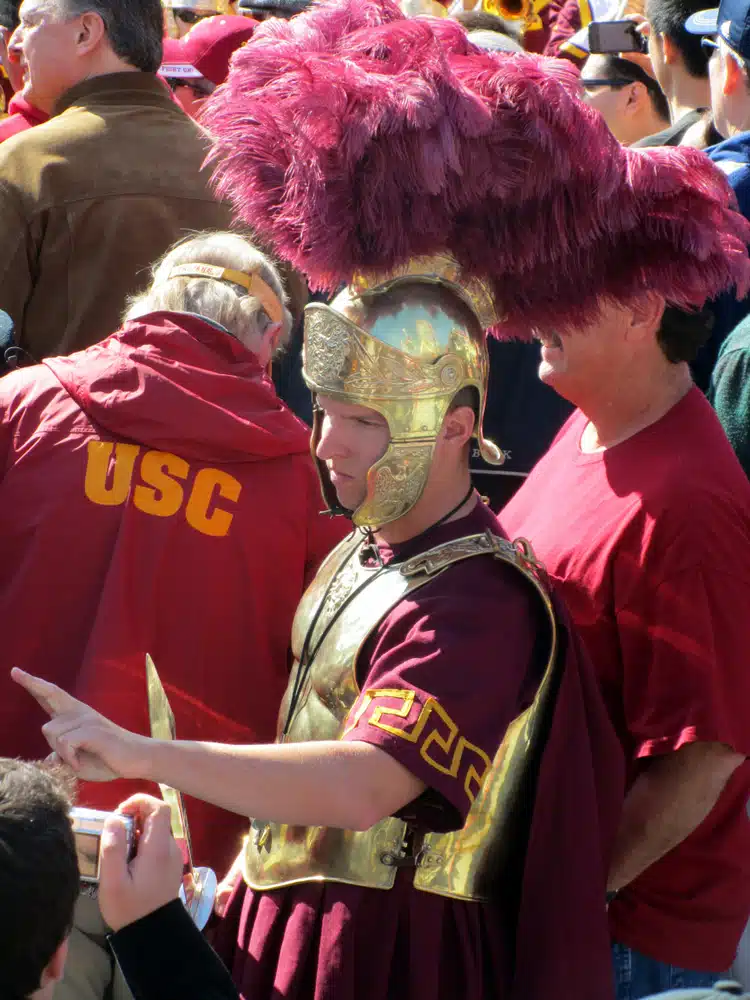 Research opportunities: The university is a top-tier research institution with a strong emphasis on interdisciplinary research. As a student, you will have numerous opportunities to engage in cutting-edge research projects and collaborate with faculty on groundbreaking discoveries.
Location: As mentioned, the university is located in the heart of Los Angeles, providing unparalleled access to the entertainment industry, the business community, and cultural landmarks. The university has strong connections with industry leaders, offering students unique internship and networking opportunities.
Diversity and inclusion: The University of Southern California is committed to fostering a diverse and inclusive community. The university has numerous initiatives and programs aimed at promoting diversity, equity, and inclusion, and is home to a vibrant and diverse student body from all around the world.
Student life: The university offers a rich and diverse student life experience, with over 1,000 student organizations, including clubs for academic, social, cultural, and athletic interests. The university also has a thriving arts community, with numerous opportunities to participate in music, theater, dance, and visual arts programs.
Career services: USC has a robust career services program that provides students with the resources and support they need to succeed after graduation. The university has strong connections with employers in a wide range of industries and offers career counseling, job search assistance, and networking opportunities to help students achieve their professional goals.
In conclusion, the University of Southern California is a top-tier university that offers a rich and rewarding educational experience. Whether you're interested in academic excellence, research opportunities, diversity and inclusion, student life, or career services, the University of Southern California has something to offer.
If you're looking for a dynamic and exciting educational experience that will prepare you for success in your career and in life, the university may be the right choice for you.
How much is USC tuition?
Based on the 2021–2022 academic year, undergraduate tuition at USC for full-time students was approximately $60,275 per year, including tuition, fees, and room and board. Graduate tuition varies by program and can range from around $1,928 to $2,344 per unit.
It's important to note that tuition rates are subject to change from year to year and can vary depending on factors such as residency status, the program of study, and other fees. Prospective students should check USC's official website or contact the university's admissions office for the most current and accurate information on tuition costs.
Getting into USC through AdmissionSight
Students looking to enroll in a variety of colleges and universities, including USC, can take advantage of the services provided by AdmissionSight, a college admissions consulting firm. We can help you in the following ways when applying:
Application strategy: With the help of AdmissionSight, you can develop a distinctive application strategy that will increase your chances of being accepted. This entails figuring out your benefits, drawbacks, and distinguishing traits that you can highlight in your application.
Application evaluation: AdmissionSight is able to assess your application and provide advice on how to strengthen it. Our experts can offer guidance on your personal statement, resume, and other application materials.
Test preparation: AdmissionSight can also help you prepare for standardized tests such as the SAT, ACT, or GRE. We can give you study guides, simulated exams, and advice on how to get better grades.
Interview preparation: If you have to go to an interview as part of the admissions process, AdmissionSight can help you prepare. We can offer you advice on how to present yourself in the best light and respond to challenging questions.
Admissions timeline: AdmissionSight can assist you in adhering to the USC admissions timeline.  We can provide you with information about important deadlines, specifics about the required documents, and other crucial information to help ensure that your application is completed on time.
You can get individualized advice and support from AdmissionSight throughout the admissions process. Our objective is to assist you in making the best possible impression on the admissions panel to improve your chances of being accepted.
Our experts have over ten years of experience and have sent thousands of students to their dream schools. We look forward to doing the same for you. Book an initial consultation today, free of charge!